Well ladies, it looks like your second-favorite way to access Whitney Mixter's quadriceps, The Real L Word, probably isn't coming back for a fourth season. Instead, it will evolve into a "documentary."
At Showtime's TCA situation today, Showtime entertainment president David Nevins called The L Word "an important franchise" and said that they're looking into a way to exploit —I mean EXPLORE — "lesbian culture where it's 'not so easy.'" We should all thank our lucky stars that it's taken nine years for the franchise to realize where the genuinely compelling story is and send Ilene Chaiken out there with her camera to capture it.
In full, David Nevins delivered the following news:
"I want to keep the franchise going and want to change up the show. It's probably not going to continue in exactly the same form. I've been talking a lot with [executive producers] Dan [Cutforth], Jane [Lipsitz] and [creator] Ilene [Chaiken] about exploring L Word culture — lesbian culture in places not New York, L.A. — where the subculture is not so defined and it's not so easy. I think we're likely to make a documentary that will feel like a Real L Word documentary. We did the scripted show, we did the ensemble reality show and it's probably going to become a documentary this year."
This ambiguous situation has no definite form or structure, as Nevins noted it could possibly appear in one part or, alternately, two entire parts. Two parts! I assume each part would air on a different week, which could really spice things up. You'd have to wait an entire week between parts! So much could happen between those weeks. You could get a new car, or stub your toe, or hang cymbals from your earlobes. Furthermore, Nevins declared: "There's a few different ways we could do it. They're diving in doing research right now."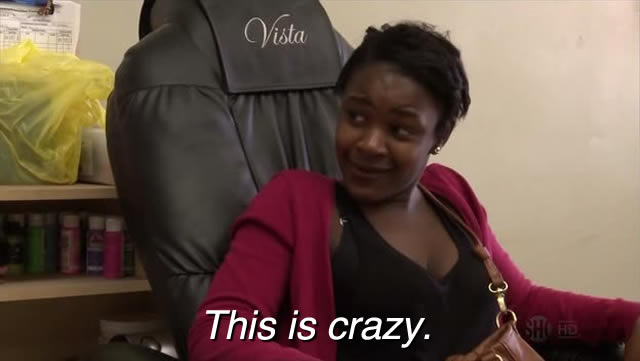 The good news is, if there's no Season Four of The Real L Word, I'll be granted an additional 30 hours a week in June and July to devote to doing the kind of literary writing I actually care about! I'm sorry, much like the characters of The Real L Word, I can really only think about myself right now. AHAHAHAAHAH!!!!
[Yes, I'll recap the motherf*cking documentary, Intern Grace couldn't be more jazzed]