"I am a significant person, maybe a saint, or larger than life… I had thought I lived in a world of darkness and confusion and I was the single, glowing and true thing."
I own a first edition of Chelsea Girls due to a series of very fortunate events, although I didn't get to read it until twenty years after it was published — a few days before January 1, 2014, on a plane ride to Seattle.
It was a six-hour flight, which turned out to be just enough time for me to consume the entire book — taking breaks only for free coffee and to look out the window longingly — and then write two letters afterward: one to myself, because 2013 was ending and it had been a beautiful mess; and one to Eileen Myles.
"Thank you again for my copy of the book," I wrote, signing off, "and thank you for writing it."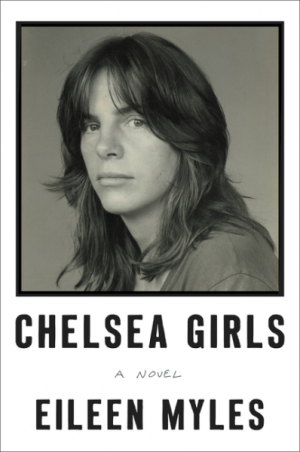 In addition to releasing a collection of classic and new poetry that I urge us all to give to everyone we know as a gift in the new year and this holiday season, Eileen Myles re-released Chelsea Girls this year. The autobiographical novel follows Myles through her childhood trauma and confusion, her adolescent awkwardness, and her ultimately triumphant but often tumultuous attempt to live her own version of a lesbian poet's life in New York in the seventies (whatever that means) — but not in that order. The book switches off between shorter memories and tiny moments and full-bore stream-of-consciousness storytelling, all of which is alive with emotion and rich imagery and the thrill of being in on some kind of secret.
To say you "can't put this book down" is more than just a cliché; in this case, it's the truth. Every tiny story, every little bit of dialogue or description of her apartment or story about a woman she loved or didn't love all that much after all, feels like they fit into one another seamlessly, despite the fact that they're sometimes years apart. I mean, I could put it down. But then I might lose something, like how I felt ten pages before, and also despite the many periods and paragraphs and headings in this book it's hard to tell where things truly begin and end, anyway. Reading it only makes the need to read it more urgent. It's the kind of book that takes hold of you. Chelsea Girls is like sitting in someone else's heart and mind as they go back through an entire lifetime of becoming who they are in that moment, and those are the kinds of moments you can't just walk into and out of at random. They're moments you have to go through, all at once, until they make sense at the end. Sure, each part of this book will make sense. You could take one story on its own or just one paragraph and probably you'd see something clearly, or find something to hold in your heart. But all this stuff together, that's the masterpiece.
And I mean, it's an Eileen Myles book. It's something you immerse yourself in because just being that close to her life makes you feel a little bit more like the badass rockstar she's always proven herself to be, the self-assured and courageous spirit who is as dedicated to telling the truth about her life as she is to living it however the fuck she wants. She offers us every last detail in her vivid recounting of her sordid past, sparing nothing gruesome or unfortunate or minor for our benefit. This book is the whole truth and nothing but the truth, so help us all.
Chelsea Girls is about the people you thought you were, drinking too much, doing what you have to even when it isn't easy, forgetting what you're looking for, losses that change you, feeling angry and feeling vulnerable, falling for the wrong people, fucking the wrong people — the sticky parts of life where the going gets tough and once you're past it you realize it was beautiful, or at the very least it mattered, and you survived. It's not always about the lessons we learn so much as the people we become when we forge on, when we survive, when we keep going, and what we learn about ourselves in the moments where we don't know ourselves that well, or don't realize how well we do. And for some of us — queer women who grew up in those wholesome parts of the country that are dangerous for our hearts, queer women who grew up in the church and are now on the search for our own higher power, queer women who refuse to stop seeking out our own freedom and carving out our own lives — it will remind us that our path, our confusions, our challenges, aren't unprecedented.
This isn't a coming-of-age story about being one person and then becoming someone else. It's a wild ride through heaven and hell, from Boston to New York, through bar fights and blue pills, that reminds us all that we're just as much the people we were in the bad times as the good, that we're our ugly and our beautiful, that we're both dark and light, and that those things never change. Even when we're grown up. Even when the story ends.
Twenty years after it was published, Chelsea Girls is coming back to occupy a strange place in a world where memoirs have "happy endings" and stories fit into neat narrative structures. Twenty years later, Chelsea Girls is still an important piece of proof that in every messy, beautiful, embarrassing, fleeting, exhausting, and exhilarating moment alike there is something to learn and something to use to shape yourself.