AUTOSTRADDLE ANONYMOUS SEX TOY REVIEW:
Over the last few years, sex toy companies and stores have propositioned us to review their toys in exchange for, you know, their toys.
This week, one of our anonymous reviewers tried out the Bi Stronic Fusion from Fun Factory, sent to us by and soon to be available from The Pleasure Chest.
Material: silicone and ABS plastic
Color: light pink, red or purple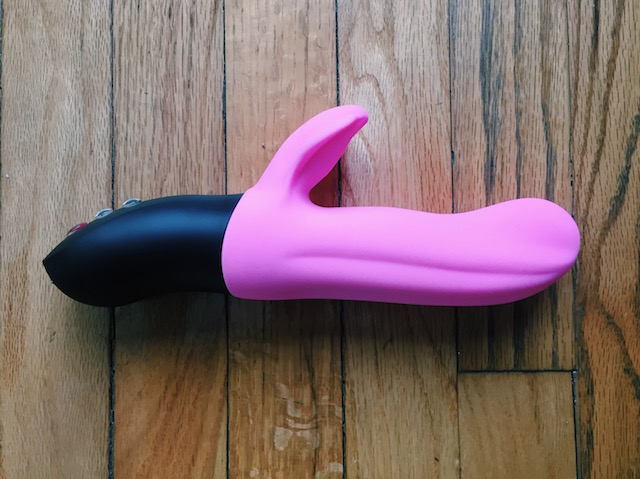 The Bi Stronic Fusion is the latest addition to Fun Factory's line of pulsators; toys that, rather than vibrating, pulsate in a way that feels like a thrust. (They accomplish this with an internal moving weight that, in addition to being effective, makes the sensation far more rumbly than buzzy.)
The Eins, the first installment in the series, is very straightforward, while the follow-up Drei is ridged and the Zwei is safe for anal. All three feature a slight flare toward the base that Fun Factory assures is intended for clit stimulation while remaining woefully misguided about where clits are actually located. The Bi Stronic Fusion is a rabbit version, and it is glorious but not quite perfect for the exact same reason.
I had high expectations for a rabbit version of the toy — since the problem with earlier models was the flare falling much too low to be of any use, I was hopeful that a clit-stimulating finger would reach higher. And it does. Too much higher. It fell above both my clit and the area just above my clit that can still be interesting, even when I tried out using different angles of penetration, which are hard to sustain with this toy line. I also tried manually holding the finger down, which was also not sustainable. The genius of the Stronic line is that, with enough lube, the toys move in and out of you. Forcing them into positions they don't want to be in and holding them there does not work because it takes away the reason you're using them and not something else in the first place. (I wonder how this toy would work with the inexplicable silicone band from the Amorino holding the finger in place but, like I imagine is the case for most potential users, I did not have one available for testing.) Body type didn't seem to make much of a difference either; I am somewhat small, and the activity partner I tested with is somewhat curvy, and we both had the same problem — the finger missed by what might as well have been miles. I have no doubt that there are bodies out there that love stimulation in that exact spot; mine just wasn't one of them.
Rabbit toys are great because they offer dual stimulation. Instead of fucking around with something for penetration and something for clit stimulation, they go for both at once. This means that they have to be very, very good at hitting both at once.
And while the flare on other toys in the line eats up a fair amount of real estate, it's still possible to get in there with a bullet or your fingers; with the Bi Stronic Fusion, there was no room to maneuver at all. Furthermore, while the finger was somewhat flexible, it was firm enough that I couldn't easily push it where I wanted or move it out of the way, and I found as a result it reduced the length of the toy available for penetration. (Which felt like a tragedy. Stronic toys are very very good at penetration.)
Otherwise, the Bi Stronic Fusion is excellent. The silicone is still a smooth matte, and while still sticky enough to attract dust or fluff if you set it on the bedspread, I found it felt less intensely sticky and in need of a touch less lube than earlier models.
And while the clit stimulation is disappointing, the shape of the shaft is fantastic. It has just enough texture to be interesting and a little bit g-spotty, while not enough to inhibit the pulsating.
It's also so, so quiet. Unexpectedly quiet. Both in comparison to the Eins and Drei, and in comparison to a selection of vibrators from my drawer, the Bi Stronic Fusion is not only relatively quiet, but just quiet, full stop. It's nice. It's impressive.
The user interface consists of three buttons: a "fun" button that turns the toy on and off without requiring you to cycle through settings, and that functions as a travel lock and can remember a favorite setting; one button that lets you cycle through the pulsating intensity and patterns; and one button that lets you cycle through the clit vibe intensity and patterns. (Fun Factory says there are 64 possible combinations of settings.) I'm not sure who actually gets off to patterns but if you do this will be right up your alley.
The Bi Stronic Fusion is close to being my favorite toy in the Stronic line – it's quieter, the silicone feels evolved, the shape of the shaft is more interesting and feels better than that of any other pulsator. But for me, the clit stimulator just got in the way.