I remember one of the first times I recognized an adult's body. Like, the first time I saw an adult body and really understood it as a body different than mine. I was a little kid. My mom had recently taken a shower and was in the kitchen wearing a towel around her midsection. He hair was wound up in another towel on her head. She was looking for something or messing with something on the kitchen counter when her towel slipped, revealing her back and sides. I think I'd probably seen my mom undressed before. We weren't particularly reserved about nudity in our family. My mom, sister, and I all shared a bathroom and often used it at the same time. I'm sure I'd seen her drying herself after a shower before or wearing a towel while getting ready in the mirror.
I remember this moment, though, because I really noticed her and how her body was different than my little kid body. What I remember most of all was the curve of her waist and hips. What I remember is that I thought she was so beautiful. Once, in church, I interrupted my mom singing along with a hymn to tell her she was a beautiful singer. She sort of laughed it off and said, "Thank you." I thought my mom's body was beautiful in the same way I thought she could be a professional singer, in the way a little kid believes their parents are absolutely perfect.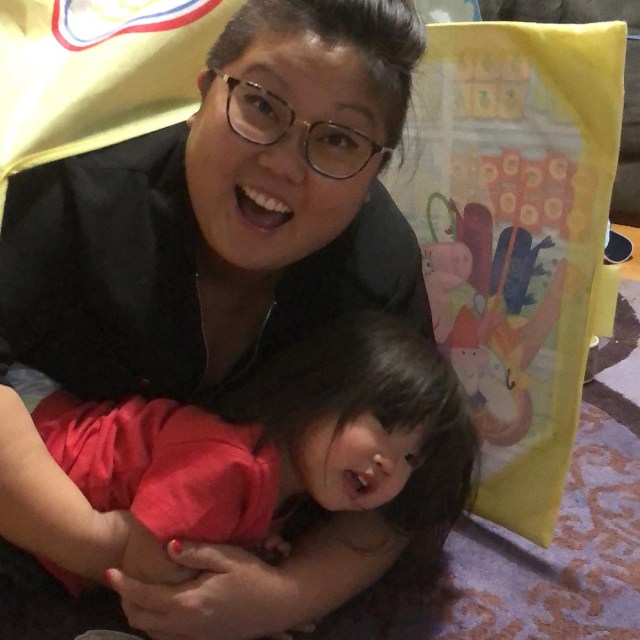 ---
I'm 14 years old. My two best friends, Heather and Cathy, and I spend every weekend together, rotating between houses from Friday through Sunday. We try on each other's clothes and take pictures of each other attempting to pose like the models in YM. My friends wear size 5/6 and 7/8. I wear size 11/12 or 13/14.
"I'm so fat," I whine, pinching my belly fat. "Nothing fits me."
"But you have such good legs," Heather reassures me. "I'm so jealous you don't have any cellulite at all! My legs are gross."
"I wish I had your thick hair," Cathy jumps in, touching her own hair.
"You have really pretty hair," Heather agrees.
Cathy snaps a surprise photo of me as I'm changing into another outfit. I'm wearing a white bra and a red plaid skirt. I yelp and turn my face and body away from the camera as the shutter clicks. I get the photos back a week later and I immediately flip to that photo. All you can see is my back and the side of my head as I'm caught mid-turn. My hands are covering my face. I fixate on the slight line where my bra band digs into my back. My back fat, I would have called it. I hate it. I hate it I hate it I hate it.
---
"Your baby lived in here!" I protest. Waffle is telling me I have to throw out my maternity jeans, the ones that I wore all during my pregnancy and that I'm still wearing to chase around a two-year-old. No one makes jeans like this for fat girls. Comfy, soft, intentionally cradling and hugging my roundness and sitting high on my waist, stretching stretching stretching to accommodate all of me. Why don't they make clothes likes this for my non-pregnant body, clothes that fit a belly, honor it, draw attention to it and celebrate it? I know the answer. I still ask the question.
The fabric has been fraying where my thighs meet, threatening to split as the denim wears thinner and thinner. A huge hole inevitably appears one night, stretching across the upper inner thigh.
"It's time. They have to go," Waffle says. He goes online and buys me super high waist stretchy non-maternity jeans, which are very comfortable and not quite the same. "Promise me you won't put them back in the washer," he says.
---
Waffle and I tried to do Weight Watchers in the months leading up to our wedding ceremony in 2011. Weight Watchers promised they weren't a typical diet. It wasn't about denying yourself. It was a body positive community. Waffle wanted to lose weight. I wanted to feel healthier.
We paid for the monthly subscription. We downloaded the app and tracked our points. I substituted whole pints of applesauce for ice cream, diet soda for sugary lemonade or juice. We both dropped significant weight immediately. I started fitting into size 12 and size 10 again, the first time I'd fit in a 12 since freshmen year of college.
I got so adept at counting points that I didn't need the app to estimate after the first few weeks. I was just counting them in my head, all the time. I'd be sitting at my desk at work, musing over what to eat for lunch, calculating the points. Always, always, thinking about what I was going to eat and adding and subtracting my daily and weekly allotment. The more you lose on Weight Watchers, the fewer points per day they allow you. I started with 29 points per day. As I lost weight, I got down to 22 points per day and the diet that allowed me to "eat anything I want" started to feel like an old familiar calorie-counting restrictive diet.
It ended when I found myself sitting on the floor crying, because all that negative self-talk I'd untaught myself was overwhelming me. Somewhere along the way, I'd started thinking of food as "good" or "bad" again, as though food could be ranked on some arbitrary binary scale. I'd started ignoring my intuition and drinking diet soda to curb hunger between meals. I wasn't thinking about being healthy anymore. I was thinking about being thin — thinner, thinner, down one more size.
I thought I'd left that person behind, the one who was obsessed with disappearing, but here she was all along right there just past the curtain into my subconscious mind, ready to shame me into obsessing over every point, sighing in my ear, "You're going to have to exercise if you eat that 8-point bagel." "Maybe you should just skip lunch so you have enough points for dinner." "You're going to get fat again."
I quit Weight Watchers.
---
"You don't look that much different," Waffle commented. I was looking at my post-baby body in the full-length hallway mirror. I was trying to remember what I looked like before I was pregnant. I didn't show right away, but my stomach hardened up and got a little higher and rounder. I'd definitely had a round belly, though, to begin with. I was thick around my waist with small hips, an almost rectangular shape except for my large chest. I've always carried my weight in the front and I'd developed vertical stretch marks around my belly button in the year before getting knocked up.
When I first got those new belly stretch marks, I had to consciously force myself to embrace them. "These are fine," I'd say in my head to myself as I ran my fingers over the red lines. "Lots of people have stretch marks. They're beautiful." I didn't believe it, but I just kept saying it to myself until it became my truth.
I spend a lot of time thinking about my body. Loving my body is a full-time occupation. I need constant reinforcement and reassurance and permission to be kind to myself. The truth of body positivity is that it isn't a one-stop destination. It goes on and on and on and you are always practicing it and always kind of not quite getting it right, too.
After pregnancy, my tummy was still there. I still carried my weight in the front. The stretch marks faded, but my tummy hasn't toned back up. The skin was tauter and stretched over my fat before pregnancy, like the cute accent pillows on my couch. Plump and stuffed and fitted just right. Now my belly is more generous like the king-size pillows on my bed, soft and fluffy and pliable, a gentle place for resting. It's a bit saggier. It hangs a little lower. I have a little crease under my belly that's more pronounced now. I have belly dimples. My pants can't sit under my belly anymore without my tummy flopping over the waistband.
I love how soft I am postpartum. It's a reminder of how my body stretched and grew and changed to grow a tiny human, how it protected Remi for almost 10 months. It's a reminder of how I howled and rocked and focused completely naked and sweaty and raw for hours and hours to bring her into the world. I didn't know I could be that strong and that soft simultaneously. I didn't know my softness could be my strength.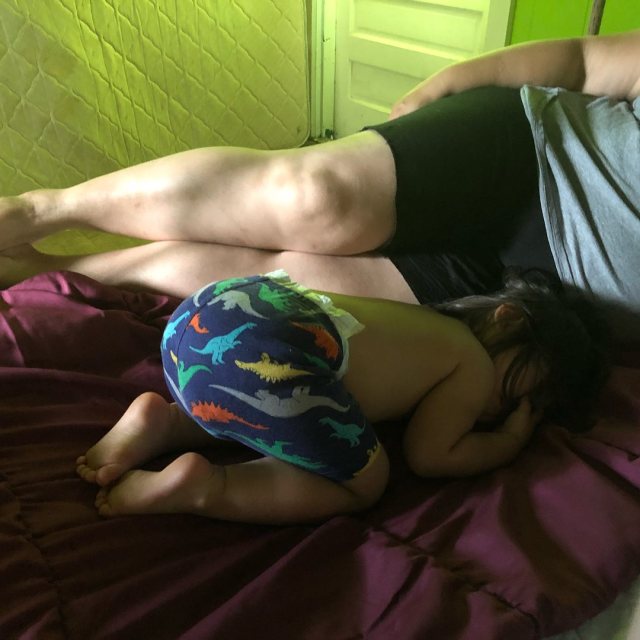 ---
"I've got a six-pack under all this fat," I joke, "because all I ever do is suck in." I'm always looking for ways to appear slimmer, always holding my stomach in. I automatically inhale when I stand up. I sit on the edge of my seat in class with my shoulders back and my pelvis forward and stomach flexed. I wear body shapers under my prom dress to create a slim waist, so tight I can barely eat my fancy dinner. I wear pantyhose under my pants to slim my thighs. I have a bikini that I only wear for tanning, at home, never in public. My BMI is in the "overweight" category, the gym teacher reminds me every year. I'm stuck at 142 pounds. I can't get smaller than a size 8 or a size medium. I have this one skirt that's a size 4 that I can just barely squeeze into and I wear it just because it makes me feel petite. All I want is to be small. Boys would like me if I was small. If I was small, I could be happy.
---
Remi snuggles into me when she's in the mood to lounge. In those quiet moments, I love how she rests her hand on my belly or lays with her head across me or leans her whole body into me and relaxes into my softness. It reminds me of how I used to snuggle up to my mom, how it felt so good to be breathing her in all nuzzled up and warm, like slipping into her pocket.
I want Remi to love my body the way I am. I want her to see me as beautiful the way I saw my mom as beautiful, with my short hair and my double chin and my hanging belly. Perfect. It feels so right when she reaches for me and throws her arms around me, when she rests her head on my chest or shoulder, and even when she uses all my bumps and lumps as footholds to scale me like a human playground.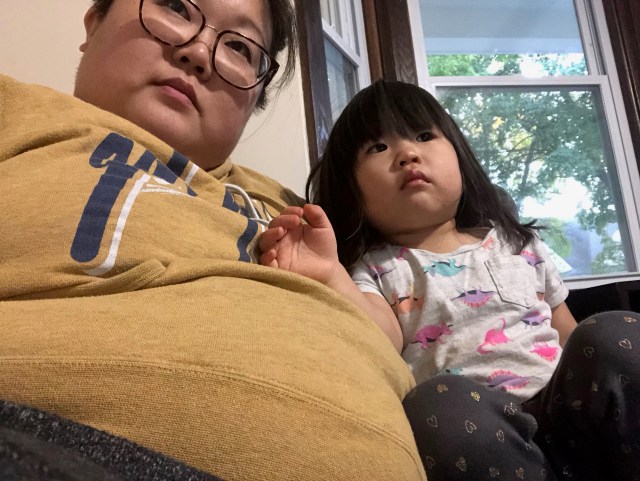 As a queer hard femme, my gender expression is about hard edges more than feminine touches. I like an exaggerated cat eye in a black liquid liner that's so sharp it could cut you. I like bright red and dark purple and black-blue matte lipstick and glowy silver highlights and dramatic jewelry. A student recently told me I have B.D.E., which I had to ask them to define and then did not completely love the definition of, but I think they meant that my presence commands attention. My femme-ness has never been soft and delicate. I'm scared to be that vulnerable as a woman. My hard edges have been there, in so many ways, to protect my softness.
Being fat and soft with Remi feels different. Being a fat, soft mama makes me feel sturdy, like an immovable mountain or an impenetrable fortress. It's a strength that would never harm Remi, could never poke her with a hipbone or a hard angle, and could protect her infinitely. My capacity to move for her and make room for her and mold my life to hers is one way to love her, with all of myself.
---
Remi loves her belly. She really, really loves her belly button. She lifts my shirt to find my belly button and pokes it or kisses it and exclaims, "Boop!" It makes her giggle so hard she has to sit down. She shows her belly off to anyone. She's so proud of knowing her body.
One day, as much as I try to be her radically soft mama and model body positivity, she'll wish her belly was small and flat and firm. She'll want to hide it. She'll learn to hate her body. I hope my softness shows her how strong soft bodies can be. I hope she never stops loving my softness. I hope it helps her love herself against all odds.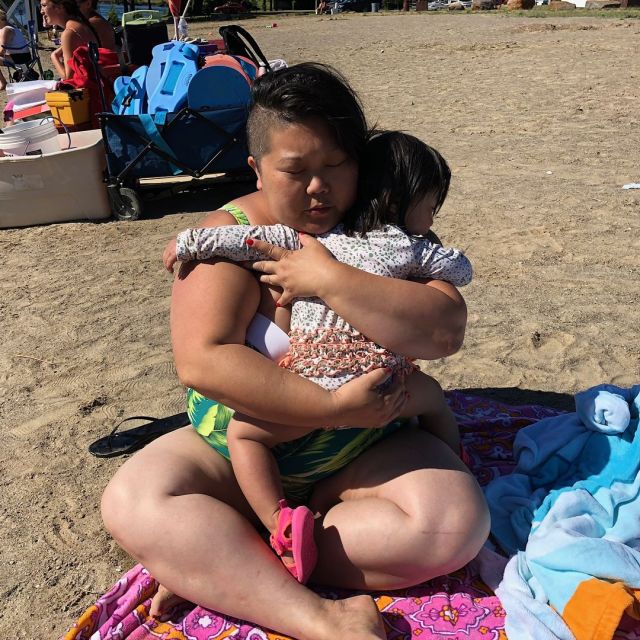 ---
4 Random Parenting Feelings I'm Currently Over-Processing
1. Baby Shark Doo Doo Doo Doo Doo Doo
Ya'll. I didn't know about Baby Shark. I didn't know. I don't know why this song, specifically, is so endlessly entertaining to kids. I do know it is a very catchy tune that gets stuck in your head. I know putting on this video is a surefire way to distract Remi if I need to get some work done. If you don't have a child, you may not be aware of this entertainment gold. If you don't understand the appeal, watch it with a toddler. I am slightly concerned that this is Remi's first exposure to Korean entertainment, but OK we'll deal with that later, I guess.
http://www.instagram.com/p/BoZQmsihI-n
(This is on in the living room right now while I wrap up this column.)
---
2. Things I've Googled This Month
what age toddler bed
how many words 2 years old
counting age normal
signs ready for toilet training
why do kids like baby shark
toddler nightmares
toddler doesn't use blanket
---
3. Late to Bed, Lazy to Rise
Our kiddo has a really late bedtime of somewhere between 10pm-11pm, which we're kind of embarrassed to admit. She's never been a long sleeper at night, though, and she sleeps at most 10 hours. Also, we like to sleep in because Waffle works nights, we've been able to avoid having to pay for daycare because Waffle watches her during the day, and I don't need to be to work until 9:30 or 10am most days. So, like, it works for us until she starts school (or daycare — whatever comes first). It's just a little awkward to talk about because most of our parent friends put their kids to bed at, like, 7pm.
---
4. Baby Shark Doo Doo Doo Doo Doo Doo (Part II)