Autumn is just around the corner, which means winter follows on its pumpkin-spiced heels.
I say this not to alarm you — nay, it is to prepare you for the long winter slog ahead. For verily, there is a cornucopia of queer creators hitting the road this fall, and it would be wise to consider attending one of their shows (if not more) to give yourself some music and laughter to get you through to spring.
Check out tour dates and ticket availabilities; there's a good chance one of these awesome acts is headed to a city near you.
---
Rhea Butcher and Cameron Esposito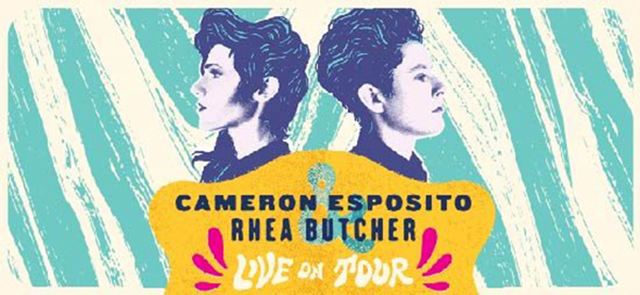 The stars of the hilarious show Take My Wife are on their Back to Back tour from September through the middle of October, giving our queer hearts comfort in the knowledge that on a stage somewhere in autumn, two rad, married women are telling truths and making people cry-laugh (seriously, so funny – check out Cameron hanging out in bed with Kristin Russo for more proof).
The only way it could be better would be watching them live! Visit CameronEsposito.com and/or RheaButcher.com (you don't have to choose) for tickets and touring dates.
Gaby Dunn and Allison Raskin
You've watched them figure out life and love and each other on their hit digital series, Just Between Us, and now you, too, can be part of the JBU-esque conversations as Gaby Dunn and Allison Raskin prepare to hit the road on a tour called "Gaby and Allison Hate Everyone But You."
Promoting their book, "I Hate Everyone But You," which drops on Sept. 5, the two friends will be on stage telling stories, doing some stand-up, showing you some videos, probably vocally disagreeing with each other a lot, and just generally making you glad you left your house.
The shows start up in September, so check out ticket and show availabilities at GabyandAllison.com.
Tegan and Sara
Sorry to throw in this little-known indie band from Canada, but I really think you'd like them.
Autostraddle faves Tegan and Sara, our twinners from another winner, are headed back out on the road to celebrate ten years since releasing their album, "The Con." The North American tour will include all 14 songs on the album performed in order, along with other favorites.
A portion of the ticket sales will go to the Tegan and Sara Foundation, a very worthy cause "fighting for economic justice, health and representation for LGBTQ girls and women."
For ticketing and show information, head over to TeganandSara.com.
Mal Blum and Mary Lambert
If you've never experienced a Mal Blum show, here's all I can tell you: Your heart will be squeezed and your tear ducts will be teased and your ears will be pleased.
Mal Blum and the Blums are a feelings experience, and the whole band goes on tour in mid-October to support Jessica Lea Mayfield, and then starting Oct. 21, Mal heads out on their own to support the ever-amazing and talented Mary Lambert through mid-November on their aptly named Everyone is a Babe tour.
Yeah, you heard me: Mal and Mary together. Your heart is going to be so full and love it so much (this song makes me want to dance with and kiss someone).
For ticketing and tour date information, visit MalBlum.com. and/or MaryLambertSings.com.
Abby Wambach and Glennon Doyle
Former USWNT soccer superstar and all-time leading scorer Abby Wambach and her wife, the self-described "Christian mommy blogger" and author Glennon Doyle are going to be on stage in New Orleans talking about love, faith, and equality during the TEDWomen 2017 conference, taking place Nov. 1-3.
These two got married after a whirlwind and public romance, glimpses of which were gifted to us largely via social media. It will be interesting to see if they touch on how life has changed, good and bad, now that they're married to each other.
Abby and Glennon will join with social justice activist Valerie Kaur, former Fox News commentator Gretchen Carlson, actor and feminist Justin Baldoni, audio documentarian Eve Abrams, advocate and entrepreneur Christy Turlington Burns, CNN political commentator and journalist Sally Kohn (who also happens to be a lesbian!), and artist and poet Cleo Wade for the conference lineup, the theme for which is "Bridges."