Welcome to Queer Outfit of the Week where I scour the world and tell you all about my one favorite queer outfit this week. I'll envision a scenario where you or your girlfriend or your best friend or your mom or your cat could wear it and talk all about why it's a great outfit for that event. Every week will be a different style, gender presentation and event so there's a little something for everyone — even the person who just wants to look at pictures of stylish queers! So let's get to it — we're going to figure out what the heck we're going to wear this week!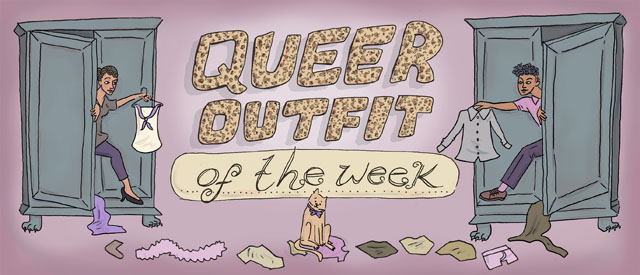 Header by Rory Midhani
It's almost the most magical holiday since The O.C. brought us Chrismukkah. It's time for Thanksgvukkah! A brand new holiday that's never happened before and won't happen again until the year 79811. While I plan to look just as fabulous is 79811 as I do now, we had better focus on what to wear this year on this very special day! Fortunately, Thanksgiving and Chanukah have similar style needs with just a few tweaks.
Thanksgiving is all about autumn and food, while Chanukah is all about winter and presents… and food. Fortunately both holidays are really about family! With that in mind, a sweater and a scarf is a the perfect place to start! Nothing says "I'm still your cuddly child please bestow upon me mashed potatoes/turkey/brisket/latkes/gelt" like a nice soft sweater and scarf. Aim for a sweater in grey or another dark color in case you spill. Plus layers are perfect if you're concerned you might get hot after a little Manischewitz wine flush and might want to layer down.
With layering down in mind, you might want to opt for a button-up underneath your sweater. That way if you get something on your sweater, and your sweater isn't dark enough to camouflage it, you can just take your sweater off and still have a perfectly Thanksgiving appropriate top. That being said, you might want to go for a slightly more casual button-up in case you suddenly find yourself needing to kick back and watch the football game in a more casual Thanksgiving setting.
Additionally, it's a good idea to keep your shirt and sweater untucked, since you'll probably be consuming an inconceivable quantity of latkes with gravy. You might need to be able to unbutton without anyone knowing.
On bottom I firmly suggest dark colored jeans. While typically I opt for nicer slacks for Thanksgiving, Thanksgivukkah inevitably presents situations in which you might be sitting on the floor playing dreidel or opening presents. This is not a time to mess up your nice pants. Plus, between Thanksgiving dinner and Chanukah you're going to be sitting for a while. Get comfortable.
The best shoes to finish off you Thanksgivukkah look are monk-strap shoes because they're the closest thing we have to modern day pilgrim shoes! Be prepared for some shoe jokes from your family and friends, but know in your heart that you'll be the most stylish person at the menorah lighting.
Thanksgiving and Chanukah are two amazing  family holidays, and fortunately you don't have to change your dinner sweater too much. Just make a few changes for comfort so you can fully embrace Chanukah activities and you're going to have a flawless and filling night!
---
If you see something that you think should be featured on Queer Outfit of the Week, send me an ASS message, ask on my tumblr, or tweet me @Ohheyitslizz