Welcome to Queer Outfit of the Week where I scour the world and tell you all about my one favorite queer outfit this week. I'll envision a scenario where you or your girlfriend or your best friend or your mom or your cat could wear it and talk all about why it's a great outfit for that event. Every week will be a different style, gender presentation and event so there's a little something for everyone — even the person who just wants to look at pictures of stylish queers! So let's get to it — we're going to figure out what the heck we're going to wear this week!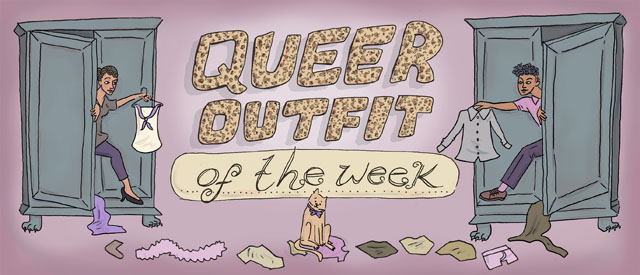 Header by Rory Midhani
---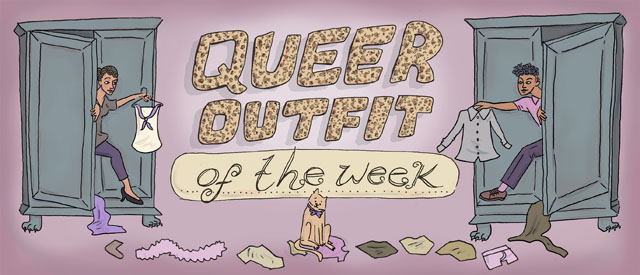 As much as I love it, thank god Halloween is finally over. How are you recovering from your candy hangover? What about your regular hangover? Is it just me or is everything falling apart this week? It's too bright in here and everyone is talking too loudly. I need everyone to be quiet. Okay. I guess that's better. One thing is for sure, I could not possibly leave my apartment today. I'm guessing you aren't going to either.
Just because you're not leaving your apartment doesn't mean you might not still want to look amazing. I personally use staying at home as an excuse to dramatically strike a pose repeatedly in whatever I'm wearing in my full length mirror. You may or may not want to do this as well. I don't know, it's your journey.
This isn't our first time talking about style for staying at home alone, but I still love this look's fresh take on an old theme. This week's outfit comes directly 100% without shame from the Veer NYC Fall 2013 lookbook. While I'm sure this look would be perfect for plenty of folks to bike about New York City, pausing occasionally to take inspired instagram photos, for a lot of us it's just the perfect combination of style and loungewear.
Drop crotch pants are the perfect way to start off this look because they live right in the land between slacks and sweatpants. If I spend the whole day in sweatpants or PJ bottoms, I end up feeling sort of stale. Like I spent the whole day in bed, even if I actually spent the whole day on the couch (which is completely different for the record). Regular jeans, on the other hand, are far too restrictive for the wallowing, TV watching, magazine organizing and ramen cooking you have planned. Drop crotch pants, on the other hand, not only live in the perfect comfy middle ground, they also are stylish enough that you can pretend that maybe, just maybe, you're going to leave the apartment at night. This goes double if they're patterned drop crotch pants.
Any tank top works well for stay at home all day, but a muscle tee maximizes shoulder coverage and warmth without compromising the need to be completely unrestricted with both arms exposed. Similarly to a pair of patterned drop crotch pants, a black crew neck muscle shirt gives much greater an illusion that you might just venture outside. But still, it's okay if you don't.
Whatever your reason for shutting in for the day, there's no reason to slump on style. You can still be as put together as ever, even if you're falling apart. So enjoy your day in, with or without these slippers.
---
If you see something that you think should be featured on Queer Outfit of the Week, send me an ASS message, ask on my tumblr, or tweet me @Ohheyitslizz