Welcome to Queer Outfit of the Week where I scour the world and tell you all about my one favorite queer outfit this week. I'll envision a scenario where you or your girlfriend or your best friend or your mom or your cat could wear it and talk all about why it's a great outfit for that event. Every week will be a different style, gender presentation and event so there's a little something for everyone — even the person who just wants to look at pictures of stylish queers! So let's get to it — we're going to figure out what the heck we're going to wear this week!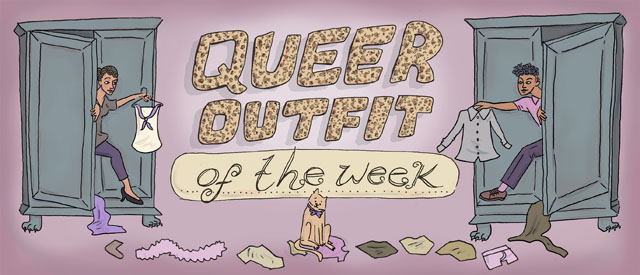 The leaves have finally changed and in that one perfect week when the trees are red and the air is crisp it's time to grab your honey (or bff or dog) for a romantic fall foliage walk. Unfortunately, actually picking that perfect day might be more complicated than you imagined. It might actually still be pretty warm. Or worse, freezing cold. Hell, it might even snow! So you'd better pick a versatile outfit! This week's look is brought to you by our very own Community Editor, Vanessa!
This week's look is pretty specific to dress-wearing folks. For great center of center or masculine of center options, check out our two great looks for apple picking. Because what is a fall foliage walk but apple picking without the pretense of work or mandatory end-game pie.
Our perfect femme look for a fall foliage walk brings together elements from you summer wardrobe in such a way that they are warm enough and seasonally appropriate for fall. There's nothing sadder than the moment you have to put your floral sleeveless dresses away for fall. Throwing a cropped tee on top of a short dress extends your summer dress's lifespan and gives you a totally unique look that flattering for almost any body type. Crop tops have circled back into style, but it's just as easy to make your own by cutting a tee shirt in half. I particularly like cropped shirts that are a bit looser so that it looks more casual and less Spice Girls.
Additionally, while layers keep this outfit warm enough for fall but cool enough to work up a sweat, you can add, subtract or substitute depending on the weather. If it's cooler than you expected, swap black tights for black leggings or swap the cropped tee for a cropped sweater. If it's warmer or you get overheated while walking, just layer down. If you really plan on sweating make sure to take along a bandana to wipe your brow.
You might think the most important element of this look is the adorable dress/shirt combo, but actually it's Vanessa's boots! They my absolute faves, the Steve Madden Troopa Boots! Supportive, thick-soled, heel-free boots are the key to any long walk! You can, of course, opt for more traditional hiking boots or sneakers, but you want to keep in mind your adorable walk pictures. Besides, a fall foliage walk is a stroll not a hike!
There's still plenty of time for that wonderful blend of summer and fall fashion. This time of year weather oscillates frequently and it's great to have layers for any outdoor adventure. Besides, if you get too cold you can always hop in your car and make it a fall foliage drive!
---
If you see something that you think should be featured on Queer Outfit of the Week, send me an ASS message, ask on my tumblr, or tweet me @Ohheyitslizz