This post is sponsored by HBO and Gentleman Jack.
---
Welcome to Queer IRL, an occasional Autostraddle community photo series that gathers little clips of lesbian, bisexual, queer and otherwise-identified women, trans and non-binary folks, just living our lives in 2019.
It's Pride month; have you heard? Have you danced in the streets, wearing a rainbow flag, surrounded by topless women, shouting your queerness and here-ness, maybe honking a horn or ringing a bell? Here's hoping! Below you'll find 50 LGBTQ+ humans who sent in photos of themselves at past Prides and shared a story about why these specifics pictures are special to them. Good luck making it through without crying!
Feel free to share your own photos in the comments.
---
Ciera / Atlanta, GA / 2018
I tried to get my parents to come to Atlanta's Pride Parade with me for years, but our schedules never lined up. This year, they made it a priority to meet up and celebrate with me. We danced in the streets for hours and racked up on tons of candy, beads, and coupons to local businesses. This picture is important because it shows a queer black woman from the south being loved on by her family.
---
Chelsea Amato + Mister Softee Truck / New York, NY / 2018
This photo was taken of my fiance Christina and I at the NYC pride parade in 2018. This was our last pride in NYC before moving to Durham NC. It marked the end of a decade long era for us. We were sad to leave such a gay-friendly city, but have been welcomed into the queer community in NC ways we couldn't have fathomed when this photo was taken. In addition, regardless of how tough can get, there are always ice-cream cones, Mister Softee is the best.
---
Rachael / Inside My Apartment, Chicago, IL / 2018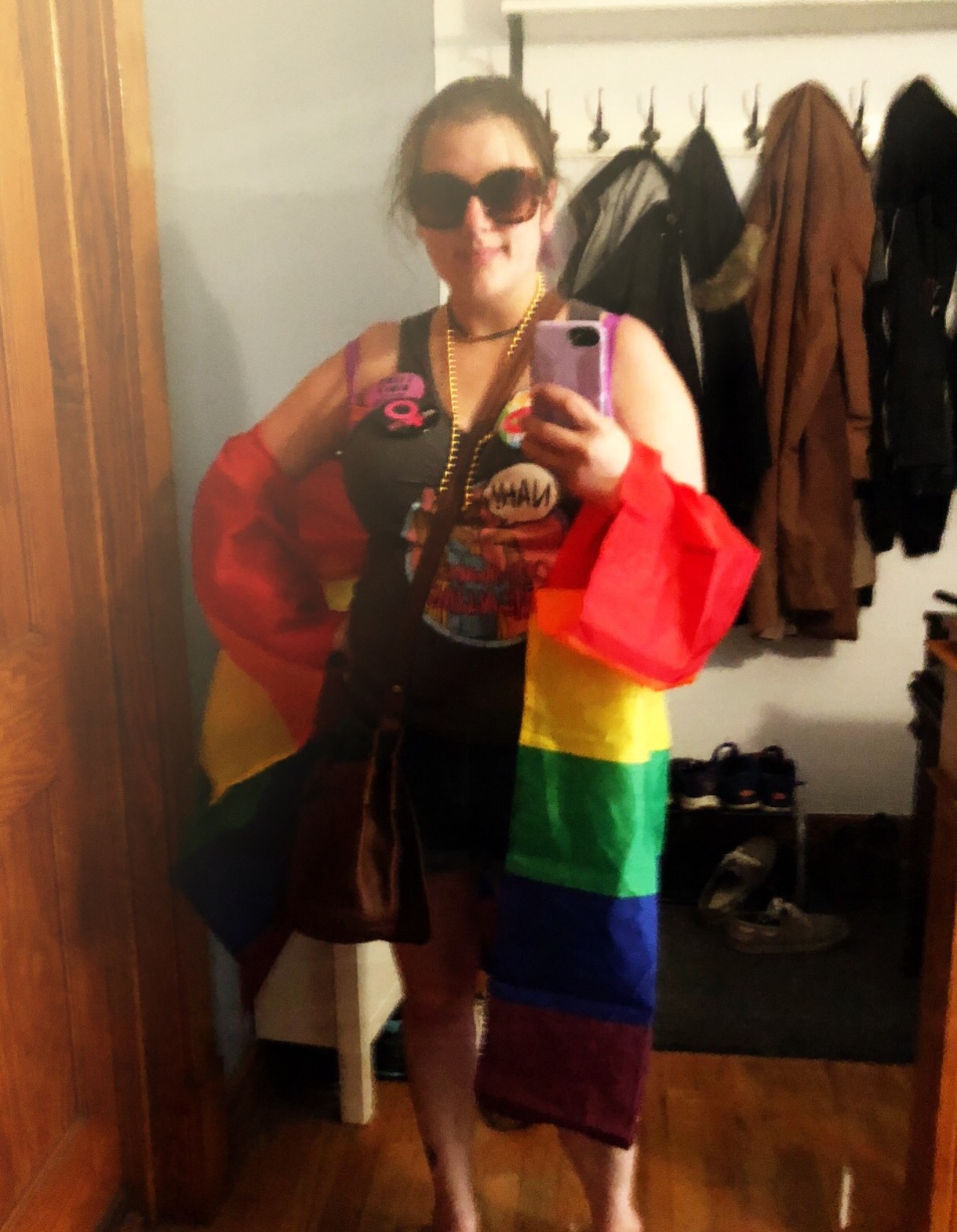 This post-Pride-Parade mirror selfie makes me smile, and not just because I'm wearing a friggin rainbow cape and giant feminist/queer buttons. I'd just moved to the city ten days ago after feeling lonely and isolated in the suburbs for over a decade, and couldn't wait to feel like a part of the queer community. Unfortunately, the power nap I was about to take lasted about five hours too long and I wound up missing the Chicagostraddlers' beach meet-up, but it was definitely an amazing weekend anyway!
---
Brittany / Madrid, Spain / 2017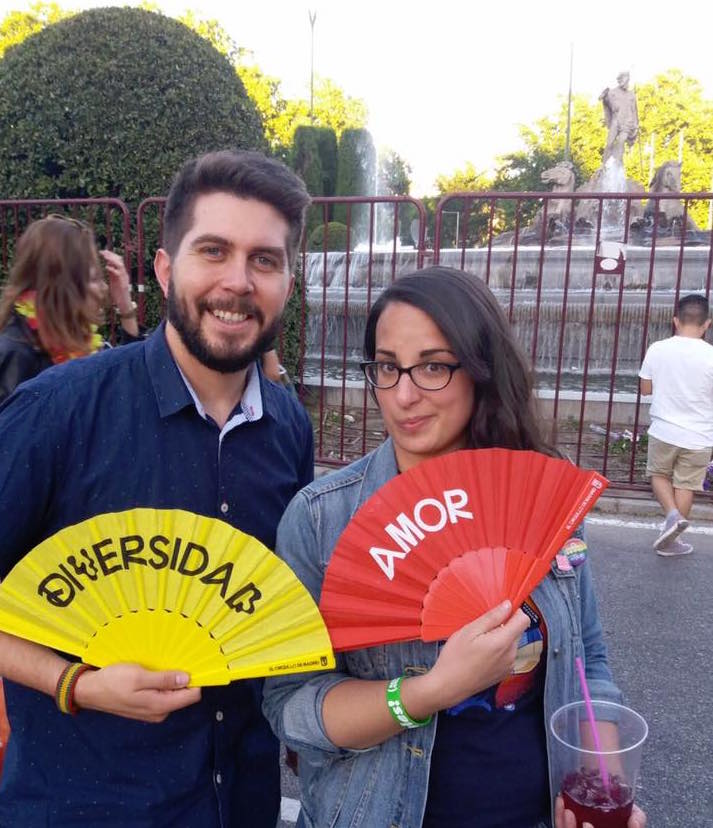 Madrid Pride is already typically the largest pride event in Europe with roughly two million participants each year, but in 2017 Madrid also hosted WorldPride — making it the largest pride event in the world. I'd never been to a large pride event before (just some local parades and bars) so this was kind of baptism by fire. WorldPride is like the Olympics of Pride events with entire countries passing by waving their own rainbow flags. I feel like this could have made the whole thing too corporate, too male (as Prides notably often are), or too much of a street party for straight people (which Madrid Pride often is). But when the preceding 15 months included the attacks in Brussels, Orlando, Nice, and Manchester, WorldPride Madrid felt like the protest it should have been: fuck the fear, we will be here and loud and proud and visible together.
---
Robin Tatlow-Lord / Adelaide, South Australia / 2018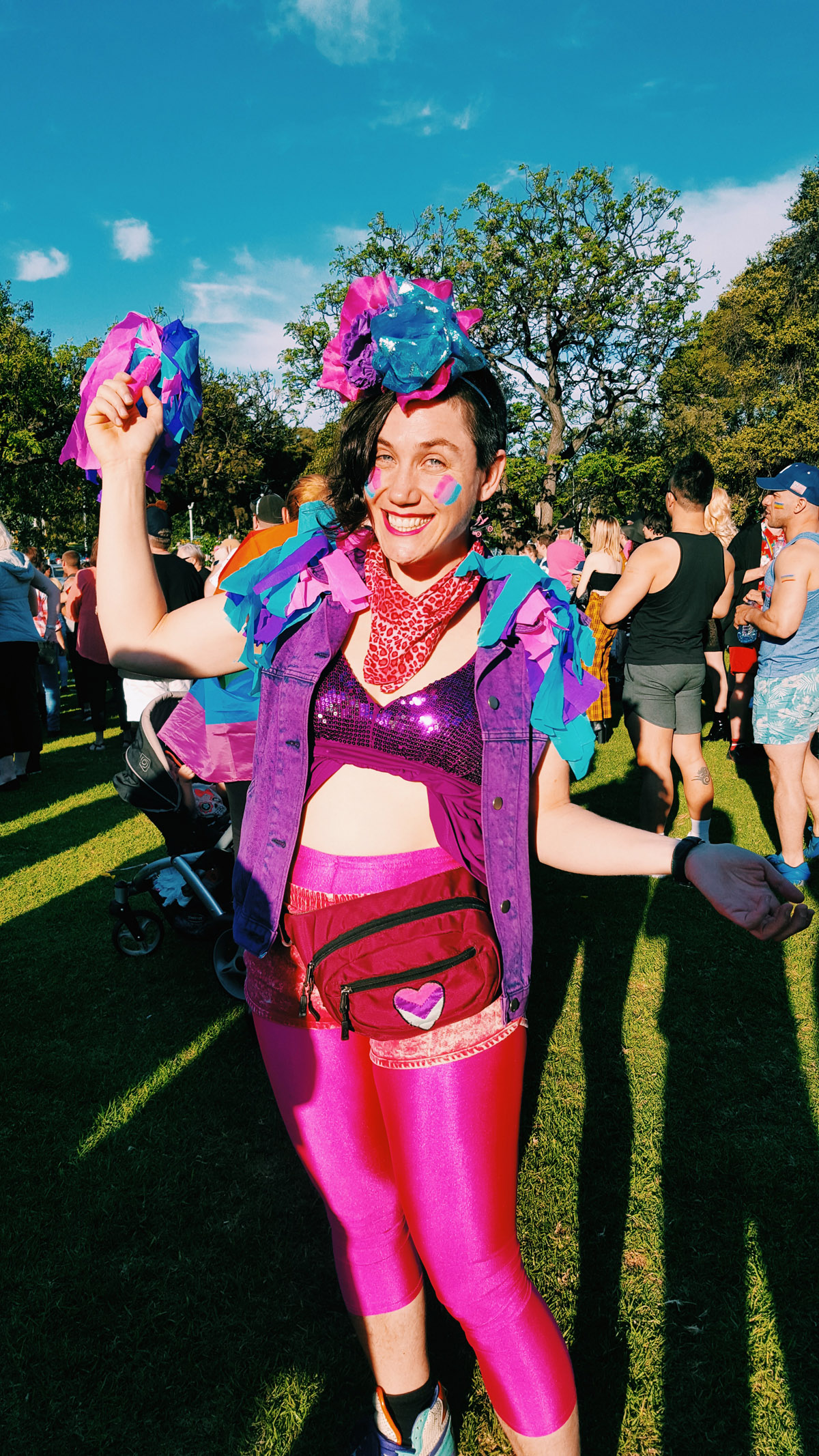 2018 was my first real Pride and for me it was all about bi visibility and flamboyance! I might have gone a bit extra extra to compensate for my gorgeous partner / portable closet. We had lovely pals to walk with including my beautiful friend who was extremely pregnant! I had other queers ask me about the bi colours — and black-clad teenagers thank me for wearing them and being visible.
---
Sam Tett / Bloomington, IN / 2017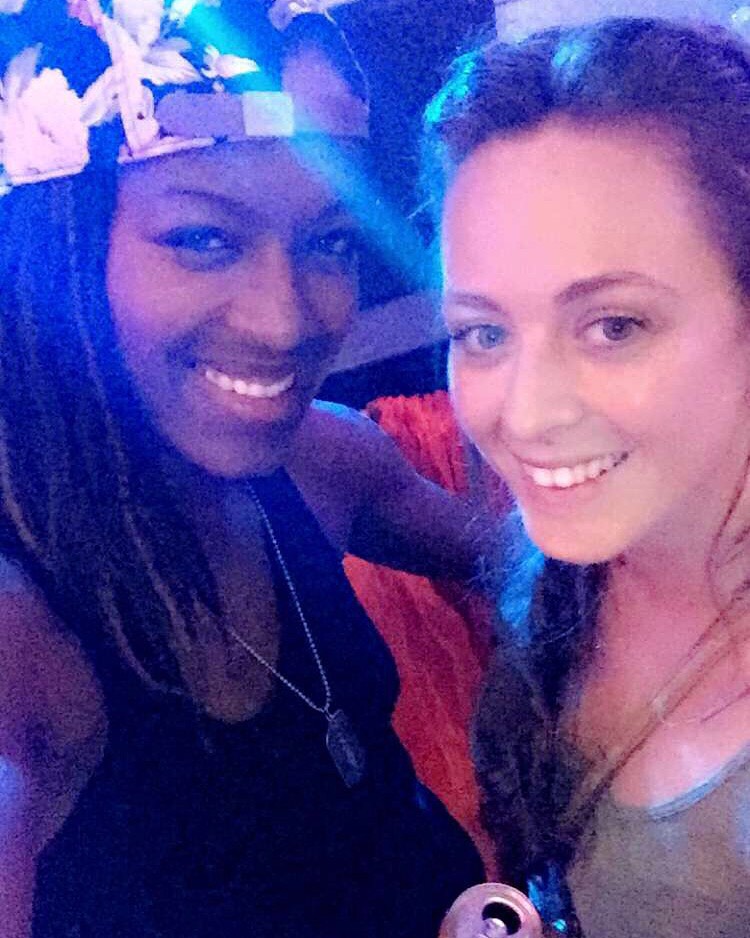 This was my first ever Pride (I'm on the right), so it was meaningful for that reason. I also met this woman, (whom I only knew as Ari) during a block party. She was in one of the bands. We bopped around together for the entire day. People assumed we were a couple. I did not correct them.
---
Leora Spitzer / St. Louis, MO / 2015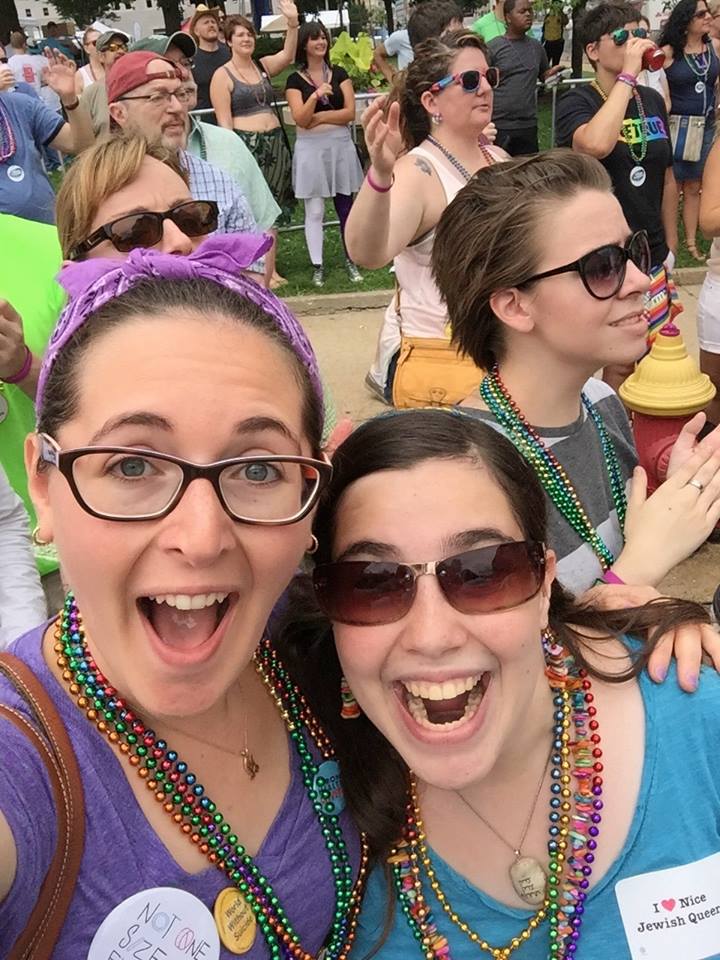 This was my very first Pride, just two days after the Supreme Court legalized gay marriage. The whole crowd was euphoric. There were wedding vendors on every corner, and there were blissful newlyweds all over the place. It was one month after I had ended a two-year relationship with the boy I thought I'd marry and one week after my queer older sibling's not-a-wedding celebration with their partner, one week since I had a kissed a beautiful woman at dusk by a lake and began to consider that maybe "queer" was a word that could describe me, too. After years of dismissing and diminishing my attraction to women, of calling myself "mostly straight," this photo marks the first time that I said out loud, to myself and to the world, "I am here and I am queer."
---
Ashleigh Mierau / Philadelphia, PA / 2018
Pride with my friend CJ is important to me because they were the first close queer friendship I've had. Over the last two years we have both embraced more fully our sexualities, gender, and how we choose to dress/look — in part thanks to the support of each other. This Pride happened shortly after I went to A-Camp for the first time, which inspired my Be Steadwell lyric shirt I made: it says "Let's go home and have gay sex, we'll do it for the President." CJ's shirt says "Don't assume my gender." I was riding a queer high! There is nothing better in this world than the love and support of queer relationships!
---
Sench / San Francisco, CA / 2015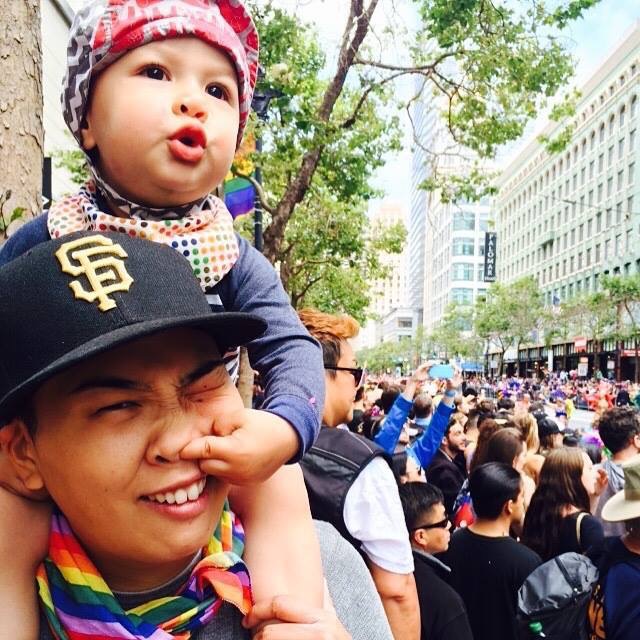 My wife, Rion, and I took our son, River, to Pride in San Francisco where he was born and where we lived for eight years. We got a great spot in front of my then-office where I was able to borrow a ladder. Rion captured one of my favorite pictures that completely exemplifies being a parent. We don't live in SF anymore, but for sure left our hearts there.
---
Veronica Barnes / St. Louis, MO / 2018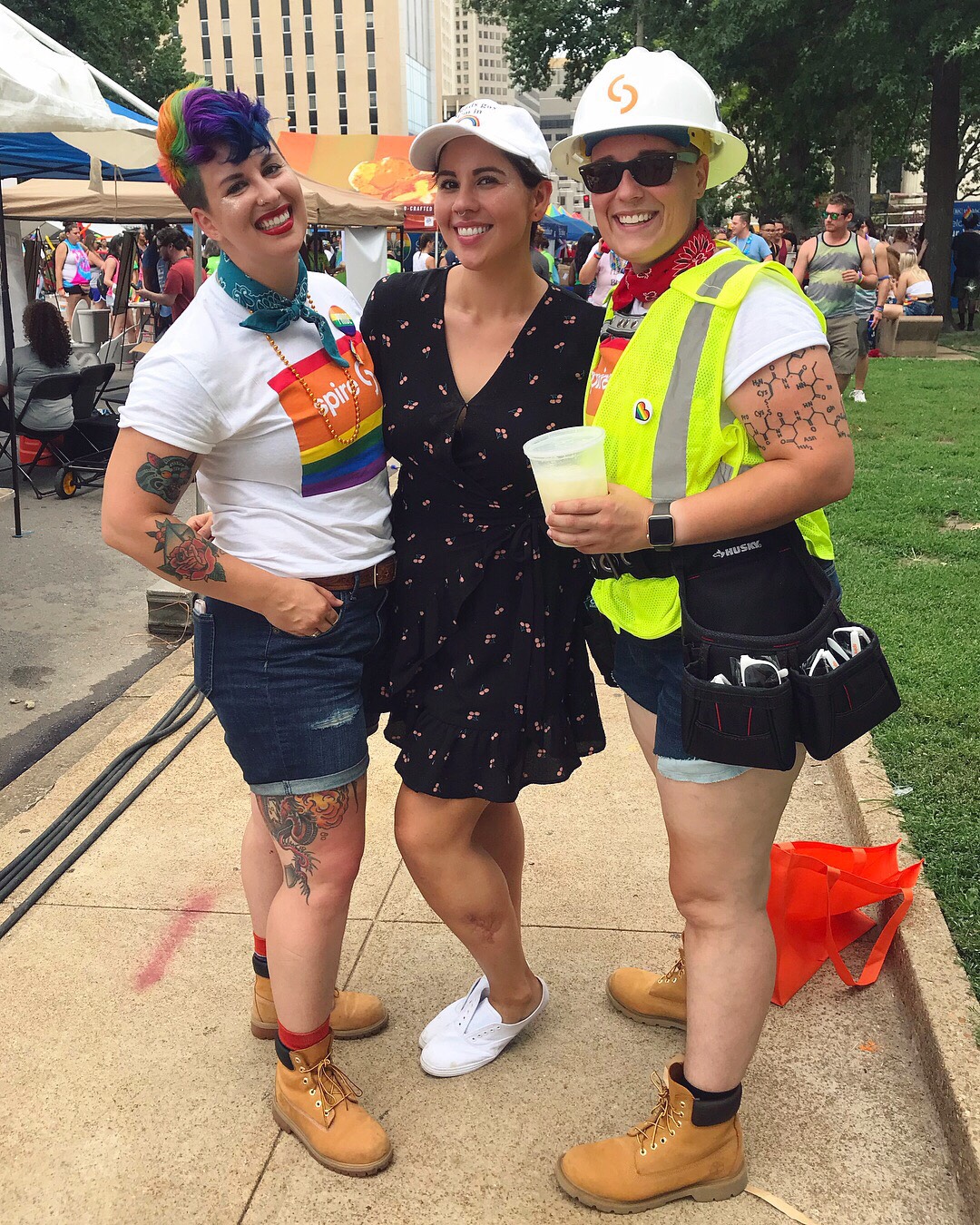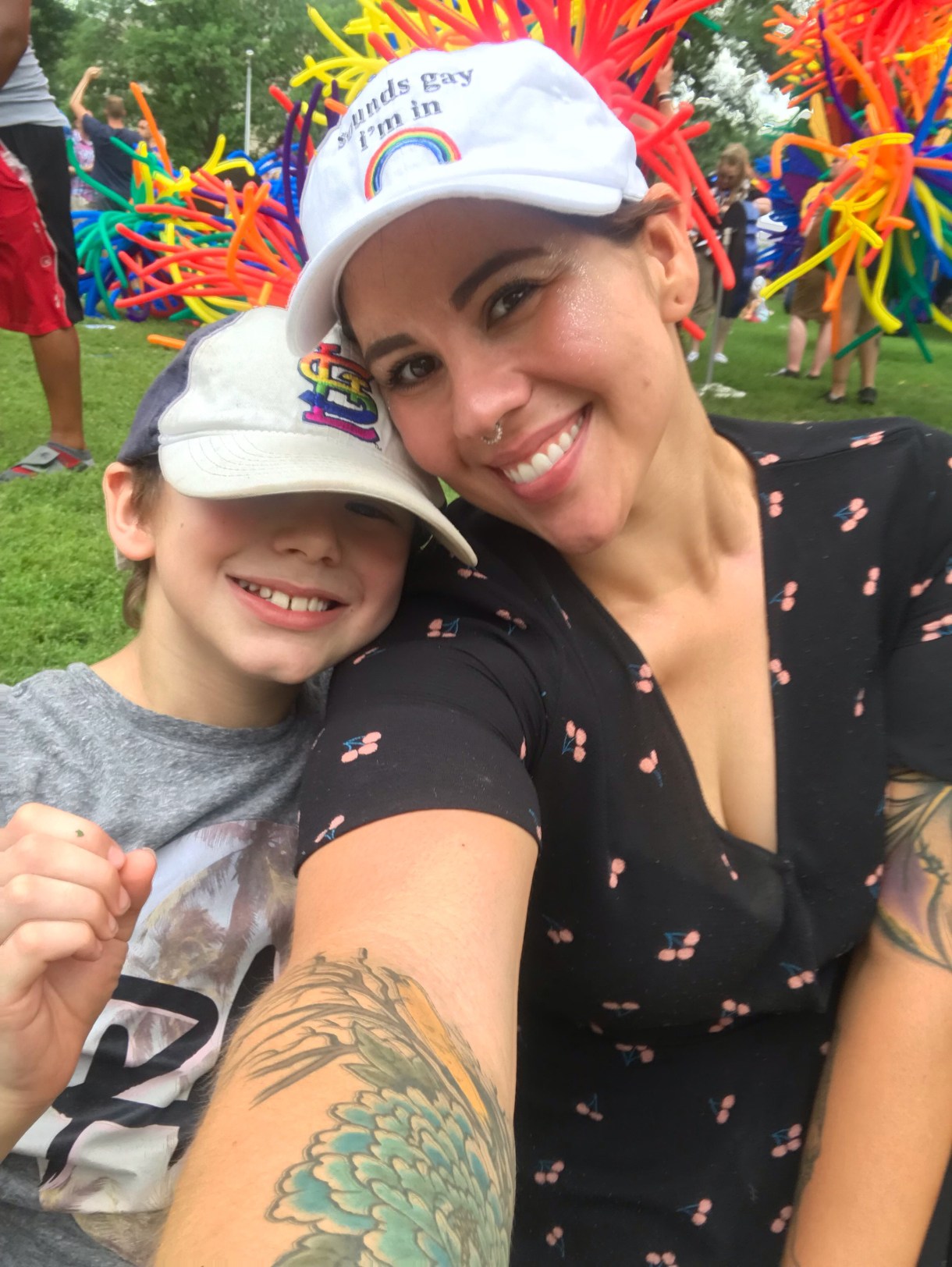 This is me at last year's Pride with two very good friends (I'm in the middle, but still the third wheel) and my nine-year-old son. My son and I go to STL pride every year we can make it! It's a huge tradition for us.
---
Jess / Northampton, MA / 2019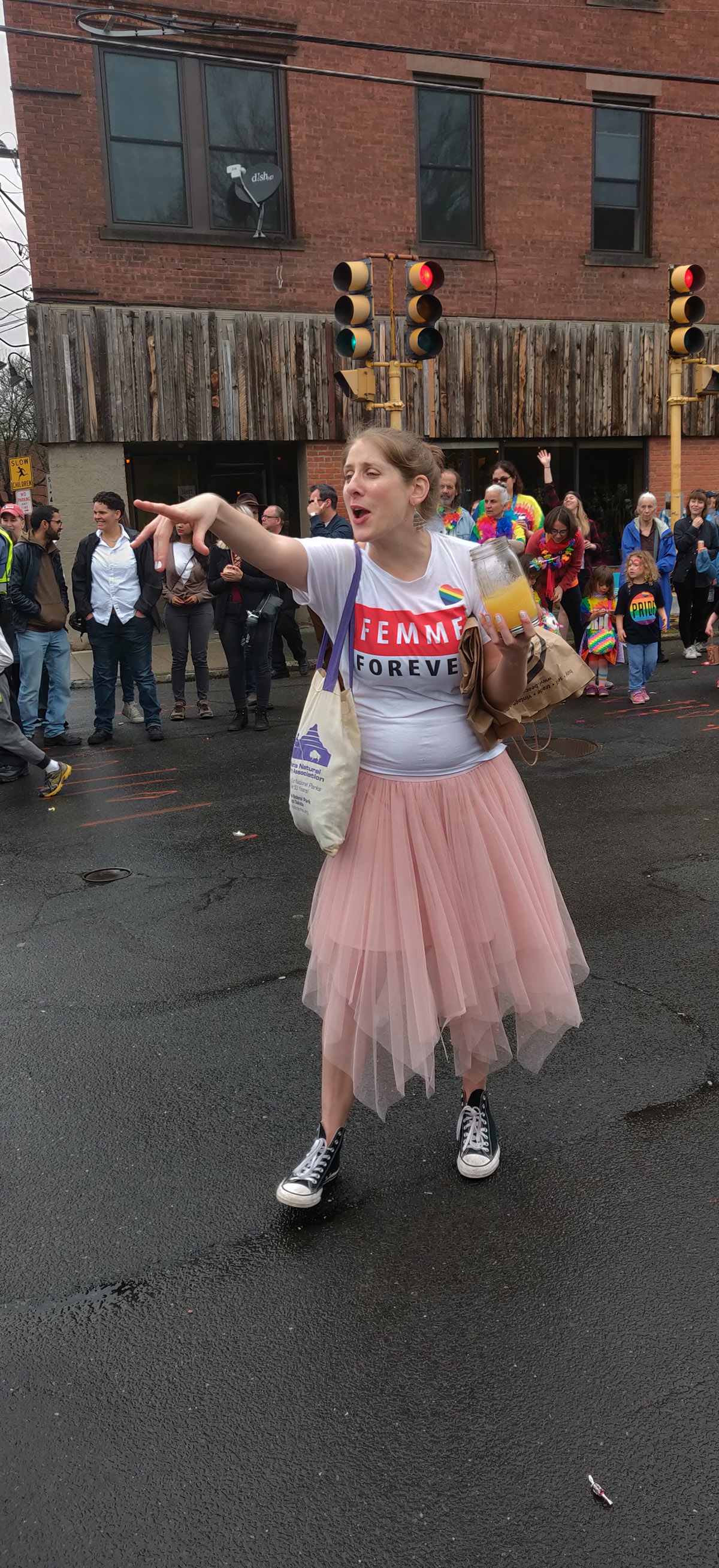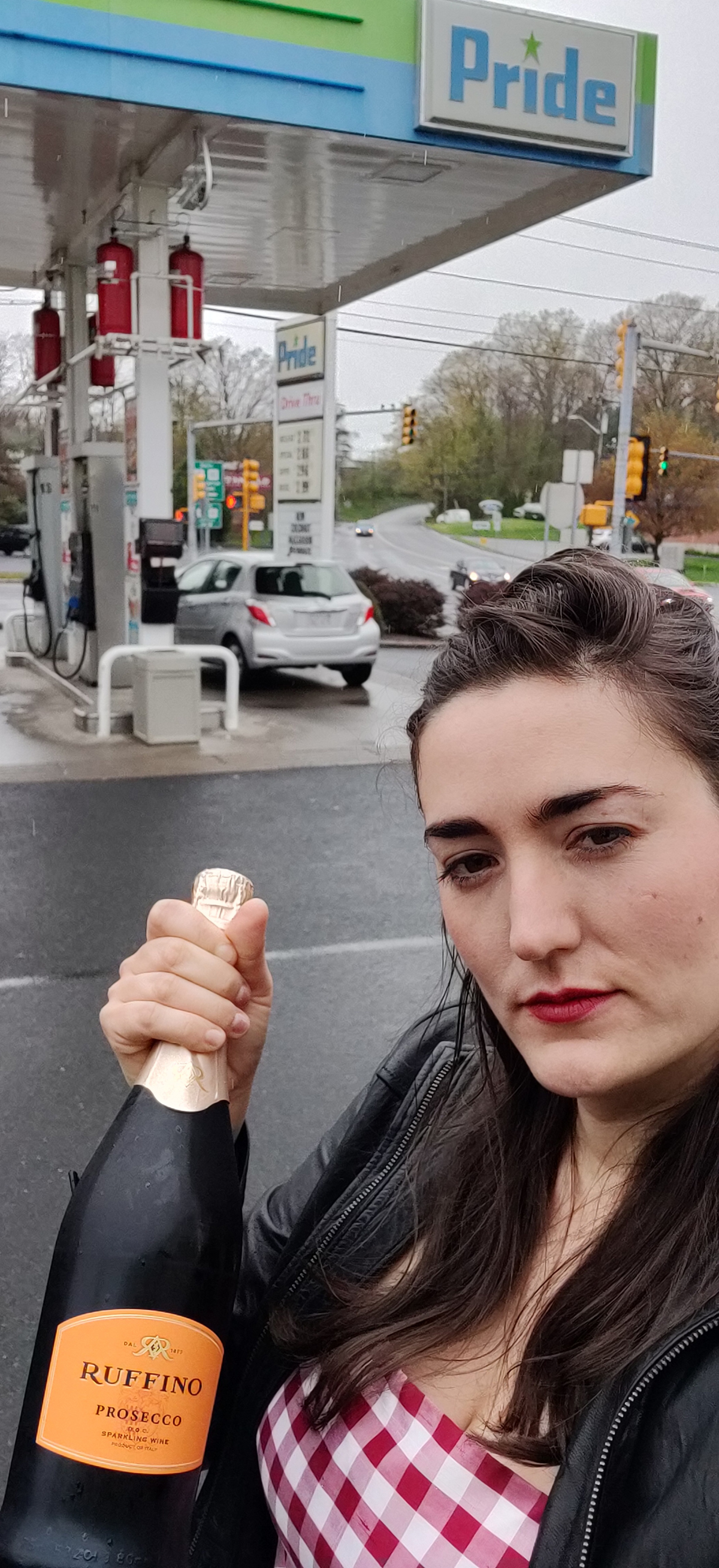 This is a picture of my best Valley friend QueenE at Northampton Pride May 2019. QueenE and I are femme sisters forever. Her Taurus-season Pride tradition involves drinking mimosas in the streets. I bought Prosecco at the Pride gas station from queers who couldn't get the day off.
---
Vanessa / Portland, OR / 2018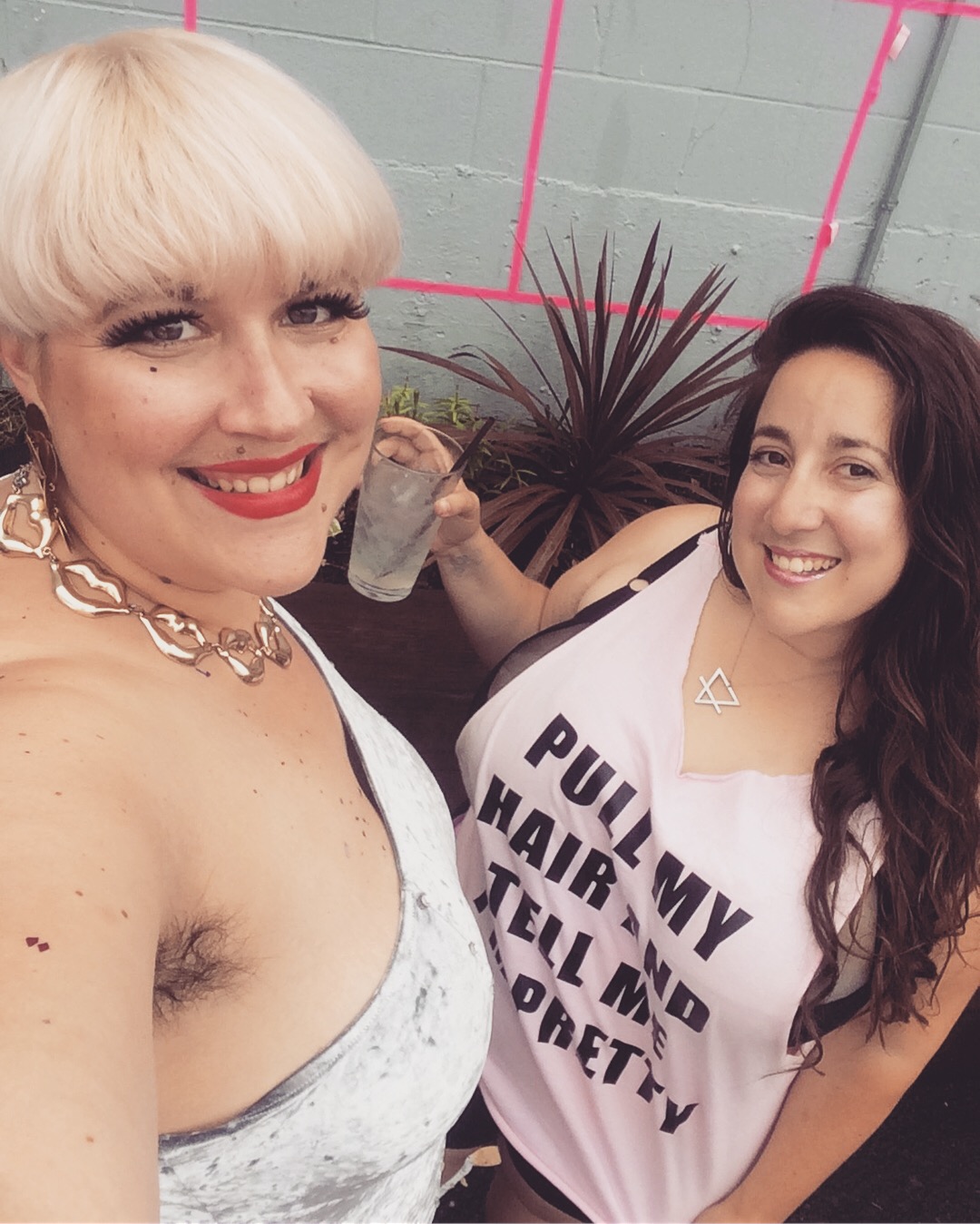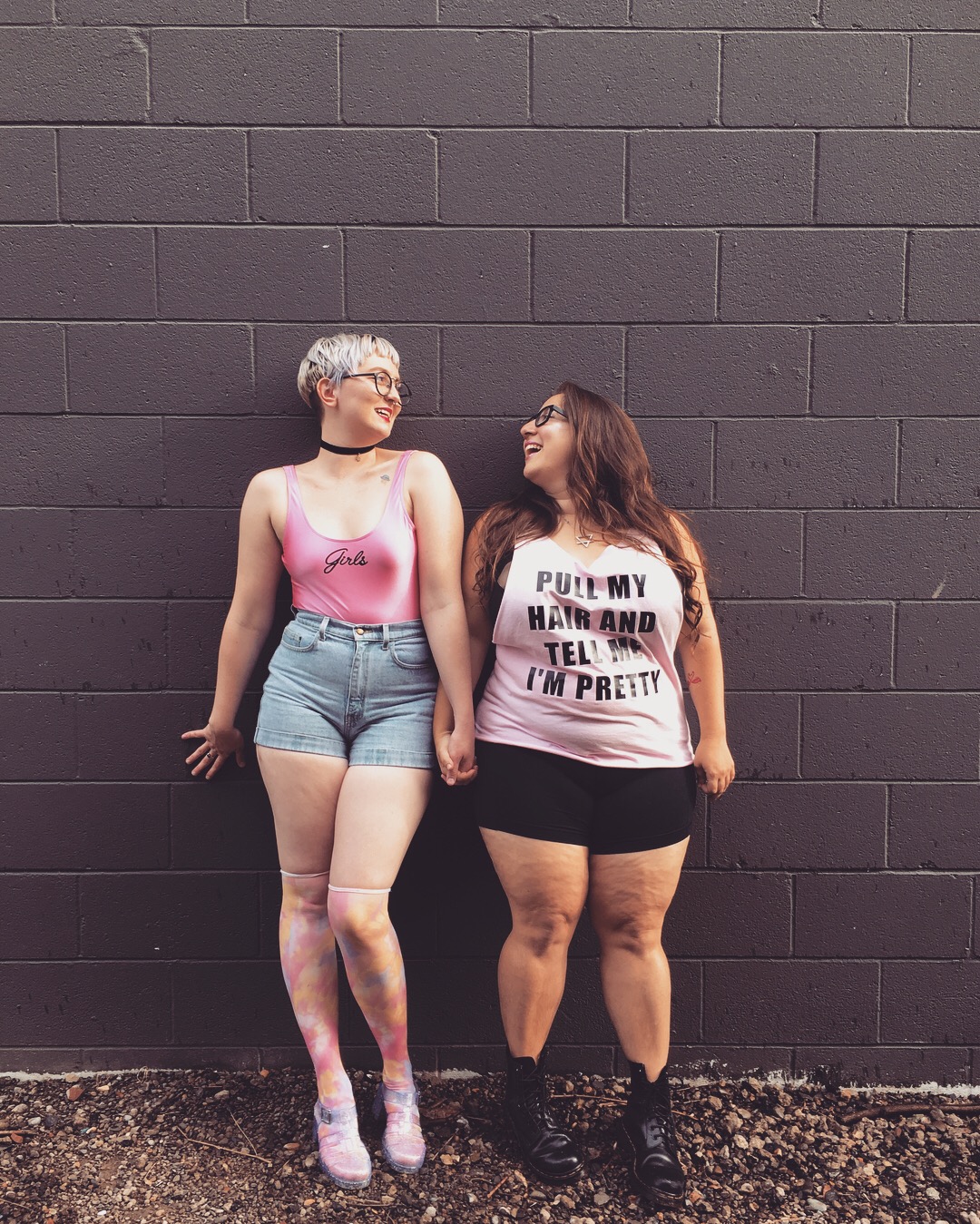 Both these photos are from Pride in Portland, OR last year. I'm with my friends Courtney and Binky, I'm wearing a shirt I screen printed specifically for the occasion that reads PULL MY HAIR AND TELL ME I'M PRETTY, and I am very definitely living my best life. To me the best part of being queer is community. It sounds cliche but I'm very sincere. My friends are my everything. Our community is my family. These pride pictures bring me joy because they remind me that there are so many different ways to love, so many different ways to connect, so many different ways to create family, and really, so many different ways to care for each other. Happy Pride, my loves. I love you all for forever.
---
Cassandra Schwartz / Seattle, WA / 2016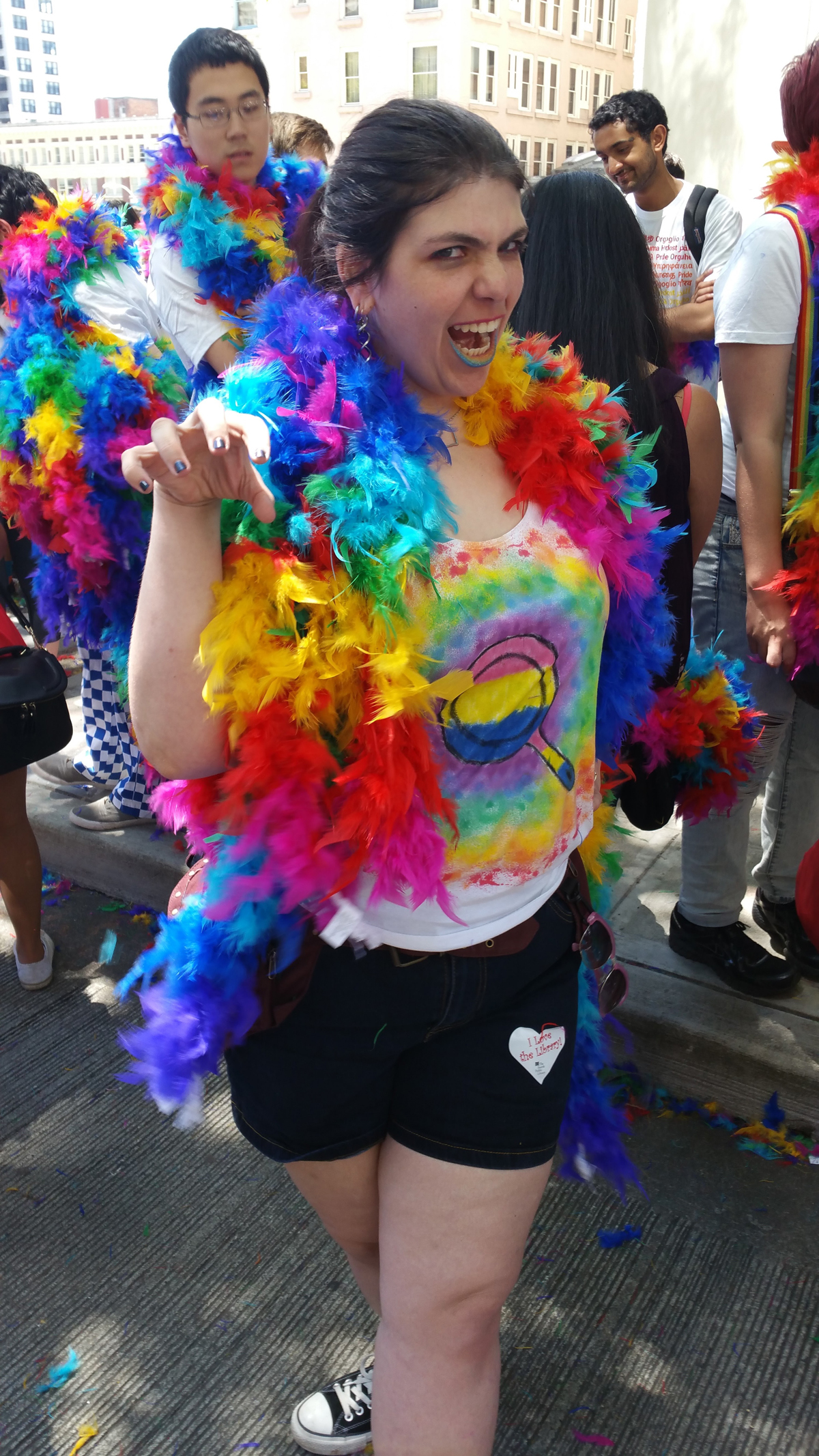 This was my first time at a Pride event ever, I spent the day walking the parade in the Google contingent with my boyfriend (who works there) and his wife. I was so excited. I'm not normally super artistic, but I spent an afternoon designing and making my Pansexual Pride shirt, because I couldn't find one to buy that resonated with me, and I even made sure my lips matched. I love this photo because it's so obvious that I felt proud, cute and very fierce.
---
Madeleine Rossanese / San Francisco, CA / 2018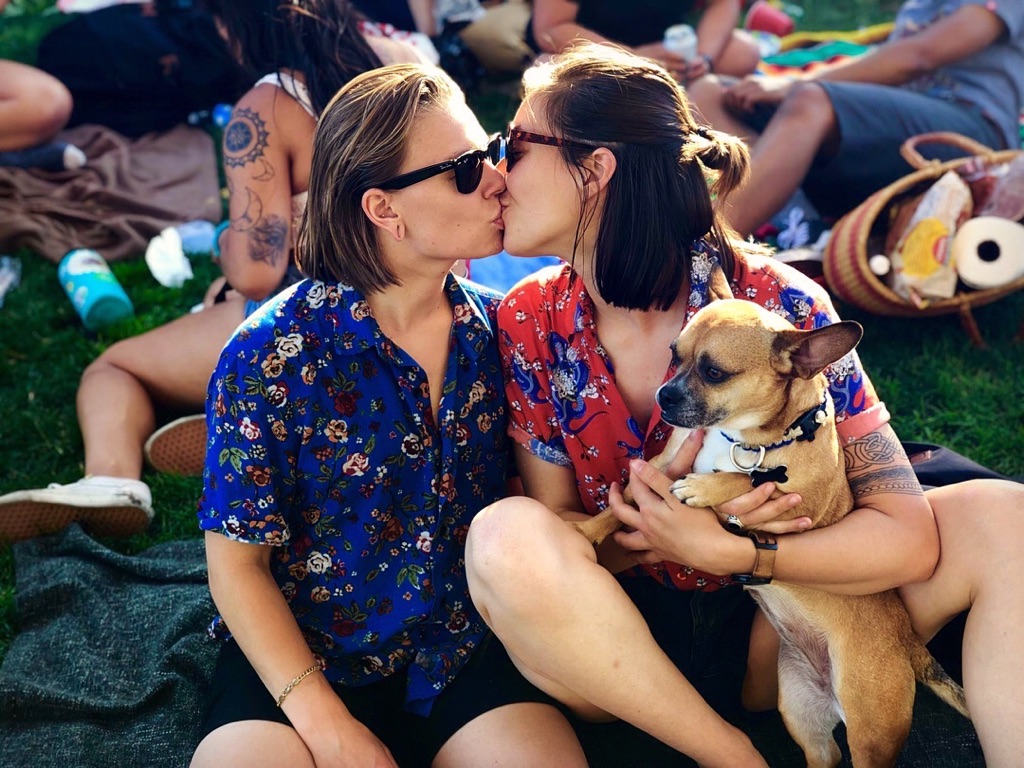 Madeleine, Sam, and Henley in love at Dyke March in Dolores Park.
---
Lyn White / Baltimore, MD / 2018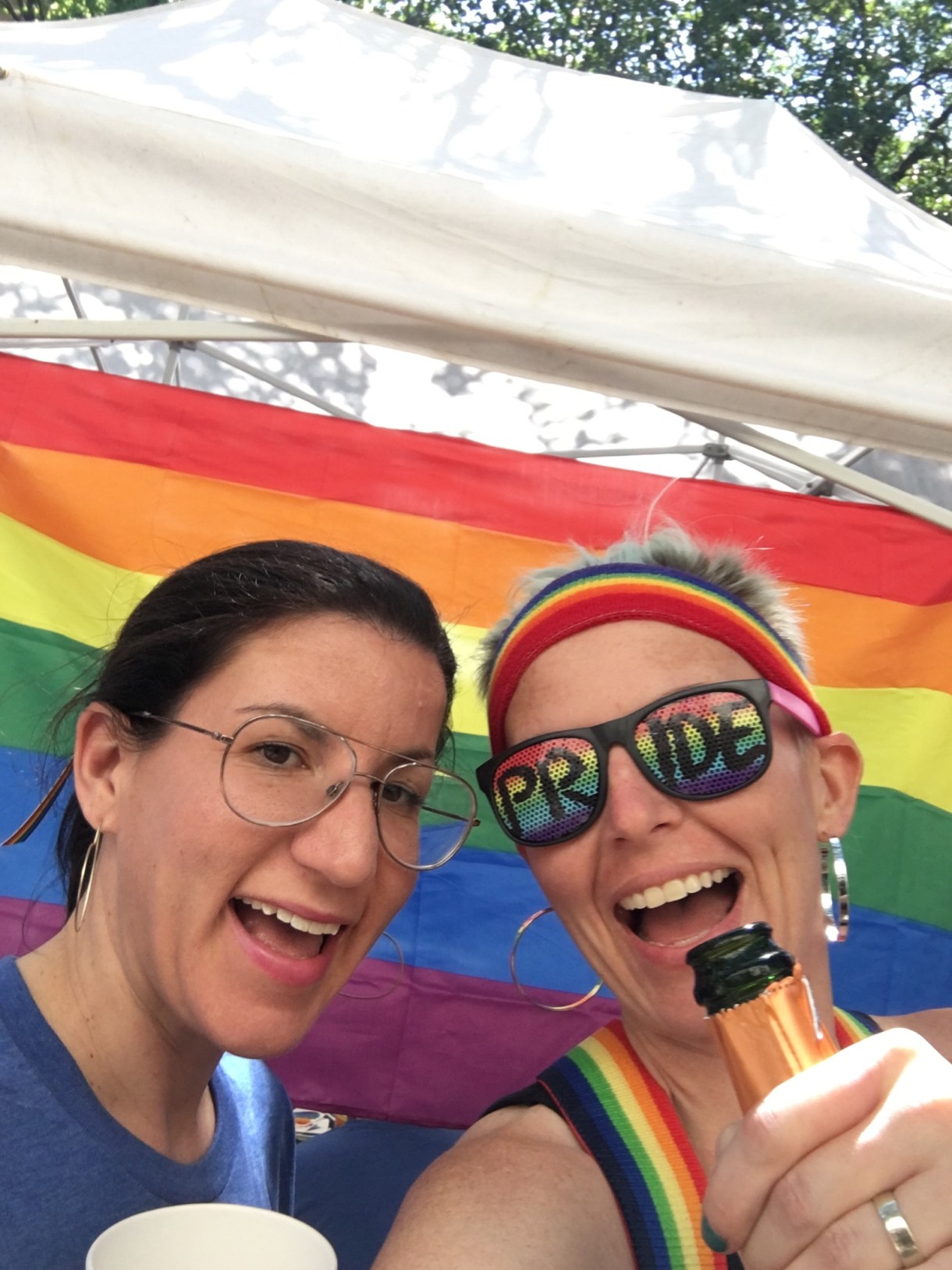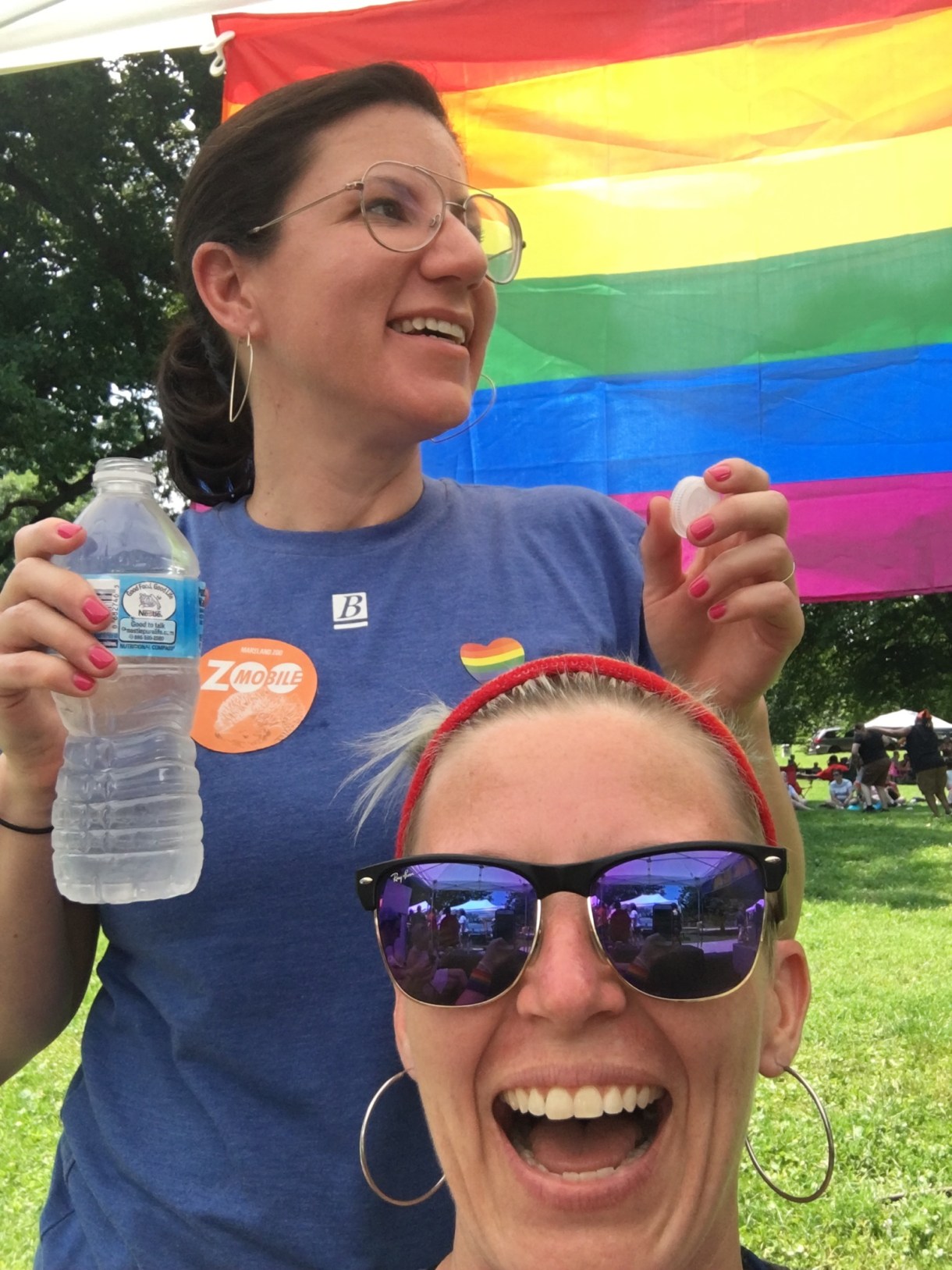 Sarah and I have been together for 16 years but 2018 pride was extra special — it was our first pride together as a married couple.
---
Jenny Eastwood / Big Gay Out, Auckland, New Zealand / 2019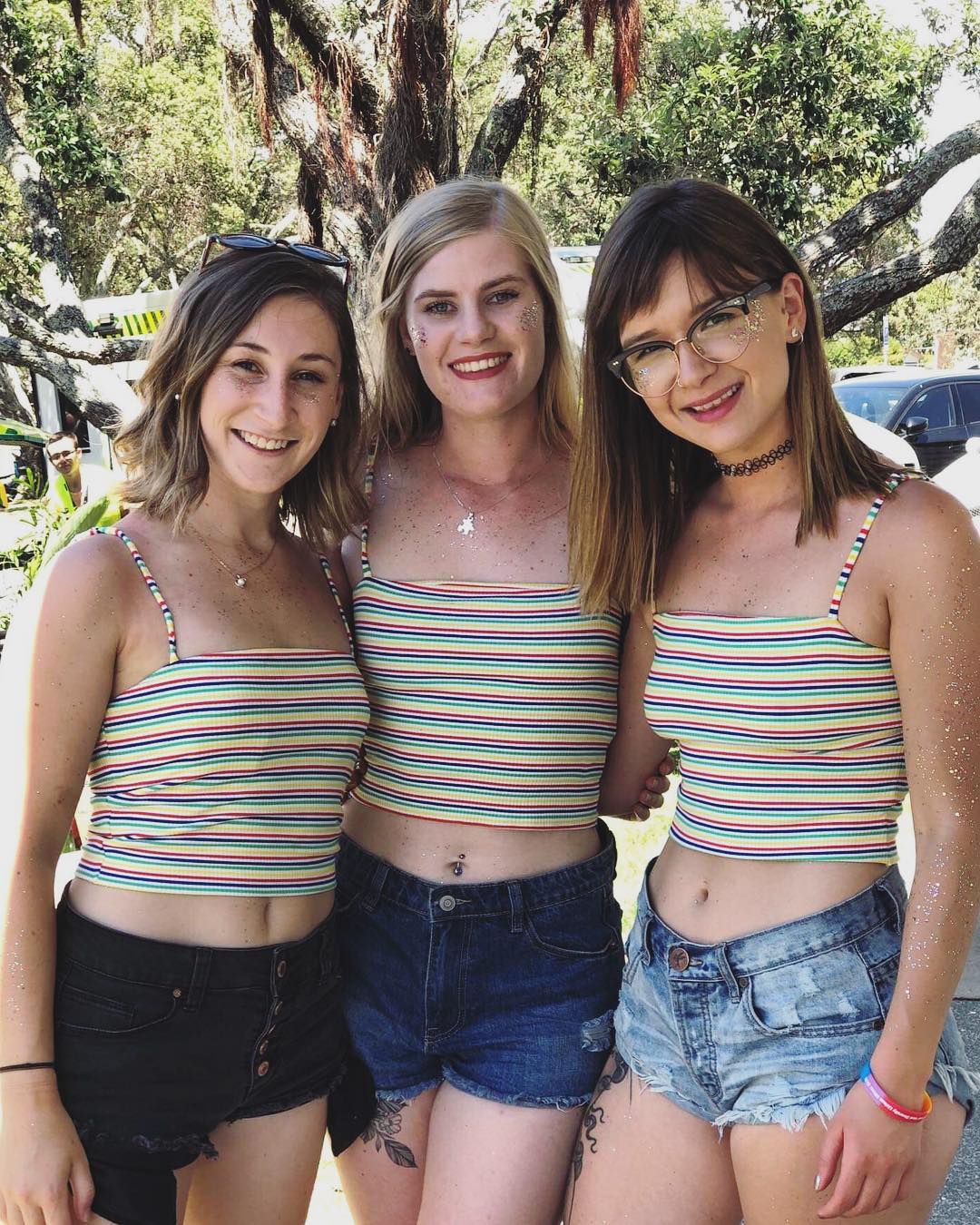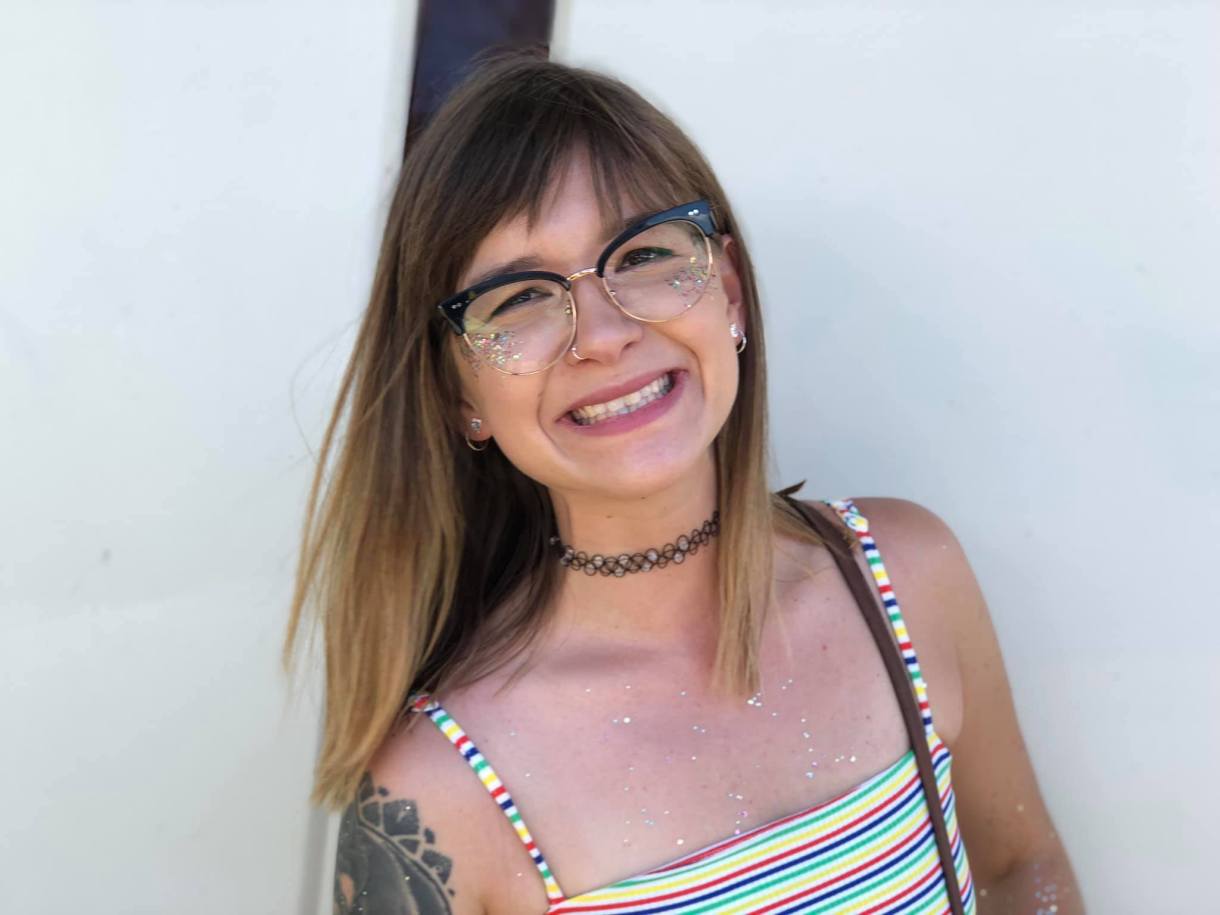 These photos are special because it was my first Pride out as a single, bisexual woman. My first pride since exiting a five-year toxic relationship with my ex-girlfriend and I have worked super hard on rebuilding friendships and my relationship with myself since then. I felt so good at this Pride, so comfortable within myself and so secure in my friendships with such beautiful people. Not only am I proud to be a strong, bisexual woman but I'm proud of how far I've come. This felt like a monumental moment in my personal growth.
---
Hannah / Honolulu, HI / 2018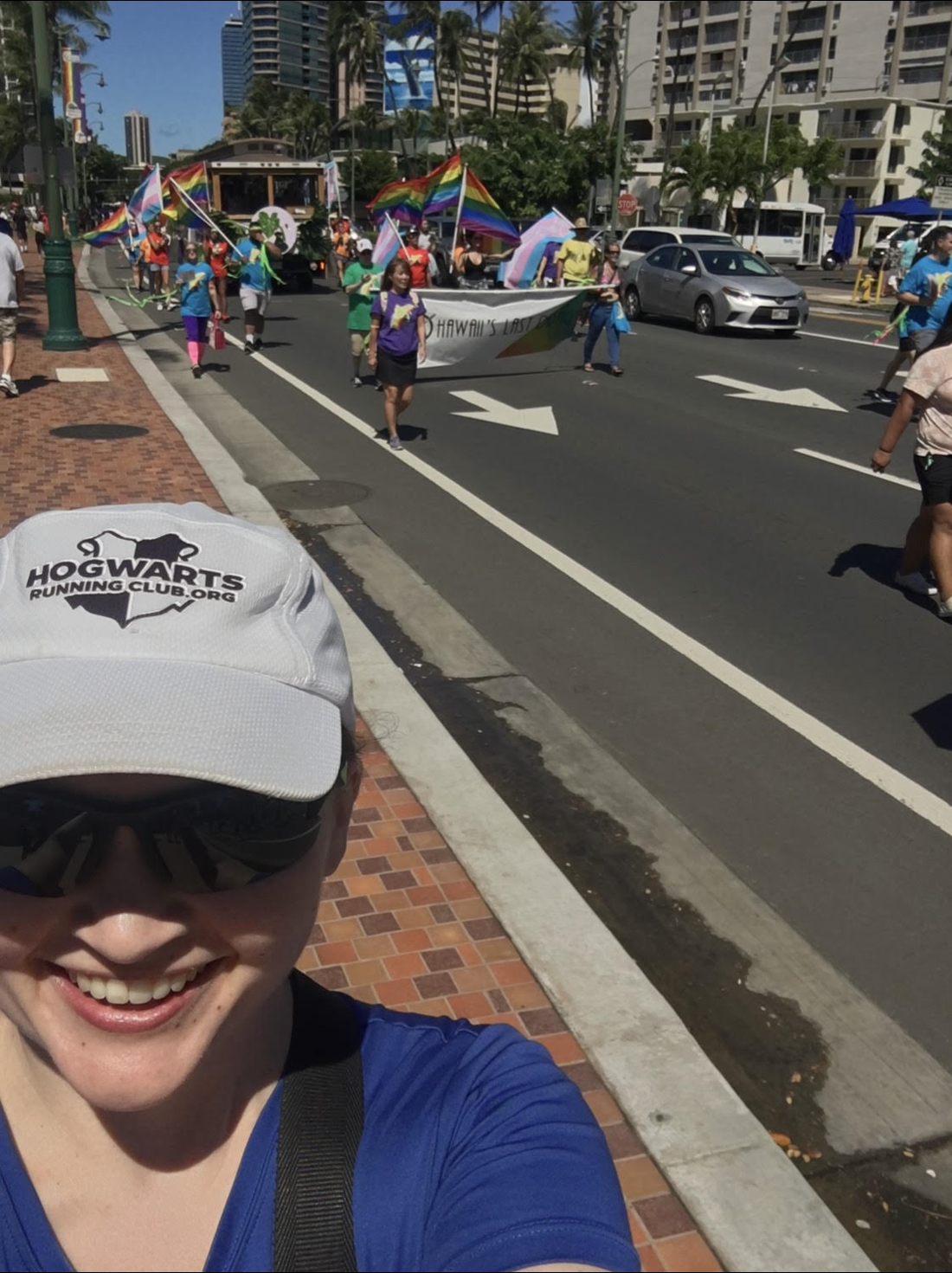 This is the only selfie I took, but I love it because I had just seen a bi Pride flag and the joy of that is on my face. This Pride is special because: 1) it was the first Pride I'd ever been to, and 2) I was there despite having a huge fight with my husband about going. I'd come out to him as bisexual about six months prior and he was still angry at me. We were in Honolulu for an unrelated professional meeting, I wanted to go to Pride, he was angry, I went anyway. He regularly gave me shit about going ever since. But there's a happy ending: a month ago, I moved states and initiated a divorce and am super ready to move on with my life, being myself, and many more Prides!
---
Adèle Toutant / Montréal, Québec / 2017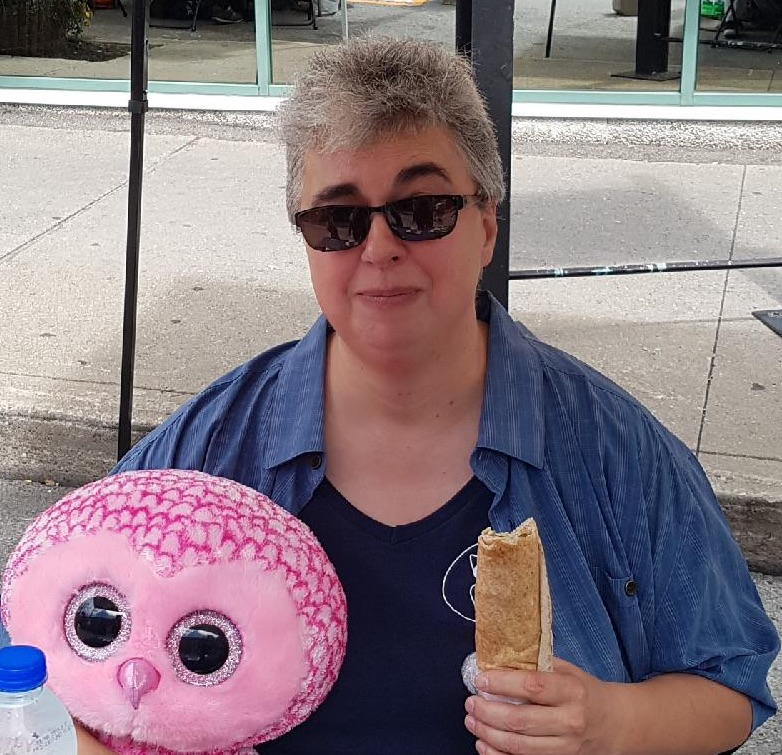 2017 was my first Pride, oddly enough! With our rights being trampled and our safety on the line, I really felt the need to be seen, and heard, and counted ! So I did some volunteer work during Community Day for my social group, Les Chouettes. It was great fun. Here I am hanging out with our group's owlish mascot, because "chouette" means owl, but also it means "awesomely terrific person." Which we are!
---
Allison / Chișinău, Moldova / 2019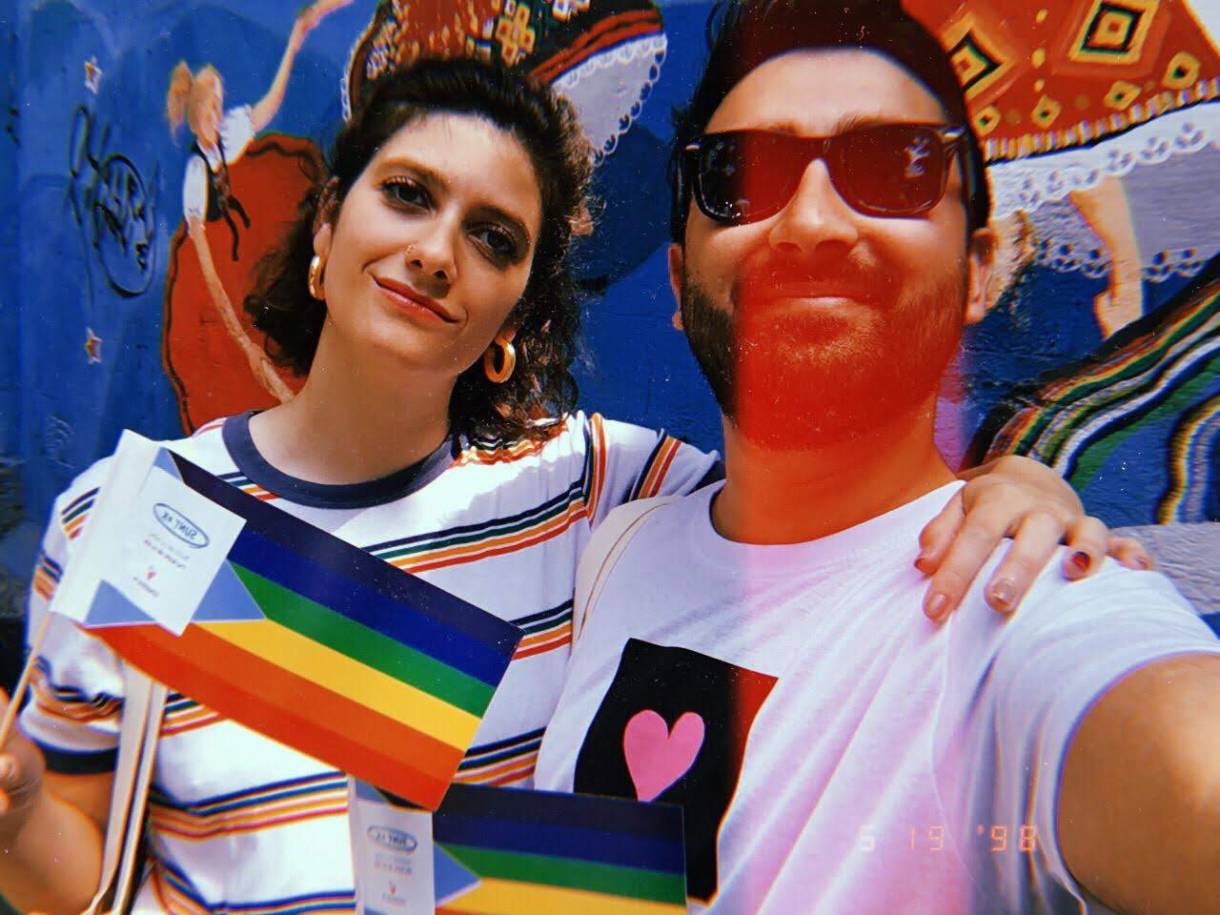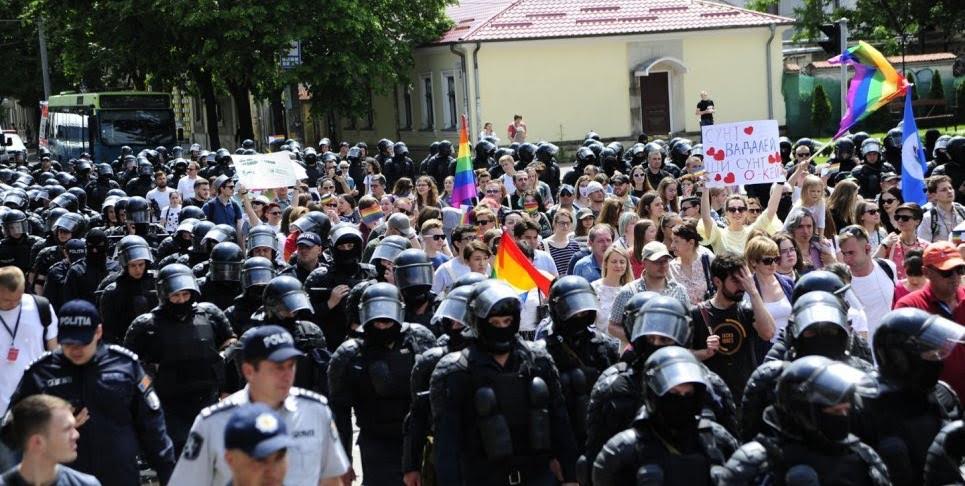 This is me and my best friend. We are Peace Corps volunteers in Moldova. Pride is the one day of the year we get to walk the streets of Moldova safely as out queer people. Due to a culture of homophobia and discrimination, Pride is a protest, also known as Marșul Solidarității (The Solidarity March). This is my second year marching and also the second year the march has ever reached the end without an emergency security evacuation! The safety precautions taken (a police barricade, evacuation buses, etc) were jarring but a meaningful reminder of the privileges I have at pride events in the U.S. This year's campaign was "sunt ok cu mine, nu sunt ok cu ura" (I am okay with me, I am not okay with hate).
---
Dani Thomas / New York, NY / 2015
My fiancée, Kelsey, and I met on OkCupid so when their group was marching past us at our first NYC Pride together, my brunch mimosas encouraged me to shout my gratitude and ask if we could take a photo with them. I expected the marcher in the logo T-shirt to be in the photo and maybe a couple of others who were nearby when we caught them but when I saw this result with over a dozen members from their team gleefully joining behind us in celebration in a matter of seconds, I was overcome with happiness. This was the Pride that coincided with the Supreme Court ruling for marriage equality nationwide, so the feeling of joy and love in the air was almost palpable that day.
---
Alex & Jennings / Chicago, IL / 2003 & 2017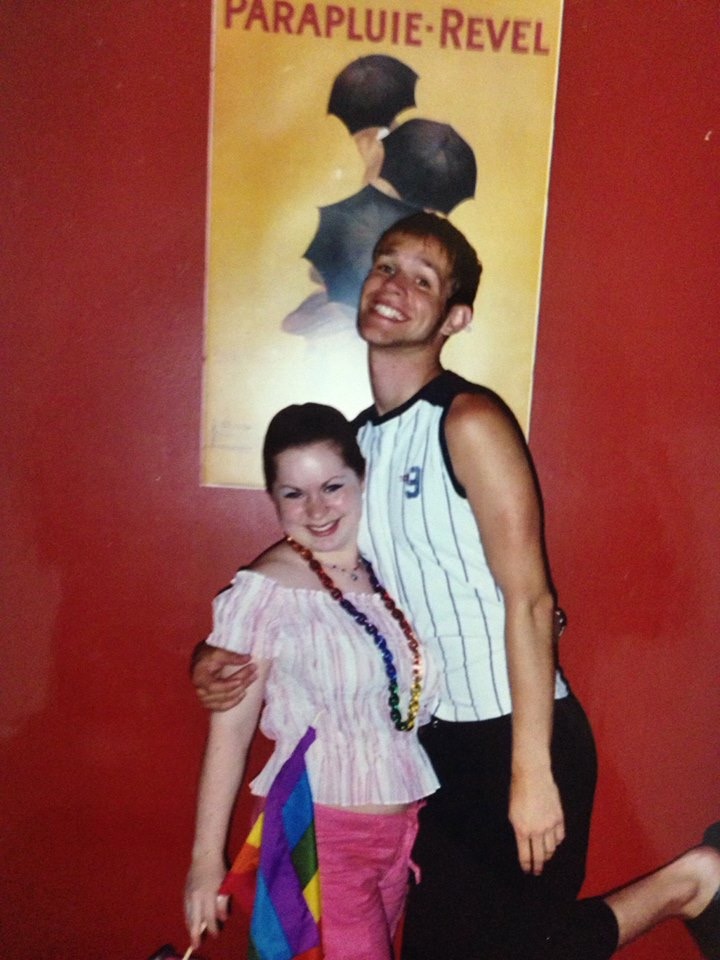 Jennings was the first human I met at college in the only moment of extroversion I've ever had. In 2003 we were baby 19-year-olds at our first Pride Parade where I turned down an advance from a girl because I still thought I was straight. In the years that followed, we had a lot of ups and downs but we always found our way back to each other. When I came out of the closet, Jennings was the first human I told. When he ended up in the ER after his boyfriend dumped him, I slept all night in a chair by his bed. He's the one I process my heartbreak with, the person I called when I landed my dream job. In 2017 we marched in the Parade together representing Chicago Public Library. And if that isn't a 'look-at-where-we-are, look-at-where-we-started' moment, then I don't know what is.
---
Taylor / Columbus, OH / 2018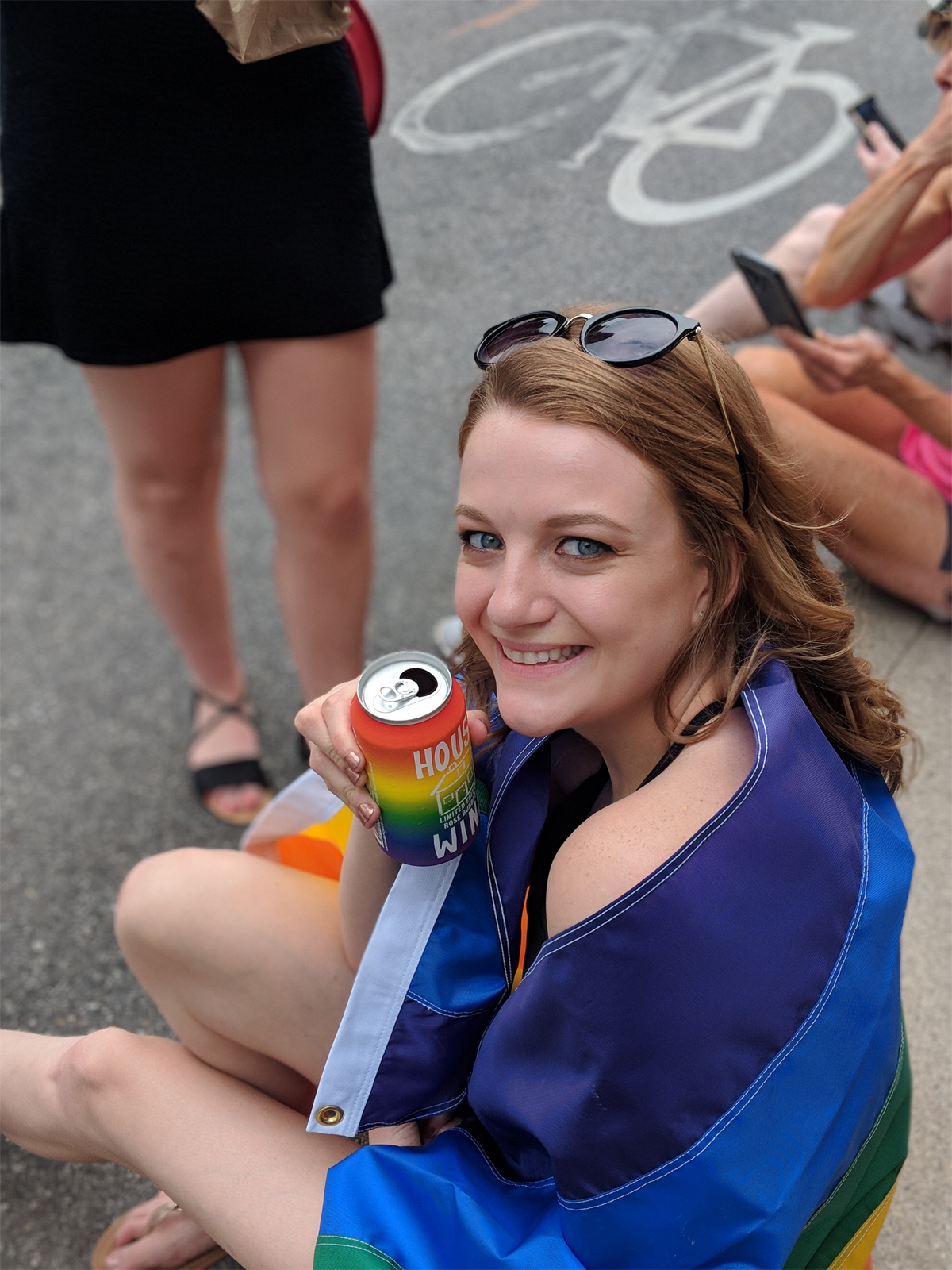 This is my girlfriend at her first ever Pride! Idk she's pretty and I love her and I need everyone to know that.
---
Angela Paniccia / New York, NY / 2018
I have attended the NYC Pride parade every year since 2010. What started as a secret rendezvous to NYC, my best friend and I on the edges of the parade, quickly morphed into my favorite weekend of the year. I came out to my two older sisters (pictured — middle: Gina, right: Andrea) around 2010, and the 2018 Pride parade was the first year year we celebrated together. Standing by my side in the hot New York City sun, this picture represents how very loved, accepted and celebrated I am.
---
Sofia Peña and Nadia Casaperalta / Mcallen, TX / 2018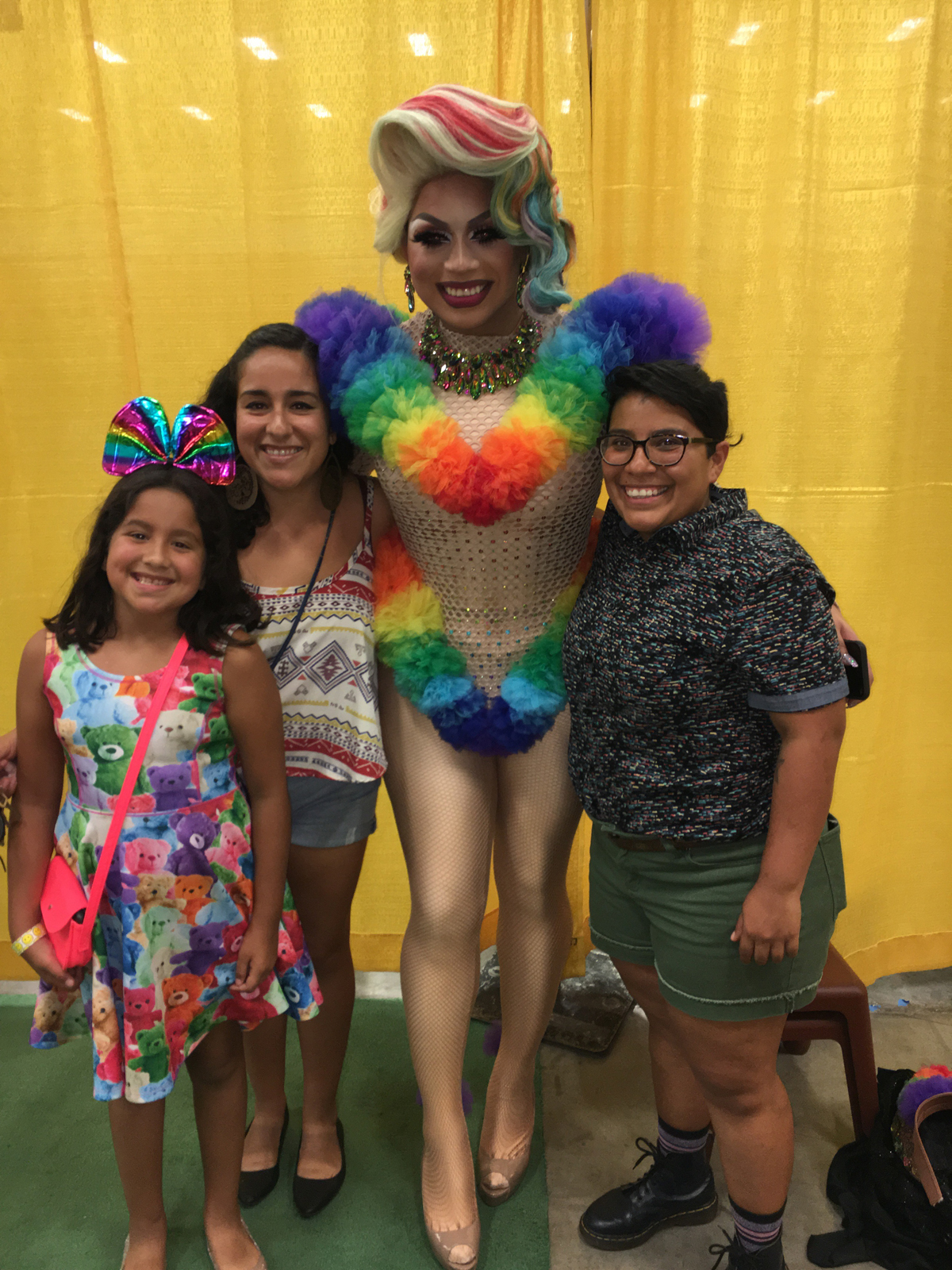 This was the first Pride I attended with both my ten-year-old daughter and my partner of two years. It's been such an eventful and sometimes painful journey to get to my truest self, but coming out as lesbian to the world was the most freeing thing I've ever done. At this Pride event, it was the first time she met a drag queen, and she was immediately enamored. There was also an art installation of rainbow doors that said "God's doors are open to all." It felt like an important thing for my daughter to see. We live in a conservative area where being spiritual but not churchgoing (which describes our family) is frowned upon enough already, and then having two moms? That's a lot for a child to process, not to mention for other kids and their parents. But our daughter has processed it in such a natural and enthusiastic manner, better than I could have ever imagined. I know it's because she's surrounded by love, and we are so proud.
---
Riese Bernard / New York, NY / 2009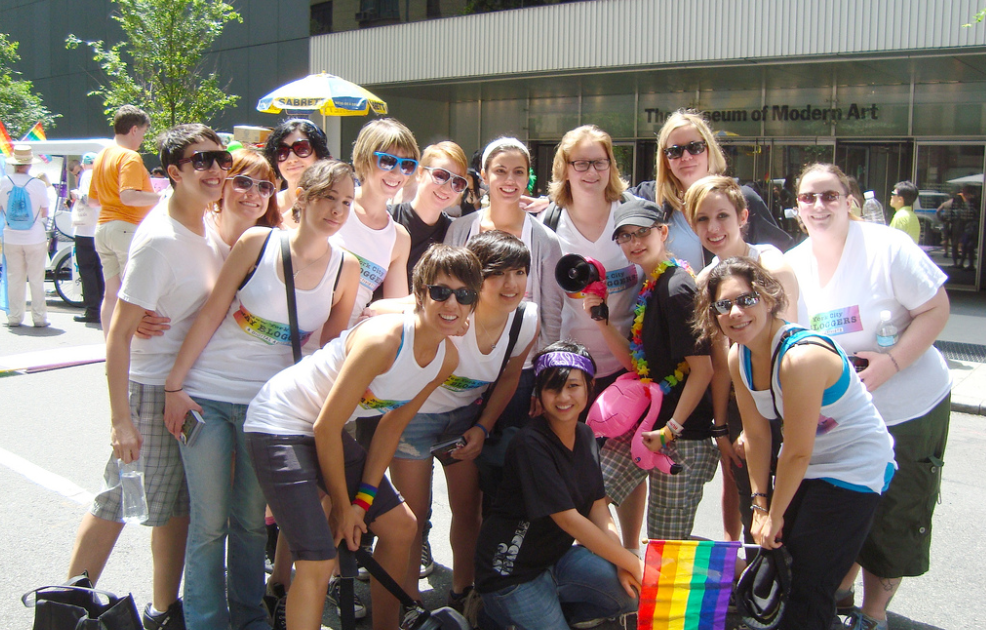 A few months after Autostraddle's launch we marched with the "Gay Bloggers." I told everybody to wear cargo shorts but barely anybody did what I told them to do, which was good preparation for the rest of my career with these weirdos!
I know this is the part where I talk about that Pride but I think we've talked about that Pride a lot so instead I wanna talk about a different Pride that's very relevant to that Pride. I lived in the West Village in the summer of 2004, and I went to the Parade by myself. I took pictures? I think I felt weird being alone there and if I was taking pictures all the people who were surely tracking my every move would know I was there as a photographer, not a homosexual. As you can see from the photo on the right there, I was really framing my shots and doing important work.
Earlier that week, I'd emailed my former roommate from boarding school to ask if she was coming to the area for Pride 'cause I lived there and you know, maybe we could meet up? We'd processed our initial girl-on-girl experiences together in high school and now she was fully gay and I was … not. She was marching with the Lesbian Herstory Archives, and was down to meet up. She was waiting for me on the corner with some friends, and she was dressed like a boy with a short spiky haircut and I was wearing (I still remember) a yellow and pink t-shirt, pink sandals and a denim mini-skirt, an outfit I'd chosen to look as heterosexual as possible (which yes, I now realize was not a thing), but as soon as I was with her and her friends I wished I was wearing pants. I barely recognized her. We walked with her friends to their apartment in the Lower East Side to smoke weed and drink beer on the roof. It was so hot. Then we walked to Meow Mix only to learn that it'd already shut down, one of the first big Lesbian Bar Closings of the Lesbian Bar Closing Era. From there I think I just went home, and they went back to Brooklyn.
I tell you this story because it was weird, five years later, to have gone from somebody taking pictures from the sidelines to justify my own presence to somebody marching in the actual parade, posing with my entire team for my weird gay website while someone else took our picture. Not weird, really. Cool? It was cool.
---
Jessica Schanzer / Austin, TX / 2018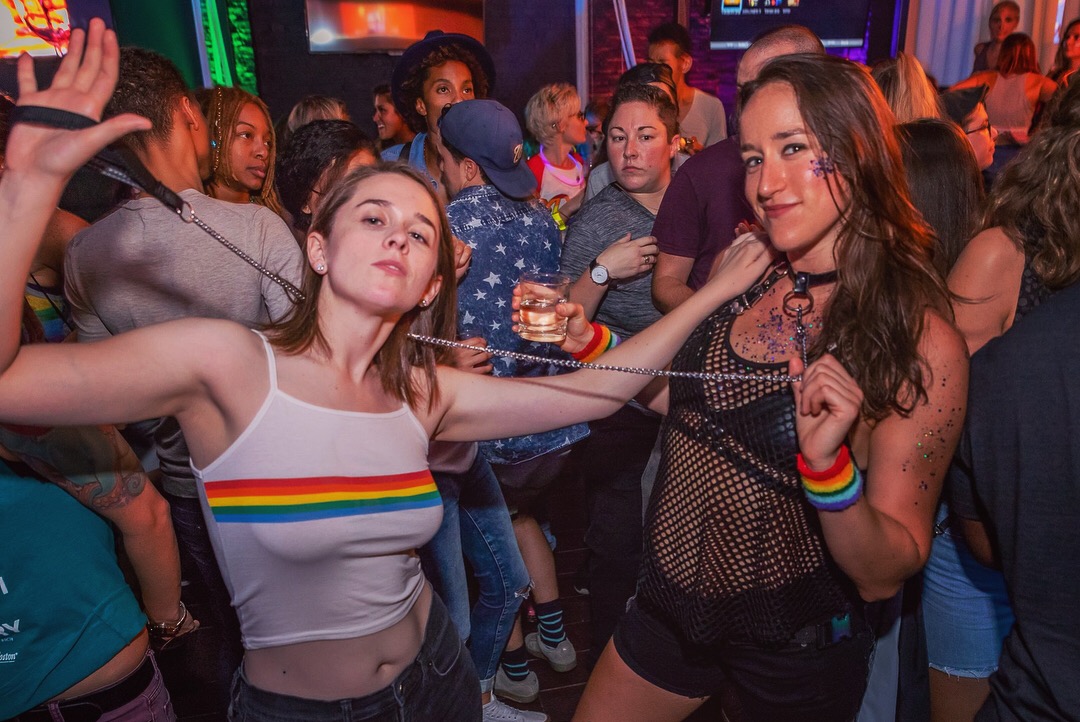 I moved to Austin after experiencing a "quarter life crisis." I was hungry for a fresh start in a new (more queer) city where I could be myself not feel stifled. Uprooting the life I built for myself was terrifying, but I was determined to make it work. This photo is special because it was taken during my first Austin Pride, and it's with my best friend Katie (aka my trusty leash holder). We clicked instantly the day we met, and I could not have asked for a better partner in ATX crime. Also we look 🔥.
---
Casey McCullough / San Francisco, CA / 2018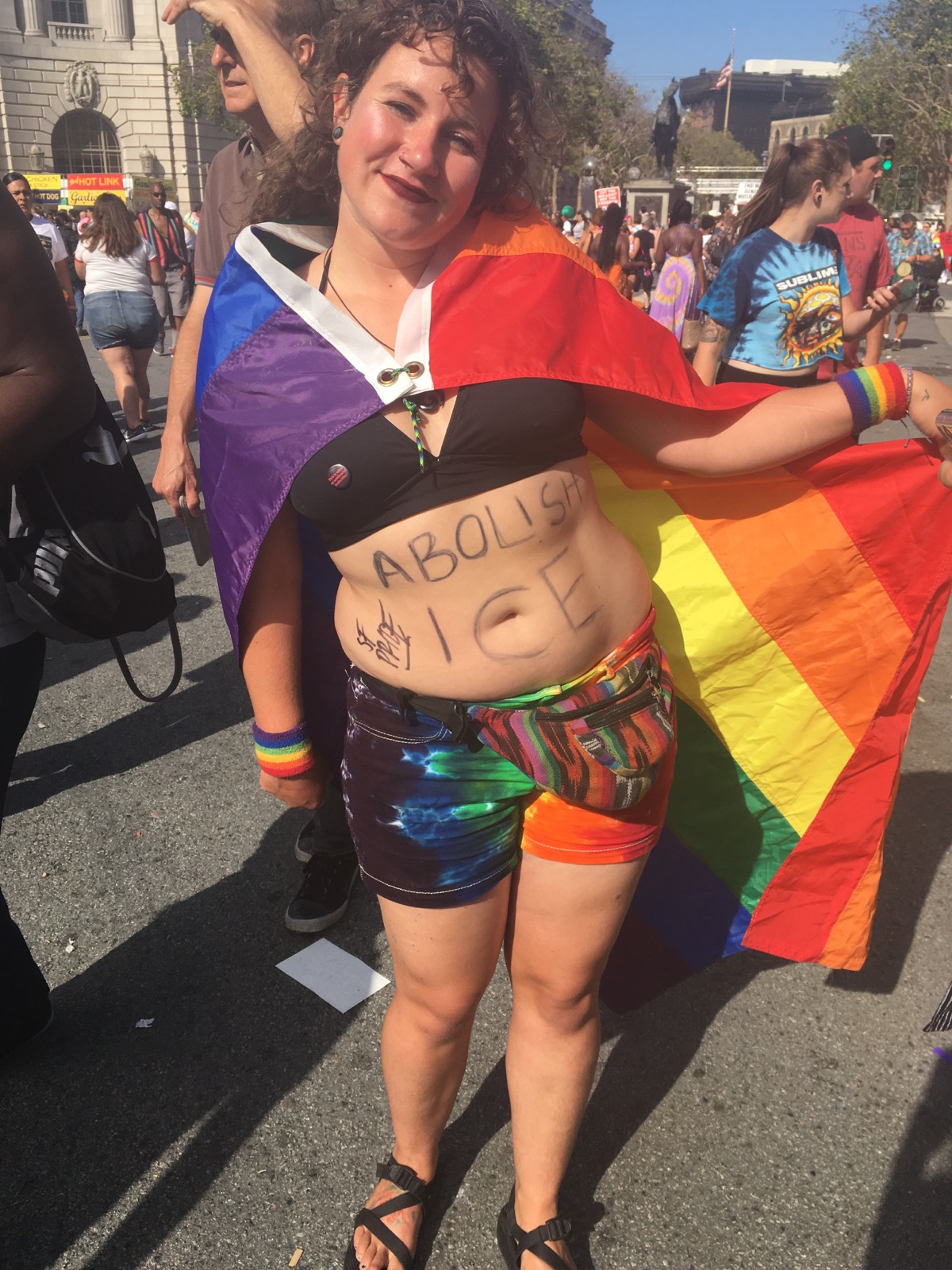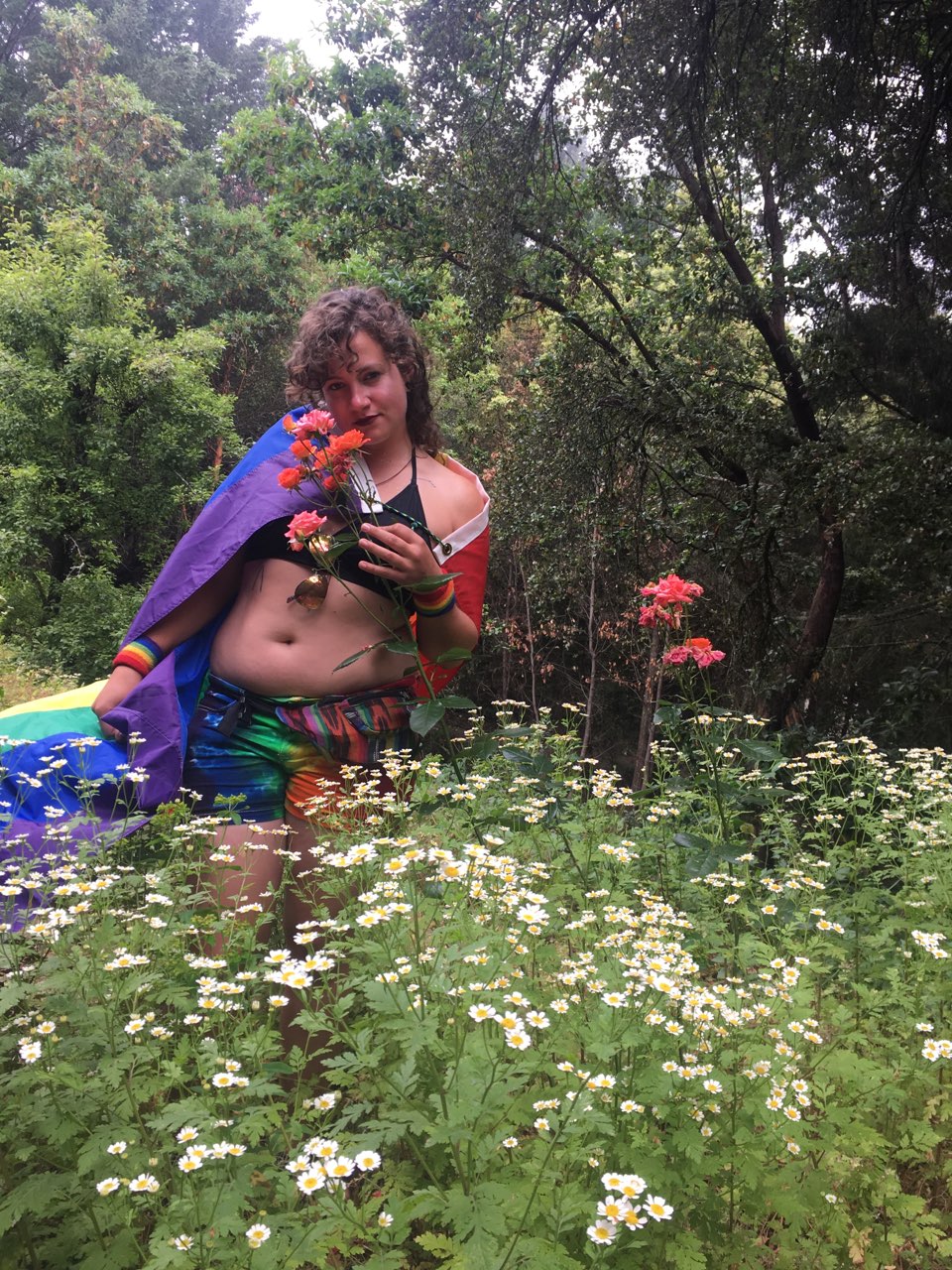 I attended my first SF Pride with two dear friends. We loved dressing up all kinds of gay, meeting new queers, and celebrating love/resisting rainbow capitalism and far-right fascism. Here to do it again this year!
Pages: 1 2See entire article on one page