Tucked between the big queer paradise known as Seattle and the little queer paradise known as Olympia you'll find a resplendent medium-sized queer paradise: Tacoma, Washington. Equally damp and flannel-friendly as its neighboring cities, it's pretty much raining lesbians in Tacoma.
Tacoma hasn't always had the most gleaming reputation, but over the past 15 years it's become home to a hearty arts scene and a panoply of great bars and restaurants. And whaddya know, it's a brilliant place to be a gay lady!
I've spent 20 years of my life in Tacoma. So please, allow me to give you the lowdown on this seriously queer little locale. And hey! You can get gay married in Washington now. So maybe you'll want to move here some day? Think it over.
Where to Live/Be
In lieu of a gayborhood (as gay as it is, Tacoma doesn't have one), take a gander at these three neighborhoods.
6th Avenue (Roughly between Proctor Street and Sprague Avenue) Not all, but many of Tacoma's worthwhile bars and restaurants can be found along 6th Avenue. Many of Tacoma's young people/queers live off of 6th Avenue: it's cheap and convenient to lots of the places they hang out. Rental options are abundant here: quaint apartments and cute historic homes are available in this area for a decent price. If you're looking to live alone, expect to pay about $600-700 for a studio or small one bedroom. Got a girlfriend? You and your lady can probably find a spacious one bedroom for around $800. If you're super thrifty and want to share a house with roommates, you can probably plan on spending about $500 per month, maybe less depending on your situation.
Stadium District Named for the area around Stadium High School. Okay, remember 10 Things I Hate About You? If you saw it, you probably spent the whole time wishing Julia Stiles' guitar-playing, Sylvia Plath-reading character would just make out with a girl already. Well, that movie was filmed on location in Tacoma. That big castle school? Yeah, that's Stadium. ANYWAY. This neighborhood is a little quieter than the 6th Ave area (less bars) but still convenient to most places and reasonably priced. The Stadium District is home to the 27-acre Wright Park which is absolutely gorgeous all year long. It's an amazing place to run, jog, walk, picnic, feed ducks, etc.
Hilltop Hilltop is undergoing massive gentrification currently. This is probably the cheapest neighborhood to live in that's still close to civilization. Hilltop is diverse in all ways imaginable, so it's definitely a cool place to live. Great ethnic food, and new/cool bars can be found in this hood.
Nourishment: Coffee Shops, Restaurants and Non-Gay Bars
Satellite Coffee (817 Division Ave) In the Pacific Northwest, there's no better place to see/meet cute girls than at a coffee shop. Actually, that probably applies to every region of the world. In the tiny Satellite Coffee seating is at premium, but if you can find a spot to post up, it's the perfect place for an afternoon of reading/studying/tabbed browsing (there's free wifi, of course). Satellite brews Stumptown coffee, which many consider the holy grail of legal addictive stimulants. Not only is it delicious, Stumptown also practices direct trade, ensuring that their bean farmers earn a true living wage. Satellite is a mini milk-alternative heaven. If you're not down with dairy, this place offers soy, almond, rice and coconut milk. Open Mon-Fri: 6:30 am – 8 pm, Sat-Sun: 7 am – 8 pm
Bluebeard Coffee Roasters (2201 6th Ave) Bluebeard serves great coffee in a really cool space. It doesn't get much better than that. Located on the hip and happenin' 6th Ave, this relatively new coffee shop is a great place to hang with friends, work on homework, sit around and look cute, whatever. During the three months of warmth we get in Tacoma, come here and enjoy the afternoon—their big garage door window allows for maximum summer breeze enjoyment. Open Mon-Fri: 6 am – 7 pm, Sat-Sun: 7 am – 7 pm
Shakabrah Java (2618 6th Ave) In my humble opinion, this is the best place to grab breakfast in Tacoma, especially if you're rolling with a diversely-palated crew. They have meaty options, vegan options, and everything in between. Plus the portions are huge. I like to think of myself as a pancake expert, and this place has some of the best I've ever tasted. Shakabrah has a homey, lived-in vibe and is basically just a super comfortable place to nurse your hangover. The crowd is a mixed bag; babies, grandpas, hot girls, they all love Shakabrah. Open Mon-Sat: 7 am – 4 pm, Sun: 8 am – 4 pm
Over the Moon Café (709 Court C/Opera Alley) Okay, I have to admit, there is nothing particularly queer about this place. You're more likely to run into your mom here than your future girlfriend. But I can't think of a better place for a food-centric daytime date. Take a girl here, it'll be cute/unexpected! It's super cozy and romantic. Their Seasonal "Moon Style" Mac & Cheese is delish. Last time I went, I had the Mediterranean tuna sandwich on Dave's Killer whole grain bread. The tuna is blended with extra-virgin olive oil, kalamata olives, sun dried tomato and seasoned with scallions, basil and Italian parsley. WHAT. It was so good. Open Tue-Thu: 11 am – 8 pm, Fri: 11 am – 9 pm, Sat: 11:30 am – 9 pm
Red Hot (2914 6th Ave) Queers, you're gonna like it here. Red Hot does two things: beer and hot dogs. As Seattle Beer News put it, "It's so simple, yet works out so freaking well." It's true. Their tap list is seriously impressive, and their dogs are the best under the sun. There's even plenty of veggie/vegan options! Red Hot caters to those looking for a divey/hipster vibe (i.e. queers welcome), but you'll find all types of folks here. Make your experience authentic, and go for the Tacoma hot dog and a pint of Old Tacoma Lager. Oh, and FYI: Red Hot is a 21+ establishment. Open Mon-Thu, Sun: 11 am – 11 pm, Fri-Sat: 11 am – 12 am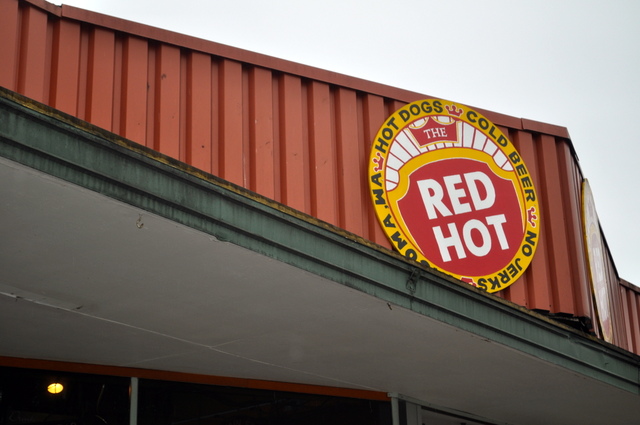 Puget Sound Pizza (317 S 7th St) Puget Sound Pizza is a popular spot among Tacoma's hipster elite. By way of being loosely related to an alternative crowd, it's also a good place to find other queers. Overall, the patrons are young and fun so it's hard not to have a good time. They do karaoke here, too, so if that's your jam, this is a good spot to check out. Oh, also, the pizza is pretty damn good. Open Mon: 11 am – 10 pm, Tue-Fri: 11 am – 2 am, Sat: 9 am – 2 am, Sun: 9 am – 9 pm
1022 South (1022 South J Street) This bar is literally the best. Its atmosphere/aesthetic is on point, and the cocktails are to die for. They make their own bitters and botanical infusions, resulting in an unconventional and marvelous menu of craft cocktails. My favorite drinks are the Twentieth Century and the PDX, but there's something for everyone. Seriously, tell the bartender what you're in the mood for, and he/she will whip something up just for you. In terms of people, you'll find all types at 1022. It is, however, popular among hip 20somethings, so it's one of the more gay friendly spots in town. Open Mon: 4 pm – 11 pm, Tue-Wed: 4 pm – 12 am, Thu-Sat: 4 pm – 2 am
Booze & Babes
Okay so you wanna spit some game in Tacoma? You've got a couple options.
Club Silverstone (739 ½ St. Helens Ave) Affectionately known as "The Stone," this place is really something you need to experience for yourself but I'll try my best to describe it for you. Half dance club and half dive bar, The Stone is Tacoma's gay nightlife headquarters. Shirtless gay boys, flocks of dykes, your middle school P.E. teacher and her partner, all converge on the same dance floor to the siren songs of Britney Spears, Kylie Minogue, Kelly Clarkson and the like. Tacoma lesbians have a can't-live-with-it-can't-live-without-it relationship with this place. While it might be a tragic little establishment, it's hard not to have a fucking blast here. Be warned, the drinks here are notoriously strong, so sip your liquid courage slowly my friend. Then go dance your ass off, I promise you'll have fun. Open Mon-Sun: 11 am – 2am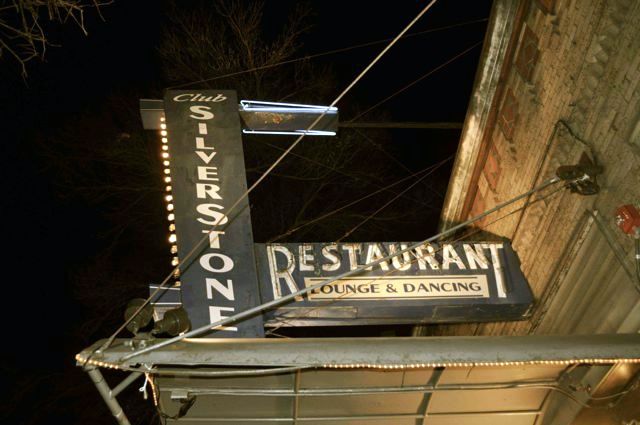 The Mix (635 St. Helens Ave) Tacoma's other gay bar option. Relaxed and friendly, you'll feel right at home here. There's karaoke, but when that's not happening they tend to play pretty decent music. Like Silverstone, The Mix is a queer grab bag: on any given night you can booze alongside drag queens, baby boomers, femmes, butches, leather daddies… you name it. The Mix may not be the most, um, glamorous place you've ever been drunk at, but the bartenders are nice and the crowd is kind of hilarious. Open Mon-Sun: 2 pm – 2 am
A Few Notes About the Scene
In Tacoma's LGBTQ universe, there's not much tension/segregation between the G's and the L's. For the most part, they congregate together without incident. Contrast this to Seattle, where you'll be hard pressed to find groups of gay men and groups of lesbian women mingling willingly with each other. Just in general, Tacoma's gay scene is very friendly. It's also super welcoming of newcomers. If you go out where the lesbians are, you shouldn't have trouble making/finding friends. Like any lesbian community, there's that "everyone knows/has slept with/has dated everyone" thing, which can be intimidating if you're an outsider, but you'll be on the inside in no time.
Werk Your Lewk
Supernova Hair & Tattoo (817 Division Ave) So, I have long brown hair, no tattoos, nor any piercings beyond my ears (I once went on a date with a girl who said this made me a "unicorn" among lesbians). But those who are in the body mod know have told me that Supernova is the place to go. In terms of hair, they specialize in looks that are modern and edgy, i.e. alternative lifestyle haircuts. And from what I hear, their tattoo work is definitely worth checking out. Open Mon-Fri: 10 am – 8 pm, Sat: 10 am – 7 pm
Places Where You Can Learn About Stuff
In Tacoma's North End is the picturesque private college, University of Puget Sound. It's super expensive and not necessarily the queer-friendly capitol of the world, but its campus is a great place to let your dog run around off leash. So there's that.
The Tacoma campus of the University of Washington is located right in the heart of downtown Tacoma. UWT's urban campus is actually really cool, and with an ever-growing offering of degree programs, it's a great place to get educated. The student body tends to be pretty non-traditional (older, part-time, lives off campus, etc.), so if you're looking for a "normal" college experience, this might not be the place for you. Because the student body is more "adult," UWT also has a more tolerant/inclusive vibe than your average college. Inevitably, this is what happens you filter out all the heterosexual eighteen year olds you normally run a university.
There's also Tacoma Community College and Bates Technical College. Both are great places to get a jump start on your higher education, or learn/hone a special craft.
Arts & Things
Music Tacomans are nothing without their live music. The city is super nurturing and protective of its local music acts, so there's lots of support here. Thanks to a bumper crop of talented artists, tons of incredible venues, and loyal fans, there's never a shortage of good shows. Jazzbones on 6th Avenue and the New Frontier in downtown Tacoma often play host to quality live music. Lesbian singer-songwriter extraordinaire Vicci Martinez got her start playing music in Tacoma. Even before she was a contestant on The Voice, Martinez was a big deal here. When/if you're in town, be sure to check out the events calendar in Tacoma's free alternative weekly newspaper, The Volcano.
Film Home to the Tacoma Film Festival, The Grand Cinema (606 S. Fawcett Ave) is the best place in town to catch an independent/foreign flick. It's a non-profit, run by volunteers, supported by patrons, and is just all around incredible. Their film selections are consistently mind-blowing, and it should be said that their popcorn is the fucking best. Check them out at www.grandcinema.com.
Get Involved
There's plenty of opportunities to work your way into Tacoma's arts scene, but you might want to consider getting involved with Fab-5. This non-profit cultivates community through urban arts education. They have programs designed to allow youth to develop and explore their unique voices through a variety of different urban arts mediums, including DJing, legal graffiti, breakdancing & lyric writing. They're always looking for mentors, volunteers, guest instructors and the like—so if you're interested, hit up info [at] fab-5 [dot] org.
Sports & Things
Tacoma's minor league baseball team, the Rainiers, has a pretty solid following. Their fan base is made up of mostly families and young straight guys, so a Rainiers' game might not be the #1 place to make out with your girlfriend. That being said, Rainiers' games are fun. Even if you don't like baseball, head to Cheney Stadium (where the games are, 2502 South Tyler) on a warm summer night, drink a beer and watch the sunset. Last time I went to a game, a bunch of Sara Lee workers were outside the gates giving away free loaves of bread. So, if you're lucky—and not gluten intolerant—maybe that'll happen when you go!
The Seattle Sounders FC's U-23 league (formerly known as the Tacoma Tide) is based here as well. If you're a soccer fan in Washington, the Sounders' games in Seattle are definitely worth your time, but this U-23 team has great talent and the games are pretty fun to watch. Our city also just resuscitated its Major Indoor Soccer League team, the Tacoma Stars.
Want to get in the game? Lady soccer athletes can play in women's or co-ed leagues through Tacoma's Pacific Sports Center. Depending on your skill/commitment level, you can join a competitive or recreational team. Visit their website for more info.
Also: Tacoma's parks and recreation agency, Metro Parks, offers some great rec league options for adults. For a pretty reasonable price, you can get in on ultimate frisbee, co-ed soccer, volleyball, basketball and more. If you're new to town and an athlete, this would be a great way to meet some buddies. For info on pricing, registration and session dates, visit www.metroparkstacoma.org.
Pride
The Tacoma Pride Festival is our city's annual Gay Pride thing and takes place each summer. The main weekend event is "Out in the Park" an all-day event put on by Tacoma's Rainbow Center (www.rainbowcntr.org). It's family friendly and alcohol-free, so if you want to celebrate your LGBTQ-ness with booze, plan to hit up one of the aforementioned gay establishments later in the evening. Tacoma's Pride offers a whole week of programming that includes panel discussions, film showings, book talks, art exhibitions, parties, etc.