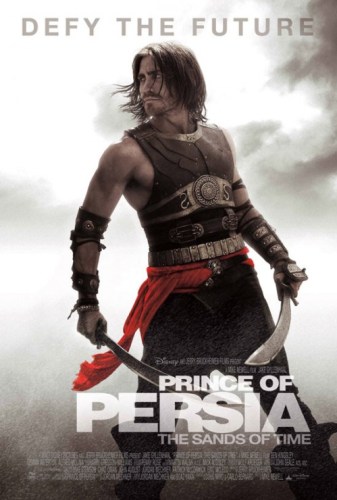 PRINCE OF PERSIA:
Kim went to see Prince of Persia: The Sands of Time so we didn't have to! Which might have been awfully nice of her, it seems. She has feelings and we can't blame her. Here's her special eye-witness report of the movie:
The Sands of Time made a lot of mistakes. And hey, I make mistakes too; sometimes I use up all the hot water. The thing is that my hefty roster of mistakes does not include wasting two hundred million dollars on two hours of Jake Gyllenhaal's chest and like three deserts worth of sand (and not even the cool colorful kind you put in those jars when you're a kid).
Had those responsible for adapting the game to screen stuck closer to the story of the source content, things might have gone down differently. The game was praised for its excellent plot, engaging puzzles and innovative, time-bending combat system. The movie can be praised for…Er.
I imagine the conversation the minds (or wallets?) behind The Sands of Time had went something like:
"Okay…this video game was a huge success, great story, yadda yadda. Soooo first, let's throw out the plot. We'll keep the hot n' sassy girl and that sweet knife but make the Prince a very really tan ripped white dude instead of a wirey Persian guy. Straight American chicks will love that. Actually, f*ck it– let's make it a romantic-comedy set in the desert, but with action. Like The Mummy. This shit is airtight."
And so it was(n't). But thank goodness for Ben Kingsley. He played a sneaky treacherous uncle type (see: Scar, The Lion King) who spared me from the film's other horrors from time to time. Unfortunately, they even managed to sour Alfred Molina (I usually like him!), who played a criminal with a heart of gold– a heart of gold– can you believe it!?
And Jake Gyllenhaal (es tu, Donnie Darko?) proved he can not only succeed in challenging, nuanced roles that make my gay little soul weep, but also as a brain-dead action hero. Though really with that body and the dialogue, he looks like he belongs in SATC2, which also takes place in the desert, I think.
All told, Prince of Persia: The Sands of Time disappointed me on most fronts. I'm a huge fan of the video game and I suspected that might spell heartbreak. But to its credit,  The Sands of Time did include roughly two scenes reminiscent of the video game, and these were its most successful. In these moments of glory, the camera would pan from piece to piece of a puzzle the Prince would have to leap and swing his way through moments later, you know, before something terrible happened. Those sequences hearkened back to the roots of the series, but they were painfully short.
So  yeah… you've got a handful of successful moments pitted against the problematic heft of the remainder of the film. Let's just call it a wash.
@IDIOT.NET:
Hey, your Hotmail is showing. When The Oatmeal makes a geeky infographic, we're there. We're all over that shit.
VIRTUAL BONNAROO:
Not all of us can be dropping sheet after sheet of acid and presumably peeling off Brandi Carlile's clothes under the hot Tennessee sun like our very own Laneia and Sarah at Bonnaroo right now, but if you're (more than) a little jealous, have I got the meme for you!
I don't really understand what's happening here, but this bizarre Velvet Underground/Marvin Gaye video makes me feel like I am losing my mind in the best way possible. Please share your feelings about it.
(Thanks to the unfailingly impeccable YouTube tastes of @kmccormick!)
ANDROID & WOMEN:
Did the hyper-ultra-really masculinized Motorola Droid commercials ward all the ladies off of Android? I'm not sure. But it looks like Android users are a disproportionately dudely bunch. What do you guys think? I'm new to Google's mobile OS, but I have to say that the developer community seems a bit more lively, not that I'm an insider exactly. Does a dearth of women come with the hardcore geek territory?
On that note, one site is doing their part to renegotiate this gender imbalance: look at these f*cking felt Android phone cases! They're the cutest thing I've seen! Maybe ever. Probably ever. I just ordered one myself, though I opted for a charcoal gray/classic green Android palette.
SUPER MARIO SECRETS:
Mario discovers the true nature of reality, and it's pretty heavy stuff. This vid of his epiphany is alternately funny, weirdly pretty and intoxicating. (@geekosystem)