Yup, it's that time again: the start of a new season of Pretty Little Liars! I missed it all because I accidentally got lost for a while in some highlands in Scotland but I'm back now so we can share ALL of the feelings about all of the episodes. Slowly at first, backtracking a bit, but then we'll be on track again together.
Let's start out at the very beginning. A very good place to start. This season started like any good teen soap — with a five month jump forward and some good old fashioned inter-liar lying. I wonder how many times we can say lying today? I'm guessing approximately a million. Let's do this.
Episode 301: Excessive Drinking Happened That Night
We join our liars post-summer vacation and it is immediately explained to us that, somehow without the weather ever changing, the first two seasons comprise just the girls' junior year. The girls celebrate their reunion by hanging out alone at Spencer's house in a rainstorm.
You'd think they'd learn by now to stop hanging out all together alone. Regardlessly, the girls drink a little sneaky peek and dish about their summer reading lists and who gave whom a BJ at nerd camp.
While Aria and Spencer took classes, Hannah banged her boyfriend and Emily built houses in Haiti. That's what's so great about lesbians, they're always doing charity work and caring about others and stuff.
Some spooky music plays and Emily drinks far too much as she laments the loss of her one true (batshit crazy) love, Maya. She also half-heartedly mentions showing her boobs so at least that's exciting.
The liars doze off and wake up to (surprise surprise) an open door and missing Emily. Where is Emily? Standing over Allison's dug up grave, obviously.
The liars track Emily down only to discover that she's blackout wasted. How did Emily get there, you're wondering? Well someone made a late night booty-call from Spencer's phone. That shouldn't be too much of a surprise seeing as Rosewood apparently has the shittiest locks in the world and no one's parents ever bothered to invest in a proper security system.
Back at the house, Spencer forces Emily to burn perfectly a perfectly good plaid shirt while they muse about Allison's killer.
Then the girls make like bananas and split. They write up a fake letter claiming they were at Spencer's lake house all night and definitely not digging up graves. (P.S. Anyone who's ever done any underage drinking knows they totally should have been at the lake house in the first place as lake houses are 100% the best.)
The next day, back at the ranch/only clothing store in Rosewood, Hanna and Spencer run in to each other.
Spencer wants to hang out together and check out the new speed dating night going on at the local Starbucks. Hanna's like, "Ummmm…. Nahhhh" because she heard the new speed dating night was filled with creepy guys and was hella awkward and because she has therapy or something. Lies!!! Hanna is actually visiting and flipping through fashion magazines with totally out-of-it Mona.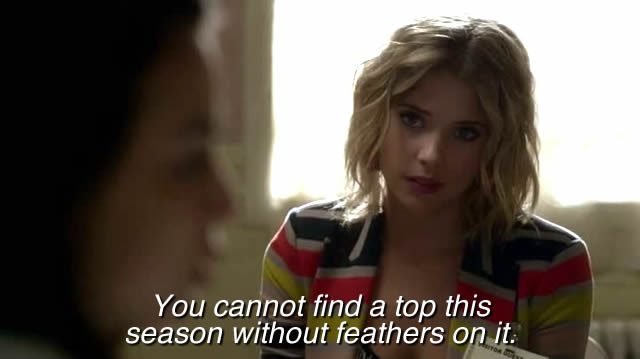 Hanna tries to play it cool with a fake name but is busted for being a Somewhat Confused Person by the only doctor in town, Wren! What the hell kind of specialty does he have that has managed to get him into trauma, gastro and psych units?
Meanwhile, Toby Cavanaugh, who I now exclusively associate with Kate Kavanagh, is sort of living in a tree house in Spencer's back yard. I'm not sure the function or reason behind this plot line except to have Keegan Allen take off his shirt all the time. Spencer is a dirty slut who wants it all the time but luckily Tobey Your Thirst knows what's best with waiting and all that.
Moving right along to the first day of school, Aria decides to finally reconcile her gayness with her femmeness by wearing a silk bandana as a triangle scarf.
What is this, Fall 2011? (Technically speaking, based on the show's timeline, I think it actually is.) Anyways Lucas is creepy because Lucas is creepy and Aria has a panic attack which was both written and acted by people who have clearly never had panic attacks. Oh and her folks are splitting up all over again. Womp womp.
After school, Mrs. Hastings wants Spencer to come out for some Privilege People time, but Spencer reminds her mom that girls just want to have fun by studying all the time. Liar! Spencer's actually been secretly sneaking down to A'S LAIR at the Lost Woods of Death Resort to do some serious 3D computer rendering to recreate Mona's creepy set-up. NBD, she took a CAD class during winter session.
Meanwhile Toby and Emily are back to being BFFs and meet up for some coffee. Emily admits to Toby she's been partying like a rockstar down in Haiti because nothing says a good time like systematically rebuilding infrastructure. Emily is pretty sure blacking out from drinking all the time is a bad thing but Toby reminds her that it's totes no big deal because when you're dealing with issues of alcohol poisoning, the only thing that really matters is that your friends still like you.
On a related note, I don't really understand why Pam has been too busy hitting the sales at Banana Republic to get her daughter some goddamn grief counseling.
Unfortunately the whole night (which I forgot to say included Ezaria's anniversary) is ruined when the Liars get called down to the police station as per usual. Luckily they have that made up lake house alibi. The only thing better than an alibi is Ali who is totes Bi. See what I did there?!
An indeterminate amount of time later, Spencer visits Garret who has been ringing her phone off the hook for days. Garret is all like, "Yo bitch, I didn't kill your friend," and Spencer's all like, "Don't call me a bitch, BITCH!" Garret says he knows who took Ali's body just in time for a commercial break.
In conclusion, the Liars all fess up to each other about shit like visiting Mona in the hospital, Spencer's weirdo 3-D rendering of A's Lair, the fact that someone emptied out the hotel room before the Liars could do so, and the slight overestimation of the number of BJs given at nerd camp. Such is life.
Right so then A left a bunch of pictures in Spencer's car with a scary text as per ush. It's gonna be a good season.
Episode 302: Bathroom Is The New Black
We begin the next Liarfest where all good TV shows begin, with jewelry. Emily finds a string of teeth. Wait, what the fuck?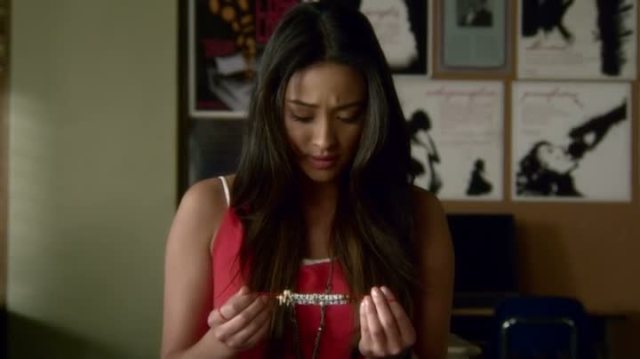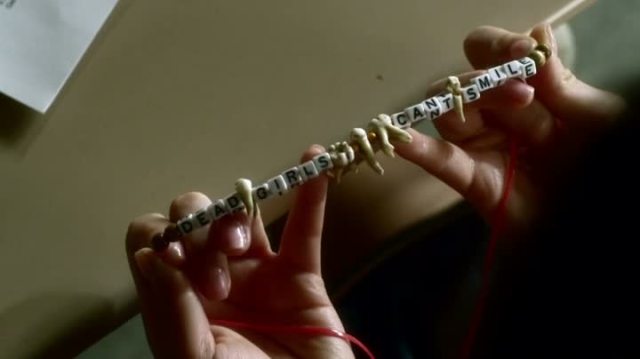 Grossssssssssss.
Because a necklace full of teeth is probably evidence, and because the Liars aren't currently embroiled in their usual age inappropriate man-scandals, there is at least some consensus that maybe they should bring the teeth-are-forever infinity necklace to the lying police or at the very least their lying parents. Unfortunately they drop the necklace in the toilet and can't retrieve it because the motion sensor toilet flushes the teeth away to A's lair which is almost definitely linked in to the public sewer system. I think this is a good time to point out that automatic flushing toilets are the the fetching worst. I know when the appropriate time to flush waste is– I don't need a robot telling me when that is based on my momentarily leaning forward to reach for a tampon.
Nothing follows a quick group toilet run quite like a sandwich and soda so the Liars head off to lunch. There, they compete for the Least Politically Correct Comment of the year award and muse that Jenna seems blinder than usual. While we've never been given a full rundown of Jenna specific type and severity of blindness, we saw her kill that bug and smize last season. So yeah, bitch can probs see.
Following lunch the girls attend their favorite class of the day: Feeling Sorry For Emily 101. Because of the Dead Girlfriend Thing, and since a third of gay students drop out of high school, Emily is at risk of having to repeat the 11th grade. Arias like, "Omigod did you know that my boyfriend totally used to be a teacher?!? He should tutor you!!" Everyone agrees that's fucking weird. Eye rolls all around.
Speaking of inappropriate relationships, the college student who Chad Lowe was nailing circa Freshman Year, Meredith, is hanging around the school. Rosewood High goes through English teachers like newspaper.
So Emily agrees to meet up with Ezra for some tutoring. It's exactly as weird as you think it might be. Even so, he suggests Emily try some good old fashioned wanking off — I mean listening to music — before she takes her tests.
Meanwhile, Hannah and Spencer continue their conjugal visits from the previous episode. Hanna visits Mona again at the hospital and has another encounter with Dr. Wren No-Specialty. He's all, "Yo biddie, stop throwing chairs at your pseudo-comatose friend and lock it the fuck up and address your ambiguous loss." To which Hanna responds "Waaaahhhhhh." Spencer continues to press Garret about what he knows. Garret only wants one thing, a hot slice of Spencer's Mom. Spencer's Mom has got it going on. Unfortunately, when said mom finds out that Spencer has been visiting Garret she is pissed. Garret is trouble with a capital T and that rhymes with P and that stands for pool. Commercial break so the day can change and the townspeople can outlaw poolhalls.
Fueled by Emily's reaction to the teeth necklace A leaves Aria a lovely little earring in her locker. Aria tweeks. What's so bad about an earring, just because it's hideous doesn't mean Aria should freak out like that. This isn't just any ordinary earring, this earring was dug up from Ali's grave triggers previously unseen flashbacks. Starsweep to Freshman Year where a hair dyed alternative Aria and still breathing Ali bust in to Aria's dad's office. Ali finds the earrings in question and the two use their home DNA kit to determine its Meredith's. Talking about your feelings is so last season, so Aria and Ali trash Chad Lowe's office making it look like Meredith is crazy face. Then Aria put the earring in Ali's casket. Unclear why.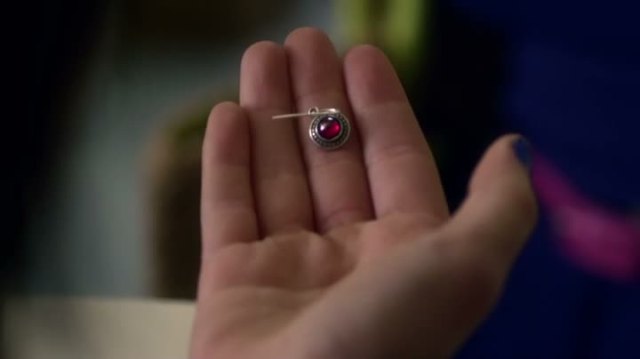 The appearance of the earring drives Aria to guilt city and she admits to her dad that's she, not Meredith, went all A Woman Under the Influence on her dad's office. He reacts by wailing like a child and forcing Aria to apologize (like a child). SHOCKINGLY, Meredith announces the earring was never hers to begin with. Which makes sense since home DNA sleuthing kits are notoriously faulty.
While her ex-husband is busy freaking out at Aria, Ella gives Emily her make-up English final. Since Emily's been studying with Fitzy-poo she can pass the test with only the power of music! Just then, Emily is tragically traumatized by a girl putting a hair clip in to her hair. Those hair clips will get you. Starsweap flashback to Emily's drunken blackout in which she realizes none other than Blind Jenna was driving the getaway van.
Simultaneously, Toby reveals to Spencer that Jenna's been using eye drops. While I'm guessing there are plenty of blind folks who use eye drops, this somehow could indicate Jenna's surgery might have worked. So yeah, bitch can probs see.
Unrelated to the See-a-thon, Hanna makes another visit to see Mona–this time with Caleb in tow. Hanna gives Mona a pretty pretty princess makeover by bringing "the good stuff" which I can only assume is cocaine. Caleb gets jealous over doctor man and Mona says something creepy but ultimately probably somewhat irrelevant to providing any new knowledge. Stupidly Hanna leaves Mona with some tweezers. Uh-ho, she might start her own business creating serious tension with the patient who does threading in the room next door.
The next day at school, the girls are once again in the bathroom. They hear Jenna coming in and Spencer hatches a plan. Taking Aria's not-cheater earring, Spencer lays it softly and gently on the bathroom sink and the Liars all cuddle in the stalls.
Jenna, of course, picks up the silent but deadly jewelry.
Oh wait!!! I almost forgot! Because of her flashback Emily didn't fill out her whole English test and probably would have failed but then ELLA filled in the answers cheater style for her while grading it! Ella's got secrets now too!
Okay now that's really it.