First of all I HATE IT WHEN TV SHOWS USE TEXTSPEAK IN THEIR TITLES. It's not cute or clever. It's lame. This week was not heavy on lesbian content although for the first time since the show's launch, our Lesbian Lead — AND DARE I SAY IT THE ENTIRE CAST — displayed hints of what we like to call "personality." Yes, behind the Precious Moments eyes, the frequently-mentioned-by-me SHIMMERING LOCKS OF HAIR and the impeccable skin and teeth we may find nuance. Especially when someone gets drunk!
As per ushe, we will be covering "the lesbian parts" which right now just means "the lesbian character" because her girlfriend has been shipped off to some kind of rehabilitation center in the woods for kids who smoke the reefer. It's called "True North." Suspiciously enough (it's the music, this show is constantly playing this "everything is suspicious" music) — Emily is having trouble getting ahold of Maya the Maidenwoodnorthflower.
Well, She Does Have AT&T and Their Network is Totally Clogged by iPhones, So That's Probs It
+
We hope it's not an ex-gay camp, right? Because Maya's hippie parents wouldn't ever send her to an ex-gay camp. Right? Right. Okay.
Emily says they've taken away Maya's phone so the only people she can talk to are her parents.
Hannah then, strangely, for NO REASON WHAT-SO-FUCKING-EVER, transitions Emily's concerns about not talking to Maya into an offer to hook up Emily's Phone with the New Guy in School so that The New Guy can give Emily's phone "more memory" and "apps."
Probably The New Guy is gonna go straight home and upload this sucker.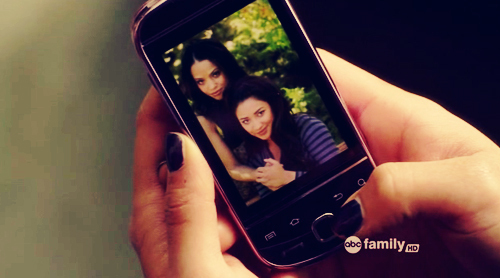 PHONESPRETTYLITTLERICHGIRLSGAVEME DOT TUMBLR DOT COM
+
Although Emily never expressed a desire for additional applications or ringtones on her mobile telephone, she is now waiting apparently several days to have her phone "pimped out." That's why she looks so sad here, as she strolls down the cobblestone streets with her dry-cleaner and Pride Shoulderbag to demand The New Guy give that shit back 'cause she has to call Maya.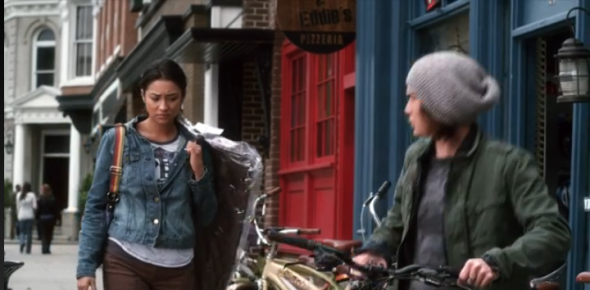 Guy: "Where is she, rehab?"
Emily: "No, it's not like rehab — it's like — who told you rehab?"
Guy: "A cushy town like this? I'm guessing rehab is the new "boarding school.""
Emily: "Well, it's not. She's not a pothead. She shouldn't even be there."
What would "pothead rehab" even be like?


The gang comes together at the Dance Marathon, which involves students with numbers on their backs sort of reluctantly tapping their feet back and forth. The girls have a mission to retrieve Spencer's laptop from Ian, who stole it because he killed Allison or had rough sex with Allison or just tossed Allison into the dirt and then ran off while someone else killed Allison or is A. or killed Laura Palmer or Mr. Burns or shot the Sheriff but didn't shoot the deputy or killed Jenny or did absolutely nothing besides be just another boring-looking white dude on this show. White dudes, they all look the same, amirite?
The dance marathon thing is not like this, FYI:
Later on, Emily's finally gotten ahold of Maya but their conversation was apparently disappointing. Spencer, who's Especially Responsible and Grown-Up this episode, finds Emily sulking in the alley.
Emily: "It was like she was there… but she wasn't."
Spencer: "Oh sweetie, she's in wilderness boot camp, you know, she's been talking to bears. And besides I bet her counselor was probably watching her the whole time."
Emily: "No, she was alone. Maybe she's moved on."
This is problematic — because first of all, who cares about that brand-new Jessie J ringtone if nobody's even blowin' up your phone. And secondly, we haven't seen any other actual lesbians in her school, so this significantly decreases our chances of having minimal chaste lesbian content to over-analyze and bitch about. Lucas seems kinda lez, though.
+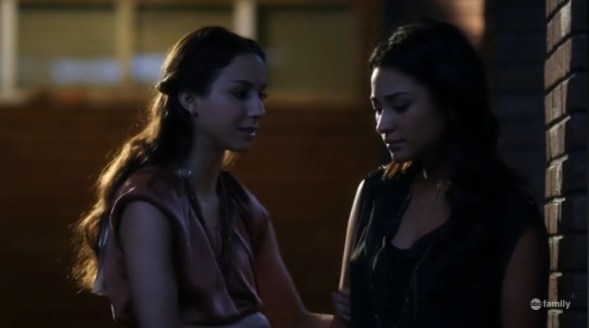 Listen, You Can Always Go Back to Having Crushes on Straight Girls.


Now that a girl has made Emily's heart hurt, Emily turns to THE DRINK (Hannah's got a flask) and gets really sassy.
Firstly, Sassy Emily wants to know why Hannah's dancing with Lucas when Hannah knows how much Lucas likes her.  (A. has made Hannah a Temp Escort for the night, long story) Then Emily brings up Allison, who used to do that straight-girl-teasing-her-gay-BFF routine you all know so well, which is the first time she's brought it up since the initial outing. It's a nice touch — every girl has their own specific resentment towards Allison, and it's interesting how at least for these two, Allison focused on things they couldn't control (body type, sexuality) to wield absolute power over them while faking comradeship.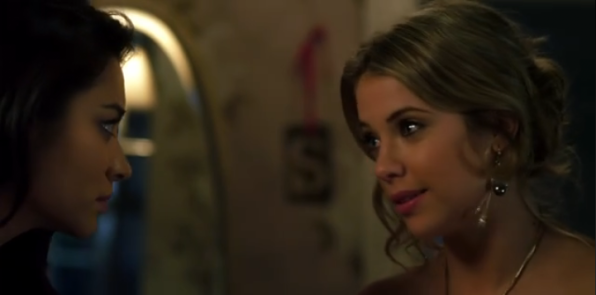 Emily: "Allison did the same thing to me. It makes you feel powerful, huh?"
Hannah: "No. Just the opposite."
Emily: "It's too bad she's not here tonight, Allison would have been really proud of you."
+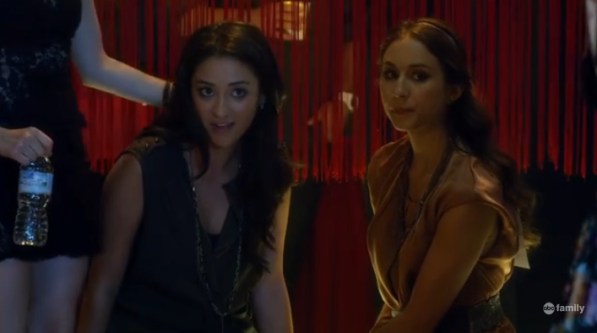 He Ran Into My Knife Nine Times
+
After emptying Hannah's flask into her empty heart, Emily decides to tell Ian, the Number One Murder Suspect, how she really feels. Why? Because "he shouldn't be here. He's not a chaperone, he's a killer. Why is Toby at home wearing a [something] while this freak can go anywhere he wants, do whatever he wants, marry your sister [Spencer]!"
+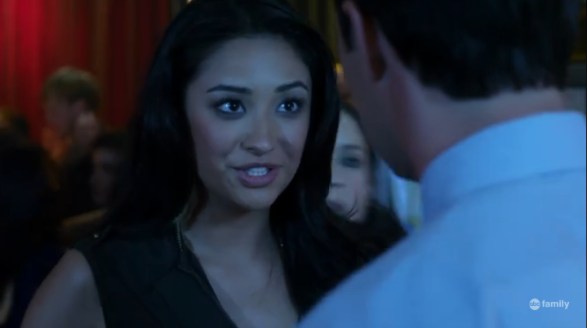 Do Not Even Fuck With Me, My Girlfriend is in Boot Camp Right Now
+
Spencer cleans up that mess as Emily is taken outside by her bestbestfriends.


Emily refuses to go home because that's what you do when your Mom sends your girlfriend into the wilderness and also, as aforementioned, she's drunkity drunk  drunk.
The highlight of the episode is when Emily yells "I CAN OPEN MY OWN DAMN DOOR" and then proceeds to not be able to open her own damn door.+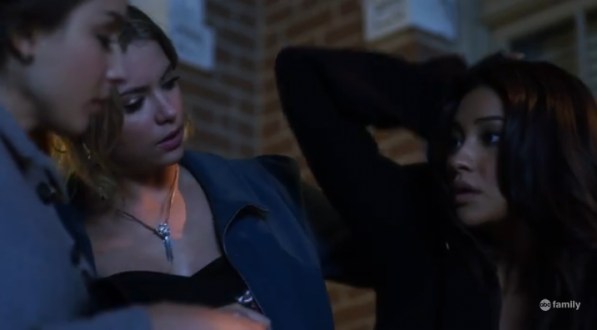 THANK GOD THIS DIDN'T BECOME A DONNA MARTIN GRADUATES SITUATION
+
Back at Spencer's, Emily gives Hannah drunky rage eyes and gets her phone to call Maya, who I imagine is asleep, but whatever.
Emily: "Hannah, those things I said to you in the courtyard –"
Hannah: "Don't apologize. You were right. The truth is, I was worse than Allison tonight, if that's even possible. And I do know how Lucas feels about me. It wasn't messing with him for fun, I had to–"
But Emily's already asleep, probably dreaming about Shane.
Here's something nice for you. I cried for no reason.