ALL THE GAY LADIES: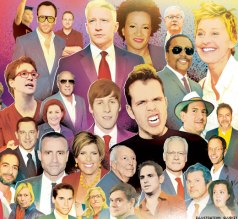 Who's the most powerful gay person in the U S of A? Is it Tila Tequila? Is it Ke$ha?  Surprisingly enough, it is not. Well, on a mostly male-dominated list (I'm gonna go out on a limb where you can throw rocks at me here and suggest that perhaps this might be more a result of a male-dominated world than a gender bias in OUT magazine… although I'm wondering why Annie Lebowitz and Rosie O'Donnell are pictured in that graphic but aren't on the list itself?)
All the ladies: The maybe-out-maybe-not Jodie Foster clocks in at #41. #39 goes to Martha Nelson, group editor at Time Inc.'s Style & Entertainment Group. Wanda Sykes nabs #36 for having the best year ever, although apparently last year was better, when she ranked 35th. As for the politicians, New York City Council speaker Christine Quinn takes #23 and Tammy Baldwin ranks 9th. Suze Orman one-ups (man) Dan Choi who's at #27.
The top five they basically stole from our Autostraddle Icons of 2009 except clearly they forgot about the incredible power of Tegan & Sara. Adam Lambert took 5th, Rachel Maddow follows up at 4th, and Ellen Degeneres snags the top spot.
The most interesting part of this ranking might be the apology of sorts the intro offers to Adam Lambert, who the magazine castrated during the Out 100 by claiming he was reluctant to participate in a gay photoshoot. (Adam countered that all he'd said was he didn't feel knowledgeable about gay politics to be asked those questions specifically, but that's it):
And then there are those we never saw coming, such as one Adam Lambert, whose attention-grabbing run on American Idol was largely interpreted as a referendum on tolerance.
Not everyone has to be a Lambert fan to appreciate the power of his position to influence our cultural and social attitudes for the better—one of several factors taken into consideration when compiling this list.
HOMOS DO BAD BAD THINGS:
The seven craziest things ever blamed on homosexuals. (@ranker)
CONSTANCE MCMILLAN:
Constance McMillan has really had the best/worst year ever! Though she got sent to fake lame-o prom because her jackass high school wouldn't let her bring her girlfriend along, she's gonna be the grand marshal of the gay pride parade in New York! (@nytimes)
MLK:
This April is the 42nd anniversary of the assassination of Dr. Martin Luther King Jr. Donate to the fund for a memorial in his commemoration, they're so close!
Help "Build the Dreamwp_posts by supporting the Washington, DC Martin Luther King, Jr. National Memorial Project Foundation and make a $5.00 donation today through text messaging.
There is a simple 2-step process to follow:
STEP 1: Text MLK to 20222
The Martin Luther King Jr. National Memorial will be the first on the National Mall to recognize a person of color and a man of peace, not a president or a veteran of war. In 1996 Congress authorized the Memorial Foundation to raise funds to establish a national memorial to honor the legacy of Dr. King on the National Mall. The memorial's very existence signifies that we as a people believe Dr. King and his legacy deserve this esteemed placement in what can be considered America's "Hall of Fame."
UNIVERSITY:
Notre Dame graduates its first black valedictorian, Katie Washington. (@feministing)
BOOKS:
Not exactly "Pat the Bunny,"Tactile Minds" is billed as porn for the blind. – "We're breaking new ground,' she told the Telegraph, saying that she created the book after noticing that the 'blind have been left out in a culture saturated with sexual images." (@salon)
DEPILATION:
Amanda Palmer and Mo'Nique Say Their Choice to Go Unshaven is Personal, Not Political – "People assume you're making a statement, but I'm not,' she tells the Times, much to the confusion of reporter Catherine Saint Louis, who follows up with a 'Say what?' Palmer explains that, if anything, it's a statement of choice, but not of prescription. She understands that many women simply 'don't want to deal with the stares, and [shaving is] the path of least resistance." (@salon)
EAT YOUR WORDS:
It turns out that Mike Huckabee's choice words about the gays are even worse than we thought. – "Mike Huckabee is claiming those terrible comments he made to a college newspaper about gay marriage — that it's a "behavioral pattern," like drug using, that shouldn't be tolerated — were taken out of context. Except the student reporter recorded the whole thing. Oops!" (@queerty)