Season Two of Pose kicks off next week, which means you still have time to catch up (it's on Netflix!) before it begins. If you can't squeeze it in, or you just need a refresher, here's a primer on Season One.
Pose takes place in New York City, 1987. Its focus is the ballroom scene and the lives of the people who call it home. At its heart, Pose is a story about family. It follows each of the ensemble cast as they define what home and belonging looks like to them while struggling with the realities of economic insecurity, lack of safety and the trauma of the AIDS epidemic. Pose is hella Black, it's hella Brown and it's hella queer. If you're looking for a show that puts queer and trans people of color at its center, Pose is it. The first scene introduces the House of Abundance — named after house mother Elektra Abundance. Their tension — Blanca's housemates are terrible to her and Elektra steals Blanca Abundance's idea to walk together as the Royal House of Abundance so Blanca is pissed off because this is a regular thing — doesn't stop them from staying late at the Museum of Fashion and Design and enacting the heist scene montage of my dreams set to the tune of "In My House" by the Mary Jane Girls. They break a window to get out of the museum, which sounds the alarm and begins a chase scene that ends at the ball.
At the ball, Pray Tell — who is emcee, critic, fashion designer/icon and parental figure rolled into one person — is disappointed with the night's performances. The category is realness. The theme? Bring it like royalty. Yet no one has and the judges' low scores — mostly six's — shows that. So he sends off the performers on the stage, gives them an "E" for effort and asks if there's anyone else. Silence. Then the House of Abundance strolls in.
Capes. Crowns. Gold. Glitter. They look like royalty. They are royalty and the crowd loses their collective shit. Elektra saves herself for last and it is worth it.
Then the cops pull up. The first time I watched this, I expected everyone to scatter and the ball to end but I was wrong. Elektra is frightened, then she takes a breath, collects herself, and integrates the cops into the performance. She stretches out her arms to be cuffed like she was doing them a favor. The rest of the house takes their cue from Elektra and let the cops take them away while the crowd applauds.
The first few scenes of episode one show the act, the performance and the dream. What comes after is the real. The scene shifts to Allentown Pennsylvania and we meet Damon Richards, a 17-year-old ballet dancer who smiles when he dances because he loves it that much. Damon's kicked out of his house — after being beaten — when he tells his parents he's gay, so he hightails it to New York City. The scene after that is a hospital and Blanca finds out she tested positive for HIV. Somehow she manages to thank the medical practitioner even though she's just been given what she considers to be a death sentence. Blanca shares her diagnosis with Pray Tell and the two of them sit, drink wine, laugh and cry because that's all they can do. Later, she makes the decision to leave the House of Abundance, stretching her already frayed relationship with Elektra, but she doesn't tell them why. She doesn't tell them that she needs to take a chance at legacy, that she needs to leave something of herself behind in a world that's actively trying to wipe her out — and family is that something.
It makes sense that Damon is the first person to join Blanca's house; they've both had their foundations shaken and are disconnected from community. She happens upon him dancing in a park for money so she treats him to a meal and offers him a place in her house. "A house is a family you get to choose," she tells him and "balls are a gathering of people who are not welcome to gather anywhere else. A celebration of a life that the rest of the world does not deem worthy of celebration." After some hesitation — Damon doesn't think he's like Blanca. He wants to be a star in the real world, not "some ball" — Damon gets all his things stolen and runs out of options. He has to make a choice and he does. He chooses Blanca and her house; the House of Evangelista.
The story's next shift in characters gives us a different type of legacy. Stan Bowes is your average white middle class "family man." He gets his big break in the city and gets a job working in one of Donald Trump's many organizations. To Stan and the world he belongs to, legacy is power, legacy is money, legacy is control and that's what he wants. Still, Stan's life isn't as fulfilling as he expects it to be despite just getting his dream job, so he drives around the city in search of something more. His search brings him to Angel Abundance, who's a sex worker. They get a hotel room, get half-naked and lay in bed while Stan asks her what she wants in life.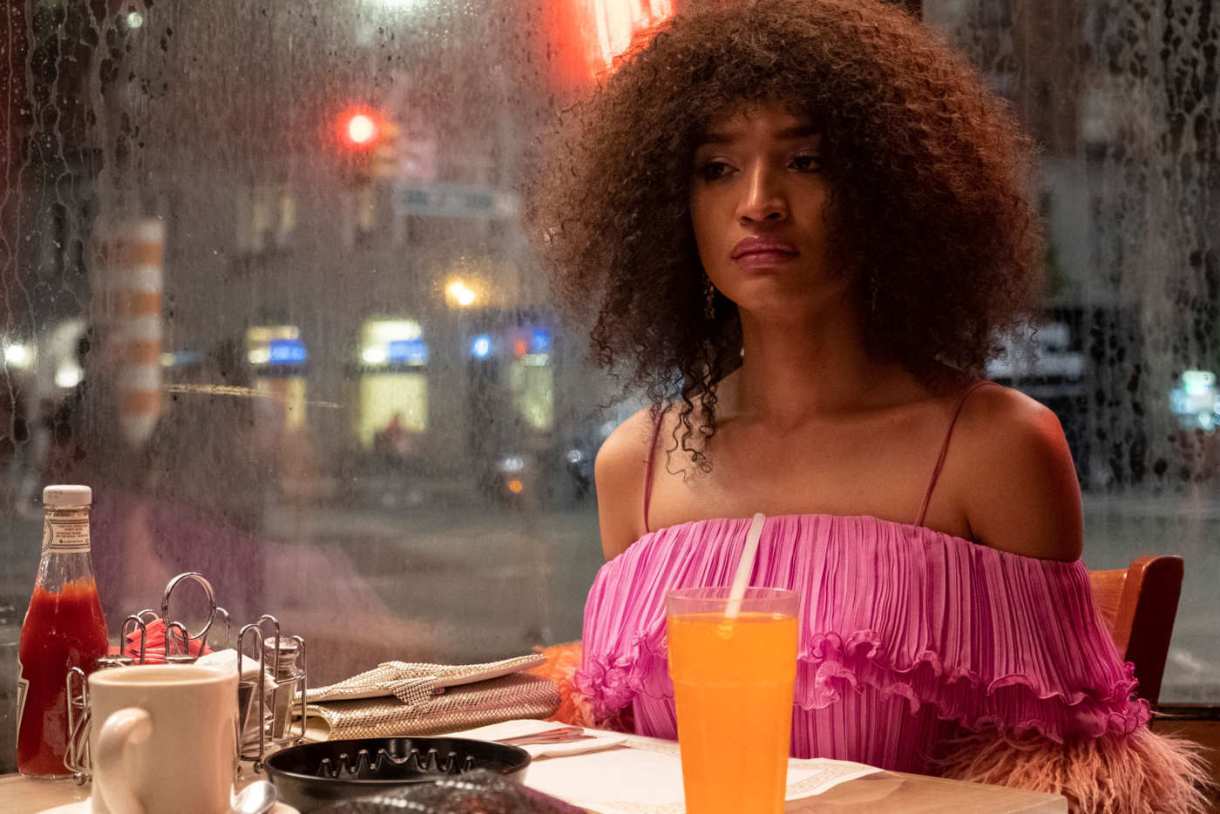 You know, I was prepared to like Stan, but he sees Angel outside his job and she asks him out. He shoots her down, telling her he has a wife and kids and she's "not somebody [he] can be with". This comes after Angel gets rejected from even applying for a job because she's trans and it's one rejection too much. That night at the ball she shows up for a category she's underprepared for and she gets booed/dragged off the stage. Sometimes, you feel so bad about yourself that you think the only thing you're worthy of is more pain and more rejection even though it's the world that's wrong, not you. Blanca goes to comfort Angel and she leaves the House of Abundance for Evangelista.
Blanca thinks her House is big enough so she challenges Abundance, beginning the season-long feud between the two Houses. Evangelista loses and they lose badly. Blanca admits that she rushed their challenge, but on the bright side, it gets them a new member, Papi. He knows that Abundance isn't legendary yet, and neither is he. Blanca welcomes him in and the House grows once more.
Taking a step back to before the House of Evangelista's failed challenge, Blanca supports Damon's dreams to dance so she gets him an application to The New School but she finds out he didn't submit the form and missed the deadline. After their performance, Blanca and the rest of the House take Damon to the New School and Blanca barges in to speak to the Head of Dance with the same energy my mother used to fight for me when I was a kid. I cringe and share Damon's embarrassment but I'm also smiling because this is a kind of love and Damon deserves someone willing to go to bat for him like this. Blanca's impassioned speech convinces the head to give Damon a chance and he takes it. He dances his heart out, fueled by the energy of someone actually believing in him, so it's no surprise that he makes the cut.
The rest of the season builds on the foundations established in the first episode. Angel and Stan continue their relationship — he even moves her into an apartment for a bit — until his wife finds out. His wife divorces him, and Angel stays with the House of Evangelista, turning Stan away.
The house of Abundance falls apart. Elektra isn't the best mother and her children resent her. This, coupled with losing their financial backer — Elektra's man supported her financially in exchange for having exclusive access to her body and the final say on what she does with it — because Elektra chooses to have gender-confirming surgery, is enough to make the children break off and form the House of Ferocity. The break up gives Elektra and Blanca a chance to reconnect and we find out that Elektra was to Blanca what Blanca is to Damon; her guide and first refuge after being kicked out.
Blanca grows as a mother; she initially kicks out Papi after finding out he's dealing drugs and lying to her about it and this prompts him to join the House of Ferocity. By the end of the first season, Blanca's figured out that she can be softer with her kids, that the world is already a hard place and that giving second chances isn't a sign of weakness. Papi learns that pushing away the people that have offered him home does nothing for him, he learns to stop self-sabotaging and he's welcomed back into Evangelista.
Damon begins a relationship with smooth-talking Ricky and convinces Blanca to let him into the house. Damon's ball performance eventually takes a backseat to his dancing and it's for the best. Ricky ends up becoming part of a tour group as a Dancer and after initially wanting to follow him on tour, Damon makes the decision to stay. After having sex with Ricky for the first time, Damon falls ill and this scare convinces the entire house — and Pray Tell — to get tested. Pray Tell's test comes out positive for HIV. He already knew this deep down but the certainty sends him on a spiral; Pray Tells's fallen in love with person after person and his stories always end in a hospital bed with him holding a dying person. Knowing that his future almost certainly includes him being in the bed hits him hard and he takes to drinking frequently, prompting an intervention from the House of Evangelista, but it doesn't go well.
Pray Tell is carrying the burden of not just his death but the ones that came before him and the ones he knows will come after. He's already mourning the loss of his community and he feels more attacked than cared for. However, after having a conversation with a nurse, he and Blanca put on a show for the patients in the hospital with HIV. It's beautiful, it's heartbreaking, and it's exactly what they both need.
Blanca ends up telling Angel about her diagnosis in the last episode, but she doesn't stop there. She tells Angel that she's the one Blanca chooses to carry on her legacy. Blanca's trust in Angel gives her something she's been searching for the entire season; it gives her purpose, responsibility and a home.
The last ball of the season ends with the crowning of Mother of the Year. Blanca wins and there was never any doubt that was going to be the case. The entire season, she's been what holds everyone together, so being surrounded by her family — and handed the trophy by Elektra — is the culmination of everything Blanca's worked for.
The final scene of season one is the entire family sitting down to a meal. Some of the former children of Abundance/Ferocity joined Evangelista and they fit right in. Food is shared, and the final track of the show "Love Is a House" by Force MDs accompanies the fade to black and reaffirms the theme of the show. Love is Blanca's legacy.
Y'all, I'm so, so excited to have the opportunity to recap and watch this show with you. Pose has quickly become my favorite show and I mean it when I say that it's one of the most important pieces of queer media to grace the screen.
Season Two begins Tuesday, June 11th on FX.