Welcome to your weekly pop culture fix,
---
… AHEM, Samira Wiley is BUST Magazine's April/May cover star, pick up your copy at your local Whole Foods: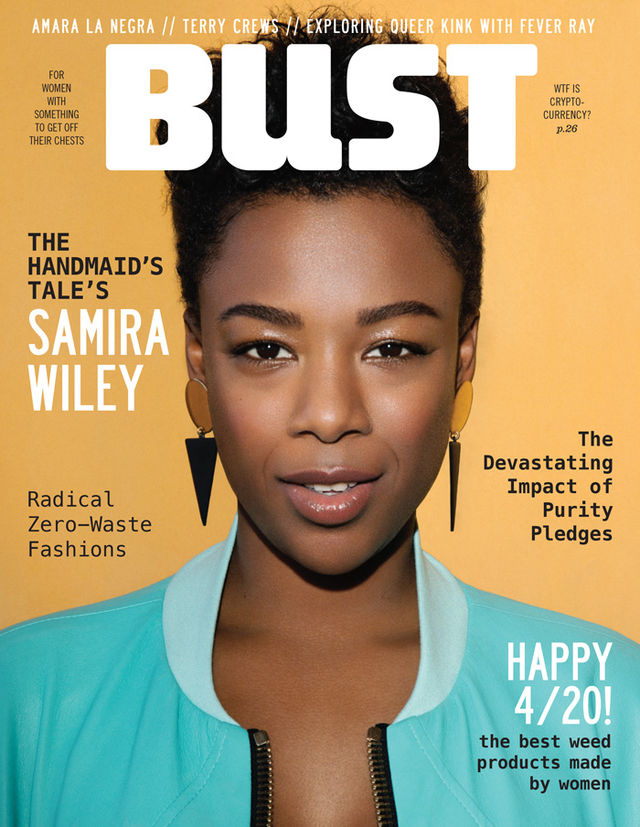 These excerpts from Samira Wiley's interview with BUST Magazine were published last week but nobody told us! Anyhow, you'll have to get the magazine for the full piece, but there are excerpts online:
I remember those first months with her, trying to figure out her journey with her own sexuality. Feeling like she picked me as the person she was going to talk to about all of it. And it wasn't sexual, it was just like a friend. There was something deeply intimate about that, whether there was sexual tension there or not. The deep intimacy of being two people talking about the core of who we are. Talking about our journeys. Not even necessarily flirting on set, but on the phone, thousands of miles apart, talking about Who are we? And does this make me a different person? Does this actually make me who I am now? That's how we fell in love.
… Lesbian Jesus, Our Lordess and Savior Hayley Kiyoko was on Jimmy Kimmel and it was great, surprise!
https://youtu.be/o6V2ikO_CDY
… Gemini is in theaters now, and was described by Out Magazine as "Gone Girl's Sexually Fluid Twisted Sister"
… Evan Rachel Wood Turns Her Trauma Into Good. On 'Westworld' and in Life. – The New York Times
… How 50 Female Characters Were Described In Their Screenplays: Includes Bound, which was a lesbian film you should see if you haven't already.
… Samantha Irby's re-releasing Meaty with some meaty additions and also said this to Out magazine:
Meaty has the line "I could eat a bitch out, I guess,wp_postsbut you only wrote about men in it. Since then, you've written about going down on your wife.
I don't proclaim to have psychic abilities. But I feel like I knew early what kind of life I wanted. Maybe there's a man who likes to read books and watch the same SVU episode over and over, but I've never met him. I knew I was destined to settle down with a lady.
… The CW has renewed most of its things involving homos, including Black Lightning, Supergirl, Arrow, Legends of Tomorrow and Riverdale. Jane the Virgin and Crazy Ex-Girlfriend were also renewed but probably for their last season. The fate of Life Sentence remains unclear.
… Important questions being asked: Why Did Applebee's Destroy The Lesbian Love Story in Their New Take-Out Commercial?!
… OMG: 'Moulin Rouge! The Musical' Announces Cast For Pre-Broadway Boston Run
… 'Siren' Premiere Freeform's Strongest Drama Series Launch Since 2016: Our deep sleuthing reveals that mermaids do not see gender or race and therefore are sexually fluid. After watching the first two episodes we're still not sure what it means that the main mermaid is kissing the lead guy's girlfriend in the trailer!
… Lena Waithe wants to make a biopic about Mary Tyler Moore: "The actress and writer is dreaming of a film about her TV hero: "I don't think people are expecting that from a black lesbian from the south side of Chicago. But, I read her autobiography more times than I can count."
… Art Series Imagines TV Characters' Lesbian Relationships 
…. Jay-Z Tells David Letterman He Cried Happy Tears When His Mom Came Out As Gay: One of quite a few things it turns out we have in common with Jay-Z.
… Why Isn't There A 'Queer Eye' For Gay Women? — It doesn't seem like this writer is aware that there was a Queer Eye lead by a gay woman, called Queer Eye for the Straight Gal. It was headed up by Honey Labrador and got cancelled after like ten episodes. So I imagine that the not-success of that show is why there hasn't been a lesbian reboot, although I think what the author proposes (an all-gay-girl crew) would do better then what QEFTSG had, which was one lesbian and three gay guys. But back when Queer Eye was popular, everybody thought gay guys were the hippest and nobody cared about lesbians! Now we're slightly cooler so we deserve a show, it's only fair.
… Phoebe Waller-Bridge on Her New Show 'Killing Eve' Starring Sandra Oh: This sounds AMAZING. Unclear if falling in "espionage love" will lead to any girl-on-girl sexual action, but we'll see!
… Ari Fitz: On Being Androgynous in Hollywood
… Othello as an out lesbian: why Golda Rosheuvel's time is now
… Beth Malone Flies From "Fun Homewp_postsTo "Angels In Americawp_postsLike A Sexy Beast
… Lena Waithe's Superstardom Reaches New Heights in "Ready Player One"
… TV's First $300M Man: Inside Netflix's Blockbuster Ryan Murphy Deal:
At the same time, it's not lost on Murphy that Netflix's two biggest deals have gone to him and to Rhimes, a gay man and an African-American woman. It's a development that he never imagined possible when he first began rattling the TV world as the industry's "enfant terrible" responsible for such genre-bending standouts as Popular and Nip/Tuck. "I think if you're an 'other' — if you're a woman or a gay person or a person of color — you have grown up in a business where you've been made to feel you're just lucky to be in this fucking game and you should stay in your corner," he says. "And I'm not saying that's been my experience at Fox, but traditionally that's what happened if you wanted to create content that wasn't the straight white fucking antihero. But the culture has shifted, and there's a group of us who were indoctrinated to think we weren't worthy of being paid, and now we realize, 'Oh no, we very much are,' and there are statistics from a business perspective to back it up."
… Amy Landecker talked to The Hollywood Reporter about the mysterious path forward for Transparent in the wake of Jeffery Tambor's firing: "I think we all feel like there's been a massive loss and a fracture in the family, and I think probably the best way to deal with it is to tackle that head-on thematically, the grieving, the processing and the complicated feelings of when you love someone as family and they do things that are really unacceptable… I think Jill wanted to take a breath and think about exactly how we are going to move forward."