Here's a Pop Culture Fix I curated just for you! 
---
+ A Pretty Little Liars reboot is on the way from Riverdale showrunner Roberto Aguirre-Sacasa, which feels weird because Pretty Little Liars only ended like 16 minutes ago — and also because, well, the PLL aesthetic birthed the Riverdale aesthetic and now the Riverdale aesthetic is rebirthing the PLL aesthetic? Pretty Little Liars was already a literal nesting doll of wacky horror tropes; I guess now we're gonna find out what happens when you fold up a ghost like origami!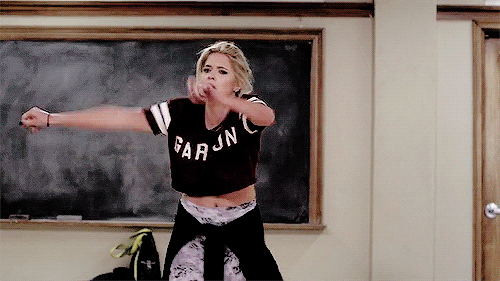 + Grey's Anatomy is gearing up to start production on season 17.
+ JAVICIA LESLIE IS ON THE BATWOMAN SET.
+ Kat Barrell chatted with TV Line about Wynonna Earp season four, the fun parts of playing a bad guy, and what's next for WayHaught.
+ Alex Jung is back at it — this time profiling Miranda July and chatting about Kajillionaire, missed connections, and Instagram lovers.
+ Well, Sarah Paulson in this Ratched trailer is properly horrifying.
+ Troop Beverly Hills is getting a sequel?! (What a thrill!)
+ Three POC writers quit Netflix's Grand Army due to racist exploitation and abuse, Ming Peiffer revealed on Twitter when the trailer dropped last week.
Me and the 3 writers of color who worked on the show quit due to racist exploitation and abuse. The show runner and creator went full Karen and called Netflix hr on the Black writer in the room for getting a haircut. Yes you read that correctly. Who wants to interview us? https://t.co/tBEbk8JRqm

— Ming Peiffer (@mingpdynasty) September 2, 2020
+ Meet Quintessa Swindell, a non-binary actor about to take Hollywood by storm.
+ Netflix introduces a free, no subscription required tier for select titles.
+ The best Gabrielle episodes of Xena.
+ If you didn't want to shell out the extra 30 bucks to watch Mulan this weekend, you can wait until December and watch it for free — "free" — with just your regular Disney+ subscription. (Related: Toward a queer Disney canon.)
+ Gina Torres has joined 911: Lone Star as a series regular.
+ Ashly Burch — who you know as the voice of queer asexual Parvati Holcomb in Outer Worlds, queer protagonist Chloe Price in Life Is Strange, queer-cause-I-said-so Aloy in Horizon Zero Dawn, and queer as every character she plays with the Critical Role crew — is on the third episode of Kotaku's Behind the Voice.
+ Meet the women behind Stacey Abrams' new documentary, All In: The Fight for Democracy.