Riese and I toyed with the idea of axing the Pop Culture Fix due to the millions of other demands on our time, which is why we've been missing these last few weeks, but we've decided not to do that after all because there's honestly too much Kristen Stewart news in the world right now and it's not fair to make Stef fly solo on that beat. And so hey here is your queer pop culture linkity roundup for the week! 
---
Teevee
+ Are you wondering what Ilana and Abbi are up to today? I bet you only need one guess.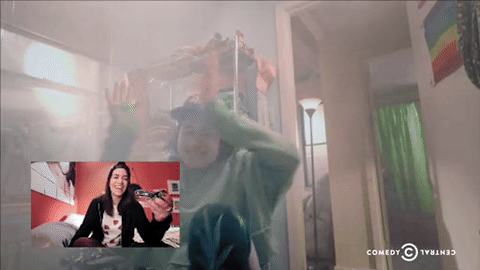 + Quinn is getting a lesbian friend on the next season of UNreal and she's going to be played by Tracie Thoms!
She plays Fiona, a close friend of Quinn (Constance Zimmer) since early in their careers. Fiona is a high-end executive in the entertainment industry; a fun-loving, gorgeous gay woman with swagger.
+ The reviews for the Doctor Who spin-off, Class, are in and they're pretty great. Wired actually compared it to Buffy. BUFFY! 
And that goes beyond race, gender, and LGBTQ diversity. True to its name, the show also examines the socioeconomic divisions among its characters. "'Class' is such an uncomfortable word, especially in England, because it intersects society on so many levels," says Ness. So Class doesn't just reference the learning its stars are doing at Coal Hill School, it also speaks to the larger issues these students—and all students—face. It's meant to signal, Ness says, that "there's going to be things that we're going to talk about, that might make you feel uncomfortable."
+ The Good Fight is coming back for a second season. You can prepare yourself for that by reading Dorothy Snarker's recaps!
Movies
+ Marvel screened a few bits of the new Black Panther film for journalists earlier this week and the rumor was LESBIANS. But then Marvel reached out to Vanity Fair to let their movie critic know that what she thought was lesbians was actually just gal pals.
The scene in question features Walking Dead star Danai Gurira dancing on a boat with her fellow Dora Milaje, i.e., Black Panther's personal female bodyguards. These women—first introduced to moviegoers in Captain America: Civil War— are the warriors who watch over Chadwick Boseman's royal family … In the rough cut of this Black Panther scene, we see Gurira's Okoye and Kasumba's Ayo swaying rhythmically back in formation with the rest of their team. Okoye eyes Ayo flirtatiously for a long time as the camera pans in on them. Eventually, she says, appreciatively and appraisingly, "You look good." Ayo responds in kind. Okoye grins and replies, "I know."
I mean, okay, but that's about fifty-eleven times gayer (and with longer screentime) than LeFou' gay situation in the live action Beauty and the Beast.
+ How Moonlight altered NYC's indie scene. (Or how an indie movie about a gay Black man starring an all Black cast unseated Harvey Weinstein.)
+ IndieWire has an exclusive behind the scenes look at Jill Soloway's new show, I Love Dick.
"It's a feminist, matriarchal revolution-inspiring comedy about love and sex," Soloway said. But more than that, "I Love Dick" looks to provide a look into the world of the artist, and act as an outlet for female writers (the first three episodes were written by women).
Queer Humans, Out and About
+ Kristen Stewart and Chvrches' contribution to the vinyl records box set 7-Inches for Planned Parenthood is almost here. KStew directed the video for a new version of Chvurches' "Down Side of Me" off their Every Open Eye album, and here's a sneak peek. (The full video drops on April 28.)
+ Jen Richards wrote a piece about her experience at this year's GLAAD Awards over at NewNowNext. It's called The Uplifting Blackness And Transness Of The 2017 GLAAD Awards; like everything Jen Richards does, it's perfect.
+ Mary Emily O'Hara at NBC Out interviewed Jane Lynch about her new character in the forthcoming comedy Relatively Happy and about Hollywood's LGBTQ evolution.
Speaking of connections: Who is the most famous woman you've ever slept with?

Oh. Me! I'm the most famous woman I've ever slept with. No, okay … Hilary Rosen. I just gave you a scoop. You're welcome. Oh, and Hilary: you're welcome too. It's a very short list, actually. And it's done. The shop is closed. It's over. The ship has sailed. It's not sad, it's a f—ing relief.
+ The Lesbian Love That Survived the Nazis: Review of 'Indecent' on Broadway
+ We talked about this a little bit on Boob(s on Your) Tube last Friday, but we haven't mentioned it in a Fix yet: Non-binary actor Asia Kate Dillon will get to choose which category they will be nominated in for the Emmy Awards this year. In addition to which: MTV is getting rid of its gender-specific categories for the MTV Movie Awards.
+ Tig Notaro talked to Variety about the SNL clown sketch that seems like it cribbed right off of her short film, Clown Service.
It's more a feeling of I just want to stake my claim and be like this is a film I made. It's been out there and touring around and screening for awhile now and I don't want to stop doing that. People were like, "Oh, were you going to sue?" That's not even crossed my mind. It was people contacting me who were saying I've seen this movie of yours and so that's the only reason I thought god I have to go back out on tour and this is my opener of my national tour and I'd look like a fool.