Hello and welcome to your Pop Culture fix, your #1 go-to spot for information on soda, yogurt and portable bicycles.
---
The Future
+ Legends of Tomorrow: Ali Liebert will be playing Lindsay Carlisle, a "potential love interest" for Sara Lance/White Canary on the CW series Legends of Tomorrow. Previously, Ali Liebert, who is also queer in real life, has played gay on The L Word, Bomb Girls, and Lost Girl. New Media Rockstars has a cool piece about why exploring White Canary's bisexuality is important to her character development and visibility:
Arrow worked hard to give Sara Lance a distinguished sexual identity from not only the other characters of the series, but from most characters on television. It is very important that Legends of Tomorrow is continuing to place significance on keeping Sara, now as White Canary, openly and positively bisexual. Sara's relationships are treated with as much respect and sympathy as any other. She is not oversexed or depicted as a vamp. So far the writers have avoided all of the notable stereotypes and negatives associated with bisexual representation.
+ Pretty Little Liars: I Marlene King told Variety that there's "always a chance" for Emison in Season 6B of Pretty Little Liars:
Does Emily have a love interest?
A sprinkling of one. But Emily's one of those characters who Alison was her first great love and then Maya, so she's been trying to find her way. But I have hope for her, too.
Is there a chance for an Emison reunion?
There's always a chance. They were the original love affair on the show in Emily's part. I would just say this to the fans: don't get frustrated and life is full of ups and downs and curves and bumps in the road, but I really do believe that by the time we get to the end of next season, most of our fans will be happy with where we go.
You've said that Emily comes back with the darkest secret in Season 6B. Any teasers?
She really has two secrets. One of the secrets informs the other. Over the course of the time jump, her father passes away unexpectedly and she will have a really difficult time dealing with that.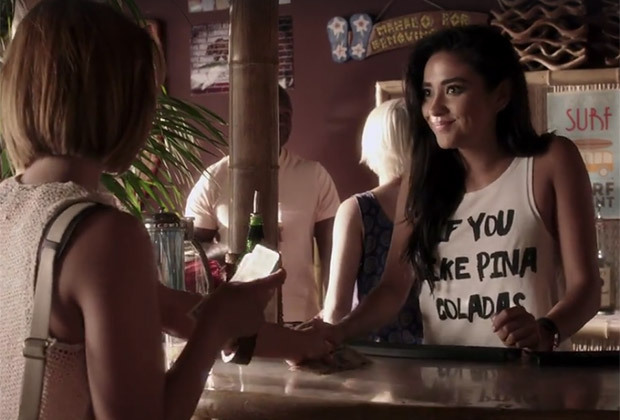 + Broad City: Regarding Ilana's sexual orientation on Broad City:
"[Amy Poehler] once said something really funny—that everyone under 30 is gay," says Jacobson. "That idea has clearly driven the show," Glazer adds. Aside from Ilana's liaison with Shawkat, her lust for Abbi is a running gag. But Glazer maintains that her character would never label herself pan or bi: "The definition is so futile." She loves writing sex scenes, she continues, because when you're writing, you're looking for an action, the key to a character's personality. "Sex is the best. You know, 'He keeps his shirt on.' I know exactly who that person is."
+ Sarah Shahi plays a queer woman in the film "Guns For Hire."
---
It's The Most Wonderful End Of The Year
+ 11 Times Sci-Fi gave us hope for the future in 2015, like that "female heroes are no longer even a big deal."
+ 2015: The Year Of the Queer Senior
+ Mey's 15 Favorite Single-Issue Comics of 2015
+ The most intriguing LGBT characters of 2015
+ 15 Top LGBT Viral Videos of 2015: Almost entirely gay men!
+ 10 Fun & Cool Things In Which I, Brittani Nichols, Was Amazing
+ Lyn's Top Ten Stud & Butch Crushes of 2015
+ What 118 Cultural Insiders Loved Most in 2015. 20% picked Caitlyn Jenner as "Most Important Person in Culture," making her the winner of that category. I think this is because publicly caring about Caitlyn Jenner has become a new way for cis people who don't know anything about trans issues to feel like they do and therefore feel like good people.
+ Indiewire's Breakout TV Actors of 2015.
+ The Year in Lesbian/Bi Movies.
+ Diversity in Film 2015: One Step Forward, Two Steps Back
---
Goodness Gracious!
+ MORE LESBIANS IN MOVIES THAN EVER!
+ Aaliyah: AALIYAH!
+ Five Zines celebrating "overlooked ladies," including The Life & Times of Butch Dykes.
+ The true story of how The Price Of Salt came to be, written by Patricia Highsmith, whose career was dedicated to "turning things on their heads, to dissolving lines between madness and sanity, and to an upswell of excess."
+ "What was once a place to find photos reaffirming things we've all known for over 15 years has become a window into a part of Britney we've never seen before."