Welcome to your weekly pop culture fix, a tin of earthly delights sold to you by the Boi Scouts and delivered by me.
---
+ Hayley Kiyoko won "Push: Artist of the Year" at the MTV Music Video Awards on Monday night and dedicated it to all queer women of color and then screamed WE DID IT TWENTY GAY TEEN!!!! It was really gay and really great. She also performed "Curious" and although she did not win Best New Artist, she did ALMOST win Best New Artist and was the first out lesbian ever nominated for a Best New Artist Award.
+ From Vogue Magazine: Fresh Off Her VMAs Win, Hayley Kiyoko Shares a Photo Diary of Her Big Night.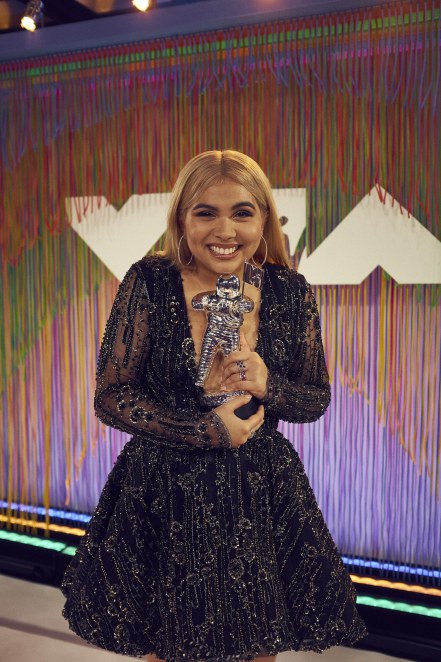 + Drag queen Courtney Act will host a U.K. dating series that "will focus on a group of bisexual, pansexual, and sexually fluid single British people who are on the "ultimate adventure to find love." It will be called "The Bi Life" and I imagine will inevitably be better than cult classic A Shot At Love With Tila Tequila or its follow up program, A Shot at Love With The Ikki Twins. Sidenote; who remembers Dani Campbell.
+ LENA WAITHE INTERVIEWED JANELLE MONAE FOR THE DIGITAL COVER OF HYPEBEAST MAGAZINE AND IT'S GREAT! As Natalie said, "I have been dreaming of this conversation since Dirty Computer dropped."
LW Pansexual was the number one Merriam-Webster word the day the news broke about you coming out. What was that like? 

JM That is amazing. I found out about that. I never would have thought or guessed that. It's great that people are being educated. This was a very personal story that was not necessarily just about me but it was about a community of folks who have been pushed to the margins of society. You know like I know, our stories are being erased. They're not being told.People don't realize that being free, being a free ass motherfucker, comes with sacrifice. This is not a walk in the park accomplishment. You know that. It comes with sacrifice. It can come with stress. It can come with a lot of misunderstanding. It comes with responsibility.
+ AMEN: it's time for a queer rom-com renaissance
+ Amandla Stenberg Breaks Down the Importance of King Princess's "Talia" Video
+ Russell T Davies Writes New Channel 4 Drama About The 1980s AIDS Crisis
+ Anna Torv on her character's sexual orientation in Mindhunter:
"I loved that it was not spoken and I loved that the only little mention of it you get is when she's talking to her girlfriend. And she's like, "What? You've told them?wp_postsAnd she said, "Of course I haven't told. It's not even a discussion.wp_postsBut it's that and there's little moments of it which she reacts quite strongly to the Brudos stuff. And there was one little line that you don't know that she's a lesbian at that point, I don't think. "
+ Mrs. Fletcher, "a dual coming-of-age story that explores the impact of internet porn and social media on the lives of an empty-nest mother and her college freshman son," has been picked up to series by HBO. The show stars Kathryn Hahn, but most important to your heart and mine is that our very own Jen Richards is a series regular!
+ Here's Your First Look at "The Fosterswp_postsSpin-Off, "Good Trouble"
+ GLOW has been renewed for a Season Three on Netflix.
+ 'King Ester': 'Pose' Star Angelica Ross Joins Web Series On Black Transgender Woman Escaping Hurricane Katrina
+ Listen To The Sound Of Gender Transforming: Five-Tracks Of Resistance
+ Netflix has renewed End of the F**cking World for Season Two, but no word on whether I will get the lesbian buddy cop spinoff I requested.
+ Rumor has it that the final season of The Affair "will be a new story told from the viewpoint of a lesbian in her twenties."
+ "Claws" Season Two is More Messy Intersectional Feminism, and it's Still So Necessary
+ A one-year wedding anniversary is murder for a lesbian couple in Colin Minihan's thriller "What Keeps You Alive."
+ Kelly Clarkson Defended Lesbian Couple Against Homophobic Troll
+ A non-binary Jewish writer on The 'Nanette' problem.
+ Why "Sharp Objects'" Portrayal Of Adult Self-Harming Is So Important