Hello and welcome to the pop culture fix, your weekly look at all the important pop culture stories you need to know about. You are honestly so lucky to be here, now, with me, reading this. I'm so glad we decided to this together on the very same day that I ran out of fruit snacks.
---
Transparent
+ If you would like to torture yourself by watching one episode of Transparent Season Two before the rest of the episodes are actually released, you can do that! Episode 201 is available now on Amazon Prime, and you can read Mey's take on it here.
+ Mey Rude spent eight hours on the set of Transparent and is writing all about it for you in an Autostraddle article we're all looking forward to! In the meantime, a Buzzfeed writer apparently spent 48 hours on the set of Transparent and you can read all about that in "48 Hours On The First Trans-Centric Set In The Heart of Hollywood."
+ Kayla's writing a thing for Autostraddle about what you can expect in Season Two of Transparent which we're all looking forward to! In the meantime, AfterEllen has a piece about how Syd and Ali will be giving lesbian love a chance this season. I can't tell you anything more than that because I hate spoilers so I only read the headline and the spoiler warning before fleeing AfterEllen in a hot panic, as we do.
+ Hari Nef, the first transgender model signed to IMG and a guest star on Season Two of Transparent, talks to The New York Times about coming out and playing a Pfefferman from a time long ago.
---
Famous People Are More Important Than Other People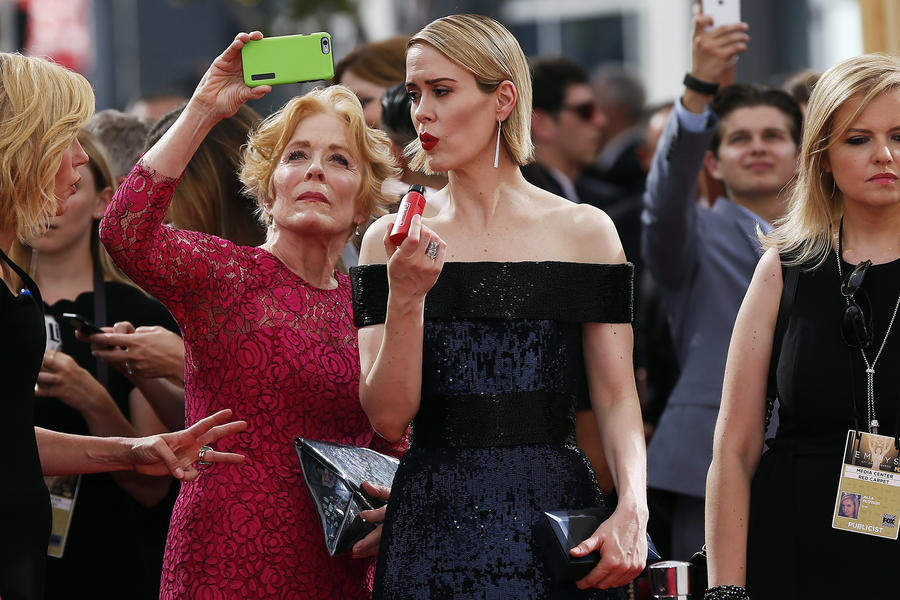 + Holland Taylor spoke openly about her relationships with women on WNYC last week AND ALSO Holland Taylor and Sarah Paulson are girlfriends and it's ADORABLE. They've been dating for about four months, as their respective twitter feeds have made fairly clear (here's Sarah's and here's Holland's.)
+ The Advocate is honoring 40 Under 40 in its new issue, which features Tyler Oakley on the cover. The only woman up on the site so far is bisexual bipolar musician Halsey. She's awesome and you should read about her!
+ Wanda Sykes was on Ellen yesterday!
+ Here are 12 Queer Hip-Hop Artists for you.
+ Kristen Kish wears sweatpants and a t-shirt when she's cooking at home.
+ Serena Williams, Amy Schumer, Patti Smith and Yao Chen model for the 2016 Pirelli Calendar.
---
Teevee and The Movies
+ "Kilgrave is the abuser that so many victims of abuse are familiar with: Everyone on the outside sees a charming, friendly, affable man. On the inside, within his relationships, he is completely and totally in control. And just like real life, he doesn't see anything wrong with what he does."
+ 10 TV Events to look forward to in December: Yael Stone in a cool-looking new SyFy mini-series, Netflix's true crime series that'll fill a Jinx-sized hole in our hearts, The Wiz and an Empire-ish Christmas special.
+ On the art of splitting one book into two films.
+ There was a secret meeting about Gender Bias in Hollywood and I'm pretty sure our invitations got lost in the mail.
+ The Daily Beast talks to Carrie-Ann Moss about playing Marvel's first lesbian character.