Every TV show is crawling toward winter hibernation (or is already tucked away in its cave, fast asleep), so let's check in on the few shows still winding down — and gear up for an all new season of Transparent!
---
Transparent
On Amazon Prime
For those of us who aren't patient enough to wait until the December 11 premiere date of Amazon Prime's second season of Transparent, the first episode is up and available to stream, something I wholeheartedly recommend doing. We pick up shortly after last season with Sarah and Tammy's wedding, and don't worry, the entire Pfefferman clan is just as selfish, immature and horrible as ever. Maura looks like she's much more settled into being an out trans woman; she's not as fidgety or unsure as she was last season.
We see hints at potential storylines like Maura's relationships with Shelly and Davina going through some changes and, in what looks like it's going to be a tearjerker, Maura wanting to come out to her mother (when Maura tells her sister that she wants to visit their mom, she replies, "Oh really? You want to see mom? Don't you dare, Mort. You let that woman get off this planet without knowing about… this." Ouch). We also get an exciting flashback to what looks like a very queer party in 1933 Berlin, a time and place that we're going to be returning to throughout the season (that's new writer Our Lady J playing piano in the scene). In this flashback we get to see our first look at newcomer Hari Nef, who is frenetic and magnetic already in her minute on the screen.
The only thing I didn't like about this episode was that I couldn't immediately watch the next five back-to-back.
---
Once Upon a Time
Sundays on ABC at 8:00 p.m.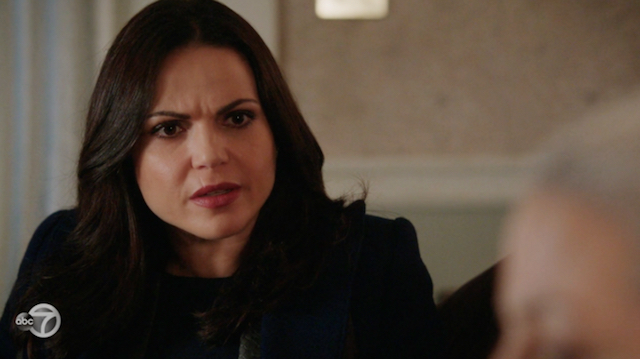 I tried to start watching thing again when Mulan came back, I really did, but where is she, huh? Where is this promised gay storyline? Are they just going to trot her out every three years and give her four lines of dialogue, and in between all that it's just men ruining everything and getting redeemed despite being irredeemable? I have Pretty Little Liars for that, thank you very much, I don't need to add Hook to my Ezra Fitz nightmares.
When Mulan comes back, gentle KaeLyn will guide us through. It's true, it's true, I believe.
---
Jane the Virgin
Mondays on The CW at 9:00 p.m.
Yvonne started watching Jane the Virgin and she loves it! Maybe she'll be all caught up in time for the midseason finale in two weeks!
---
Fresh off the Boat
Tuesdays on ABC at 8:00 p.m.
Last week, the Huangs hosted Thanksgiving.
Eddie is excited to hang with cousin Justin and listen to Pearl Jam, who they've identified as musical common ground between Eddie's love of rap and Justin's love of grunge. Unfortunately, Justin is now into straight edge ska, meaning Pearl Jam is out. They decide to look up sexy ladies on the internet instead.
Since it's 1995 and pictures take a long time to download, Eddie and Justin have to pick a sexy lady to look at ahead of time. Eddie's interested in Janet Jackson, while Justin wants to see Janeane Garofolo. They compromise on a smart, talented female musician with lots of opinions on social change: Tracy Chapman.
"Sensible vest," says a visibly disappointed looking Eddie.
Jessica's gay ex-boyfriend Oscar Chow also makes an appearance this episode, bringing his new NPR-listening boyfriend, Michael.
---
Empire
Wednesdays on Fox at 9:00 p.m.
Carolyn is experiencing some technical difficulties but will be back for Friday's Boob(s On Your) Tube with a double-doozy Empire recap for you!
---
Rosewood
Wednesdays on Fox at 10:00 p.m.
Pippy and TMI almost broke up last week, y'all. Pippy gives TMI a key to her place and all heck breaks loose. Remember how TMI's parents completely disowned her for being gay? Well, it turns out she's been putting off a wedding date and putting off moving in with Pippy, hoping they would come around and support the most important relationship in her life. They have not. Pippy thinks TMI doesn't want to move in because she's not committed to being with her, but really it's just that TMI doesn't want her mom and dad to miss out on her wedding. Finally, though, she calls and leaves a voicemail for them and tells them she's in love with Pippy and they're moving in together and they're getting married and she hopes they'll call her and love her again, but if not, well, she's not living in purgatory for their approval anymore. So brave!
---
Carmilla
Tuesdays and Thursdays on YouTube
Written by Karly
U by Kotex released the last episodes of season 0 back to back! It turns out Perry did accidentally set Tythia free from her bloodwood statue. Whoops. She tries to put her back in, but doesn't think she has the power to do it. Tythia appears off screen in a glow of green light to grant some wishes. First she grants Mel's wishes to be a warrior. Mel takes off that horrible sweatshirt, and now she's full of Summer Society confidence and has those great season 2 biceps. Tythia turns to Carmilla and predicts that she will find her match in a shrill of a girl. Carm laughs this off, of course. Lastly, Tythia offers Perry all the power and magic to smite all the people who doubted her and together they will rule the faerie world on earth…she just has to sacrifice LaF. Perry literally takes one second to decide that's not going to happen, so she puts Tythia back in the statue, ending all her spells and returning everyone's periods. Ugh. Perry tells Carmilla that they will never speak of this again, and that's how she became the Be Normal!Perry we knew.
Back in present time, Laura avoids the elephant in the room (shrill of girl, true match, etc.) and instead offers to show the tapes to LaF so they can see that LaFerry is totally canon. The passageway in the room magically opens and Laura runs out after a fox with nine tails; Carmilla follows after her. The tape starts again after they leave, and it shows baby gay Laura's campus tour last year. She's wearing this ridiculous polo and headband, full of hope and dreams. She says Silas is going to be the best school ever! The End.
Season 0 was pretty good, but it lacked the angst and drama of the other seasons. And I didn't realize how much the show NEEDS Laura, not just for story purposes, but to balance Carmilla too. Carmilla was not nearly the sarcastic jerk she was in the beginning of season 1, but Carmilla even being moody in the background was entertaining mostly because it's a contrast to Laura Hollis in the foreground. Perry and Mel tried their best, but it can't be anyone but Laura.
Still no word yet on season 3 so #SaveCarmilla!
---
Ash vs. Evil Dead
Saturday on Starz at 9:00 pm
Lucy Lawless is at it again!
@hhoagie Lucy Lawless' character Ruby on definitely came onto another woman on the last episode of Ash vs Evil Dead!

— Erin Kane (@aloudernoise) November 30, 2015
@hhoagie You probably wouldn't like the gore in that show, but tell your girlfriend. :D

— Erin Kane (@aloudernoise) November 30, 2015
---
See you Friday, my kittens!