Special Note: Autostraddle's "First Person" personal essays do not necessarily reflect the ideals of Autostraddle or its editors, nor do any First Person writers intend to speak on behalf of anyone other than themselves. First Person writers are simply speaking honestly from their own hearts.
---
I understand where you're coming from, all you good-hearted, liberal-thinking queer women who want to spend Thanksgiving as volunteers at a homeless shelter—or some other place set up for people less fortunate than you. Dishing up pie and turkey to the needy seems like a good way to spend a holiday during which we all (except perhaps Native Americans) are supposed to evince gratitude. Plus you don't relish another year spending those long hours stuck with your family. Deep down you might be hoping that when you're at the shelter you'll meet An Interesting and Compassionate Person, also a volunteer, standing next to you and your vat of mashed potatoes in the kitchen line. You chat while she, he or ze dishes out the stuffing, and she, he or ze loves Wye Oak, Audre Lord and Mad Men too! You both turn out to have the same—at times inappropriate—sense of humor, and as the day winds down, share a secret laugh at something the others in the kitchen line don't find funny at all. And of course that person is also someone who never feels so much like a misfit as when she, he or ze is with her, his or hir own family, the reason she, he or ze volunteered on Thanksgiving in the first place. Maybe the two of you, would, after your shift, go out together for a beer at the last non-gentrified bar in the neighborhood, exchange numbers and eventually pair off into your own little family, so you won't have to worry about your Thanksgiving plans ever again.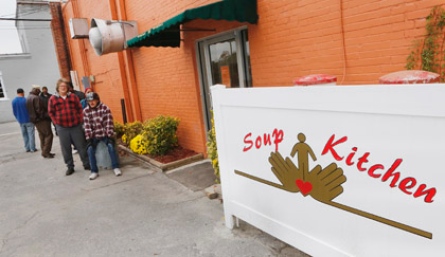 I used to work at the homeless shelter that on Thanksgiving was the place for people in my city to volunteer and for politicians and high-ranking clergy to indulge in photo opportunities. Every year, for that one day, the shelter was overrun with a battalion of volunteers, so many they needed some of their own—the ones who had been there on previous Thanksgivings—to help direct their herd through the kitchen and the dining room. The other counselors and I would look at each other and laugh. We understood that these people meant well, but there were so many of them sometimes they were just doing busy-work. Everything that needed to be done—which was a lot: Thanksgiving was a huge undertaking at the shelter—had already been attended to. Remember that picture during the presidential campaign of the lizard-like Paul Ryan "washing" a clean pot at a shelter where the meal was over and all the homeless had already left for the day? I couldn't muster the outrage that others did because that photo reminded me of every Thanksgiving at the shelter.
Which famous faces showed up to "help" at my shelter the fourth Thursday in November? Everyone: the mayor I had once protested with Queer Nation, but who, to his credit, has also come to the shelter on days of the year when no photographers were present. Despite his nine years in office, during which he always said the right things about the homeless, he never implemented policies that helped them in any substantial way. And more recently the now lame-duck Republican senator, who, with one hand, voted to cut benefits like food assistance that were meant for the same people to whom, in the shelter, on Thanksgiving, he used his other hand to offer plates piled high with turkey and trimmings. Helping to push through affordable housing measures would have been a better use of the Mayors', the Governors', the Senators' time, not to mention a more lasting boon to the homeless, but it wouldn't have made for such a camera-ready moment.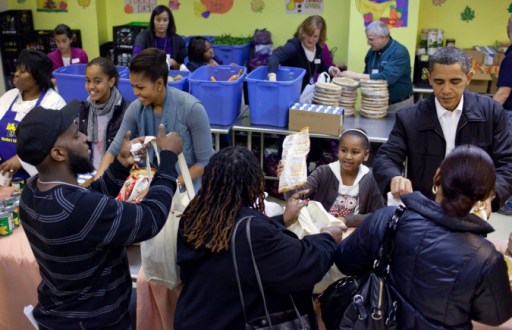 I remember when the Cardinal, the same one who Queer Nation also held protests against and who later resigned in disgrace for reasons that had nothing to do with his homophobia, sauntered into the dining room to serve stew. His manner toward the residents was like that of Louis XVI toward the peasants—and now I think: what if he had instead stopped the archdiocese from selling prime property to luxury condo developers (because if the church had any plans for that money they were crushed by the massive child abuse settlement incurred some years later)? What if he had donated a few of those closed churches and empty rectories as permanent housing for the homeless? My strongest memory of that day might then not have been after the Cardinal left, when a fellow queer (a lot of us worked at the shelter) turned to me to say, "Wasn't that the biggest thrill of your life, seeing him here in person?" We rolled our eyes in unison.
My point is: on the day before Thanksgiving, the day after and the 362 other days of the year (including Christmas) hardly any volunteers, well known or not, showed up to help. So please, kick back this Thanksgiving and enjoy a good meal guilt-free (or attend an anti-colonial protest) with friends if your family get on your nerves. Then go volunteer at the shelter another day—weekly or monthly, because like any other activity—biking, dancing, fucking—you'll be more skilled if you do it more than once a year.
You probably won't be in food service—in the shelter where I worked, the residents who were part of the sober work program did those jobs every day that wasn't Thanksgiving—but ladling out corn and peas probably wouldn't be the best use of your abilities anyway. If you're a lawyer, spend some time with homeless people who need legal help. If you're a teacher, find out which skills the homeless people at the shelter would like to learn. And even if your talents don't seem to line up neatly with the needs of those you meet, after you talk to and listen to a few homeless people, you will have a whole list of possibilities—a ride to a job interview or to the courthouse, accompaniment to a doctor's appointment or social security office. After a year of sitting in traffic and waiting rooms you might find that volunteering isn't the simple one-time, feel-good exercise you thought it would be. You might find some of the people you are trying to help irritate the fuck out of you. You might find some of them frighten you. You might decide your efforts would be of better use if you worked full-time on the issues that cause homelessness in the first place—and change your career path accordingly. You might find that Interesting and Compassionate Person you hoped to meet is, only a year later, you.
---
You can volunteer to help homeless queer youth in NYC at New Alternatives. The Ali Forney Center, a drop-in center for homeless queer youth, also in NYC, was devastated during Hurricane Sandy. You can donate to the Center. To volunteer there (they have a temporary new home) you can email volunteer [at] aliforneycenter [dot] org. You can best help other folks affected by Sandy by going here. There are links to both volunteer and donate . There are, of course, a lot of other organizations across the country that help the homeless and needy and that could use your time. Just do your homework first, since some of them have religious affiliations which prevent them, for example, from giving out condoms (to a population very susceptible to HIV infection).