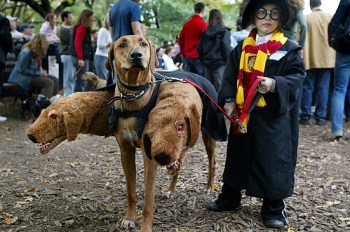 There comes a time in every young nerd's life when a necessary question must be addressed: How far down the dorky rabbit hole am I going to descend? Past reading the books, past cosplay, past slash fiction, in the dark depths of fandom lies a genre of music dubbed wizard rock ("wrock"), which is basically Harry Potter-themed music. If nerds were Hunger Game contestants, the people who listen to wizard rock would be the Careers, and I would be at least Foxface for than analogy.
The biggest issue with wrock is that anyone can write and perform it, so a lot of wizard rock is so terrible that it verges on unlistenable. Don't worry, though; this is a playlist of good wrock songs, compiled by me, (mostly) Madi, and Carolyn!
Yer Listening to Wizard Rock, Harry [on 8tracks]
A Pensieve Full of Unrequited Love – The Mudbloods
The Bravest Man I Ever Knew – Ministry of Magic
This Isn't Hogwarts – Hank Green
Prefects Are Hot – The Moaning Myrtles
Room of Requirement – The Remus Lupins
Red Hair – The Weasel King
Draco and Harry – The Whomping Willows
Hufflepuffs Make Better Lovers – Hoss Jaeger (This one is relevant to your queer interests.)
Open At The Close – Oliver Boyd And The Remembralls
My Dad is Rich – Draco and the Malfoys
I Am A Wizard – Harry and the Potters
The Boy Who Lived – Oliver Boyd And The Remembralls
Burn Your Prefect Badge – The Remus Lupins
Save Ginny Weasley – Harry and the Potters
Expecto Patronum – Remus and the Lupins
I Believe In Nargles – The Whomping Willows
Do The Hippogriff – The Weird Sisters
Mysterious Ticking Noise – Potter Puppet Pals
Goin' Back To Hogwarts – A Very Potter Musical
Add your favorite wizard-y tracks in the comments below! I would also like to post this song for your consideration, because I know it doesn't count, but I really want it to.
Want to suggest a playlist theme? Hit Crystal up on Formspring and someone on the team will make it for you.