by Lizz and Rachel


Did you know Lizz and Rachel are both from Boston!? We are! Well kind of. You should know when anyone says they live in Boston, they almost always mean they live in the Greater Boston Metro Area which includes Boston and all the towns around Boston that everyone thinks are just neighborhoods. Technically speaking, Rachel and Lizz went to school in Waltham and then Rachel moved to a city called Cambridge and Lizz moved to a Boston neighborhood called Allston. Because we wrote this kind of together, it's written in the first person hive voice where "I" sometimes refers to Rachel and sometimes to Lizz and sometimes to both of us.
Getting Around Boston
Boston isn't exactly known for its ease of transit. While it's not deadlocked New York City, driving can be slow and tedious. Also there's no parking. On the other hand, you can ride the MBTA system of subways and buses. The subway, or the T, is awesome and also kind of sucks. Also it stops running around 1 am. That's okay though because you can just take a cab. Except that Boston has the most expensive cabs ever.
So here's the thing: you're going to want a bike. You can bike almost anywhere in Boston in about 20 minutes. Literally end to end in under an hour. Lizz used to bike to work in Cambridge every day until one day she almost got hit by one of those previously mentioned above ground Ts. Well, good luck!
Gayborhoods
The South End is Boston's most well known gay neighborhood. The South End is made up largely of beautiful red brick bowfront apartment buildings built in the mid-19th century. At some point it became wicked gentrified by gays (actually, mostly gay men) in the 1980s, and is now some of the most expensive property in Boston. Although the area maintained its gay flavor, it tends to be inhabited by wealthy middle aged gays and their artist significant others. As that is the case, the South End is also home to some of the best restaurants and small art studios in the whole city.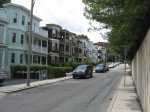 Jamaica Plain, or JP as the cool kids call it, is basically Boston's lesbian stronghold. Everyone who lives in JP loves it but, the major downside is that it's far away from everything else in the city. Everyone sits out on the porch all the time hanging out with each other and strangers just walk by and join in. All the queer women who live in JP seem to know each other and, because they live so far away from the rest of the city, are exclusively friends with other queer people from JP.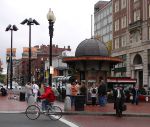 Cambridge & Somerville is where it's at for hip, androgynous queers who like wearing ambitious scarves, as well as young marrieds and every twentysomething who picks up their CSA share on their fixed-gear bike. Full of coffeeshops, bookstores, and vegan food, they are a little expensive to live in (especially Cambridge), but nice places to spend an afternoon. Highlights include Harvard Square (touristy as it is), Davis Square, and also some out-of-the-way delights like Union Square.
Gay Bars
While Boston lacks a proper lesbian bar, there is basically a girls night somewhere every Friday and Saturday of the month. The biggest is Second Saturday at Machine. Second Saturday is run by Dyke Night (a Boston group who runs several lesbian nights in the city) and is also the largest lesbian dance party in New England. In light of the largest women's party in New England thing, it's critical to arrive at Machine no later than 10pm or you will not party, you will just stand in line. Machine is normally a gay club with a pseudo-leather bar upstairs (Ramrod) but I've always found it to be completely lesbian friendly even during non-Dyke Night times.
Dyke Night also runs Fourth Fridays at the Milky Way, Venus Rising at the House of Blues and a slew of holiday specific parties. The Milky Way is a restaurant in JP that gets packed full of JP regulars social drinking in the front and dancing in the back. It's a pretty rocking party, and it's won Best of Boston a couple of years in a row now. Venus Rising is a private party in the extremely lush Foundation Room at the House of Blues held the first Friday of every month. I happen to really like the Foundation Room because it sort of looks like someone else's rich grandmother's living room.
If you're looking to party on Thursdays, the only place to be is in JP at The Midway for the mostly lesbian and gender-queer Queeraoke. That's right, it's queer karaoke. Queeraoke usually draws a cool crowd, if not a lot of the same JP folks from the Milky Way. I'm not even going to pretend I don't love a good round of karaoke. On Tuesdays you can head over to Zuzu for their Queer Ladies Night, which is a little quieter than some other parties but also notable for being much more T-accessible than virtually every other party ever.
In addition to the night-specific girl parties, there's also a couple of traveling queer nights. Boston Guerrilla Queer Bar is a traveling gay bar that "overtakes" normally straight bars for one night each month. GQB announces the bar of choice the Thursday night before the party and everyone shows up the next Friday. Although GQB used to be an actual sneak attack on a bar, the last few times I went GQB seemed to have rented out the space. GQB used to be every first Friday (thus competing with the increasingly popular Venus Rising) but seems to maybe be moving to the second Friday of the month.
The other traveling queer night is Girl Spot which is basically the same as GQB except it's a girl party that changes locations on the last Saturday of each month. One of the cool things about Girl Spot is they often hold it in a chill spot where you can actually have a drink and talk to someone.
Club Cafe is a restaurant and gay bar that is largely frequented by the 25 and older gay men's crowd. Still, a lot of the queer women I know hang out there particularly on the weekdays. Tuesday Trivia is supposed to be particularly fun. Rush, the dance party on Saturdays, is reportedly one of the best dance nights around.  Every Sunday night Underbar holds a gay party called Hot Mess which completely lives up to its name. Underbar is one of the only bars that stays open until 2am on Sundays so it's definitely worth a visit. Also Fritz is a super friendly gay sports bar with a shockingly good brunch menu.
If you're looking for drag, Jacques Cabaret features drag every night of the week. Also Club Cafe holds Drag Bingo every Monday. Finally Machine holds a Drag Dance Party Mondays, and Drag Lounge on Wednesdays.
Coffee and Eats
Diesel Cafe (Davis Square, Somerville) This is a great place to go if you want your heart broken by a really sexy genderqueer barista and also a pretty good latte. Diesel is not only staffed by all queers, it's also a know queer/poly hang out. Its sister site, Bloc 11, is located about a half hour away on foot in Union Square. Both of them feature delicious sandwiches ranging from the meaty to the tofu-y, and a rotation of soups. Diesel has recently stepped up its brunch game as well — try the breakfast burrito. Also, Boston-area Autostraddle meetups have taken place here, so.
Barrington Coffee (346 Congress Street, Boston) As far as quality of coffee goes, Barrington Coffee Roasters is maybe probably the best in Boston [according to Lizz who has a refined and sensitive coffee palate][but not according to Rachel, who knows this is some straight up bullshit]. Their cafe in the Fort Point neighborhood serves up their finely brewed coffee and espresso drinks made by their incredibly well trained staff.
Simon's Cafe (Porter Square, Cambridge) As far as quality of coffee goes, Simon's is maybe probably the best in Boston [according to Rachel who lacks a proper background in coffee knowledge and is probably just choosing a place with good vegan snacks] [That's stupid, it doesn't even have vegan snacks really, just really good coffee]. It's small, and therefore you might have to fight for a seat if you want to camp out for a while, but the coffee is beyond compare.
Veggie Planet (Harvard Square, Cambridge) A haven for hipster queers who want cheap all-day vegetarian food and breakfast pizzas, Veggie Planet has a fun menu and cute waitstaff. It's also connected to Club Pasim, which is a neat place to catch some live music if that's your jam. If you come here for brunch, be ready to wait in line.
Life Alive (Central Square, Cambridge) This is an actual conversation that took place between Lizz and Rachel:
Lizz: sidenote, there's an amazing new vegan/veggie place in central square you're going to love
im obsessed
Rachel: what is it
Lizz: its NEW
Rachel: what what what
what is it
Lizz: it went into that old video rental place
Rachel: oh i remember that
Lizz: they do all these dishes that can be served on rice or on a plate or in a salad
and they have sauces and stuff can be gluten free
and they also do smoothies
Rachel: what is their name
Lizz: Life Alive
and everything is really yummy
Rachel: that sounds very hippie-ish
but delicious
i wanna try it
Sofra (One Belmont St, Cambridge) Fun fact — Rachel used to work here! That's how she can vouch that it's delicious and also that everyone who works there is great. Order the spinach falafel and the orange blossom lemonade, and you will regret nothing. Don't forget to tip.
Oleana (134 Hampshire St, Cambridge) The award-winning restaurant with the same ownership as Sofra, Oleana is delicious Middle Eastern-inspired cuisine that's great for celebratory dinners, impressing people, and/or Fancy Dates.
India Quality (484 Commonwealth Avenue, Boston) There's no dearth of Indian food in Boston, and choosing the "best" is a dodgy proposition, but it may well be India Quality. For cheaper, quicker Indian, and/or if you're interested in South as opposed to North Indian food, try Dosa Factory in Central Square.
Shanghai Gate (204 Harvard Avenue, Boston) One time Lizz went to Xi'an and ate really amazing dumplings filled with soup (xiao long bao). Then Lizz went back to Boston where every Chinese restaurant calls their dumplings "Peking Ravioli" which is really sad but also kind of a thing. Either way, while everyone is always trying to claim Dumpling Cafe in Boston's Chinatown has the best soup dumplings, this is actually totally wrong. The best Chinese food in town is at Shanghai Gate. Shanghai Gate is this super secret authentic (and Zagat rated) Chinese  restaurant hidden between a Dunkin Donuts and bar.  Their xiao long bao are the jumpoff. (Rachel would like to put in a vote for Mary Chung's in Central Square.)
Ten Tables (597 Centre Street, JP; 5 Craigie Circle, Cambridge) For a straight up Fancy Night Out, it's hard to go wrong with Ten Tables. To be as impressive as possible, order the chef's tasting menu (there's a meat or vegetarian option, and if you call ahead, they can work with vegans).
Craigie on Main (Central Sq, Cambridge) Largely considered one of the best joints in town, Craigie just rocks. Chef Tony Maws buys ingredients for the ever changing menu daily in Boston and is literally in that kitchen every night. While Craigie can be expensive and hard to get in to, you can totally impress a date by snagging seats at the bar for cocktails and by far the best burger around.
KO Pies (87 A St, Boston) KO pies is a super secret delicious Australian style meat pie shop. The shop is about the size of a closet with exactly one table and two employees. It's so delicious I can't even really talk about it. Oh! And they have a vegetarian pie just for you!
The Barbara Lynch Gruppo Many of the best restaurants in Boston are owned by James Beard Award winning chef Barbara Lynch. Lynch's restaurants No.9 Park and Menton are so good (and so expensive) that people only get to eat at them after winning the Hunger Games. On the other hand, B&G Oysters, Sportello and The Butcher Shop are much more reasonably priced but lack none of the deliciousness. The Butcher Shop is actually Lizz's favorite restaurant in the entire city. Rachel has never been because, you know, it's called The Butcher Shop and she's a vegan.
Not Specifically Gay Drinking
The Otherside Cafe (407 Newbury St,  Boston) Its name comes from being on the other side  of Mass Ave on Boston's posh Newbury Street, but the Otherside is no fancy-pants cocktail lounge (Sonsie is your only real option for cocktails and I hate it there). The Otherside (pictured above) is a laid back restaurant/beer bar that boasts one of the best beer menus around and a really cool set up with an indoor balcony.  The Otherside's associated bar, Lord Hobo in Cambridge, is also a great time but tends to be a quieter atmosphere.
Drink (348 Congress St, Boston) Owned by the previously mentioned Barbara Lynch, Drink is the perfect ending to the fantasy date you go on with your soulmate in which you also are a millionaire who wants a drink from an extremely talented sort of queer looking hot bartender. Drink doesn't have a menu; instead, you describe what you want, and whether it's a cocktail no one has made since 1925 or "a thing with tequila in it that's not a margarita?" it will appear in front of you, and it will be perfect. Good for serious cocktail aficionados (hellooo Rachel Maddow) or people who want to try a fancy drink but don't know much about them. And/or people who want to impress their dates, obvs.
Trina's Starlite Lounge (3 Beacon Street  Somerville) A hidden gem near Inman Square, Trina's is speakeasy-esque and also has delicious original cocktails invented by Trina herself. Their cocktail menu changes over time, but once Rachel had maybe the best tequila drink she's ever had there, just saying.
Deep Ellum (477 Cambridge St, Boston)  Deep Ellum is hipster paradise in a nutshell. Craft cocktails and micro-brew beer and a porch/deck thing in the back. I kind of think it's too dark and too loud but everyone else in the world seems to love it. They also serve food including truffle Parmesan french fries. Also check out the nearby dive The Silhouette and the powerhouse bar Sunset Grill & Tap who boast 112 taps.
Eastern Standard (528 Commonwealth Ave, Boston) Referred to by GQ as "(perhaps unintentionally) the most elegant sports bar in the country" Eastern Standard is kind of exactly that. But in a really good way. Nestled near Fenway Park's gobs of thumping sports bars, Eastern Standard serves up excellent cocktails in a somewhat causal atmosphere. While the cocktails aren't as good as the one's you'll find at Drink, you'll probably get in the door faster.
Places to Get Alternative Lifestyle Haircuts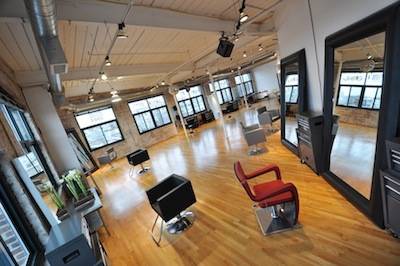 Shag Salon (840 Summer Street, Boston) Possibly the hippest establishment you will ever walk into of any kind, owner (and generally cool guy) Sandy Poirier turned an old warehouse in South Boston in to the best place to get rockstar hair. Shag will run you at least $80 for a cut including tip, but you will also look like sex on legs. Lizz's stylist, Kara Hurston, was even declared the city's most eligible lesbian bachelorette by the Improper Bostonian. If you don't have a haircut budget, it's worth calling in to see if they're looking for 'hair models' to train new staff on, which means a free haircut for you. Just look how cute they all are in this video:
https://vimeo.com/29386799
Liquid Hair Studios (640 Tremont Street, Boston) While virtually impossible to find parking for, Liquid is really popular, and its staff are all people you'd love to be friends with. They're down for anything from "layers and a trim" to "rhinestone-studded mohawk."
Judy Jetson (1765 Massachusetts Ave,  Cambridge) Judy Jetson has a passionate following, and is frequently declared best place to get a haircut by the Boston Phoenix. There's also a neat metal sculpture outside!
LGBTQ Organizations/Resources
BAGLY: The Boston Alliance of Gay, Lesbian, Bisexual and Transgender Youth
The Edge
Boston Pride
Boston LGBT Film Festival
The History Project
SpeakOUT Boston
Fenway Health
Colleges
There are just a ton of colleges around Boston! The thing about having all of these schools around is that they all throw queer parties throughout the school year. It also means the mean age of everyone is brought down to like 25. Wellesley in particular throws a great Dyke Ball every year. This is one of those parties that you desperately need to go to when you're in college and desperately need to not go to once you're over 22.
Things to Do/Date Nights
Fenway Park and the Garden (Kenmore Sq and West End, Boston) One of the benefits of having major league baseball, basketball and hockey is the availability of actually going to games. You can usually get shitty last minute tickets outside the game, sometimes for dirt cheap.  Additionally, Fenway Park holds tours that are a must see for any baseball fan.
Museum of Fine Arts (465 Huntington Avenue, Boston) A true insider tip, is that the MFA is somehow staffed by basically exclusively queer women. I don't know how this happened, but it's definitely a thing. The MFA also hosts independent/foreign film screenings and super hip concerts. You can also get in free with a Boston-area college ID!
ICA (100 Northern Avenue, Boston) More expensive but also hipper than the MFA, the ICA is Boston's Institute of Contemporary Art. Even if you hate art (which, what? why?) the building is beautiful, and has an incredible view of the harbor designed such that you feel like you're actually standing out on the water. Also it's full of awesome contemporary art, which changes fairly frequently.
The Boston Symphony Orchestra This is classy as hell, and an excuse to get dressed up! The BSO also sells cheap $20 tickets to people under 40 (the opposite of a senior discount?) and you can also go to a dress rehearsal for something like half off the price of a regular concert. The more you know!
Donkey Show (Oberon Theater, Harvard Sq, Boston) Donkey Show is extremely difficult to explain, but basically it's a re-imagining of a Midsummer Night's Dream performed inside a 70s dance club all around you while you drink, dance and generally have a good time. Also there's glitter basically everywhere. And drag kings.

Brewery Tours Both Sam Adams and Harpoon offer tours of the breweries.  This is wicked fun and involves plenty of beer sampling for everyone. While plenty of other breweries in New England give tours, Harpoon and Sam Adams are accessible by the T so no one has to drive. While this is a particularly great way to spend the day with out of town guests, by your third visit to any brewery there is a large chance you'll be completely over it.

Improv There are two main improv theaters in Boston: Improv Asylum in the North End and Improv Boston ironically in Cambridge. Both are a great night out and very funny. Both boast extremely reasonably priced tickets (around $15-20). Is there anything cuter or more charming than getting your date brought on stage to be completely embarrassed by a troupe of semi-professional comedians? I think not.
Swan Boat Ride This was Rachel's favorite thing to do when she was about six, and the novelty has not worn off. In Boston's Public Gardens, you can pay something like $2 to sit in a giant paddleboat shaped like a swan with a dozen other people while a sweaty young man who's getting paid six dollars and hour pedals it around in circles in a tiny pond. If that doesn't sound cute and appealing, you're wrong. Also, there are real swans in the pond too. You can feed them bread crumbs!
Ice Skating on the Frog Pond Also located in the Public Gardens, this is totes hands down the cutest thing to do all winter. Put on matching mittens and go skating around in circles! Tuesday nights are College Night and it's only $2 admission! Also apparently there's a yoga class there in the summer now, so that's neat.
Finale (Park Plaza, Harvard Sq) Finale is whole restaurant of nothing but delicious dessert. It's also super romantic and they don't even mind at all if you squeeze in to the same side of the booth. Actually, Lizz did two Valentine's days in a row (with different people) of ice skating at the Public Gardens followed by dessert at Finale.
Lone Star Taco (477 Cambridge St, Boston) "I like taking people to Lone Star Taco so I can assess if they eat." — Lizz