It's Friday and life is HARD! Time to share photographs that we probably aren't legally allowed to share despite the redonk fees we pay to have access to said photographs, but who cares we're lesbians and if we can't get married or be in the army then THE LAW CAN'T TOUCH US. No taxation without representation! Have you read Julie Goldman & Brandy Howard's review of The Kids are All Right yet? 'Cause you should.
1. Lady Gaga on The Today Show – July 9th 2010
Lady Gaga performed on The Today Show today, in direct contradiction to our claim on Wednesday that The Today Show is for straight people. Hey speaking of, they decided to let same-sex couples enter their wedding contest (Gawker predicts Al Roker will now marry his goat) and look, Lady Gaga made it rain! Hopefully that'll be the end of this heat wave. Bad Romance is secretly a rain dance.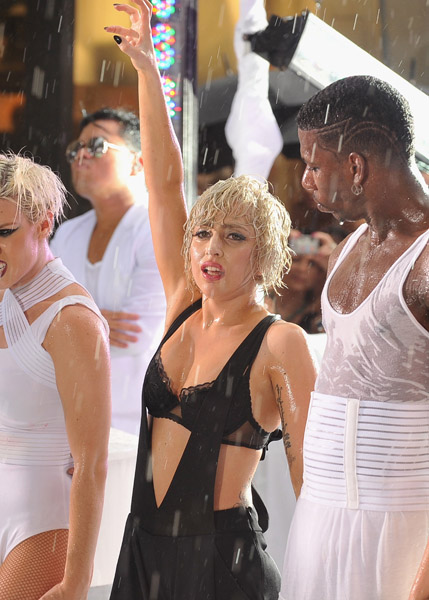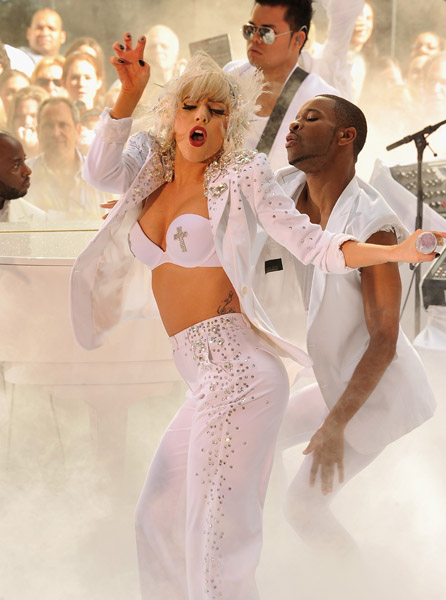 Have you seen Gaga writhing in the rain? This is a good one:
+
2. Inception starring Ellen Page
Ellen Page and Leonardo DiCaprio (who we liked a lot more back when he still looked like a girl) attended the Inception premiere in London, look how pretty Ellen Page is, yup she's still pretty:
Also, here's Ellen Page in a tux with Joseph Gordon-Levitt, from the LA Times' blog article about the duo and the film, which they call "the most ambitious" Hollywood film of 2010: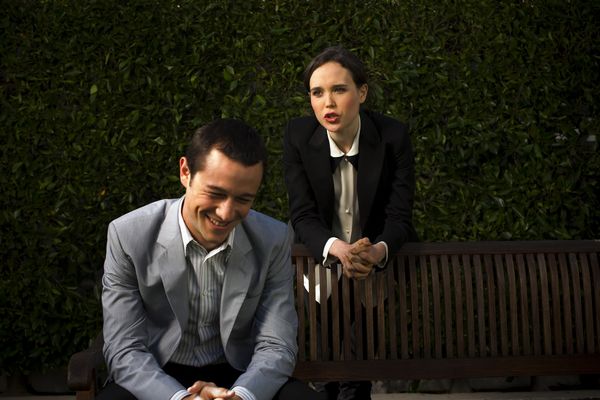 3. Outfest Opening Night Gala/Howl Screening
July 8 2010 Los Angeles California
The 28th Annual Gay & Lesbian Film Festival OutFest is happening right now, as it is wont do to. It runs from July 8th-18th in Los Angeles, California.
The Opening Night Gala began with the premiere of Howl, "a hypnotic journey through the interwoven stories of Allen Ginsberg's personal quest for liberation, the historical court case against his poem and the power of Howl as a work of art," starring James Franco who is/isn't gay. You should read Howl.
OutFest Red Carpet Cuteness: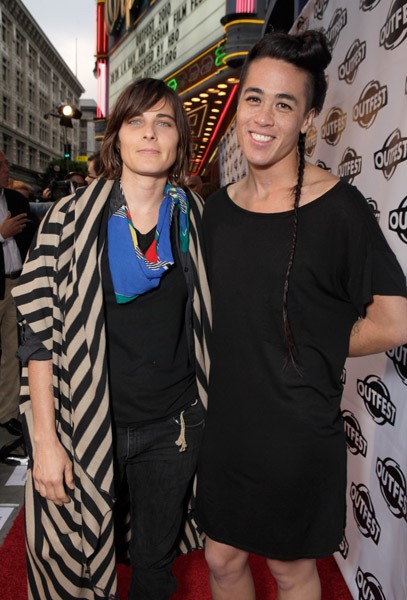 +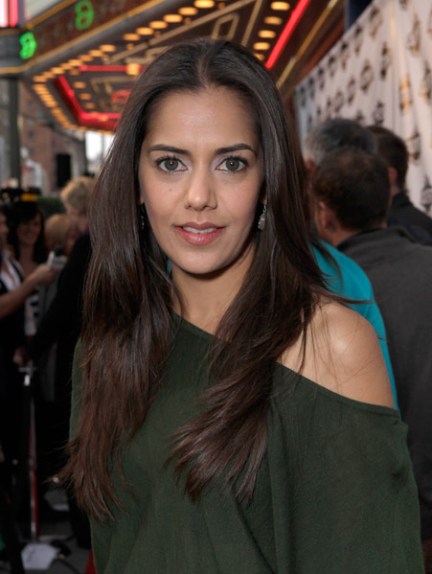 Jane Lynch was awarded the Outfest 2010 Achievement Award, presented to Jane Lynch by Paris Barclay and Chris Colfer.
If you're in Los Angeles, you can also look forward to special events hosted for the 25th Anniversary of Wolfe Releasing, including tonight's screening of Jill Bennett & Cathy DeBuono's We Have to Stop Now. Saturday night features a release party for the third issue of Original Plumbing by our friend Amos Mac. There's also a lot of lesbian films this year, from Elena Undone (with the record for longest lesbian kiss evah) to Bloomington, The Four-Faced Liar, My Normal (Lesbian S&M! Huzzah!) and The Secret Diaries of Miss Ann Lister. This year's featured documentaries include Bisexual Revolution and Le Tigre: On Tour.
4. Adam Lambert Glam Nation Tour
Adam Lambert's Glam Nation Tour looks fucking awesome so far, for many reasons including but not limited to this one: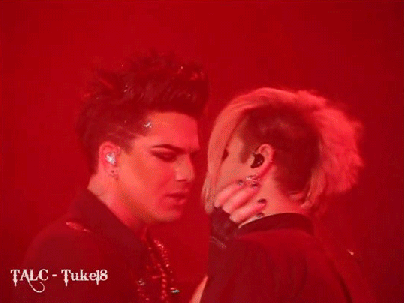 Adam Lambert hit up Nashville earlier this week: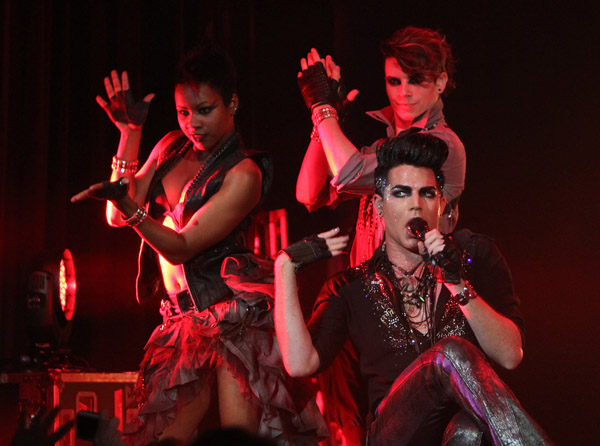 5. Remember New York City Pride? Grace Chu Does.
Remember all the memories with Ambitious Socializer Grace Chu! Grace put together this adorable New York Scene Column for her new nonprofit MyAOLHometown webpage, AfterEllen.com (It's not about Ellen or anything, just FYI). Grace column chronicles the ten bajillion parties that Grace attended during NYC Pride inlcuding The Rally, Kiki, Stonewall, Proposition Pride, the NYC Dyke March, Rapture on the River, Choice C*nts, GirlNation Pride, TruckStop NY, the Pride March, a Pride house party, Stiletto Pride and Rodeo Disco.
She partied all night and into the morning without turning into a serial killer, like we would've, but that being said, we went to so many fucking parties that week to flier that we can feel her pain deeply in the pits of our stomachs, as well as the lingering nausea from Truck Stop NYC. Because we are old. Because we are senior fucking citizens. We even went to Creme De La Femme.
Most importantly, please linger upon her memories of Autostraddle Rodeo Disco, which we're 75% sure was her favorite party.