Yesterday, a federal judge in Massachusetts ruled that the Defense of Marriage Act (which federally defines marriage as between one man and one woman) is unconstitutional. Interestingly, this ruling is mostly based on states rights arguments, which is typically the bread and butter of conservatives, not us gaymos. Here's what the judge had to say:
"The federal government, by enacting and enforcing DOMA, plainly encroaches upon the firmly entrenched province of the state, and in doing so, offends the Tenth Amendment,wp_postsTauro wrote in the opinion.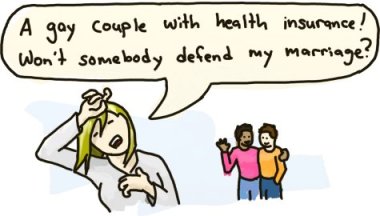 The case came about because gay couples in Massachusetts were being denied federal benefits, like health care, because they weren't considered married by the federal government. This happened in San Francisco, too, btw, when people in Obama's administration actually defied a federal judge to deny benefits to couples. Anyway, this could create a really interesting conflict for groups like the Tea Partiers.
Up to now, the 10th Amendment has been used almost exclusively by conservatives who want to limit the federal government's power to protect our environment, restrict firearms, or punish racial discrimination. And it's been a powerful rhetorical tool — it's been used to good effect by the Tea Party, for example, in fighting health care reform and Wall Street bailouts.
But the DOMA case turns the ideology around. The 10th Amendment is being used for a politically progressive goal — to fight against federally mandated discrimination in an area of traditional state concern.
Andrew Sullivan of The Atlantic wrote a great little piece on this issue, espesh as it relates to the Tea Party, which you should read. Also there's this sentence, with which I wholeheartedly agree: The incoherence of the Republicans and the cowardice of the Democrats are now exposed more than ever.
The whole Tea Party angle brings up this thing I have been trying to write about for days, actually — that the Tea Partiers are not the "racist, conservative, backward crazieswp_poststhat liberals assume they are. These thoughts were prompted by an editorial in the Huffington Post about how the Tea Partiers are actually largely pro-gay marriage and abortion rights. Weird, right? I'm not going to tell you all the nuance of this opinion, because I'm not sure what I think about it. But you should read this article about Log Cabin Republicans and how maybe we should try harder to convince people that queers are normal.
Anyway, this court decision could have far-reaching effects for gay marriage in the US when it gets to a higher level. I could tell you about that now, but Jessica the lawyer has agreed to write about that in much more detail and with much more authority next week. So I won't talk that so much.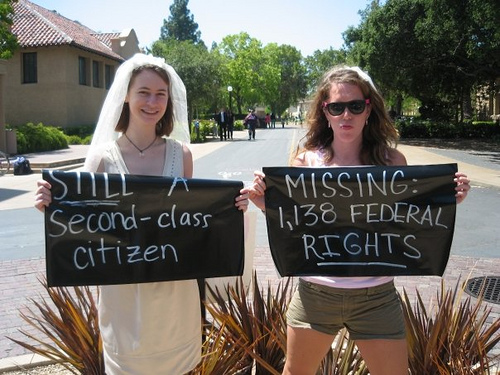 Just kidding, I'll say one thing about it. This article from Vanity Fair is about what happens if the case got to the Supreme Court, but the photo of two dudes in tuxes is too cute for me to not share with you. And also I like this swan analogy:
Sadly, I also know that, while Barack promised to work to repeal this dumb law back when he was campaigning for our pink votes (and those of our pink-proud supporters), his administration is now gearing up to appeal this decision at the circuit court level. Why? Apparently because it's the job of the federal government to defend the laws it passes, regardless of whether or not they're sucky and mean, just like it's the job of a mother swan to defend her cygnets, regardless of whether or not they're sucky and mean (and not nearly as cute as adorable little ducklings or goslings.)
That paragraph brings us to the next issue: the fact that Obama is probably going to try and defend the law, because that's what he's been doing since he got elected: defending DOMA. This "awkward dance," as ABC News calls it, just got even more awkward. Even Joe Solomonese, president of the HRC, expects Obama to defend DOMA. This would maybe be more acceptable if the White House was also pushing for DOMA's repeal in Congress.
Probably I will get a talking to for saying this, but I really wonder if Obama would've defended federal laws relating to slavery had he been president in the 1800s. I guess it's his job to defend the law of the land, but it's also his job to uphold the Constitution. If he thinks a law is unconstitutional, shouldn't he just let the courts declare it as such? But then, I'll never get elected president, and I guess that's probs one of the reasons why.
Also! If you want to do something proactive, you can sign a letter to Obama telling him to cool his jets on appeal.