Katie and Babbitt (Babz) / 24, 2 / NYC Pride March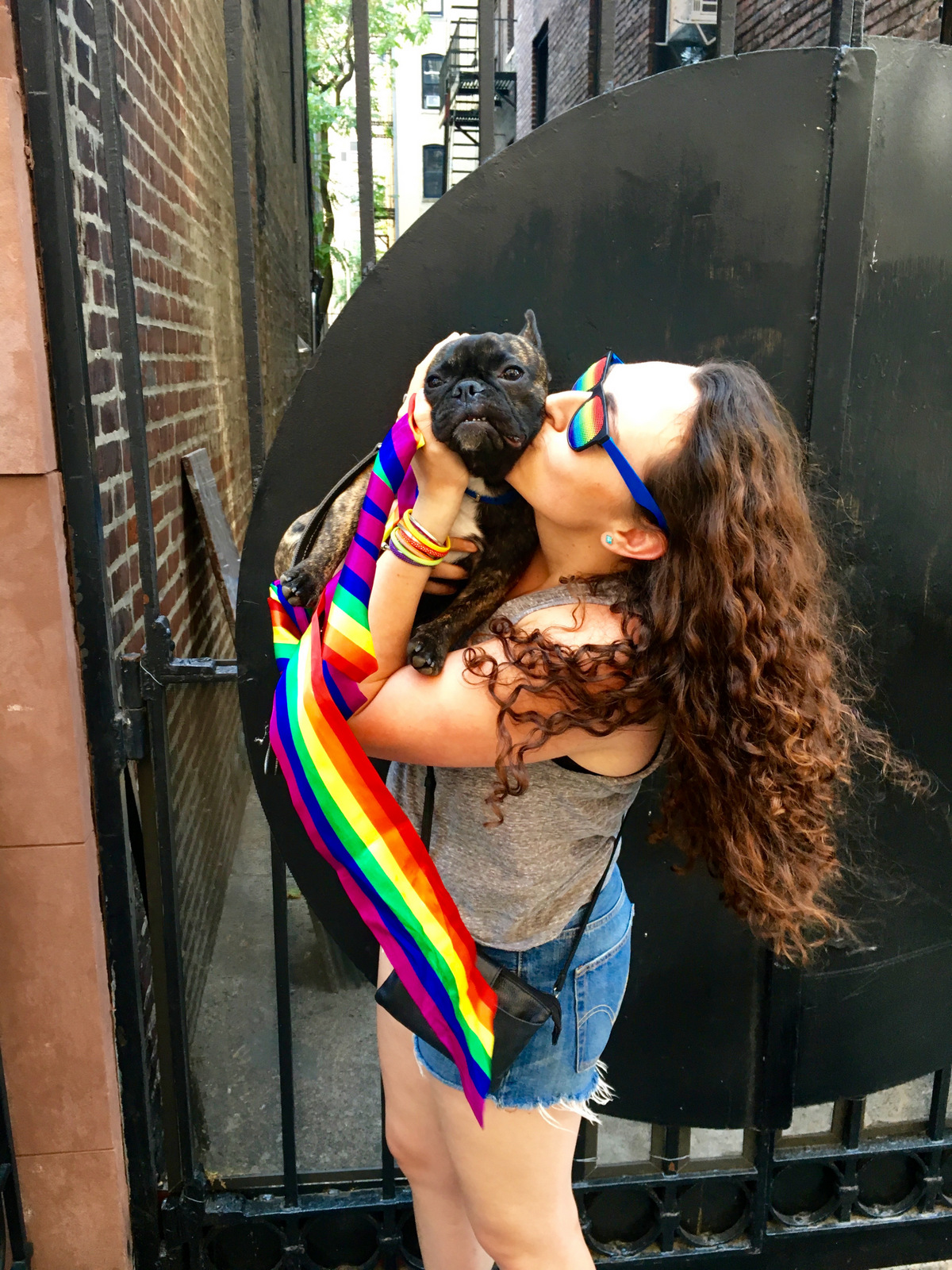 ---
Erin and Frida / 31, 8 / San Jose, CA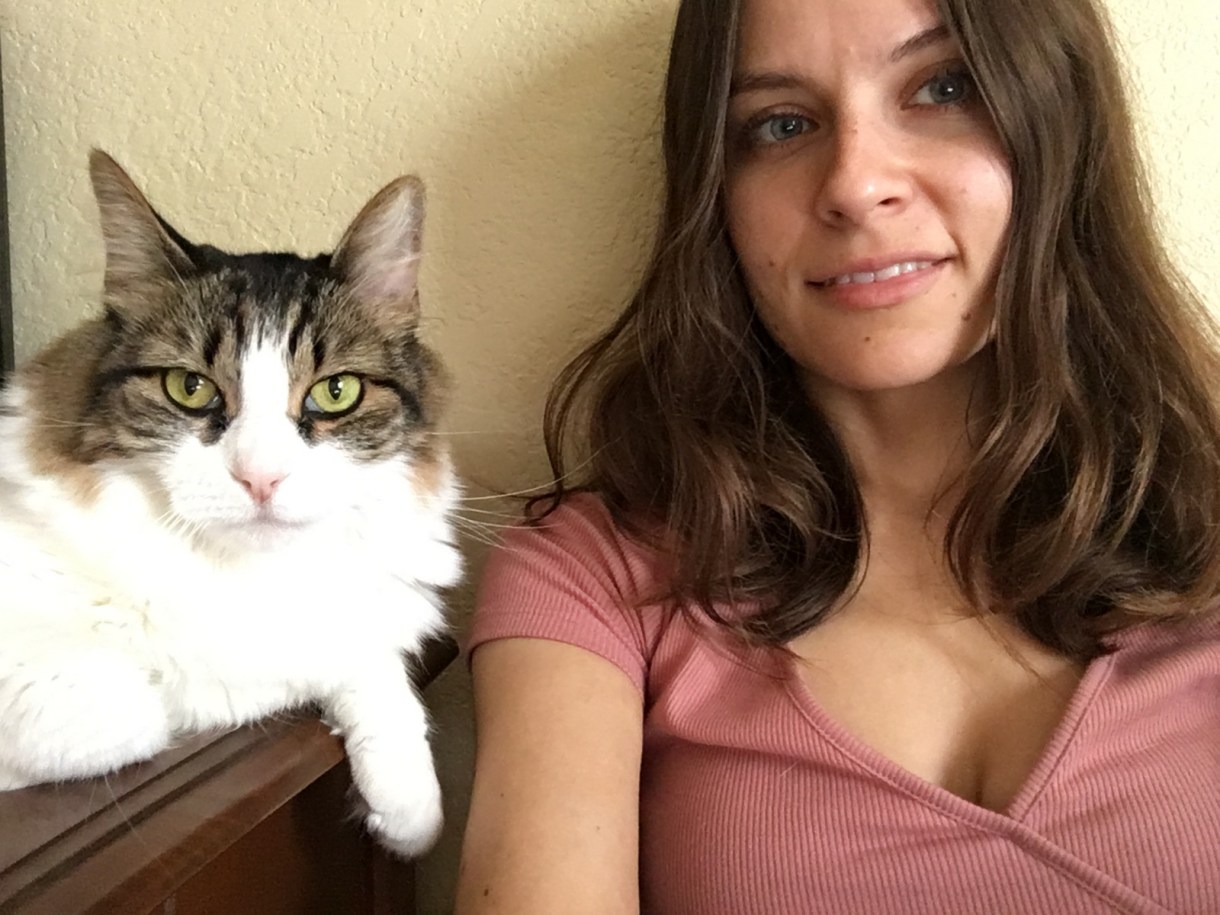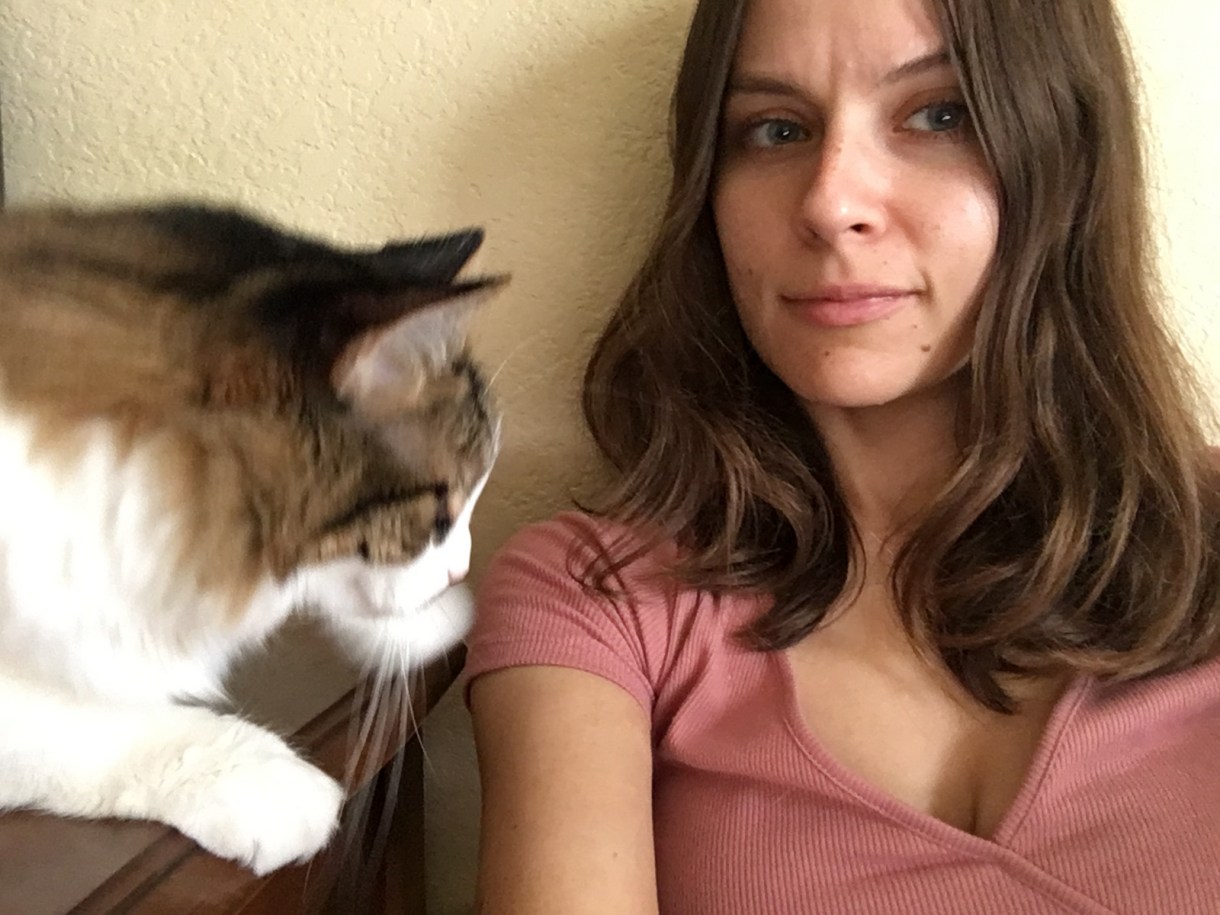 "Frida is a sweetie. She is also very desperate for loving. You could give her your undivided attention for the rest of your life and it still wouldn't be enough. If she were a human, she might be what folks refer to as 'thirsty'. Here she is now looking down my shirt. That's probably why we get along."
---
Ari + Kermit / St. Louis, MO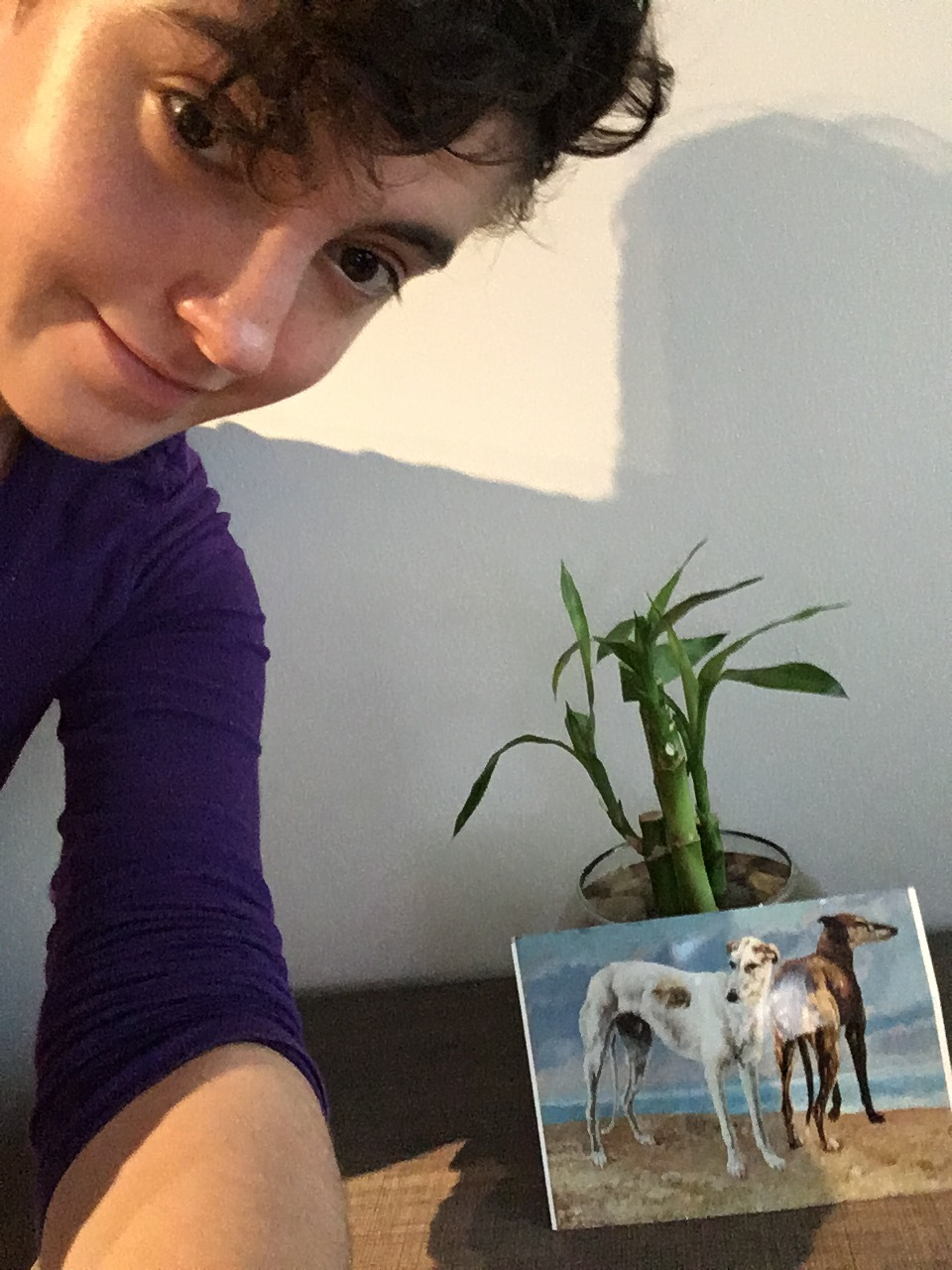 "Kermit, the lucky bamboo plant, my only pet right now. I bought him when I moved in cause I had to leave my succulents back in Boston. But someday when I'm a real adult with a real job and not a confused grad student, I want to adopt a rescue greyhound, so I got this postcard to motivate myself."
---
Claire, Audrey and Murphy / 29, 11, 2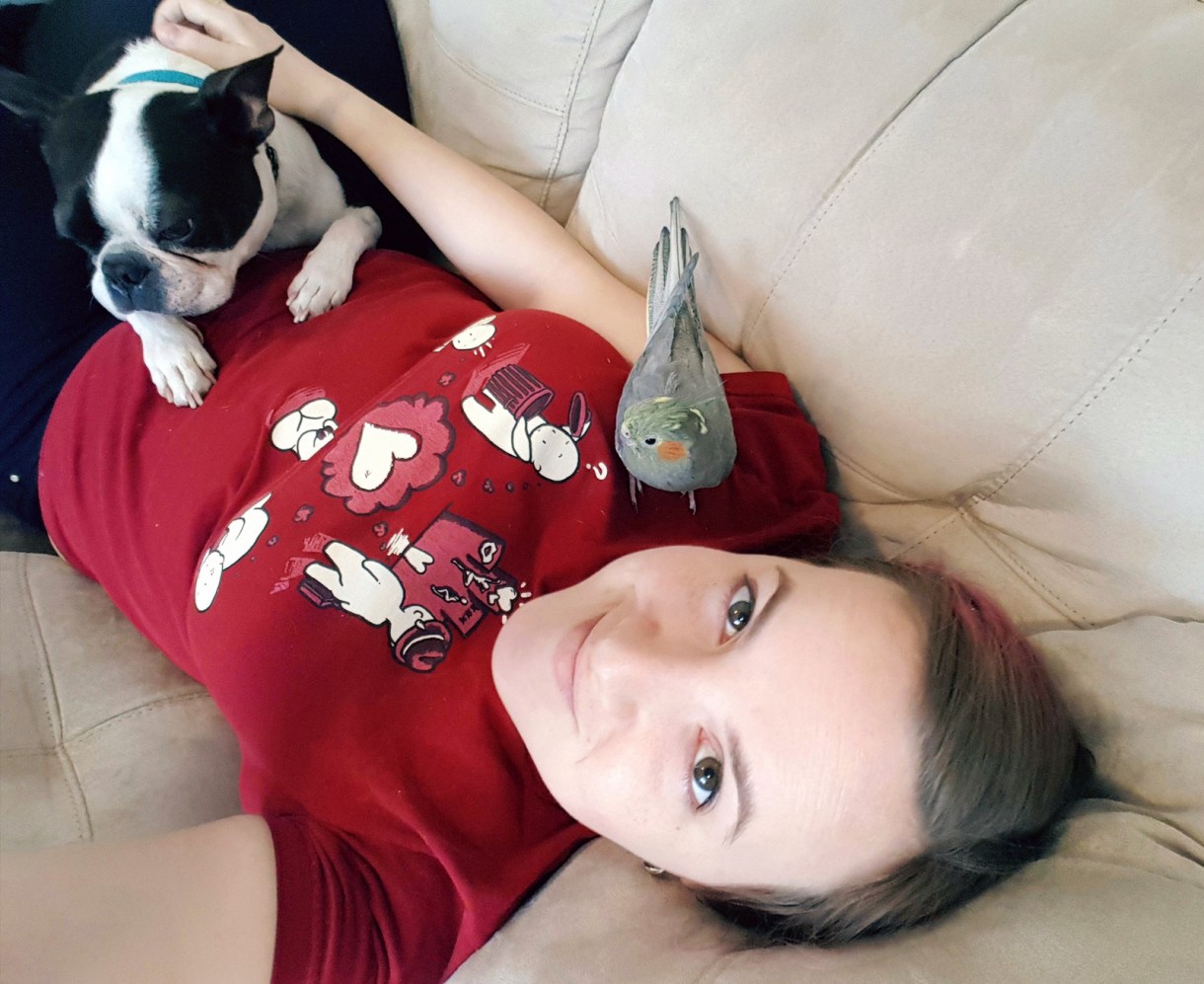 "Getting a picture with the siblings together isn't super easy as they tend to keep a respectful distance from each other, but they like to be on me. Audrey is a rescue so I don't know precisely her age, but I've had her for ten years. Cockatiels can live over twenty years, so she'll be around for a while. She screams a lot and sometimes bites my girlfriends, but I adore her. Murphy is afraid of power cords, storms, and Audrey. If I leave the door open he'll try to jump in my lap while I pee. They'll both do tricks for sweet potato."
---
Claire and Harvey Milk / 26, 3 / Union City, CA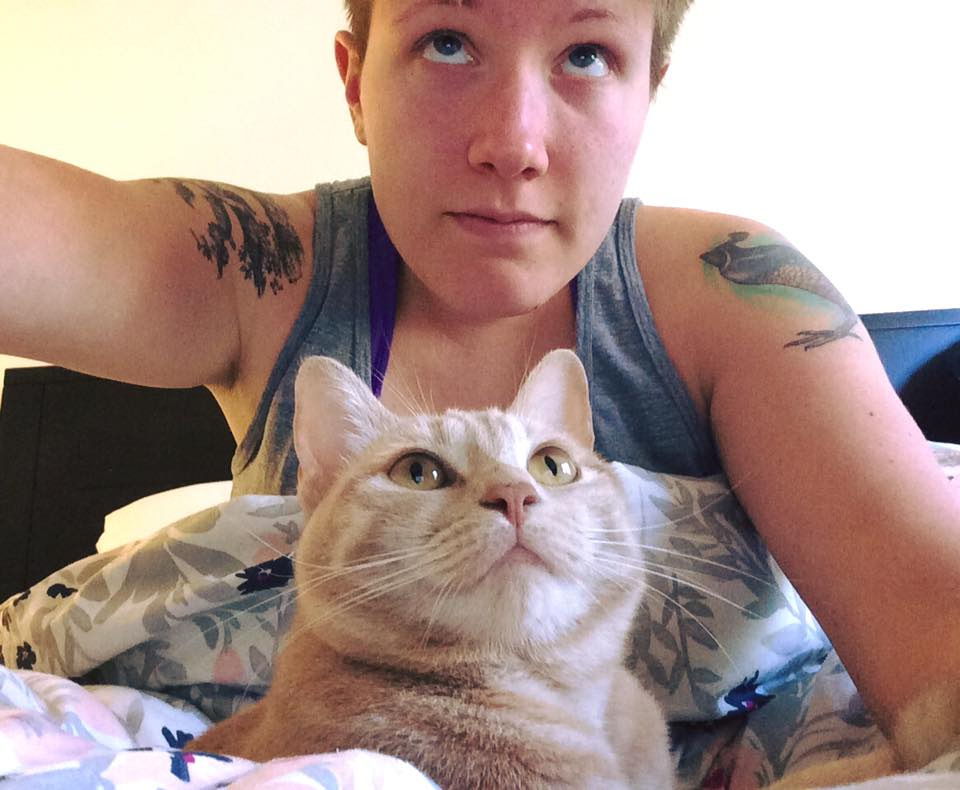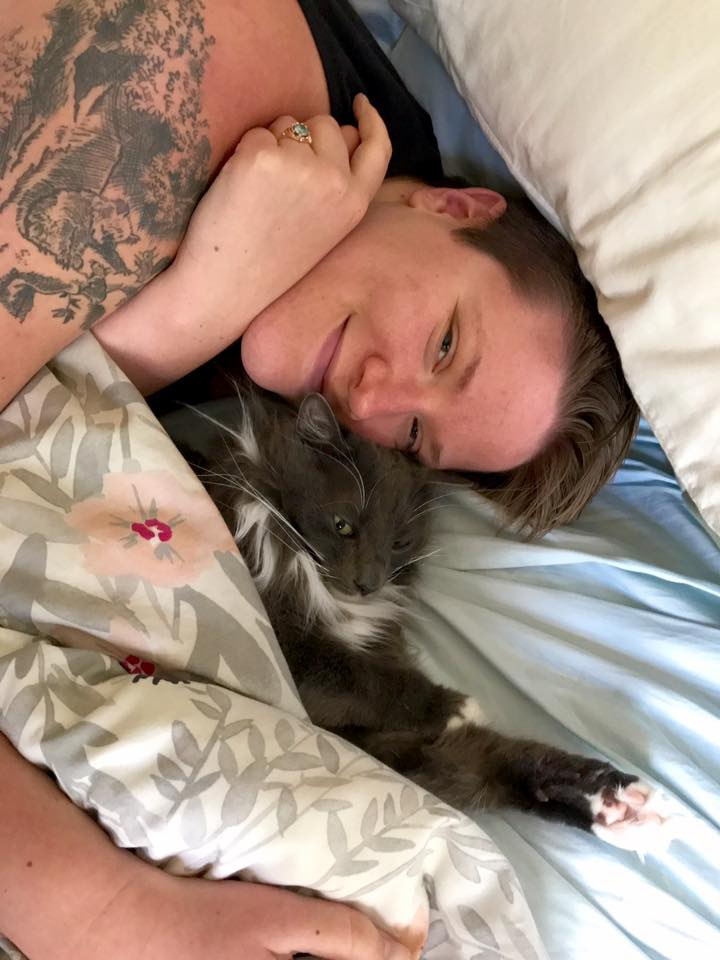 "Harvey (full name City Supurrvisor Harvard Pigpen Poopy-pants Milk Karvonen-Quigley) was plucked out of his feral colony to be socialized at three weeks old and has been a spoiled bottle baby ever since. My fiancée and I adopted him at a year old after he had been returned to his foster mother due to allergy issues. We got him as a playmate for our other cat (Buttermilk Pancake, apricot tabby, phenomenal woman), and they ended up hating each other for over a year. We named him Harvey Milk because he looked so distinguished and we wanted to name him after someone famous and gay, but it turns out he is the world's dumbest cat (sorry actual H. Milk). His favorite things to do are chase his sister, cuddle his other mom more than me (rude), and be pet on the bridge of his nose. The weirdest thing about Harvey is probably his incredibly high falsetto voice, while his petite sister sounds like a quacking duck."
---
Amanda, Sarah, and Macie / 29, 36, 9 / Columbus, OH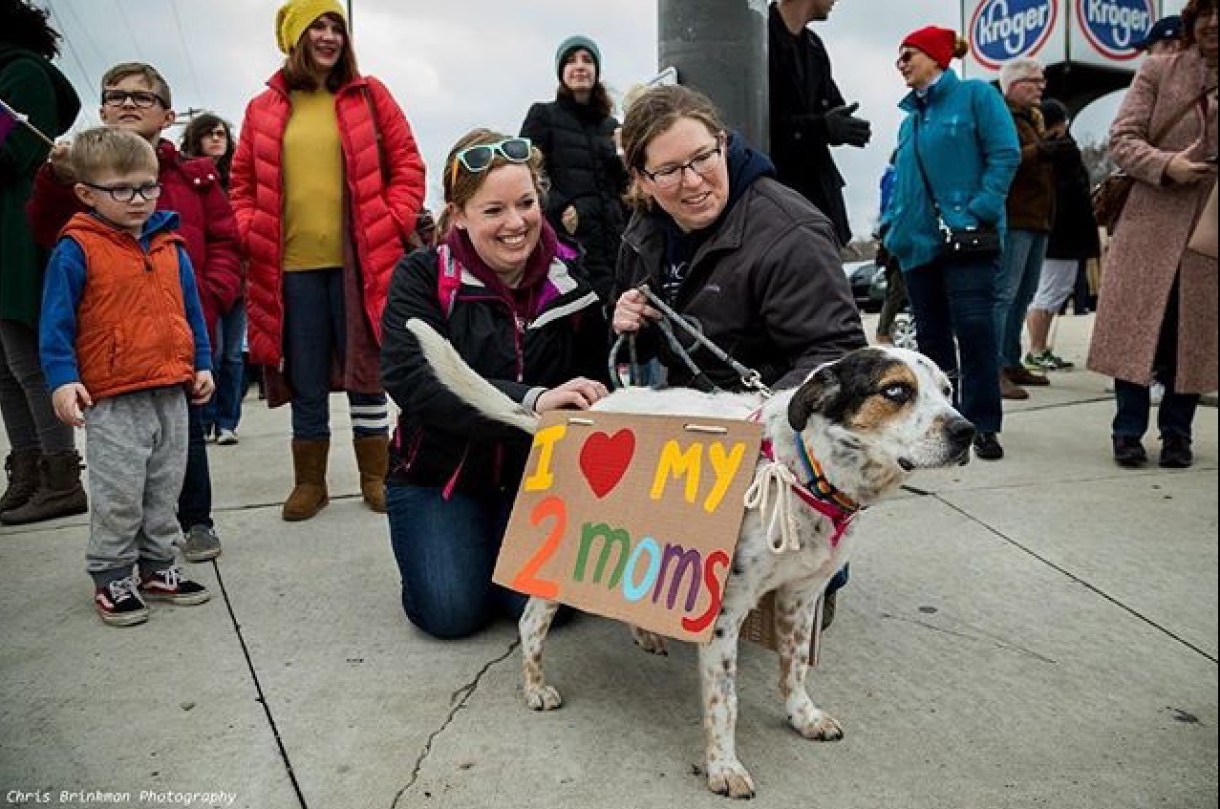 "Sarah met Macie (née "Kandy") in a shelter in Albuquerque. At three, she was well-accustomed to life on the streets; this was her third visit to this particular shelter. Sarah thought, "that is the ugliest dog in the shelter," and knew immediately that she had to have her. The shelter warned Sarah that since the dog had already run three times, she should expect her to run again, but once Macie got home with Sarah, there was nowhere else she wanted to go… unless there was a cat to chase.
A few years later, Sarah and Macie welcomed Amanda into their family after a very long trial period during which Macie frequently caused a ruckus. Her main goal was to reclaim her half of the bed. She finally gave up, but still steals all the pillows. The recent presidential election brought out Macie's activist side, pictured. A desert dog, Macie prefers to be on dry ground at all times. She enjoys chasing bunnies, barking at cats, arranging big piles of pillows in which to nest, and having her armpits scratched."
---
Hannah, Della and Bella / 25, 6, 3 / DuPont State Forest, NC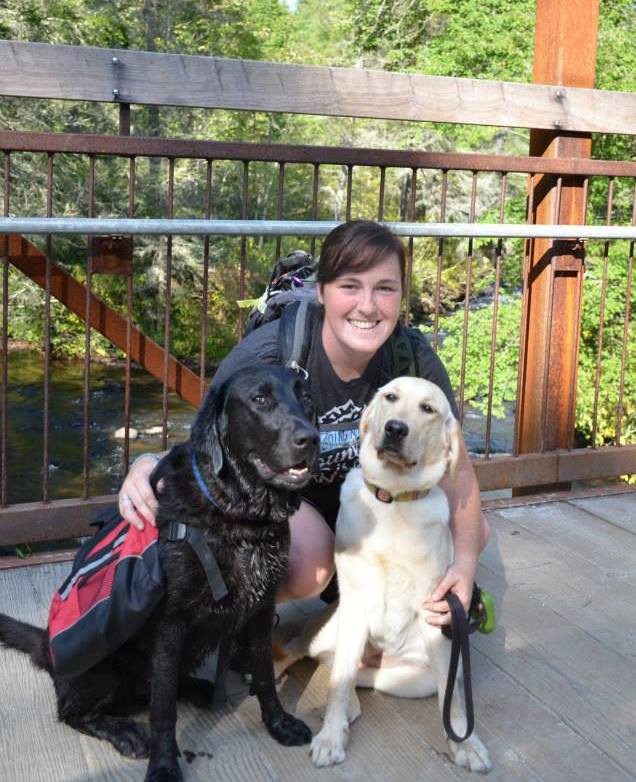 "In the picture is Della (black lab golden retriever cross, 6) and Bella (yellow lab golden retriever cross, 3). While in college at the University of Georgia, I became involved with the Guide Dog Foundation for the Blind and America's VetDogs. GDF provides guide dogs for visually impaired individuals. AVD provides service dogs for Veterans. I became a puppy raiser for the two sister organizations. Della was the first puppy I was given to raise for GDF. She ultimately did not complete the training program due to allergies, so I adopted her! She is now my furever dog. Bella graduated from America's VetDogs and is now a working service dog for a Veteran in NY! Bella graduating as a service dog was one of the proudest moments of my life! I have always loved exploring the outdoors, especially the mountains of North Carolina! These adventures are always made better with fur babies!"
---
Marcela and Mora / Atlanta, GA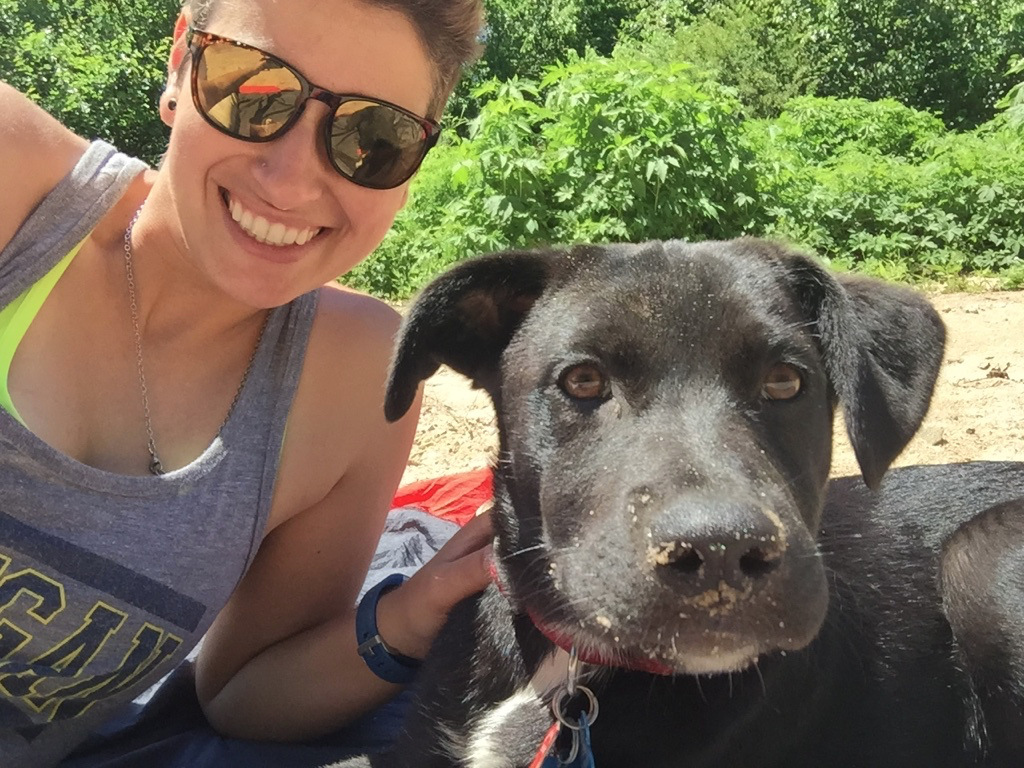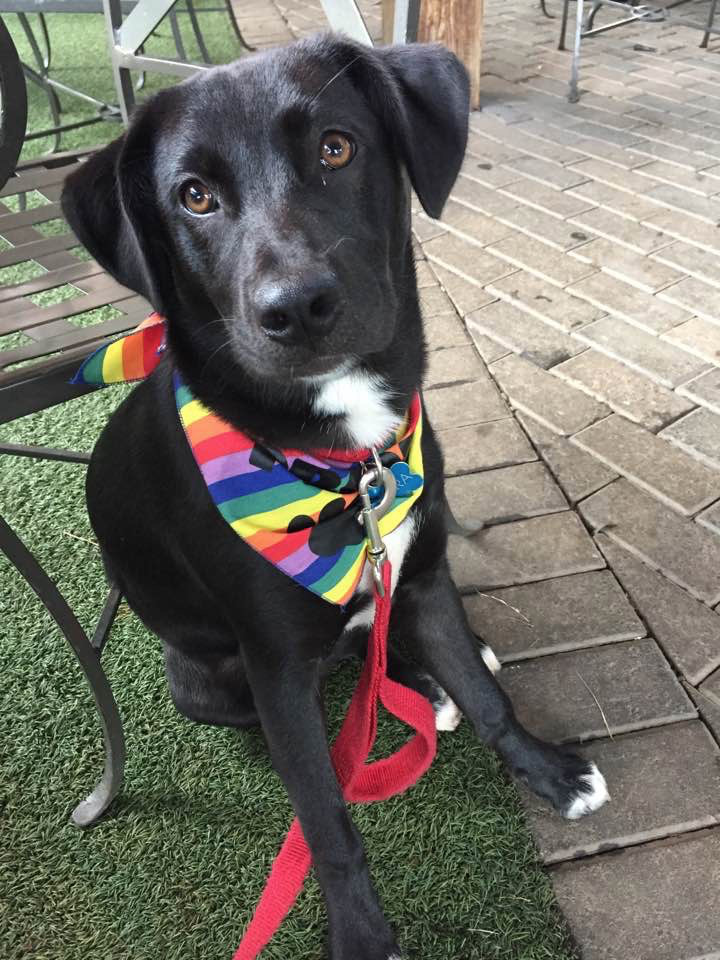 "This is Mora Benitez. She's an 8-month-old black lab mix. I adopted her from Hero Dog Rescues here in Georgia. In the first picture, we are chilling after a full day of swimming at Morningside Nature Reserve in Atlanta. The second picture was taken at Park Tavern in Piedmont Park while she was staring longingly at bacon. Mora likes socks, water, and cheese. We have that in common. We spend most weekends hiking, swimming, at gay brunch (that's a thing in Atlanta), or snuggled up watching Wynonna Earp. In her free time, Mora likes to hang out in the bathtub.  Surprisingly, she refuses to go anywhere near the tub when I try to actually give her a bath."
---
Liz and Bob Barker / 36, 6 / Austin, TX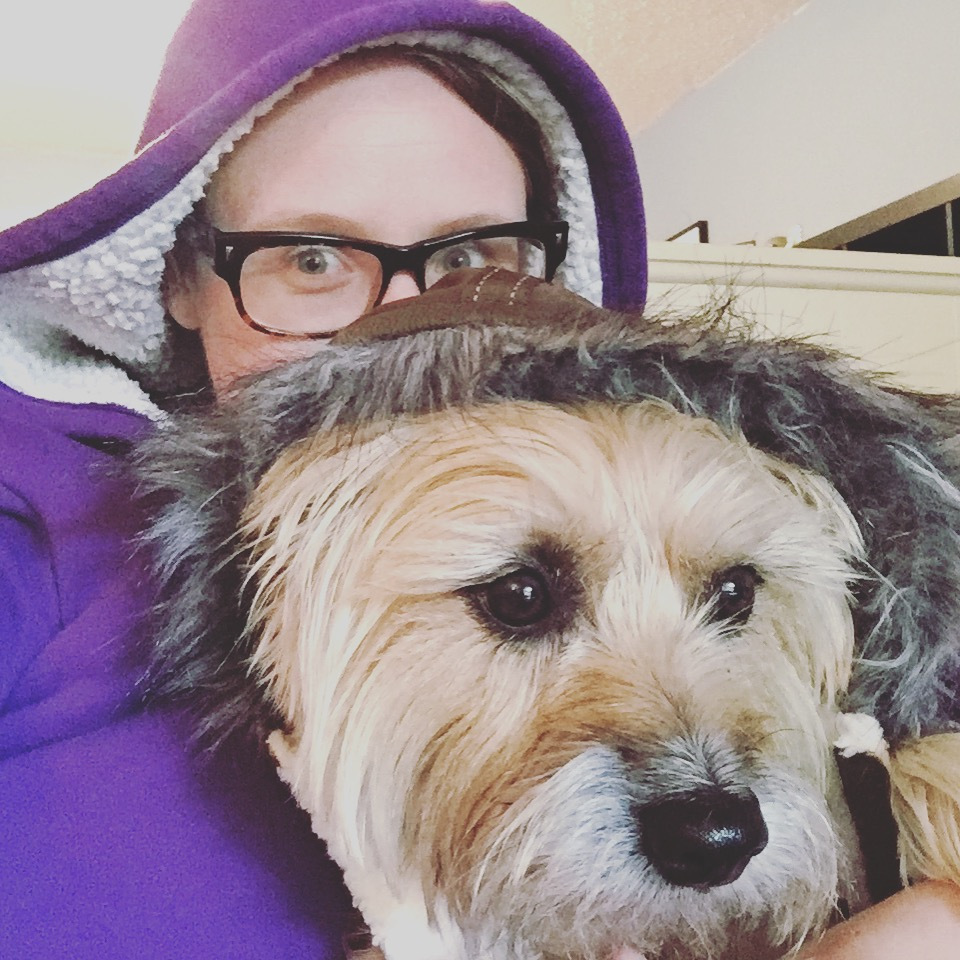 "Bob was our neighbor's dog and when he went into hospice he asked us to take care of him. We were skeptical, but now we are huge fans. His original name was Bobby, but he barks at the UPS person, so my friend Sinclair renamed him Bob Barker and it stuck. He'll sometimes burrow into your armpit when you are least expecting him to, and our house has been 100% squirrel free since we moved in. We watch a lot of Golden Girls — Bob is a Dorothy, for sure. The weirdest thing about him is he is obsessed with mangos. Instagram: @bobbarkerthecairn"
---
Kelly and Ouija / 30, 3 / Philadelphia, PA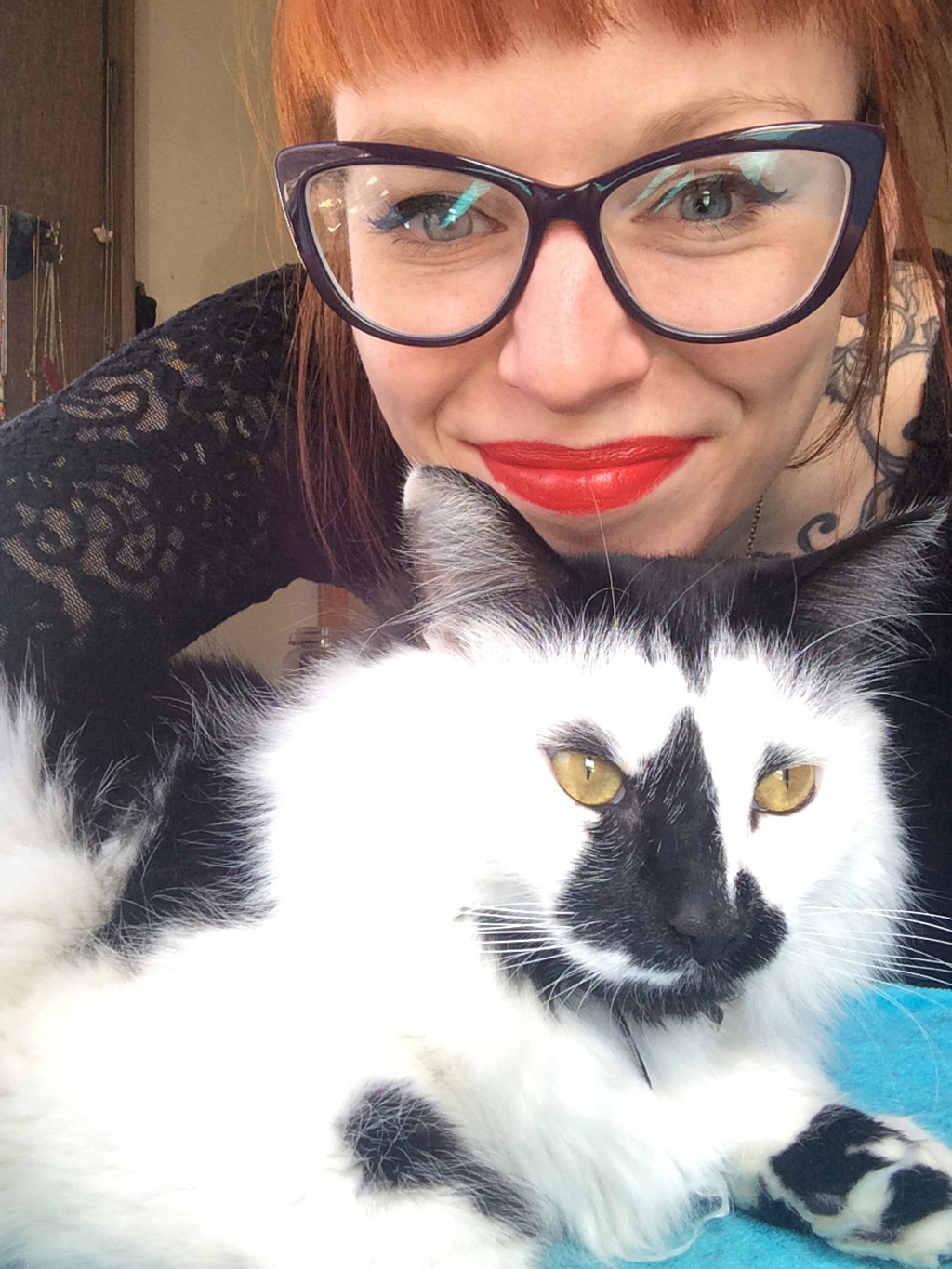 "I was fostering cats as well as volunteering weekly at a local shelter after my cat with FIV passed away.  I wanted to still feel the energy of cats around me, but was totally unable to feel like I could commit to a new kitty so soon after losing my previous one, so fostering and volunteering seemed like a great compromise. Months of volunteering went by before this weird little creature was placed in a cage toward the back of the room.  I think he hypnotized me.  I couldn't take my eyes off his bright golden eyes, fluffy white fur and unique markings on his face.  Not to mention that his eyeliner was so on point.  I couldn't stop thinking about him, but also freaked out a little that I wasn't emotionally prepared to parent a new cat so soon.  It turns out that Ouija didn't care, so he hypnotized me the next week that I saw him and made me adopt him two days later.
Some friends helped me pick out the name Ouija since the markings on his face resemble a planchette.  Ouija and his boyfriend Cosmo have an Instagram – ouijaandcosmo. Ouija isn't a super snuggly or cuddly cat, but somehow knows how to comfort me when I'm feeling shitty. He'll let me throw him over my shoulder and carry him around like a baby, or do very cute upside down flops.  He's got the best cat paws that look like an Oreo McFlurry, and is insanely good at taking photos."
---
Before you go!
It takes funding to keep this publication by and for queer women and trans people of all genders running every day. We will never put our site behind a paywall because we know how important it is to keep Autostraddle free. But that means we rely on the support of our A+ Members.
Still, 99.9% of our readers are not members.
A+ membership starts at just $4/month.
If you're able to, will you join A+ and keep Autostraddle here and working for everyone?
Join A+
Pages: 1 2 3 4 5 6 7 8 9 10 11 12 13 14 15 16 17 18 19 20 21 22 23See entire article on one page