OUT MAGAZINE POWER 50:
OUT Magazine's Fifth Annual Power 50 has HIT THE STANDS and as you may have guessed, I'm not on it. I guess it's hard to be powerful with only $429 in the bank, but today I rode my bike really fast for like two minutes and probably gave someone good advice on formspring.
In fact nobody from Autostraddle was featured on this year's list, which I believe is because a) We have no power and b) Nobody knows who we are and c) Last time we went up to the roof and gave it a swing, we were unable to fly and d) none of the rich powerful white men on this list have invested in our business or in any lesbian business, so.
Also the bar for entry seems pretty high for ladies — one must apparently either have their own teevee show or their own city to rank, which leaves out some very powerful ladies including but not limited to (despite my feelings about her and her feelings about me) Ilene Chaiken and also Kate Bornstein, Pam Spaulding, Randi Weingarten, Urvashi Vaid and Rosie O'Donnell.
So speaking of — enough about me/us! Onto ALL THESE WHITE PEOPLE!!!!!!!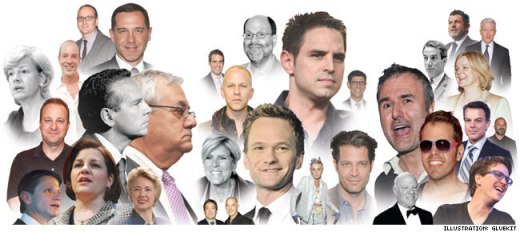 From OUT:
In times of upheaval, power changes hands fast. It's no surprise, then, that two of our 10 names this year are new entries. Or that one — Apple's Tim Cook — rockets to the top of the list. TV and the internet remain fertile ground for LGBT talent and power to flourish, with five more of our group coming from talk shows, news programs, or tablet launches (Ellen DeGeneres, Anderson Cooper, Rachel Maddow, new entry Shepard Smith and Barry Diller). As always, the positions were determined by a range of factors, including power to influence cultural and social attitudes, political clout, individual wealth, and a person's media profile.
11 of the 50 Most Powerful Gays & Lesbians are women, and you can probably guess who at least half of those 11 women are without even clicking over but I'll save you the finger exercise and just tell you myself: it's Ellen DeGeneres, Rachel Maddow, Suze Orman, Lisa Cholodenko, Christine Quinn, Tammy Baldwin and Annise Parker.
Ladies I hadn't heard of include movie producer Christine Vachon, Mary Kay Henry, President of the Service Employees International Union and Martha Nelson, the editorial director of Time Inc.
Ladies who have managed to make the Power 50 without even officially coming out of the closet or getting involved with any gay activism include Jodie Foster.
Men on the list who I didn't know were gay, let alone out, include Shepard Smith.
DON'T WORRY THOUGH, because NEXT YEAR, OUT is like 95% sure that at least one of these fellows will make it onto the list, as they are featured in the "Up & Comers" Section: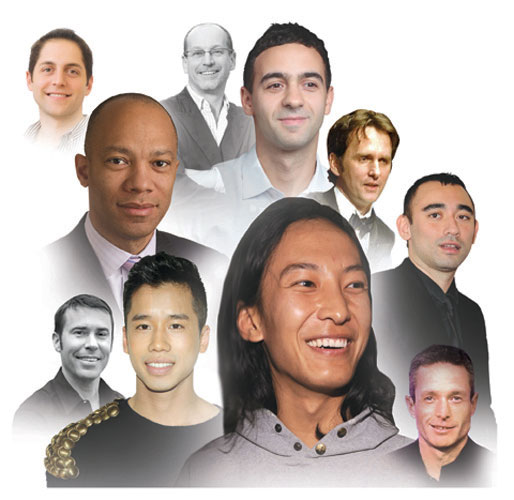 Were you aware that the Just Jared guy (the one with the gold situation on his shoulder) is so frackin' adorably cute? I wasn't. The more you know!
GLEE:
Lea Michele, Amber Riley and Dianna Agron are on the cover of Marie Claire Magazine's May 2011 issue, set to hit newsstands on the 19th of April.
More importantly to the demographic currently reading this post, Dianna Agron is onto you and your fantasies of Lea/Dianna Love:
Tabloid terror: What's been the most absurd rumor you've heard?
Everybody is convinced that Lea and I are in a relationship. There are supposedly forums with photos of us hugging at work or events. It's funny, but flattering — Lea is beautiful. Since when can't you hug your friends?
Will the shippers stop believin' or will they truck on in the spirit of the Journey song "Don't Stop Believin'"? TIME WILL TELL.
Over at The FabLife, some concerns about Amber Riley's cover:
On their solo covers, Agron and Michele offer written promise that they'll discuss "the rumors! gossip! drama!" of their hit show. Yet on Riley's cover, the actress is quoted saying, "I show girls how to be comfortable with their bodies." Of all four covers, Amber's is the only one highlighting the actress's body, rather than the insanity that must come with working on one of the hottest shows on TV. Riley is definitely a gorgeous woman, but it'd be nice of Marie Claire could single her out for more than just her pants' size. Like, for example, how she clearly needs to be given a major story line when Glee's Lady Gaga episode drops April 26. If it wasn't for that one glaring difference, the four covers would make for a near-flawless gallerGlee.
In this video, we go behind the scenes of the photo shoot:
Special Comment: Okay so here's the thing that boggles my mind, reader: from day one here at Autostraddle we've been extraordinarily, often to a fault, obsessed with being responsible about diversity. Not only because we are afraid of people yelling at us (we are) but also because it makes for more interesting, compelling content and because symbolic annihilation will annihilate us all. Any Galleries, Top Tens or Other Lists of Humans must be diverse w/r/t race/ethnicity, body size and gender presentation to the very best of our abilities. We're hyper conscious of representation and we still do it wrong sometimes and we STILL get yelled at quite a bit.
So this is how I operate this website as an editor with no training, no idea what I'm doing and no qualifications for this job that has sort of created itself around me. But I can't imagine seeing the OUT Power 50 on my desk and saying "oh this looks great, print it!"
I've written for marie claire before and I really like the magazine and everyone I've worked with there, but FABLife makes a solid point and again, I can't imagine not finding that cover problematic — I'd be like, "really guys, can we please at least pretend to live in a world where you can interview someone who's not skinny without exclusively and excessively focusing on her not-skinniness?" and then I'd probably say "Get me a skim iced latte" because in this fantasy I am Powerful (like #23 or #24) and have a Magazine and a Desk and probably lots of Interns Who Actually Do Things.
So this makes me wonder: are these super powerful important people — and similar concerns arise annually with things like Vanity Fair's Young Hollywood Issue and the backlash inevitably follows  — completely ignorant about diversity? Are they too insulated to notice/care?  Am I HYPER-AWARE because I've been reading so much Bitch Magazine, Jezebel, Feministing, Racialicious and AfterEllen, and outside of these circles, nobody really cares?
Or (and I fear this is the real answer) do they make these choices because this kind of limited representation is, in fact, the most profitable kind of representation when it comes to selling magazines and being respected as a source of accurate / balanced reporting?
At this point in this post I could effectively bring it back around to my first paragraph where I joked about not being on the Power 50, something about how perhaps our consciousness is our Achilles heel and all these people Are Powerful because they devote their lives to celebrating white men and skinny girls, but I have to run to an editorial meeting, so I'll just say that Lea, to the best of my alleged knowledge, like many young females (and males) involved in creative open-minded industries such as Broadway, has certainly kissed+ girls for funsies, but is so def not a lez or, to the best of my alleged knowledge, secretly dating Dianna Agron.