Flaskback redux! Nicky's mom bails her out of jail, and on the way home in their limo(?), Nicky begs for some cash so she can bail out her friends too. Nicky's mom knows she wants the money for drugs and not for bail, and she gives her cash and credit cards and basically her whole entire wallet, because if she doesn't, Nicky's just going to steal an airplane and crash it into a playground. That's the addict life. Higher stakes and higher stakes until you blow up the world.
In real time, Alex storms through Litchfield until she finds Piper talking to Morello and Yoga Jones and Sister Ingalls about how mouths evolved to give blow jobs, which I absolutely refuse to believe is true. Plus also, Google backed me up when I looked it up just now. Mouths and lips evolved for eating and chewing and maybe kissing. Did you know chimpanzees kiss on the mouth to make up after they fight? And bonobos French kiss? I learned that just now too. Also, Bonobos are all bisexual, but I knew that from a long time ago. Alex clomps up and points at her hickey and yells at Piper about how she just did it to be possessive and controlling, which seems accurate.
Morello is happy the Get Along Gang is together again and can't wait to express the fullness of her knowledge of "Chlamydia dell'Arte" ("which is from Europe!") in drama class. Morello! Ha! I love Morello so much! I also love her face when Alex says Piper is her sex cow. She's goes, "Oh. That's … sweet."
Healy gets gross with Rogers before her drama class, talking about Father Knows Best and no one's going to come to this thing and don't get too disappointed, little lady, but then of course the class fills up with practically everyone in the whole jail because Rogers is heaven and people just want to be near her. Healy also cannot tell the difference between women clowning lovingly on each other and him calling Alex a "dumb bitch" because he is the biggest fucking idiot.
Actually, it's a toss-up between the two best events in Litchfield history. Inside is Rogers' drama class, but outside, Poussey and Taystee are holding a funeral for all the books that were burned in the Great Bed Bug Breakdown of 2015. It's probably the greatest scene in TV history.
Taystee: We are gathered here today to mourn those that were martyred in the Conflagration of Three Days Ago! It is a sad day when any book is not returned, or when it is returned with pages missing because some fool needed to write a note or they need to wipe their nasty ass, but anyway. To have our entire flock taken from us is almost beyond reckoning! So, we take this time to honor those titles that we have lost. Go head, Washington.
Poussey: Yeah, I've never been at a funeral for books before. And like, I feel like there's nothing I can say that wouldn't be better said in, like … a book.
Taystee: Mmm!
Poussey: But books are made of paper, trees. So we thought they should be returned to the trees. From whence they came and everything.
Taystee: The ultimate book return.
Poussey starts reading off the names of the books that were martyred. Great Expectations, The BFG, Squirrel Nutkins and then loses it when she gets to the dictionary: "Damn. The dictionary. The dictionary, man! What are we going to do in the world without a damn dictionary?!"
Daya wanders up and says she didn't know Flores was so into books, and Flores speaks for me: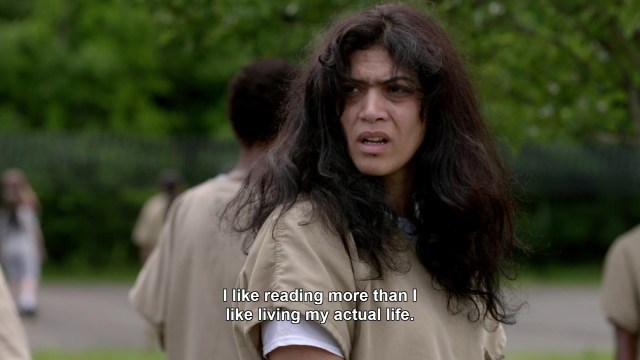 Really, Daya is just looking for Bennett, who hasn't been around in many days. She tells herself his shifts probably got switched up, even though she knows in her heart that he has moved to Shondaland without her.
In the laundry room, Angie and Leanne are talking about the Blessings of Norma when it starts raining heroin from the ceiling. Their faith has been proved genuine! Praise and glory to Norma! Her promises have been revealed! They stuff the bags of dope into their pants and bounce up outta there.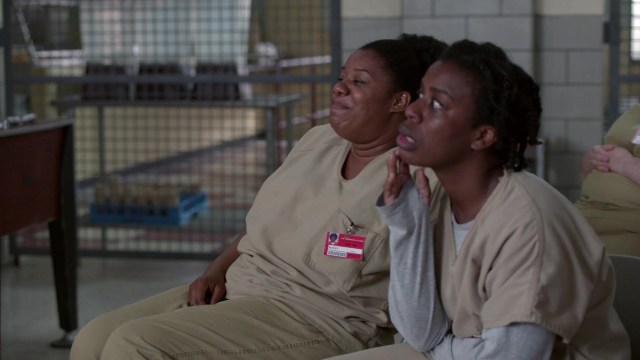 Drama class is going as amazingly as you suspected it would. Morello is doing improv with Chang, who keeps shooting down her scenarios and flipping the script to dogs and dicks. Everyone thinks it's super hilarious, except for Morello. Suzanne wants a turn next, to "sublimate her abandonment issues through the art of role play," but Rogers calls on Piper and Alex, who start making a scene about it immediately, about how they can't work together, about how they can't give their best performances today, about how they don't need an improv class to be a black hole of melodrama. Rogers says she doesn't want a performance; she wants to see them stop masturbating to the sound of their own voices and listen to what another person has to say for a single minute of their lives. "Let's worry about empathy," she says, because she doesn't know Piper or Alex.
Pages: 1 2 3See entire article on one page