Hey, Orange is the New Black fans! You're great. ALSO, just checking in, but do we have a cohesive fandom name yet? Oranges? Prisoners? …Newbs? Sweet Baby Jesus on a Stick, please don't leave this decision up to me. I used to name my hamsters after four syllable characters from world mythology; I do not nor have I ever had a talent for christening things.
Anyway, if you're reading this, it's my birthday! That seems like a great reason to celebrate the existence of quality television shows, queer sex, and hot girls who remove their glasses before they fuck you. Also, let's celebrate the existence of the only lesbian bar in all of Philadelphia where I celebrated my birthday, by being one of four people on the dancefloor breaking their awkward asses down to Madonna. I also did a quality clearly-not-drunk-enough-for-this version of Justin Bieber's 'Baby' at karaoke. Somehow that was the most homosexual thing I've ever done.
Nicky's in the kitchen with Red because shop was canceled due to the asshole just not showing up to teach today. Wow, that's shocking, he's usually such a responsible and admirable character! They're working on the Thanksgiving meal where reject turkey parts are served as the main entree, and I don't think I've ever had to react to the image of turkey anuses before in my life, but here I am reacting to the image of turkey anuses. I wish Nicky had made a joke about it not being the first asshole she'd ever eaten in her life, but alas. I guess Nicky is one of those front door only queers. I am also one of those queers, but if she's insistent that I only use the backdoor, I guess I'd be willing to go to the other side of the house.
Red finds Pornstache's drug shipment and she flushes it. I wish this was an allusion to Pornstache actually being flushed. Or murdered by hamsters.
Piper is getting her hair done by Sophia, and she's crying because she trusts and isn't creeped out by Sophia's touch, a thing that she's experiencing less and less in prison. Purely platonic and caring human contact is rare. I would be totally okay with Sophia touching me, but I also really want to make out with her face, so I don't know that it would be purely platonic. Piper takes this moment of kindness to talk about if she'd be okay if Larry was transitioning to a woman, and I just…what? Really, Piper? I just…okay, what? Right now? Really?
Mendoza makes Daya some tea that will cause her to miscarry. Ah, the homemade abortion tea plotline. I seem to recall in another show I recapped that we also had a homemade abortion tea plotline. So far, the similarities between Bomb Girls and Orange Is The New Black are strong female cast and homemade abortion tea plotline. Also, its 2013 so there's a pill she can take, too.
Picking right up where the abortion tea left off, Doggett is in the laundry talking about the souls of departed fetuses. She's got a pretty devoted following via the written letter, full of invasive questions and concerns about her availability. It's like tumblr inbox for jail! Doggett reminds Alex that she will not be invited on the Rapture Bus that is taking everyone to heaven. Er, sorry, not everyone. Just the true believers and stuff. Us gays will be leaving on the Gay Bus that takes us to a roaring party on a beach where we get to have sex for hours without end as the world bursts into flames around us.
Alex calls Doggett an Appalachian methhead. Doggett calls Alex rich. And this triggers a flashback to Alex as a kid, wearing shoes from Payless and getting made fun of by bratty-ass rich kids. They call her pigsty and make fun of her single mom, and Alex's mom tells her that being the daughter of a rock star is way better than those snobby kids and their college futures. Alex is going to have more fun, anyway. Arguably, she probably eventually does. Being gay is generally way more fun.
Back in the present, Alex thinks Piper's hair makes her look like JonBenet Ramsey. That is…not…how you pick someone up.
Um, Taystee, Poussey, Cindy, Chapman, and Big Boo dance scene? Where in the fuck do I sign up? But Taystee is leaving, so this is also a bittersweet dance party. But a dance party. The best is when Alex and Piper attempt to dance. God help us all.
Meanwhile, Alex and Piper are relearning the good old lesbian bump and grind. I saw this happen with couples a few times at the gay club, and it's always that perfect combination of sexy and oh God, I think I slept with one of them last year maybe? Doggett is not a fan of the bump and grind, surprise.
She goes to Healy and delivers the absolute best lines of the season, in my incredibly humble opinion: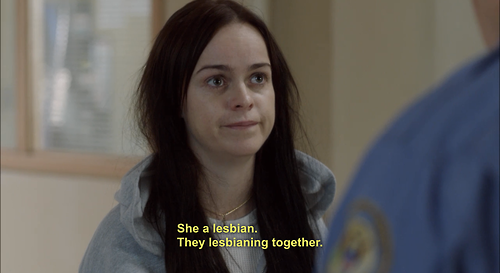 Piper goes to SHU. Why? Because she was lesbianing. Actually, because Healy called the dancing "attempted rape," and his level of fear and hatred of specifically lesbianism continues to baffle and astound and straight up freak me out. Even Pornstache…Pornstache, go ahead and internalize that for a second…thought that call was wrong. How far in life have you fucked up when Pornstache is questioning your decisions?
SHU is no fucking good. SHU is solitary confinement the way you'd pictured it, and there's few options for entertainment…or sanity.
Taystee is scared of rejoining the "real world" because she's been in and out of government institutions since she was a kid, and she has no idea how to adjust. She doesn't think she's going to make it, even though she's clearly a super intelligent, super funny, super fantastic person with her priorities straight. Or at least this is what Poussey wants to remind her of, because Poussey wants her to move on and flourish. I love them so much, I can't.
It's visiting day, woopheedoo. Sue's parents are here and holy beeswax, they are WASPs to end all WASPs. When I refer to this scene as unexpected, I mean it's on a scale of walking down the street and a flying glittery vagina is suddenly flapping beside you on the sidewalk kind of unexpected. I will say this: I love this twist on Sue/Suzanne. Up until now, she's been portrayed as the aggressive pursuer of Piper, the very negatively nicknamed "Crazy Eyes", and the eyes we've seen her through have been limited to Piper and company. Is there a bias in their perspective? Absolutely. And I bet a lot of us had already written Sue off as the weird comic relief character; we'd assigned a background to Sue in our minds, regardless of what other characters knew or did not know. Even if we hadn't fleshed it out yet, we had an idea of where she came from and who she fit in with, and the awkward social place she filled in the narrative was proof for us that we had her figured out. We called her "Crazy Eyes" in reference to her character, and then lo and behold, it was our character that was being revealed. I don't think it's until later in the season that we finally see the full fault of our ways, but this scene was the first step for a lot of viewers (or so tumblr and twitter have told me) in realizing that there is a lot more to Sue than meets the crazy eye.
Crystal is visiting Sophia, and shit. Shit, shit, shit. Crystal has a new friend…who is a man…who is the new pastor…who is good with Michael and someone Crystal really likes. Understandably, Sophia is not okay with this development.
Larry is informed that Piper is in SHU. Oh my god no why no. How do I properly express that I literally do not care? Like, here I am, watching this scene, and then there's a really lame pale blob on the screen blocking my view of Officer Fischer being adorable and his name is Larry and will he just stop talking already? Larry wants Piper to know he loves her. Jesus Christ, dude, she's in SHU because she's in prison for a crime she actually willingly committed, not because an unjust society has imprisoned her and denied her outside opportunities based on her skin color, economic background, sexuality, or creed. Is it shit that she's in SHU? Sure, yeah, I get it. Is it wrong that she's in SHU based on the reasoning given? Yeah, definitely. But check your privilege, asswipe, and don't assume that your fiancee's SHU time is worth the extreme fuss hat any other prisoner's SHU time is never given.
Later in the dining hall, Doggett is talking about her brother shooting and eating a bald eagle. Who is Doggett's brother and how the fuck do we get in touch to hang out?
Alex grabs Doggett and kisses her.
I didn't get into this in the last recap because it's a conversation that's hard to have in this space, albeit a possibly triggering one. But this is where Alex as a character becomes incredibly complicated for me, possibly irredeemable. In a lot of ways, we're meant to see Doggett as an entirely unforgivable villain. She's homophobic in a way that directly opposes the show's "main couple," she's vocally Christian in the evangelical vein that is endlessly demonized by the media, and above all, she's trailer trash. She's the redneck hillperson low-class methhead that shows up and gets the shit kicked out of it, metaphorically or not, no matter what the media portrayal. Why does her class level and the assumed incredibly stereotypical traits associated with it make her irredeemable and so easy to hate? Why is the audience meant to feel justified, even encouraged, in their hatred of her as a character and as a representative of a culture? It troubles me greatly.
So when Alex, the lusted after and admired and fandom beloved main character essentially sexually assaults Doggett, albeit an episode after she's verbally threatened to do just that, why isn't there an intense outcry? Is it because in our minds, and the hivemind that is the perspective the show would like us to have, we've told ourselves that Doggett deserved it?
I'm from that Appalachian culture that is Doggett's bread and butter. I have seen and known Doggetts, and I've seen the effect of our fatalistic community to produce people like her. With little health outreach, deadweight debt, and a tradition of living fast and dying young because your line of work and resulting untreated problems is gonna kill you anyway, it's the perfect recipe for people to get desperate. It's a tragedy within our system, and I feel like it's being mocked and shit on all over the place on this show. And even worse, it's convincing people that someone who is a product of this tragedy, someone who has experienced these circumstances firsthand and is in prison because of the way she was raised to deal with them, deserves what she gets. They see her as a villain with no chance of redemption, with no winking brightness beneath the hate. They're supposed to laugh at her background and her manner of speech and her cultural nods as they assume her portrayal is a caricature. They even don't blink when Alex, that character they all love and lust over, assaults her. They even cheer Alex on.
And look, I know the breed of evangelism that Doggett prescribes to is homophobic and hateful as all fuck. I know it stands in direct opposition to who I am and how I live my life, and hell, I've felt that hatred up close. But I still know the circumstances that drive people to that kind of escape and comfort, and I know that it's as much a class issue as anything, and I think everything that Doggett is, even the shitty parts, need to be examined and seen as equally complex and human as the other characters. Displaying her as a cartoon and a villain because of her class level is fucked up, period.
Despite the odds, Red has made a delicious gravy with the turkey buttholes. Pornstache shows up for his drugs, and Red goes right up and tells him that they're gone because guess what, bitch? She flushed them. Pornstache pees in the gravy. HE PEES IN THE GRAVY.
Larry is trying to use the threat of lawsuits to get Piper out of SHU. I just…Larry, stop while you're ahead. Larry thinks they should cancel Thanksgiving. Family Friend Cal is like, yo, chill, Piper would want you to enjoy Thanksgiving. Would she? Does anyone in Larry et al know what Piper would want? Does Larry know what Larry wants besides being a general ball of lame?
Healy is visiting Piper in SHU. Piper says that this is illegal. Well, not…really…anyway. Healy is still on this lesbian dancing thing. Piper has had enough and snaps back at him about how she would never sleep with him, if that's what this is all about, and she thinks Alex is hot. Okay, that's a lot of bullets shot in your own foot, honey. Healy slams the little door window thing and guess who is probably going to have a much shittier time in prison? Head down, lie low, Pipe. Head down, lie low. Not that fucking hard.
Alex's mattress has been stolen by her roommate, who is also besties with Doggett. This triggers a FFFFLLLLAAASSSSHHHBBBBAACCKKK to Alex going to one of the rock gigs to introduce herself to her father. This does not go well at all. AT ALL.
Her father is mad sleazy and gross and shitty and I just…I'm sorry, Alex. And tonight of all nights is the night she runs into someone from an international drug cartel who has something numb the pain.
Mendoza was convinced by Daya's mom to give her tea that didn't actually solve baby problem but made Daya feel like shit. This is Daya's mom's way of teaching her a lesson and telling her she has to keep the baby and WAIT ARE YOU SERIOUS. This is not okay on any level. Daya's mom says that kids are good because they give you hope that they'll turn out okay. Daya, sweet and lovely Daya who knows what the fuck motherhood is because guess what? she basically raised her siblings, has a moment where you know she's going to try and listen to her mother and do what her mother wants because acceptance from her mother is something she's never known and always wanted. And your heart just kinda breaks all over for her. Because it's Daya's life that's in the balance right now, and no one else's.
It's a tough week in the showers. In SHU, you get a male guard who watches you shower while you're handcuffed. Disgusting. In Alex's shower, your glasses get broken while you're showering. Jinkies!
Poussey and Taystee being separated…that moment when Poussey is banging on the window because she didn't get to say goodbye…Taystee acknowledging her with a little wiggle…sorry, this is the most emotional thing that's happened to me since Bomb Girls was canceled. I need to go recharge my batteries for 200 years or so.
It's Thanksgiving in Privileged White Liberal world. Someone who I assume is the pseudo fill-in for Ira Glass has been invited by Piper and co. and boy, did he like Larry's article. We all see where this is going, right?
Piper is talking to a voice through the vent who is also in SHU. They are musing on the power dynamics of prison. Is the voice real? The voice doesn't even know, man. Deep as shit.
Alex is repairing her glasses and pointing out that Nicky's the same kind of kid who used to make fun of her on the playground. Nicky is surprised that Alex could tell she's rich, but Alex says it used to be her job to find people like Nicky to be drug mules. Also, can I just say that as a kid who grew up working class, you can smell money on people like it's your job? I don't think I've ever been fooled by a rich kid playing at poor hipster and fuck it all if I can't spot rich from a mile away, even when it's trying hard not to be. And before Nicky can tear apart whatever Piper and Alex had, Alex says that Piper was different.
Sophia and Sister Laura Ingalls Wilder have a moment because Crystal is leaving Sophia for the new pastor. Apparently, Sophia needs to learn to let things go. I just want good things for Sophia, guys. Why can't Sophia have nice things?
Alex doesn't like eating Thanksgiving without Piper. Nicky says a line I think I've said about ten million times: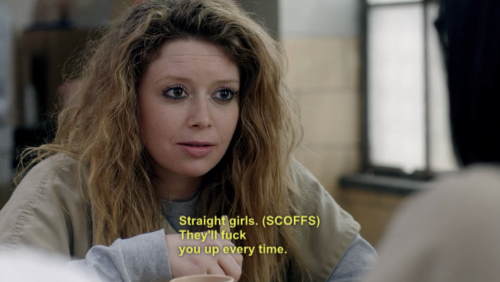 Even though um, Piper is not straight. Wish this show wasn't so eager on the bi erasure.
Larry's whining has apparently worked? Who knew? Who cares? Piper is going to be released.
This week in simultaneous "awws" and "oh nos"": Daya is going to keep the baby. Oh, honey. Sophia calls Crystal and tells her that it's okay if she's with the new pastor. Oh, honey, no. Taystee's cousin's address is old, and she has to sleep in an abandoned shitty house for the night. Baby girl, no. YOU ALL DESERVE SO MUCH BETTER.
What's the first thing Piper does when she gets out of solitary? I don't know, man, what's the first thing you'd do after you'd been locked up alone for weeks? You grab that hot young number that makes your panties drenched and you let her turn your privates into a wormhole of pleasure. You're embarking on new dimensions up in there, you have no time for playing around and learning each other's hobbies and dwelling on the past of being utterly and completely and forcibly alone.
And that's where we leave off with Alex and Piper. In the chapel. Removing each other's clothes. Banging like two coconuts pretending to be horse hooves. Smashing like Nigel Thornbury. Demolishing each other's pleasure zones like a construction crew with a new and energetic union representative. Boom, ladies.