Sophia is in a scene for like a half a second and it's almost not cool for the OITNB writers to give us that half a second since everybody so clearly wants her to be in all of the scenes for all of the seconds. They did gift us with this exchange though, for which I am eternally grateful: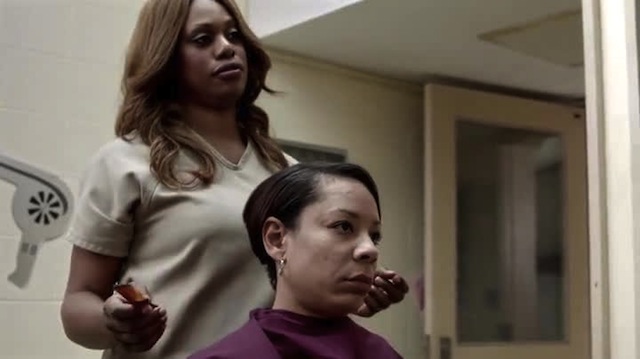 Sophia: I think a nice faux hawk will give that "don't fuck with mewp_postsvibe, you know.
Gloria: I mostly use my face for that.
---
Elsewhere, the first ciga-tampon sales are underway! Everybody is really excited about ciga-tampons, ciga-tampon sales abound!
---
Meanwhile, Gloria is not happy with the state of the rice in the kitchen and deems the spice selection unsatisfactory. Bennett enters the kitchen with unapproved items for Flaca, Ruiz and Flores. You may recall that he is being blackmailed because several inmates know about Daya's pregnancy and you get the feeling that maybe he is about to snap.
This is another Lorraine Toussaint moment (wherein there is this thing called acting that makes you feel confusing things), because I did something with this actor one time for like two hours and in those two hours I decided that I genuinely liked him. He let me name-drop him for something once and asked for consent to touch my knee in this picture. Basically, I think he is great. Endorsed.
So, I hate that his character is this corrections officer in this storyline that is depicted as a love story, but is actually legally sexual assault. Which adds a really creepy subtext to all of his and Daya's interactions, especially now that we are starting to see cracks in his whole "nice guy" demeanor.
---
Anyway, now it's lunch time and/or dinner time. Soso is on the cafeteria line with Piper, who is trying to convince Soso to forego her vegetarianism while at Litchfield, given the circumstances. Soso assesses the salad bar: "It's just frozen peas and iceberg lettuce! I need nuts! I need legumes!" Soso would have a great time at A-Camp.
Soso starts talking about the "agro-business complex" and Poussey interrupts her to point out the fact that they are currently in the "prison-complex business." I'm glad to see Poussey. I assume that you are excited as well given this website's collective obsession with Samira Wiley. Seriously, "our cats would play together and we'd write poetry by the moonlight"? I don't want to be the one to tell you this, so I will let Usher do it.
---
Sister Mary Eunice tries to sneak a piece of cornbread out of the cafeteria because of her low blood sugar. Fischer, the "nice CO" has let her do this before but because of the shot quota, Litchfield is like SHOTS SHOTS SHOTS SHOTS EVERYBODY. So, Fischer gives her a shot but offers a "please don't hate me" because she is the "nice CO." Piper sits down with Jimmy and offers to cut her food for her. It is a sweet moment. Jimmy is still talking about things that aren't entirely real, but she seems to be happy that Piper is sitting with her and Piper is doing something nice for somebody else.
---
Back in the sleeping area, Cindy is trading cigarettes for personal favors. This was not Vee's intention with the selling-cigarettes-for-stamps business model. VEE ASKED FOR STAMPS, CINDY. STAMPS ARE THE ONLY CURRENCY ACCEPTED FOR CIGA-TAMPONS. VEE HAS A LOT OF LETTERS TO WRITE.
---
Flashback number two! Past Cindy is visiting for her little sister's birthday. She gifts her little sister with an iPad she stole from somebody's luggage and offers to take her on an ice cream date for the occasion. Cindy's mom is weirdly hesitant, but reluctantly agrees to let Cindy take her sister. After they leave, Cindy's mom realizes that the iPad is stolen because Cindy has forgotten to delete the original owner's photos off of it. Oops.
---
At present day Litchfield, Piper is starting a newsletter riot grrrl zine. So far Daya and Morello both want to contribute to it. Morello verbalizes trying to "keep busy," and "stay away from romance," which seem to be euphemisms for "keep from losing it." I love that self-awareness seems to be creeping into Morello's character. They decide that she will write a beauty column and then she says "Chapman" all cutely and shit (and like, slightly creepily) and leaves.
Pages: 1 2 3See entire article on one page