If you are a woman over the age of 30, I have some information that is going to send you cartwheeling back to 1987 to high five your young self and shout "We knew it! We knew it!" right in your own tiny gay face: Stormer and Kimber from Jem are truly, outrageously, canonically queer. And they're a couple. Uh-huh, honey. In an interview with The Advocate yesterday, the creative team behind IDW's upcoming Jem and the Holograms comic book said:
Kimber and Stormer are indeed both out gay characters in the comic and as Tumblr will very excitedly let you know, we're going to be exploring a romantic relationship between the two characters. We have some other plans for LGBTA+ characters as well but it's still early days and we're still figuring out how some things can fit together to tell the best possible story.
This is good news. Great news. But it's not really news news. Of course Stormer and Kimber are gay. They've been in love since 1987!
If you are not a woman over the age of 30, here's what you missed on Jem: Jerrica Benton, owner of Starlight Music, lost her parents in a plane crash. Her dad left behind his music company, an orphanage, and his super top secret Synergy hologram technology, which Jerrica uses to assume the secret identity of glam rocker Jem, lead singer of the best-selling all-girl band Jem and the Holograms. Their arch enemies are the Misfits, another best-selling all-girl band, led by a rich jerk named Pizazz. Jerrica's little sister is Kimber; she plays the keyboard and writes all the Holograms' songs. The Misfits' keytar player is named Stormer.
This is them.
And this is a timeline of their love.
---
Stormer and Kimber were often overshadowed and ignored by their bands' frontwomen. (Jem's theme song is basically just Jem going, "Jem is my name, no one else is the same!" for like three minutes.) One fateful day, Kimber had enough! She wanted to do a ballad; Jerrica wanted to do "a faster beat." So Kimber left the band!
That same fateful day, The Misfits told Stormer her new music sounded like "dinosaurs snoring," and so she left her band!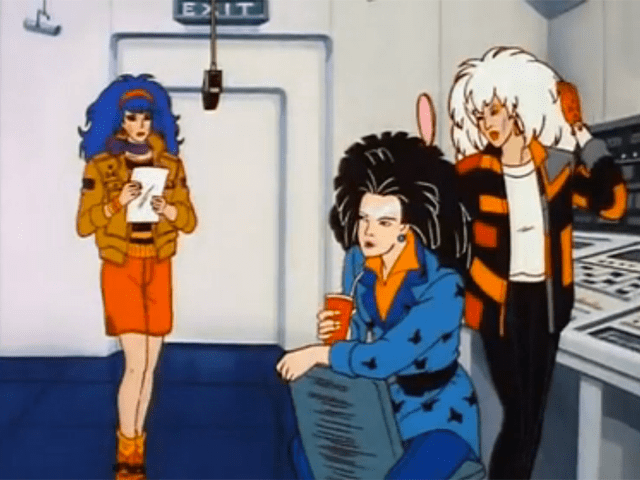 Later, Stormer and Kimber accidentally ran into each other at this pub called The Teen Scene that served sodas and milkshakes instead of liquor and also boasted a full amphitheater. Well, they hated each other and they weren't afraid to say it.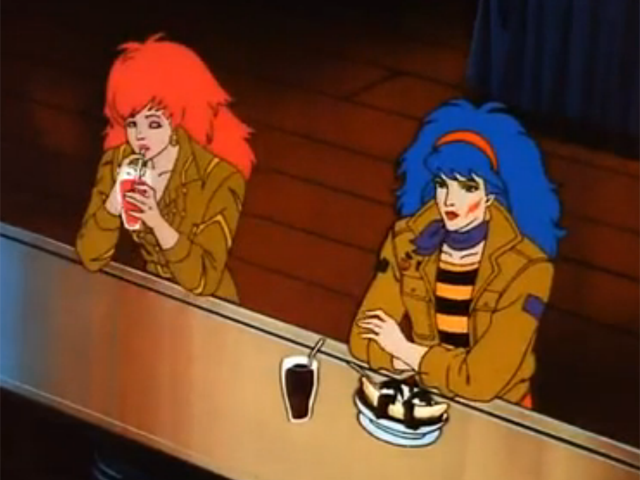 A tuxedo-wearing all-girls band named The Limp Lizards (you read that right) were performing, and when they spotted two members of the Holograms and the Misfits in the crowd, they coaxed them up onto stage to perform together. "Slow ballad in G," Stormer said. "That's perfect for my new lyrics!" Kimber cried. They read each other's minds and performed a new song called "I"m Okay" on the spot.
Kimber and Stormer had so much fun performing together that they decided to start their own band, thank you very much. Kimber left home to be with Stormer. Jem — and the other Holograms, who are all her foster sisters; I forgot to tell you that part — were horrified. The kept seeing Stormer and Kimber together on TV. They were very upset about how Stormer was changing the way Kimber was doing her eye makeup.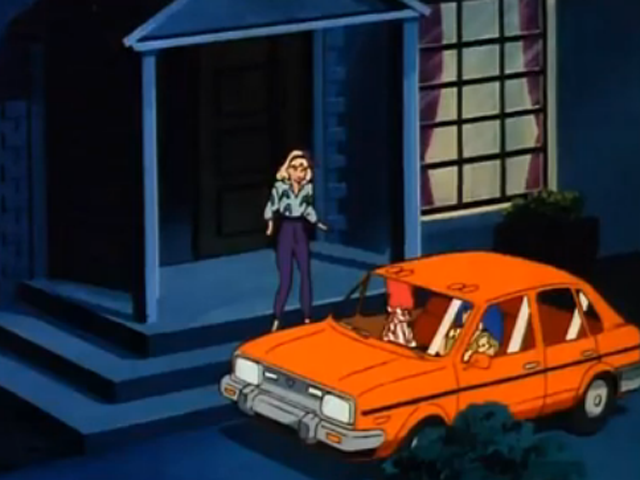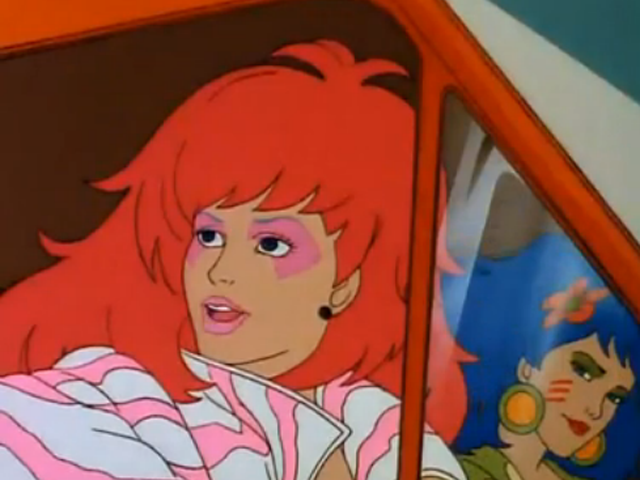 Kimber and Stormer's band was awesome and everyone loved it. Except for the Holograms and the Misfits! At one of their concerts, the Holograms and Misfits stormed the stage and performed "Bad Influence," another song they made up as they were singing it. (Relevant lyric: "You'll end up in hot water / she'll break your heart in two.")
The Misfits wouldn't stop meddling. At first, Stormer said, "No, Pizzaz! I like being with Kimber!" But then they gave Stormer a Porsche and a bunch of credit cards if she promised to come back to their band, and so she did. But she felt really sad about it and woke up some mornings and reached for the photo of her and Kimber that she kept by her bedside and gazed lovingly at it while saying things like "Oh, Kimber!"
Kimber and Stormer were offered a contract to record an album together.
But it was just a trick! (There are a lot of tricks on Jem. A lot of Holograms getting kidnapped, ransomed, there's accidental time travel. It's a lot, in terms of shenanigans. ) It turned out Eric Raymond, the Misfits' manager, stated in the contract that if Stormer and Kimber's album wasn't "a hit," he would own half of Jerrica's company, Starlight Music. Stormer and Kimber went to Jerrica and the Holograms for help, and once Jerrica agreed to throw all the weight of Jem behind the album, Kimber pulled Stormer to her feet and embraced her.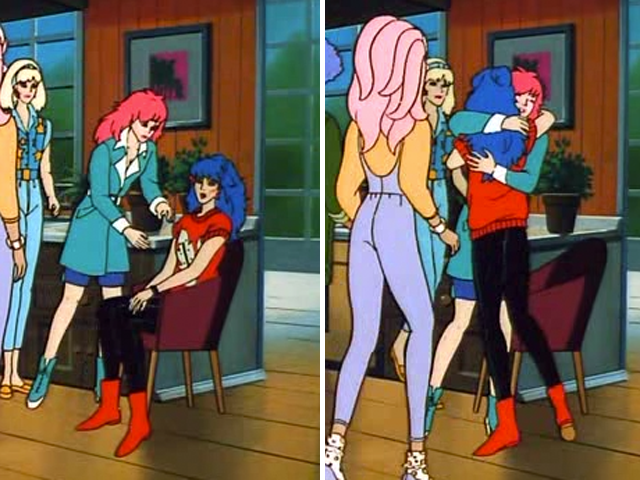 Kimber and Stormer held hands on the beach and ran through the surf to the tune of the Holograms' "Getting Down to Business." (The Misfits want to exploit me; at least your group cares about you," Stormer said. "I care about you," Kimber said, as the waves crashed around them.)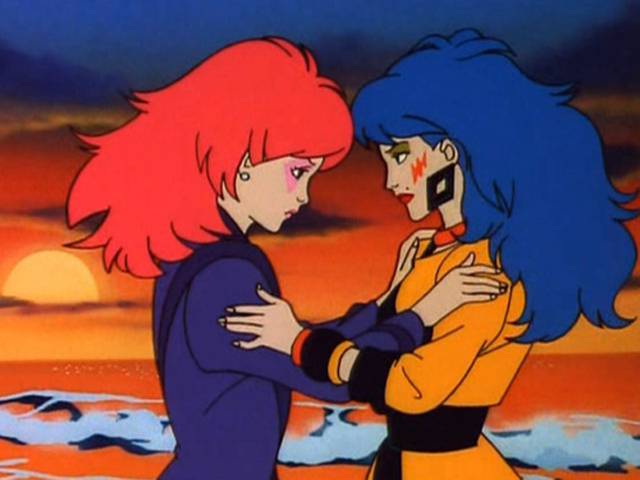 Stormer started calling Kimber "her partner."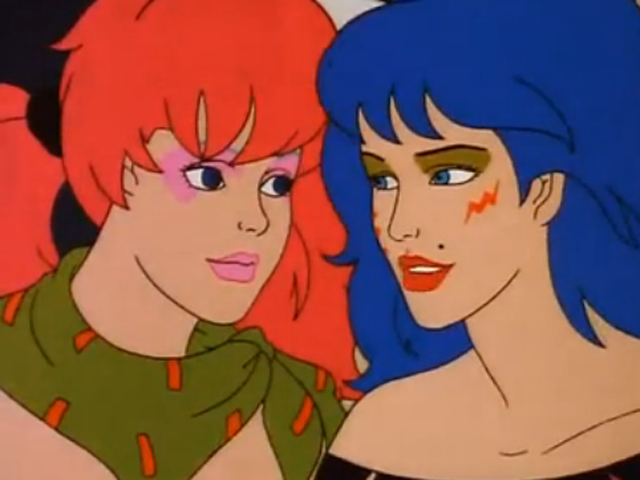 Later on, Kimber and Stormer's album, "Back to Back," went double platinum, and the girls decided to return to their own bands. "You gave me something no one else ever did," Stormer said, and they hugged so tight.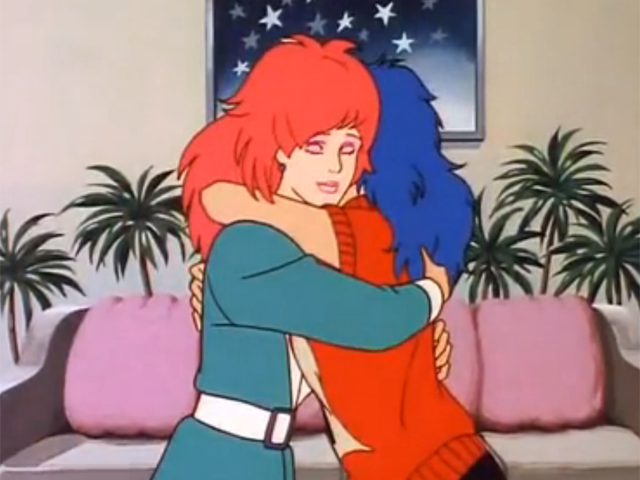 More actual dialogue:
Kimber: It was fun, Stormer.
Stormer: It was more than fun, Kimber. We learned a lot about each other.
Kimber: Yeah, and a little bit about life.
And then Stormer drove away in her Porsche.
The all-new Jem and the Holograms comic book hits shelves next month. I can't wait to see Kimber and Stormer be even gayer. Also, I'm excited because some of the band members are black, which is how it was meant to be on the original cartoon, but the network overruled it. Here are some images from the new comics.
Show's back on, Synergy!