My Twitter feed was spewing a collective stream of awful when I woke up yesterday. Late Monday night the hundreds of NYPD officers overtook the Occupy Wall Street protestors at Zuccotti Park, making mass arrests and confiscating everything at the camp. There's a lot going on with this right now, a lot of good coverage and a lot of opportunities for you to make up your own mind, and it's worth learning about the mass arrests, media intimidation and police brutality related to  Occupy Wall Street around the country in places like Portland and Oakland as well. But I will catch you up on the goings on in NYC.
Many people tweeted the raid as reported by Boing Boing, and there was live-streaming available for much of the evenings events including the destruction of the kitchen. And, as noted on Times Up!'s Facebook page, they confiscated those awesome generator bikes: "we just lost 15,000 dollars worth of stuff no warning police came the park occupied wall street street new york city."
Yesterday several people were reporting that the library of over 5,000 books was destroyed in the raid. In response,  Mayor Bloomberg assured everyone that the library is safely stored at a sanitation garage and will be ready for pick-up today.  I can only imagine the mess it will be to try to reclaim the books along with the many other personal goods confiscated during the raid, which were reportedly tossed together in the back of sanitation trucks and shipped uptown.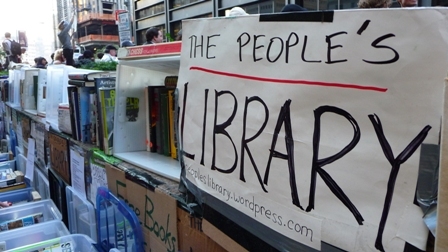 Incredibly troubling is the fact that journalists were detained during the raid:
Journalists at the overnight raid of Occupy Wall Street's New York encampment were kept at a distance from covering it Tuesday, and several were arrested, handcuffed and hauled onto police buses along with hundreds of protesters. At least half a dozen journalists were among those arrested in and around Zuccotti Park and at other protest sites in downtown Manhattan, according to demonstrators and other journalists who photographed and filmed their peers being taken into custody.
There's even video of journalists being kicked out the park while trying to record the raid.
Why did they evict, and why now? The mayor is saying it's in response to a letter from Brookfield Properties. Could be, but according to Wonkette, it gets grosser! Turns out, the police evictions at several OWS camps may have been coordinated:
Remember when people were freaking out over the Patriot Act and Homeland Security and all this other conveniently ready-to-go post-9/11 police state stuff, because it would obviously be just a matter of time before the whole apparatus was turned against non-Muslim Americans when they started getting complain-y about the social injustice and economic injustice and income inequality and endless recession and permanent unemployment? That day is now, and has been for some time. But it's also now confirmed that it's now, as some Justice Department official screwed up and admitted that the Department of Homeland Security coordinated the riot-cop raids on a dozen major #Occupy Wall Street demonstration camps nationwide yesterday and today. (Oh, and tonight, too: Seattle is being busted up by the riot cops right now, so be careful out there.)
The "coordination" that Wonkette is referring to is theorized based on conference calls that are revealed to have taken place between leaders of numerous occupied cities, some reports claiming as many as 40. Speaking with the BBC, Mayor Quan of Oakland said that she was "recently on a conference call with 18 cities across the country who had the same situation," although she denied that the conference call represented a coordinated effort, and was instead just an instance of "comparing notes." Other officials have also insisted that the conference calls weren't an effort to create a joint eviction campaign, but were instead more like "group therapy." From the Las Vegas Sun:
"It was completely spontaneous," said Chuck Wexler, director of the Police Executive Research Forum, a national police group that organized calls on Oct. 11 and Nov. 4. Among the issues discussed: safety, traffic and the fierceness of demonstrations in each city. "This was an attempt to get insight on what other departments were doing," he said.
The park has been re-opened after lots of court orders, and reversal of court orders, and breaking of said court orders. About 30 people stayed the night at the park last night, despite a court order dictating that they will now be unable to use tents or sleeping bags.  There are now also about 20 security guards patrolling the grounds. For video of Zuccotti Park and documentation of some of the legal communication involved, check out WNYC's coverage.
Maybe you think this is a bunch of distraction from actual political action, or think these freeloaders should quit it with the silly drum playing. Maybe you think they should just get a job. And also, maybe you think these people are breaking all sorts of laws and had it coming. But even if you think the encampment was dangerous and people shouldn't continue to camp-out in this public space, is there a place to agree that attacking protestors in the middle of the night and prohibiting journalists to report on it as it happens are two signs that history will likely not be on Mayor Bloomberg's side?