Have you noticed how every time anyone brings up something gross about lesbian sex, we always link to the fingernails post? That's because the internet severely lacks the lesbian/bisexual/queer-girl-person sex equivalent of Cosmopolitan's Sex Stories or Sassy's Mortifying Moments. 
You probably have an embarrassing sex story you want to share with the internet. For prizes! Your story can be short or long (50 to 4,500 words sounds about right) and can be cringe-worthy or hilarious.
The winner will receive the Pop Your Top kit from Good Vibrations (a version of this kit was previously reviewed by NSFW Sunday), which includes:
+ Hitachi Magic Wand
+ Fuchsia Pop Top Deluxe Silicone attachment
+ 2 oz. bottle of Please Liquid Lube
+ And internet fame!
Submit:
Your most embarrassing or most hilarious (or both!) sex story.
To:
Carolyn via ASS personal messaging
By:
This Friday, January 6. Entries will be shared on Autostraddle (anonymously!) next week and readers will be able to vote for the best/most horrifying.
And, because what is life without awkwardly transitioned examples, there are awkward sex stories from the team and some ciphered from your embarrassing injury-related stories on this post to start things off:
+ "I'm not too sure what it was since I couldn't tell my mom because I couldn't come up with a reason and I sure as hell was not going to say 'hey mom, can you check my arm out?' 'What happened?' '[Ex-gf] tied me up and fucked me on her parent's couch.'"
+ "So one time my girlfriend scratched open my clit with her lip ring, and it bled and kept tearing open for weeks. Girls, I know we love lip rings, but make sure your girl's doesn't have a sharp exposed edge to tear your clit in half. because it will take about two months to fully heal."
+ "The first time I had pre-meditated casual sex, she wanted to use saran wrap as a safe sex barrier; I wanted to stay long enough for public transit to be open due to not wanting to take a taxi. The night itself was one of those ideas that seemed like a good idea when we were still in a bar, but things got progressively worse as we got progressively naked. The embarrassing part is that much later, a mutual friend connected the two of us from the description 'that girl I had terrible sex with.'"
+ "After a drunken dinner with the girl I was dating and another lesbian friend, we went back to my apartment and everyone started hooking up. I mostly sat back and watched as my friend went down on the girl I was dating. Then my friend realized what time it was and she had to go, but in the chaos of trying to get clothes on and out of my teeny tiny bedroom, both of them literally tumbled out the door into the hallway, just as my super-uptight maybe-homophobic roommate we never talked to was making her way to the bathroom. She saw us — in various states of undress, clearly really drunk, and I guess decided to hold it. Then the girl I was dating yelled 'I'll fuck you with a fucking strap-on!' down the hallway. The roommate moved out the next week."
+ "Last month I finally hooked up with a really amazing (and shy) girl I'd been chasing for a long time. We had a deep talk on my couch that turned into that great moment of finally kissing -there'd been six months of buildup. Trying to be all smooth, I interrupted the moment to turn the futon-couch into a bed – risky move that slightly killed the buzz. But it was okay! And we kept hooking up. And then we rolled too far to one side and the couch-bed completely flipped over, depositing us onto my cold kitchen floor. It actually kind of hurt and we were both all worried that the other was embarrassed and started asking each other if we were okay, which is just always awkward. And then, incredibly, my roommate (who is a straight dude) came home from work (early). He just stood in the doorway for a moment. I was topless. For like 30 seconds we were all frozen with these weird smiles on our faces. Finally he was like, 'you guys don't need to be awkward about this.' Came inside, sat down, and started rolling a joint. It wasn't too mortifying in retrospect, actually pretty funny."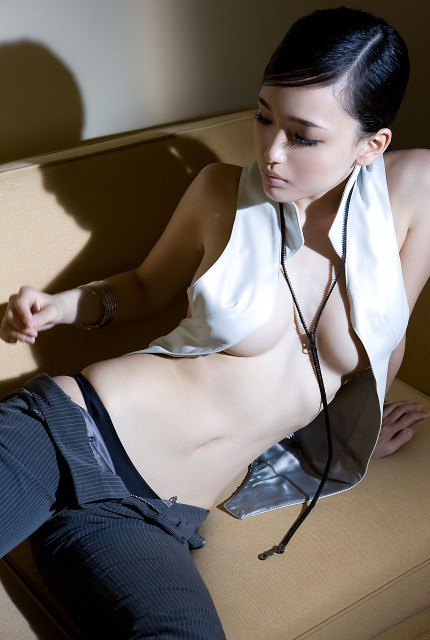 + "I was 18 and didn't really know yet how 'loud' I was in bed. So I was having sex with my girlfriend and I think we thought her roommates weren't home. So we have sex, etc., have an orgasm, it's over, and then we start to hear a slow-clap from the room next to hers, slowly building into two people clapping and yelling '[me] got fucked!' Her roommates were totally home and I was totally mortified."
+ "So when you're making Thai Green Curry for your girlfriend and you chop up all the spicy hot chillies and then you wash your hands a thousand times? A THOUSAND TIMES ISN'T ENOUGH. Because later on when you're eating her out and then you suddenly decide to use a finger she's gonna start screaming like her vag is on fire NOT IN A GOOD WAY. This will last for two days and no amount of pussy washing will make it go away any sooner. She said it was about the most painful thing she's ever felt in her life."
---
Some other things happened in the world of sex this week:
+ According to the Female Sexual Function Index, which uses a 36-point scale of sexual satisfaction that includes orgasms, arousal, and pain levels, women who drink two glasses of wine a day report having better sex than those who drink less:
"Women who drank zero glasses of wine scored an average of 24.4. One glass a day drinkers clocked in at 25.9. And the two glasses per day crew blew the competition away, amassing a score of 27.3 on average.

Researchers were mum on whether or not the drinkers were really enjoying sex more or if they were just already sort of tipsy, so more prone to broach bawdy topics with people in lab coats."
+ Good Vibrations is throwing a huge year-end sale for so many of its most popular sex toys.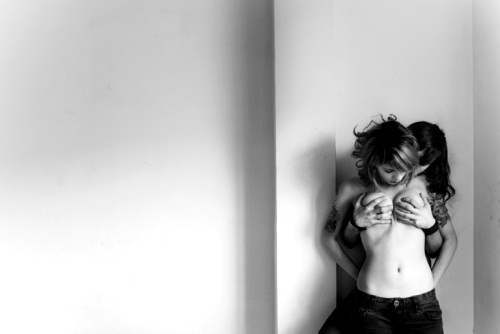 + The Year in Sex 2011: Includes a large photograph of Kristen Stewart.
+ The 10 Best Exercises for Your Sex Life: Probably a lesbian version would be more wrist-focused.
+ "About 2 years ago, I was gifted a beautiful big, curved glass dildo. It was love at first sight and quickly became one of my favorite sex toys." — Jiz Lee
+ NAKED GIRLS in the 2012 Pirelli Calendar!
"It's out! The 2012 Pirelli Calendar (Shot by Photographer Mario Sorrenti) is in print. The tradition stays the same, the calendar is never on sale and unless you're a celebrity (or a Pirelli Tyre Dealer) seeing these photos online is as good as it's going to get unless someone leaks some high res images in the next few days!"
+ Future Sex! This is about like, science and stuff, which will change the future.
Disclaimer: All of the photographs on NSFW Sundays are taken from various tumblrs and do not belong to us. All are linked and credited to the best of our abilities in hopes of attracting more traffic to the tumblrs and photographers who have blessed us with this imagery. The inclusion of a photograph here should not be interpreted as an assertion of the model's gender identity or sexual orientation. If there is a photo included here that belongs to you and you want it removed, please email bren [at] autostraddle dot com and it will be removed promptly, no questions asked.