ALICE IN WONDERLAND:
Gawd we hate it when the lad mags think of it first: 92 Naughty Alices in Wonderland. (@coed)
NSFW EVERYDAY:
An Intern who shall remain nameless sent us this tip:  "I just spent too much time on this site. It's like a whole new look on cleavage. Instead with no cleavage."
DEFINITION OF SEX:
Much to our incredible surprise, a recent survey on the "definition of sex" revealed that people are not sure how to define sex. Gawker interprets the results: "Also 30 percent of people think oral sex is not "sex" and 20 percent believe that anal sex is not "sex" even though they both have "sex" in the title. That's like saying there's no "doom" in The Temple of Doom. It also means that about the quarter of the population think that all gay men and lesbians are virgins." (@gawker)
GIRLS LIKE US:
From European lesbian magazine Girls Like Us: Issue #6's Hamptons Heat offers vintage homoeroticism from Issue #6 and Issue #5 provides vintage dildos in Space.
ADD SEX:
For people with ADD/ADHD, "sex is a common 'high risk' behavior that many untreated people with ADHD tend to indulge." So there you go, Adderall fixes everything. (@huffpo)

ART:
"With the exhibition "Controversies" Kunst Haus Wien presents around 100 photographs that have been subject to intense controversy or legal proceedings. The exhibition shows works from photographers like Man Ray, Robert Capa or Lewis Carroll as well as Henri Cartier-Bresson, Oliviero Toscani, Richard Avedon, Robert Mapplethorpe or Todd Maisel. The images shown cover the history of photography from its early days until today." (@kunsthauswien)
Marc Quinn, best known for his scandalous rendering of a pregnant Britney Spears on all fours presents FTM porn star Buck Angel. (@next)
Also um; New York Gallery Celebrates the Vaj – It's Art, People! (@69adget)
NAKED:
Freja Beha Erichsen is full frontal for Purple Magazine in black-and-white, and boy is she skinny. (@fleshbot)
PORN:
Butch Lesbians and Queer Porn: "Despite the lackluster reputation of lesbian porn, we enjoy all kinds, including gay porn." (@stud with swag)
The 2010 nominees for the Feminist porn awards announced. (@popmycherryreview)
AVN found one study that swung their way: Study Shows No Harm From Porn, Maybe Some Benefit: "Diamond's conclusion, which he readily admits flies in the face of common assumptions held by many today, is that there is no objective, verifiable evidence that exposure to pornography causes any of the societal ills ascribed to it—including sex crimes, the abuse or disempowerment of women, and a host of negative effects on individuals or families—and that it may in fact help." (@avn)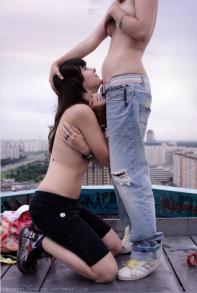 LEZZY SEX BLOG WINNERS:
Sugarbutch won the Lezzy Award for best Sex/Short Story/Erotica blog (Autostraddle won best New Blog BTW!) last week.
Semi-finalists were Essin' Em, "your friendly neighborhood feminist, queer, Femme, horny, politically active, questioning, pondering sexologist and sex educator," and Scintillectually Yours, written by a "suburban mom" and self-described femme providing "sexuality for your body and mind."
BEING PHOTOGRAPHED:
Ex-Nymphet: "Each photographer has an odd request that they state as if it is common sense. One does not want me to have any body hair whatsoever. One wants me to show all my teeth when I smile. One does not want me to smile at all. One will only use special lenses that have to be put into the camera under a black cloth. I smile, and wait, and think of Bettie Page. In Art class I make a heart-shaped papier-mâché box to store my earnings. I am saving up for a laptop so I can sit in coffee-shops and write a novel about these experiences" (@the rumpus)
REAL PEOPLE:
Poly Patao Productions: "Poly Patao Productions is dedicated to producing sex-positive workshops, performance pieces, play parties, panel discussions, teach-ins, social/political groups and educational opportunities that are specially geared toward queer women, transgender, multi-gender, genderqueer, gender non-conforming and gender variant folx of color."
HOMOSEXY TUMBLR ALERT:
Judith and Jill: is 100% girls making out. Maybe it'seven better than our Girl-on-Girl Gallery: Girls on Girls! Judith & Jill described: "We are Judith and Jill, and this is a place where we keep stuff we found on the internet. Sometimes, we put our stuff here. The fun part is to tell which is which ;-)"