Welcome to the beginning of the darkest time of year, when often there is nowhere else to be than the little dip in the sofa where you often find yourself seated to watch something glorious and gay on the television set. We are here with a plethora of options you could potentially enjoy if you like lesbian, bisexual, queer and trans characters. These are of course simply what we have identified thus far, who knows what else will come onto our radar as the month progresses but we will all keep in touch about it!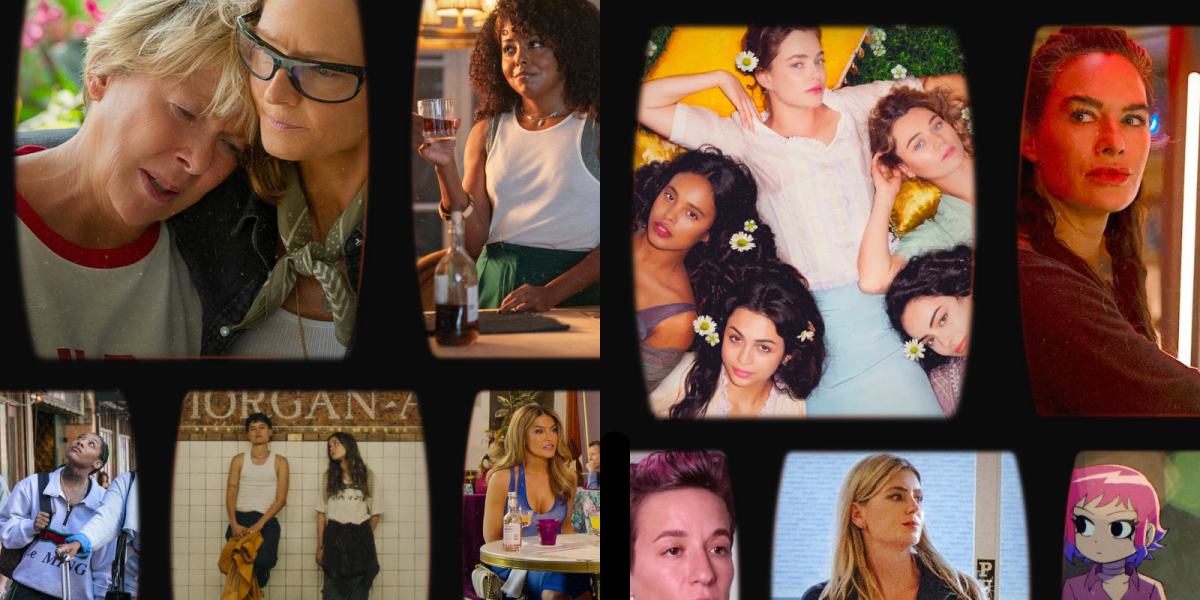 ---
Netflix
Six Feet Under (Seasons 1-5) – November 1
My favorite show of all time is coming to Netflix!!!! There is pretty minor queer women content that doesn't show up until mid-season, but uptight gay undertaker David Fisher is central and iconic throughout and Brenda Chenoweth matters to me deeply.
Nyad (2023) – November 3
Nyad is the true story of competitive swimmer Diana Nyad (Annette Benning), who at the age of 64 is setting out to swim from Cuba to Florida, a 110-mile swim. Drew says it's "a joy to witness [Jodie] Foster" step fully into her dyke energy" as Nyad's best friend, Bonnie Stoll.
Selling Sunset: Season 7 – November 3
This show is about selling sunsets to people who have enough money to buy mansions with swimming pools in the hills of sunny southern California, where we will see "Oppenheim Group agents navigating explosive office politics, evolving friendships, a tricky housing market, and jaw-dropping new listings." Most importantly to us here is that Chrishell Stause is gay and will be present for this event.
Escaping Twin Flames: Season One – November 8
A three-part docuseries telling the story of the Twin Flames Universe, which is basically a cult led by a couple in Michigan who have convinced their followers that they know the secret to finding their Twin Flame and thus achieving happiness forever! Prime Video did a series about Twin Flames last month, and there is some truly fascinating stuff in here from a queer perspective, specifically the turning point in the cult's evolution when they shifted towards intergroup matchmaking, which meant convincing a solid chunk of their almost-entirely female membership that they are, in fact, men.
Mutt (2023) – November 16
Over the course of 24 hours, a trans man named Feña experiences the extremes of human emotion when he bumps into his ex-boyfriend and then a whole host of people who disappeared when he transitioned have suddenly returned to his life. Drew wrote that in a world full of films that don't portray the trans experience very well, this is the rare film that does.
Scott Pilgrim Takes Off: Season One – November 17
The Scott Pilgrim Takes Off animated series — hotly anticipated by the queer nerds who have helped the movie achieve cult status — brings back all the original characters and actors of the 2010 film, which was based on based on the graphic novel series. So this will be an adaptation of an adaptation. Returning cast include queer actor Aubrey Plaza returning as Julie Powers and Mae Whitman returning as the "bifurious" ex-girlfriend of Ramona Flowers, Roxie Richter. The American-Canadian-Japanese anime will have eight episodes.
Rustin (2023) – November 17
Produced by the Obama's production company, this film we are all very excited about is based on the true story of gay activist Bayard Rustin and the work put in with Martin Luther King, Jr, to organize the 1963 March on Washington.
The Dads (2023) – November 17
This short film directed by Luchina Fisher and EP-ed by Dwayne Wade and Jon Marcus follows five Dads from different backgrounds coming together for a fishing trip in Oklahoma with Matthew Shepard's father with one thing in common: they love and want to support their transgender kids.
---
Prime Video
Pretty Hard Cases: Season 3 (Freevee) – November 29
Adrienne C. Moore and Meredith MacNeill star as Kelly and Sam, two very unlikely partners, in this CBC comedy's final season. Queer actor Karen Robinson is returning as their beleaguered unit commander and Tricia Black as a homicide detective Tara Swallows.
---
Max
Rap Sh!t Season Two – November 9
In Season One of this hip-hop comedy from Issa Rae, Miami rappers The City Girls (KaMillion and non-binary actor Aida Osaman) acheived viral fame and had to reckon with the meaning of that success. Queer actor Jonica Blu Booth plays a stud, the self-declared "Duke of Miami," who joins her estranged high school friends on their path towards success.
---
Hulu
Black Cake: Season One Premiere – November 1st
Based on the bestselling novel, Black Cake spans decades and takes place in Jamaica, Italy, Scotland, England and the U.S.. In present day California, a widow loses her battle with cancer, leaving her two estranged children, Byron and Benny, with a flash drive containing stories about her own journey from the Caribbean to America that will change everything they thought they knew about their family. Benny is a lesbian who hadn't spoken to her mother for eight years after feeling discarded following her coming out.
A Murder at the End of the World: Limited Series Premiere – November 14
I am unclear if they play a queer character in this, but non-binary actor Emma Corrin is starring as a young amateur detective in this series from Brit Marling and Zal Batmanglij. Their character is tasked with catching a killer ravaging a remote retreat before more people turn up dead. We've also got Joan Chen, Raul Esparza and Clive Owen, so it should be a good time! But will it be a gay time? I suppose we shall see.
---
Peacock
Periodical (2023) – November 19
Ahem. "Periodical covers everything from the people who use their period blood for facials and 'free bleed' while running marathons, to the ones who want to forget it exists. The film uncovers the shocking truths, challenges taboos and celebrates the untapped potential of this nutrient-dense blood." Megan Rapinoe is involved!
---
Apple TV+
The Buccaneers: Season One Premiere – November 8
A group of young Americans explode into the "tightly corseted London season of the 1870s, kicking off an Anglo-American culture clash as the land of the stiff upper lip is infiltrated by a refreshing disregard for centuries of tradition." Sent over the ocean to secure husbands and titles, the girls learn so much about themselves and each other and most importantly, trans actress Josie Totah plays queer character Mabel Elmsworth, who is spotted kissing Honoria Marable (Mia Threapleton) in the trailer.
For All Mankind: Season Four Premiere – November 10
Unfortunately Jodi Balfour will not be returning in a regular capacity as NASA astronaut-turned-President Ellen Waverly, but she will appear for a moment just to wrap up her storyline.
---
MGM+
Beacon 23: Season One Premiere – November 12
You know that feeling when you are in the farthest reaches of the Milky Way and a government agent and a stoic ex-military man find themselves trapped inside a beacon that serves as a lighthouse for intergalactic travelers? Me too, and I'm so glad it's finally going to be represented on screen! Lena Hedley has a lot of tattoos and wears a muscle tee throughout this trailer and does eventually end up, for a brief moment, kissing a woman and then topping her in outer space?
---
Lifetime
You're Not Supposed To Be Here (2023) – November 4
Pregnant lesbian couple Zoe (Chrishell Stause) and Kennedy (Diora Baird) are struggling with work-life balance and thus accept Kennedy's boss' invitation to go on a little babymoon getaway in the woods. But they get out there and shit gets SINISTER. Lifetime movies are usually also available on Hulu, unsure when or if this one will be!