And just like that, the madness of Black Friday and Cyber Monday are over and everyone is taking perfectly lit selfies with their perfectly decorated holiday trees. We will not be among them this year. As much as I love watching my spouse attempt to tie a tree to our compact Hyundai Elantra, we've decided to give ourselves a break. Why? I'll give you a hint. It starts with a "t" and ends with "oddler."
We let our kiddo have a safe amount of independent play and we need to be able to let her be by herself for 15 minutes while we make dinner or do chores or run upstairs to grab something. So that means that everything in her domain must be child-safe and/or not a big deal if she knocks it over and eats it. The very idea of child-proofing a Xmas tree sounds a lot like something we don't want to bother with. A quick google search confirms it. So we're treeless this year, but we still plan to entertain and have fun!
How about you, fellow Yule/Xmas/holigays celebrants? Are you in a similar situation? Maybe you can't afford a tree? Or your place is too small for one? Or you have a destructive pet or small human? Or you're allergic? Or you just don't to be bothered? Well, you're in luck! I've got some ideas for all of us to inject some sparkle and holiday spirit into our living quarters without the typical pièce de résistance.
---
Tree-Like Vibes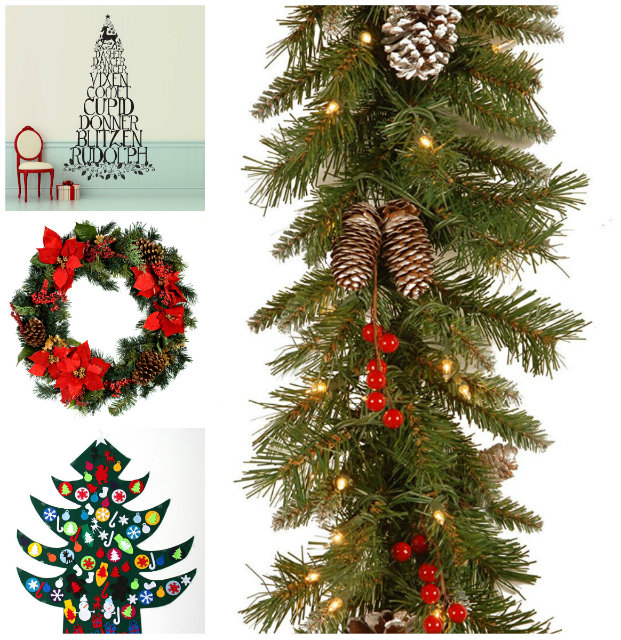 You know what I love to buy after Xmas in the bargain bins at Target? GARLAND. Just yards and yards of garland. Even better if it's lighted garland—though it's pretty easy to wrap some cheap lights around some cheap garland and make your own. Hang garland on a mirror or a doorway. Wrap your staircase rail. Drape some around your windows. Display it on your mantel. Arrange it in a decorative bowl and throw some pinecones or ornaments on top for an instant tree-like centerpiece.
Garland is so fucking versatile. It can be used inside and outside. You can even hang ornaments off it like a tree! I like to cover the rail of my stairs in lighted garland and hang the holiday cards we receive off of it with metal ornament hangers. You can get it with flocking to look like snow or with berries and pinecones already nestled in. And it comes in all sizes and all price points! If you're really into authenticity and want that fresh tree scent, you can buy real garland from your local tree place or online. You can buy artificial garland literally anywhere: at your local dollar store, at a craft store, at a big box store, or online. Pretty soon it'll be like you're living in a magical winter forest and you won't even remember you don't have a tree!
Complement your garland-draped winter wonderland with a pretty holiday wreath! Much cheaper and easier to care for than a tree and you have so many options from whimsical to weird. And it's an easy DIY if you're into that and you can make it out of everything from pine boughs to coffee filters to straws!
Want to go really non-traditional? Put up a tree wall decal or, like, a million tiny tree decals! Or hang up a super cute and kid-friendly felt tree that's fun and safe to play with!
---
Sparkle and Shine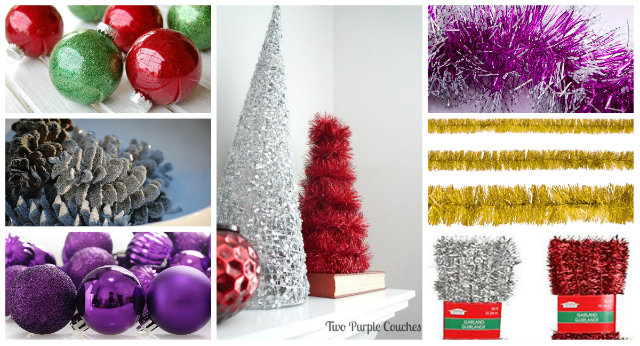 The queerest part of the holidays is the seasonal embracing of glitter. It's like Pride, but mired in various religious traditions! So get your craft supplies out because it's time to sparkle up, friend!
Glitter ornaments are a perfect thing to make with friends or with kids or tucked into a lovely weekend relaxation sesh. Here's a tutorial that requires glitter, floor wax, and inexpensive plastic bulbs that you can get at a craft store or online. These are so simple! Even I could make these! The best part is, these ornaments don't shed glitter all over the place! Or maybe you're into that, in which case you should forage (or buy) some pinecones and make some frosty glitter pinecone ornaments! If you're short on time or lazy about crafts (like me), you can always buy some cute sparkly ornaments at a store near you!
What to do with these ornaments since you don't have a tree? Hang them from your garlands! Put them in pretty bowls and containers. Or make a mobile with an embroidery hoop. Think outside of the Xmas tree box.
How about some tinsel to shine up the place? Not the tinsel strands that are an actual nightmare, tinsel garland! Yeah, garland again! Same rules apply! Go wild! One of the best and easiest craft ideas my mom ever shared with me was how to make decorative tinsel trees! So easy! So pretty!
---
Light It Up
You know what the easiest DIY project is for simple holiday light statement decorations? This is my go-to. Take some string lights and cram them down into a glass container like an empty wine bottle, glass vase, candle holder, or like literally anything. Plug them in or turn them on (if they're battery powered) and ta-da! Instant cozy ambiance! You can pay an upcycler $17 on Etsy if you don't have it in you to procure your own empty wine bottles and string lights. It looks really classy, I swear! Also a good hack for centerpieces for fancy dinners or events!
Twinkle lights and string lights are the answer to making your home feel cozy. That's the best part of the tree, honestly, isn't it? When you put on a fire (or the fireplace video on your TV or hang up your electric fireplace) and snuggle up with a hot cocoa by the soft lights of the tree? So make or buy a twinkle light curtain and throw some twinkle lights around your bedroom mirror or hang them across your ceiling and get cozy!
---
What are your favorite ways to decorate for the holidays (that don't involve a tree)? Let's hear'em!
SaveSave
SaveSaveSaveSave