Look we both know why you're here — cheese board inspiration and camaraderie — but let me get something out of the way first: cheese boards are the chillest eating-related thing you can endeavor to achieve on this fine planet. Who knows what chill things await us on Mars, but as far as Earth goes, it's cheese boards. Let's embrace that chill.
There is no wrong way to board cheese. There are varying degrees of fanciness, yes, and of ease, ambition, selection, and balance, yes! But none of these degrees are wrong. Is there cheese on a board? Then you've made the perfect cheese board, friend. No cheese on it? Not a cheese board. Hey, call it a snack board instead. Problem solved.
Today I'm taking you through the basics of boards, sampling four entire mix-and-match board situations, sharing my reasoning for choosing the things I chose, giving a bunch of personal cheese board feelings, and including some recipe suggestions in case you feel like truly giving yourself the life you deserve. (ALSO THERE'S A THING FOR VEGANS IN HERE I don't know if I've mentioned that yet.)
---
Board Basics
Generally speaking, you might hope to include the following types of foods:
Briney (olives, marinated artichoke hearts, caperberries)
Fruity (jams, literal fruit, the wine)
Fresh (arugula, finely shredded cabbage, grapes, apples)
Fermented (the cheese, pickles)
Hard (crackers, bread sticks, nuts)
Soft (roasted vegetables, onion jam, the cheese)
Salty (smoked fish, nuts, cured meats)
Sweet (chocolate, shortbread cookies, honey)
You'll notice lots of those categories overlap and yet the world spins madly on. When it comes to your cheeses, one popular rule of thumb is Something Old, Something New, Something Goat, Something Blue. You could also go with Soft, Hard, Funky, Mild. Or even something like Safe, Weird, A Different Color, Rolled In Something.
If you poke around the internet looking for cheese board ideas, you'll quickly realize that everyone seems to agree on at least one thing, which is that an ideal selection of cheeses clocks in somewhere between three and five. Ok fine, but also? Fuck what the man says. If you want to put two or six or 20 cheeses on a board, do the damn thing. Want to pair them willy nilly with whatever the hell you have in your kitchen? Want to spend hours at the market choosing items that will perfectly complement and balance each other? Darling, yes. Find your destiny.
What are you serving this on? It truly doesn't matter because it's going to be amazing, but I like to serve single/two-person boards on an olive wood slab or in a shallow pasta bowl. If I'm setting up a grazing station, I like wood cutting boards or marble slabs.
You'll also need some cheese knives for self-serving and, depending on what you're offering, individual spreaders and forks for each person so they can deal with everything once it's on their plates.
All of your artistic sensibilities or the lack of them will come out to shine when it's time to arrange your boards, and that's GREAT. Everything is fine! Some people arrange things by the potency of the cheeses from mild to wild. Or maybe you like a bountiful haphazard feel, where it looks like the board itself just erupted with food. Or you might want to do a minimalist approach where everything is kind of sectioned off and organized by complementary flavors. Do it all! Try everything.
I like to add a pile of greens to every board. Arugula is peppery and textural without being watery, and even though it wilts slightly after a while, it's still not mushy or embarrassing. Fresh baby spinach and baby kale also hold up.
Eat the rind! Unless it's wax.
Definitely try new things! Like pickled vegetable varieties, interesting crackers, different cheeses obviously, and every kind of smoked thing you can find. Try everything. People say "just experiment!" and maybe you roll your eyes but honestly, JUST EXPERIMENT. Almost everything you'll read about food is either an opinion or a suggestion and nothing is in stone. Do anything.
Bread vs Crackers
The question that keeps you up at night: bread or crackers? And if bread, toasted or simply warmed or altogether untouched? Sliced thick or thin? Ripped into chunks?! What KIND of crackers??!
I say go with bread if you want a chewy, filling deal that begs for soft cheeses and any dippable side item. Slice it, brush it with some olive oil and give it a quick light toasting, or wrap an unsliced portion of bread in foil or parchment and put it in a 325 degree oven for 10+ minutes for a softer thing you can rip apart with your hands. Go with crackers if you're looking for a super low-maintenance affair that does well with all cheese options. As for types of crackers, I support any decision you might make here.
---
A Cheese Board for Wines
Yes there are certain cheeses that pair perfectly with certain wines, that is true. I love a fresh goat cheese with a rosé; an extremely funky brie with a cabernet sauvignon; a sharp hard cheese like aged cheddar with a sauvignon blanc; um, those are my three favorite kinds of wine to drink, so that's my whole repertoire when it comes to the basics. I don't know if these are the Officially Good Pairings and I don't care. Also, if you scrambled all of those cheeses and wines around and blindfolded me, I would still have a great time and so would anyone in their right mind because cheese + wine = mhm yes. So again I say GO CRAZY or GO BY THE BOOK just GOoooo to the cheese store and have fun wheee!
The Cheeses
Syrah Soaked Toscano: Like a mild parmesan, and the syrah soak gives it this sort of spiced sweetness right at the end.
Cambozola Blue: An entry-level blue that's buttery and earthy.
Camembert: A mid-level situation for brie fans looking for something new. Funkier than any entry-level brie, but not as funky as the funkiest brie, but also not without its own, solid funk.
Chèvre: Fresh plain goat cheese. You can roll your own in anything you'd like, including Everything Bagel spices??!
The Other Stuff
Rosemary Flatbread Crackers
Seeded Multigrain Crackers
Chalkidiki Olives: I prefer my olives with pits because it gives me something to do and I think they taste better.
Grapes
Macadamia Honey: I think honey goes well with any cheese but maybe I'm wrong, maybe you can find me a cheese that tastes worse with honey. Like, maybe there's at least one?
Cranberry Sauce: So, so good with all the earthiest cheeses because it's tart as heck.
Pecans and Almonds: Raw nuts are great, so are roasted ones or smoked ones. All nuts are welcome here.
Glazed Bacon: I meeeaaaan… come on.
---
A Cheese Board for Beers
Yikes there are also Officially Good Pairings for cheeses and different types of beers that I could spend time researching, but I tend to stick with the very simple idea of having all the things that I'd normally eat with wine. My favorite pairing is the grapefruitiest IPA I can get my hands on, an extremely sharp aged cheddar, a mustardy mustard, and a light airy cracker. Anything else I could add to that lineup would just be gilding the lily but look at me here, gilding away!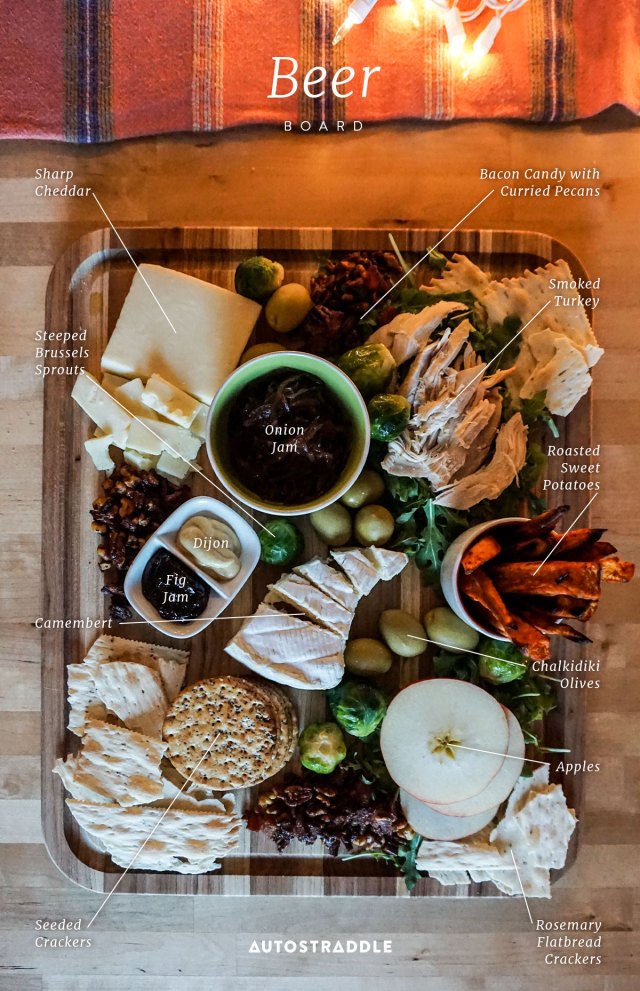 The Cheeses
Sharp Aged Cheddar: Sometimes a paper-thin slice is more fun than a thick one. Let your heart be your guide.
Camembert: This went so well with the onion jam (recipe below) that I almost cried.
The Other Stuff
Rosemary Flatbread Crackers: This is what I had on hand (because I bought them for the express purpose of this post) but I would've loved a salty stoneground wheat cracker with the cheddar.
Seeded Multigrain Cracker
Chalkidiki Olives: I'd skip an herb-marinated olive for a beer pairing, but don't let that stop you from living your dream.
Bar Snack Brussels Sprouts Steeped in Olive Oil and Fish Sauce: I usually go for roasted sprouts but wanted to try this recipe from Gabrielle Hamilton, queer chef and owner of Prune in NY!
Smoked Turkey: Leftover from holiday cooking and a natural bff for the cheddar.
Apple Slices
Roasted Sweet Potatoes: A properly roasted vegetable is still delicious at room temperature, so go crazy.
Bacon Candy and Curried Pecans: Aaaayyyyy the recipe calls for cashews but I used what I had and I don't regret a thing.
Dijon Mustard
Fig Jam
Red Onion Jam: Didn't realize I'd fall in love with an inanimate savory jam but here we are. If you're serving this particular onion jam, provide your guests with tiny forks so they can get a better handle on all the divine onion strands YES I SAID DIVINE instead of globbed spoonfuls. This goes really well with soft cheese on a multigrain cracker with a pile of trusty arugula.
---
Personal Cheese Boards
Ok, cheese boards are widely revered as an easy party pleaser, but lo, hark, what about this party of one? This party of YOU. A personal cheese board is something you deserve, with its careful arrangement and customized variety, and its love. Hot damn! Yes! You have done a good or difficult or boring or harrowing thing at some point in your life and now you're entitled to an evening alone with your own exclusive cheese board.
Autumn Board for One
I incorporated seasonal fruit and scattered around some leftover fresh sage. You could also include seeds, rosemary sprigs, apples — whatever's calling your name. The Wild Mushroom Pate recipe is so easy to make, and so damn delicious, you'll need to lock yourself in a room and scream about it. This board is vegan except for the dark chocolate!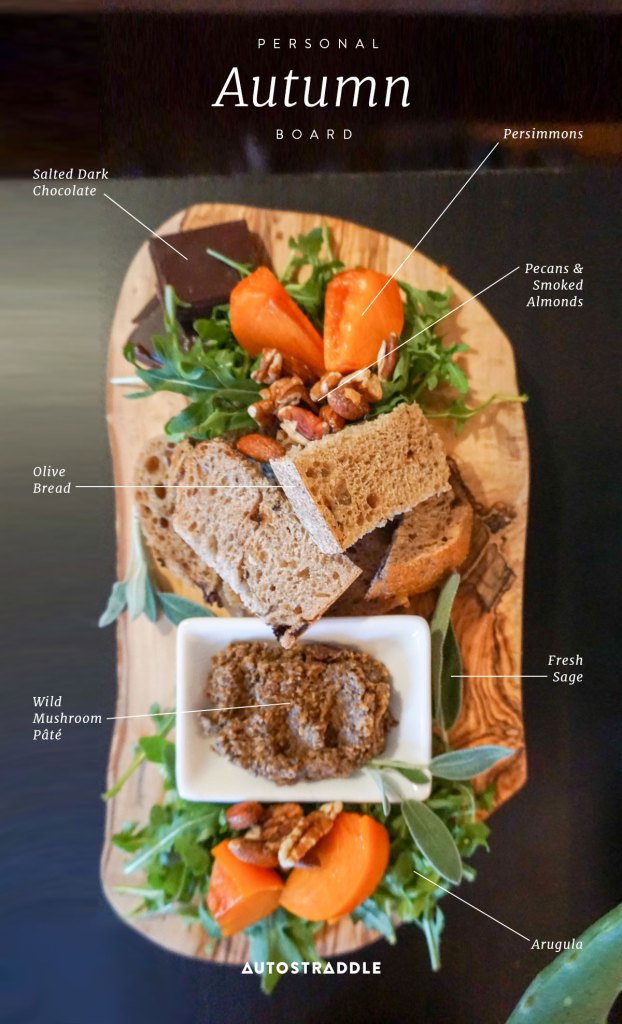 ---
Anytime Board for One
A super simple setup focusing on one cheese and the accompaniments that make it a star. Caperberries pair so well chèvre that it's crazy. Instead of getting a hit of herbs from crackers or cheese, I went with marinated artichoke hearts.
---
You're up! Tell me everything you've ever wanted to say about cheese boards. Also, all queer cheesemongers are officially asked to share autumnal and wintery cheese recommendations please! If you're looking for more cheese feelings and pairing ideas, Cheese Sex Death has you covered, including this Trader Joe's Cheese Guide that I bet you could get some use out of.