Welcome back to No Filter, a weekly gathering of the best celebrity Instagram posts the universe has to offer. This week, a bunch of famous people made cute faces while doing enviable things. I didn't change out of my pajamas or talk to another living soul for two full days. Who wore it best?!??!!
---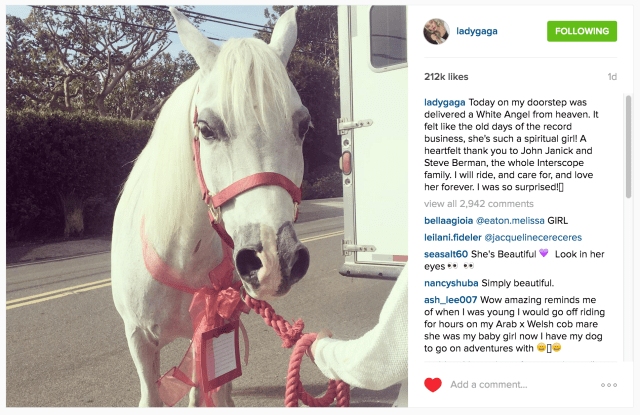 I don't usually cover Lady Gaga in here but this week her record company just up and gave her a fucking horse. Earlier this week, she dedicated multiple posts to her complex process of creating a ton of seriously delicious-looking homemade pasta. Lady Gaga is the MVP of this week…
---

JK, it's definitely Laura Jane Grace, who somehow achieved levels of nerd previously unseen:

@LauraJaneGrace We'll be listening for it! #TrueTransForceRebel

— Star Wars (@starwars) December 20, 2015

…and now there's a petition to get Laura a role in the next Star Wars film.
---
https://instagram.com/p/_j4FZDrmmJ/
An anonymous tipster recently asked us if Angel Haze and DJ Kittens are dating, since they seem to be flirting on Twitter an awful lot these days. Our current theory is yes, but it may be soon to tell. Do you have intel? Please talk to us.
---
https://instagram.com/p/_iE0MLmFV_/
No, you've been watching this video on a loop for ten minutes.
---

This week in Too Adorable To Live, Ellen took Samantha on a skiing trip for her birthday and all of these Ski Free references in the comments are perfect and amazing.
---

Aretha Franklin came to see Danielle Brooks in The Color Purple and allegedly spent the whole time taking pictures on her phone, but look how cute these two are here.
---

Are you sick of celebrities with puppies yet? Cos I could keep going indefinitely.
---

Cara Delevingne has had about enough of the paparazzi, and I can't say I blame her.
---

Leisha Hailey and Camila Grey take in Star Wars in style.
---
Join us next week, when Tegan and Sara's cats ride off into the sunset with Ellen Page's dog on Lady Gaga's horse. It'll be beautiful.