Welcome back to No Filter, a once-weekly dive into the thrilling ocean that is celebrity Instagram. I'm not gonna lie to ya, this has been a slow news week! The world is busy falling apart and the tabloids can't seem to keep up with the TERRIFYING ACTUAL NEWS. In any event, Kristen Stewart's new Chanel commercial is out and it involves her angry-jumping into a wall of glass bricks. You're welcome.
---

Look I don't know how this dog is physically possible either, okay?
---
https://www.instagram.com/p/BYVLj8qnUZV/
Brittani Nichols took home a lifetime achievement VMA for overall cuteness.
---
Author Cara Delevingne took time out of her busy beach schedule to hobnob with Karl Lagerfeld and Joan Collins, I guess.
---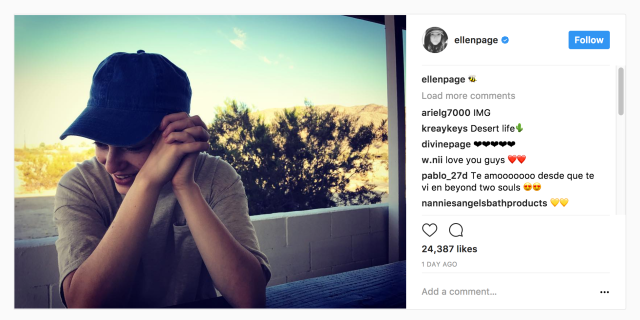 Ellen Page and Emma Portner have hit the "captioning Instagram posts with bee emoji" phase of their relationship, which is gag-inducingly precious.
---
https://www.instagram.com/p/BYU49ivAZfT/
Gaby Dunn, up to her usual shenanigans.
---

WELL OKAY.
---
Someone named a strain of sativa after Samira Wiley's character on Orange Is The New Black; the big surprise is that this didn't exist to begin with.
---

A lot of living in California is just stealing citrus from other people's trees.
---

While Kristin Russo and Samira Wiley are being very California, Danielle is having a real New York moment.
---
Join us next week, we'll be serving hot fruit.