WELCOME TO BRA WEEK! This week and next, the Autostraddle writers and some special guests will be giving you the scoop on over-the-shoulder-boulder-holders and otherwise-inclined chest-covering situations — fashion, history, feelings and so much more.
---
In the cups, hanging between them, or tucked into a side or shoulder strap, these sex toys and safer sex items can all fit into your bra* and are perfect for sex on the go or any time you just don't feel like bringing a bag.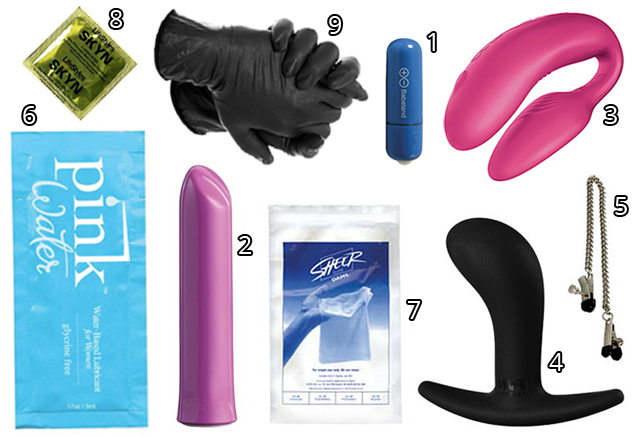 1. Babeland Buzz Vibe ($12) — This tiny watch-battery-powered vibrator is perfect for beginners, anyone travelling super light or anyone who needs only a touch of vibration to get off. It's also waterproof and comes in pink or blue.
2. Tango ($65) — The We-Vibe Tango is everything you'd ever want and dream in a very-slightly-larger-than-a-bullet vibrator. It's made of silicone, whisper quiet, rechargeable, waterproof and super powerful. (Read Autostraddle's review.)
3. We-Vibe 4 ($159) — This small hands-free vibrator stays in place during penetration and hits your clit and g-spot at the same time. This version comes with a remote.
4. Bootie ($34) — This flexible little butt plug is beginner friendly and still fun for anal enthusiasts. It's made of velvety silicone and comes in purple or black.
5. Delightful Clamps ($16) — These alligator-style nipple clamps can be loosened or tightened according to how much pressure you want, making them perfect for anyone interested in anything from mostly the aesthetics of nipple clamps to potentially intense sensation.
6. Lube samples ($2 each, approx.) — Coming in tiny tear-packet travel sizes, samples of lube are the best way to stay wet when it's not practical to bring an entire bottle of lube with you (or when you want to try just a bit of a new brand). Remember not to use silicone lube with silicone toys.
7. Glyde dental dams ($1.75 each) — Dental dams might be pretty unpopular but that doesn't mean they're not a good idea.
8. Skyn condoms ($1 each) — Sometimes queer ladypeople just need condoms, whether over vibrators or dildos or butt plugs or straplesses or, in a pinch, fingers or cut open as dental dams. These ones are lubricated and latex-free.
9. Black Dragon latex gloves ($20 for 100) — These black gloves are perfect for finger play or fisting and are way sexier than the translucent white gloves most drug stores carry. Flip them inside out with clean hands so they stay as clean as possible when you're carrying them around. (If you have a latex allergy, try nitrile non-latex gloves instead.)
*Whether or not these toys/items will fit discreetly in your bra specifically may depend on the size of your bra, and its contents.
---
Feature image of Holley Hudson via prettyplussize.tumblr.com.
Header by Rory Midhani