We're trying a new approach with our news coverage starting this week! Instead of posting two link roundups per week, as we've been doing, we will instead post at least two stand-alone stories throughout the week, with one longer link roundup at the end of each week. Thank you for reading!
---
by Yvonne and Rachel
Man Pleads Guilty to the Murder of Mercedes Williamson
+ On Tuesday, Josh Vallum, a member of the Latin Kings gang, pled guilty to the murder of 17-year-old Mercedes Williamson in an Alabama court. He was sentenced to life in prison. The murder remains under investigation by the U.S. Department of Justice to determine if it was a hate crime. Vallum tried to use a "panic defense" in court, saying he beat Williamson with a hammer once he found out she was trans. However witnesses say he was in a sexual relationship with Williamson and said Williamson would be killed if the Latin Kings found out he was in a relationship with her.
The Daily Dot interviewed members of the trans community about their thoughts on Vallum's sentencing. Elizabeth Marie Rivera, a member of New York's vogue ballroom community, expressed complex concerns about the sentencing.
"It's a double-edged sword: At least something was done, but at the same time it doesn't heal that pain," Rivera told the Daily Dot.
"I started thinking about all my black and brown transgender sisters, and how their cases lay cold," said Rivera. "Why does this case suddenly get this outcome? Was it because he was affiliated with the Latin Kings? Is it because Mercedes was white?"
---
Protests and Police Violence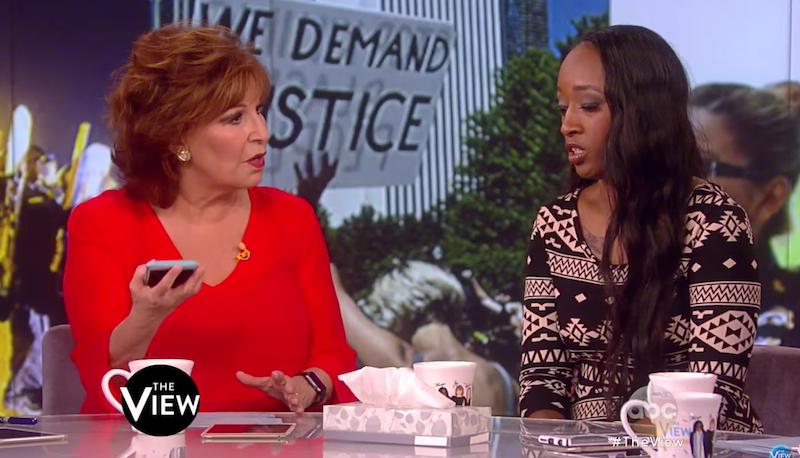 + Diamond Reynolds, who filmed the death of her boyfriend Philando Castile at the hands of police, went on The View to talk about the experience.
+ Protesters across the globe took to the streets this past weekend to demonstrate against police violence; in Baton Rouge, where Alton Sterling was killed, dozens were arrested, including activist DeRay McKesson.
+ Several countries, including the Bahamas, Bahrain, and the United Arab Emirates have warned their citizens about traveling to the US due to the danger of police violence.
+ WNBA team the Minnesota Lynx wore shirts that said "Change Starts With Us: Justice and Accountability," as well as Alton Sterling and Philando Castile's name and "Black Lives Matter" before their game on Saturday; four off-duty police officers who were hired as security for the game walked off the job in response.
+ NBA stars Carmelo Anthony, Chris Paul, Dwyane Wade and LeBron James opened the ESPY awards with a statement about the state of race relations and gun violence in America.
"The four of us are talking to our fellow athletes with the county watching because we cannot ignore the realities of the current state of America," Anthony began. "The events of the past week have put a spotlight on the injustice, distrust and anger that have plagued so many of us. The system is broken, the problems are not new, the violence is not new and the racial divide definitely is not new. But, the urgency to create change is at an all-time high."
+ Alva Braziel of Houston was killed by police officers in the early hours of Saturday morning this week. Officers say that they saw him in the street with revolver; Braziel's wife says he was out with his gun because someone had stolen a horse of his.
+ Chris LeDay, an Air Force veteran who posted the first video of Alton Sterling's death by police, was detained for 26 hours after sharing the video. Police detained him at his job at Dobbins Air Reserve Base and was led out in shackles. He was only released after paying $1,200 in traffic fines.
+ Why the deaths of Latinos at the hands of police haven't drawn as much attention
---
Law & Order
+ Following UK Prime Minister David Cameron's resignation, Theresa May will be the UK's new prime minister, and will be the first woman to hold the office since Margaret Thatcher.
+ Chelsea Manning's attorneys have been able to speak with Chelsea after initially being denied contact after she was hospitalized last week; they are now confirming reports that she attempted to take her own life, and continue to express dismay that that confidential medical information was leaked to news media. They say that Chelsea would like to focus on her recovery and not be burdened by further concerns about invasive breaches of her privacy.
+ A longform piece on the frequency with which police still use a cheap, unreliable drug test that's been proven to produce high rates of false positives.
+ A coalition of LGBT rights groups will air an ad spot about trans bathroom rights at the Republican and Democratic National Conventions. Mara Keisling of the National Center for Transgender Equality says "The night Donald Trump accepts the nomination, America will be watching …And the people we really need to reach will be watching Fox News."
---
The Attack in Nice, France
+ 84 people are dead and 202 are injured after a large truck plowed through a crowded street of people celebrating Bastille Day in Nice, France. The truck drove for 1.1 miles through the street of people, before police shot and killed the suspect. He's been identified as Mohamed Lahouaiej Bouhlel, 31, a delivery truck driver and native of Tunisia. No organized group has claimed responsibility for the attack.
---
LGBT Rights
+ More people than ever before are seeking gender confirmation surgery in Britain, and wait times are increasing as a result.
+ Gay and bisexual men in France can now donate blood after the country lifted the 33-year-old ban. However, like in the U.S., "men who have sex with men" are still required to have abstained from sex for a year before donating blood.
+ On Wednesday Cleveland city council members unanimously approved an ordinance that allows trans people to use restrooms that is consistent with their gender.
+ The YMCA of Metro Chicago crafted guidelines to accommodate transgender patrons, which include allowing them to access restroom and locker rooms that match their gender.
---
Grab Bag
+ An inmate killed two bailiffs at a Michigan courthouse during an escape attempt before officers fatally shot him. Larry Darnell Gordon was facing possible life in prison for rape and kidnapping charges involving a 17-year-old girl.
+ On the anti-choice proponents trying to hijack Black Lives Matter.
+ A new study in Boston explores whether the air inside Boston's Black hair salons is safe, finding that "levels of the carcinogen benzene were higher than the EPA's acceptable levels in all 10 salons [tested]."
+ The black man found hanging from a tree in Piedmont Park has been identified as 22-year-old gay man, Michael George Smith Jr. Authorities have confirmed his death as a suicide. Based on his social media posts, his family did not accept him and that might have been a motive for killing himself.
+ Orlando Cruz, the first openly gay boxer, will be dedicating his fight on July 15, to the victims of the Pulse shooting, which claimed the lives of four of his friends.
+ Construction of an LGBT senior apartments began in San Diego. The project will be completed in two years and will have "have 76 rent-controlled units for qualified people 55 and older."