In the wake of Obama's endorsement of same-sex marriage, and with four states this year with marriage equality on the ballot, a lot of people want to talk about the "shift" in the nation's perception of same-sex marriage. Particularly, people seem to be interested in opinions on marriage equality from people of color.
African-Americans and, to a lesser extent, Hispanic-Americans were blamed by a lot of white LGBT activists for the victory of Prop 8 in California in 2008. Though it was incorrect, that misconception has brought awareness to the real problem that many LGBT groups haven't been working to connect with communities of color, and has led to more marriage-equality campaigns that focus particularly on communities of color. In this year in particular, Maryland's campaign, Marylanders for Marriage Equality, has done a lot to reach out to the state's large African-American population with ads from Black celebrities such as Mo'Nique and Baltimore Ravens linebacker Brendan Ayanbadejo. Equality Maryland also started a partnership in August with Latino group Casa de Maryland and the Latino LGBT History Project to create Familia es Familia Maryland to educate Latino Marylanders about the marriage equality and Maryland DREAM Act ballot initiatives. And it seems like change is happening: the NAACP has passed a resolution in favor of same-sex marriage, and the National Council of La Raza (NCLR), the largest Latino civil rights organization in the United States, unanimously passed a resolution in June supporting marriage equality.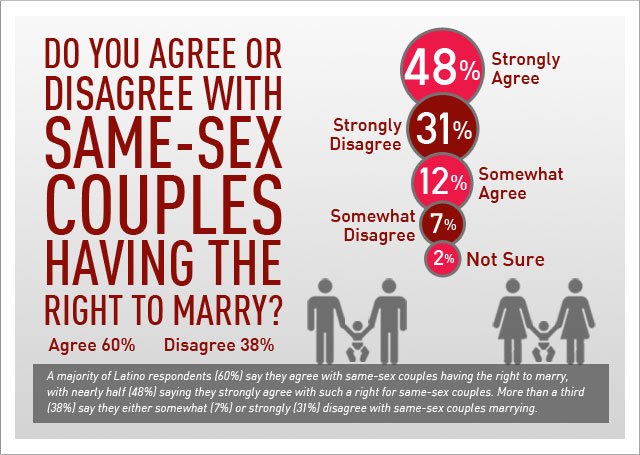 Now, we're getting to see the hard data on how this larger "shift" has affected communities of color and their support for marriage equality. The ABC News/ Washington Poll poll in May that showed that 59 percent of African-Americans support marriage equality, higher than the national average of 53 percent, was much discussed. And according to a new survey of 400 U.S. Latino reported by NBC Latino, 60% of Latinos "agree with same-sex couples having the right to marry," including 48% (as in, just under half) who "strongly agree."
The NBC Latino article is the third in a series on the poll, which surveyed 400 U.S. Latinos on attitudes related mostly to politics, such as immigration, or "when the U.S. might see its first Latino president." Illustrated in fun infographics, the current article also surveys Latino attitudes on family issues, such as disciplining children and "what would be the biggest disappointment coming from your children." The latter is a bit concerning for gays: 10% of Latinos said that a kid "being gay" was the biggest disappointment, making it third in the list after "being a drug addict" (43%) and "being sent to prison" (33%). Twice as many said that was the biggest disappointment than said that for "being a teen parent" (5%). But there aren't many polls I could find surveying the country at large about how they would feel about kids being gay vs. being drug addicts, to compare the percentages of Latinos to a national average. And it doesn't actually mean that Latino voters overall would necessarily see being gay as worse than teen pregnancy, since it only asked people for which would be their biggest disappointment. And I have to say, I'd probably rank "prison" or "drug addiction" above "teen pregnancy" as things that would most upset me about my hypothetical future offspring, too.
The May poll focusing on African-American voters was a huge reversal – the article says that a poll just earlier that same spring had only 41% of African-Americans supporting marriage equality – and many are attributing the change in numbers to Obama's May 9th endorsement of same-sex marriage (making it pretty much the exact opposite of some bizarre predictions that endorsing marriage would lose Obama the Black vote). But it's unclear if this latest poll on Latinos and marriage equality is really that much of a shift. The "Why Marriage Matters to Latinos" page on the Freedom to Marry website lists a bunch of other polls from earlier that have similar, or even larger, numbers of Latinos claiming to support same-sex marriage and other gay rights issues. For example, they list an April 2012 poll from NCLR and the Social Sciences Research Foundation (SSRS) that has 67% of "acculturated Hispanics" claiming to support "legal gay marriage," and a Pew Research Foundation poll from the same month claiming that 59% believe that "society should accept homosexuality." There's more discrepancy when looking at older polls, though; they list a November 2011 poll that has lists only 43% of Latinos as supportive of full marriage equality, with 26% opposed and 13% supporting civil unions.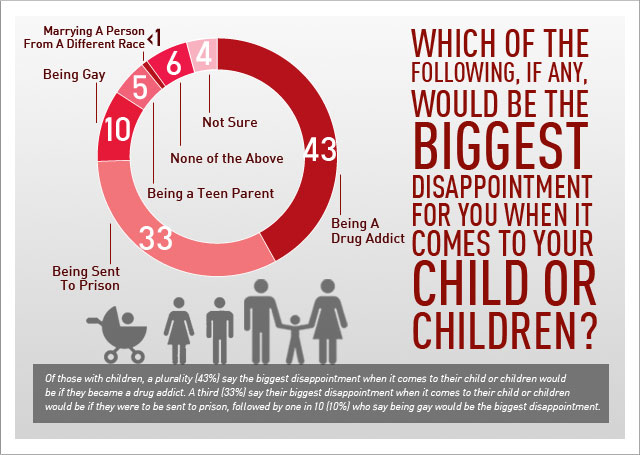 But since this is an election year, the real question everyone's asking about this poll is: does this really matter, in terms of how Latinos will vote? While Latinos are often framed as a group that can go "either way" because of the influence of historically-conservative Cuban-Americans in the key swing state of Florida, when looked at overall, Latino Americans are pretty solidly Democratic voting bloc. As with African-American voters, this is true even for relatively socially conservative Latinos. As Maria Cordina writes in a May article for CNN:
For so long, Republicans have loved to push the meme, famously touted by Ronald Reagan, that Latinos are, by their nature, more conservative on religious and social issues and therefore will be open to the Republican point of view… [but] they historically do not base their vote on these issues. That is why no GOP presidential candidate in history has ever been able to attract a majority of Latino voters.
In addition, many Latinos have themselves experienced discrimination and marginalization and as such, according to a study done by Bendixen and Amandi, a public opinion research firm that specializes in issues affecting Latinos, most Latinos "deeply believe in the American principles of equality, fairness, and do not support discrimination against gays and lesbians."
With Latinos in particular, it's unlikely that the Republicans can really do much to make up for the years of racially-tinged immigration rhetoric that they've used to rile up conservative white voters in border states. Overall, the divides on race in terms of party-affiliation really get into the issue of privilege – what it means to have it and what it means to not. When one has White privilege (or male or straight privilege), it's easy to see something like restrictive immigration laws (or abortion or gay rights) as something that is just a "hot button issue" because it doesn't affect you. But the consciousness that comes with being a marginalized group in society means an awareness of how those issues are both a part of your life and reflective of a larger issue of how important you are in the eyes of the people making those decisions. Republicans' stalwart opposition to women's rights, racial equality and LGBT rights mean that women, minorities and LGBT people (unless we're willing to vote against our rights for the sake of the extra attention that comes with being a token) don't and can't really have a place at the Republican table. Rep. Mary Gonzalez, a queer Latina member of the Texas House whom we've covered extensively here, explains in an op-ed for NBC Latino how "connect[ing] the dots between the political process and social justice" in her Mexican-American Studies class in college led her to change from a Republican and a Democrat, and how reflective of it is of the difference between the parties that both Latinas and LGBT people are represented at the Democratic National Convention. With larger issues like these at stake, it's no wonder that espousing socially conservative talking points isn't enough to win the Latino vote wholesale for the GOP.
FOX News Latino had an interesting take on Latino voters' support for same-sex marriage back in May: they ran an article on the alliance between LGBT rights organizations and immigration rights ones. A lot of young Latino/as who support gay rights see the movement as a model for how the immigration rights movement should be moving forward in the coming years. There is also a lot of similarity between who fights for each causes; the article notes that the two gay-rights groups Freedom to Marry and Get EQUAL were recently taken over by two self-identified Dreamers, or "leaders in the movement to pass [the] DREAM Act." In some cases, there is even overlap between each cause's aims, according to Juan Rodríguez of the Florida Immigrant Coalition: "The immigrant community is grounded on advocating with the most oppressed out of our community, and in many cases, that has been queer undocumented youth…We are figured out more and more ways of supporting each other because we all grew up being told we needed to live in fear because of the communities we love."
September 15-October 15 is Hispanic Heritage Month, which is part of the reason that NBC Latino is doing its poll focusing on U.S. Latinos and attitudes toward politics and the family. But we shouldn't have to wait until a particular time of the year to have this conversation about LGBT rights and communities of color, and the intersections between different types of oppression. We should be having it all year.