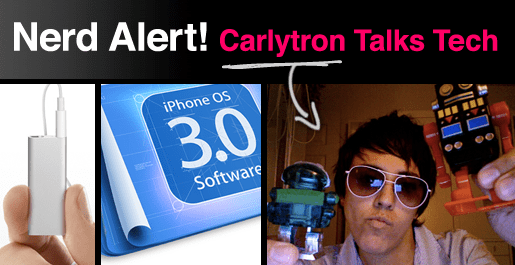 "Technology" is kind of a broad term, wouldn't you say? So I think my specific approach to this feature will be covering stuff I think is cool. Basically — I love gadgets, computers, applications, toys and anything that's innovative and strives to change the way that we live. So although I'll focus mostly on tech, I may sometimes stray off topic with design stuff — product, interior, graphic, or otherwise.
I Am a Total Nerd. I Always Have Been and Always Will Be.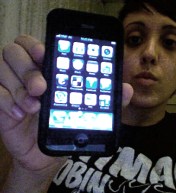 I'm an Apple enthusiast, a professional television editor (trying to get Final Cut Pro certified in the near future), I rock an iPhone AND I REALLY like robots. I graduated from a high school with "Technology" in its name, I like superheroes, I was really into The X-Files and Buffy back in their respective heydays, I can take computers apart and put them back together, I know some (read: very little) HTML, and I'm the go-to person in my family to fix our wireless router or printer drivers.
I'm still figuring out the format for this column so the first one will be pretty broad & brief — some cool links, some recent developments … and we'll see how it goes from here! Please send me any suggestions for format or tips for stories 'cause I'm fully open to whatever you've got. Now that we've gotten that backstory out of the way, let's begin!
Let me preface this with a disclaimer: while I do loooove Apple, I know not everyone loves Apple products so I'm really gonna try to remain as objective as possible and keep the Apple chatter to a minimum.
That being said … right now is Apple Time.
Apple has made some crazy announcements in the past two weeks.
They upgraded their Time Capsule, iMac, Mac Mini, and Mac Pro.
Then they unleashed the new super duper tiny iPod Shuffle, which you could easily swallow.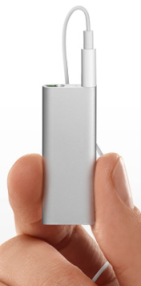 They also moved the Shuffle controls to the headphones, which is TOTALLY SNEAKY OF THEM because now, in order to use your own headphones, you'll have to drop more money on an adapter. LAME, APPLE.
Also, does anyone else hate the Apple earbuds? They're hard, they don't fit in my ears at all, and when I try to force them to fit they either hurt a lot or pop out. I have these random earbuds I got on Amazon that have squishy gel tips on them and I love them. I'd provide a link but they apparently don't sell them anymore. BOO!
Also, the new Shuffles talk to you. Since there's no display, Apple decided that we needed to hear a robot voice telling us that we're listening to Britney Spears sing "Phonography," off of the "Circus" album. Umm… no thanks. No talking iPod. I use my Shuffle for working out only, and I think it would be really distracting if I started hearing voices while I was on the elliptical. I have a hard enough time just getting my ass to the gym, and I think artificially induced schizophrenia might be a great excuse for me to grab a smoothie and go watch TV on my couch.
Now for the mother of all announcements … The iPhone 3.0
[If you doubted my nerdom before] you should've seen me on Tuesday, when I sat glued to my computer, watching a liveblog and waiting to hear how my iPhone was going to mutate into something better, brighter, and TOTALLY AWESOME-R. And it did! We got so many cool new features! MMS! Cut/copy/paste!!! Landscape Mode!
The only thing that seems a little iffy to me is the ability for developers to sell app add-ons from within the apps themselves. This could cause you, the user, to get totally screwed in the future. You could easily get to the fifth level of a game you're enjoying only to be told you've gotta pony up more cash to see the additional levels. This would cause me, the user, to lose interest in a game very quickly. So I hope they keep that mess in check.
I mean, the new OS will open the door for all sorts of things! It's very exciting. Just think, instead of your phone making some weird noise every time you get an e-mail or text (well, not mine… it's usually on vibrate, those noises are damn annoying) you'll also get a weird noise every time someone Twitters or writes on your Facebook wall or throws a sheep at you or tags you in an image of cartoon characters or takes a quiz about what city they should be living in!! Isn't that awesome!? No, but in all seriousness, extending push capabilities to developers was a long time coming and I'm excited for the possibilities.
Some people seem upset that the iPhone still won't have video capabilities, but I think that they should upgrade the camera before they go letting us shoot video. Let's face it — the camera kinda sucks. It's awesome in natural light but outside of that it's pretty sad. So let's hold off on video capabilities for now, cause that will only lead to even crappier YouTube videos. iPhone users out there… what features are you most excited about? What new apps (or improvements to current apps) would you like to see over the course of this year?
If you missed the keynote — or the subsequent 8 billion tweets and blog posts about the new features — the kind folks over at Gizmodo have created a 90 second video that explains it all.
Ok, end Apple monologue. I think this post is already starting to get a bit long-winded (which is the norm for me, if you haven't already noticed) so I'll end with a few links and hopefully next week I'll have something a bit more thought out.
Links:

Waveform Bracelet (@gizmodo)
You record your voice, then they turn the waveform into a bracelet! Cool, huh? I was going to suggest that this would make a cute gift, you could record yourself saying "I love you" or "You're smokin' hot" or "I like snacks" or whatever and give it to that special someone … until I realized that its actually intended for parents to tell their kids not to do drugs. But like most things intended to do good, it can be easily co-opted for much cooler purposes.

Remote Control Flying "FUCK" (@nerdapproved)
I don't know how I have gone on this long without owning this, I think I need one for work. It's the word "FUCK" with a helicopter propeller attached to it… a flying fuck, if you will. Take it to your local pride event and see how many new friends you make!