Hello children.  Today was a very magical day here in Austin.  For one thing, my suitcase arrived and I was able to wear my own clothes… and shortly after my suitcase arrived — so did Kirsten!  She was in relatively good spirits, and we're already working on a fantastic letter to US Airways.  I didn't see very many bands today, but I did crank out my first interview (coming soon!) and saw some wonderful things!  Shall we talk about them?  OKAY.  For example!  Today I was walking through the Convention Hall when I happened upon this once-in-a-lifetime photo opportunity:
Yes, that's Devo, yes, those are the hats, yes, this was a life-changing moment.
++
Quincy Jones Has a Lot of Feelings Apparently
I was in the Convention Hall to see a panel called "Doing a 360 Deal With Yourself," which I assumed would be about DIY artist marketing.  I was mainly interested in attending because Amanda Palmer was one of the panelists.  Unfortunately, the event was to be held immediately after Quincy Jones' panel, which was running incredibly late.  Since we were all waiting on line for over an hour, Amanda came out with her ukelele friend and played us a few songs:

Amanda Palmer & Her Ukelele Friend
She opened with "Creep," ad-libbing: "What the hell am I doing here?  Oh yeah, waiting for Quincy…"  It was around this point that I noticed that the Asian chick in front of me with the badass tattoos was actually Margaret Cho.  Once the ukelele concert was over, I nerded out: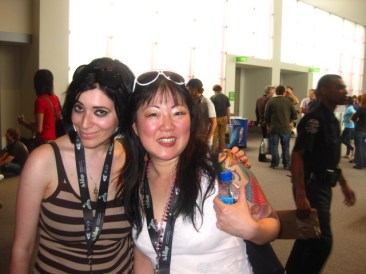 Stef & Margaret F*cking Cho
I like to think I play it cool around celebrities, but Margaret fucking Cho?  I was a huge geek.  To her credit, she was very gracious.  Margaret stuck around for the panel, but left early to do her show at the Velveeta Lounge.
Silence is the New Punk
Anyway, the panel itself was really interesting – Amanda and the other speakers discussed how musicians can take control of the business side of their careers in a changing industry that's still reeling from the impact of digital downloading.
I was struck by three things:
1) A large portion of the panel was dedicated to redefining artistic success in an industry where so few bands can sell a million records.  Amanda noted that she considers herself successful when she's able to create and connect with her fans, especially when the fans appreciate her as much as hers clearly do. It's more important to her that she connects with people who really appreciate her and who respect her art than to have her music exposed to a ton of people who could take it or leave it.   I really respected that.
2) The panel discussed the importance of the actual artist being the person who communicates to fans, including maintaining the band's MySpace, Facebook and Twitter – and Amanda (I'll admit I was really only paying attention to her responses) said she believes that one day very soon — in response to all this technological overexposure — silence will be the new punk. I looked around me and noticed most of the people "watching" the panel were indeed Twittering, Facebooking or texting the entire program. I was obviously very tempted to tweet about this. But I stopped myself.
3) I've thought for many years that Amanda Palmer is one of the greatest songwriters working today – I actually have a Dresden Dolls poster hanging on the door to my bedroom, and I've seen them live before and loved every second. I knew I respected her as a musician, but what I didn't know — but learned today — is that I actually have a massive, uncontrollable crush on Amanda Palmer.  The woman's a mad genius and a total fox.  I could stare at her all day.
Music Time
Because of Quincy Jones and his never-ending panel, the 360 platform also ran late, so by the time I got out, the DEVO panel had already started.  I heard they were supposed to be discussing the philosophy of Devo – can anyone verify?  In any event, I'm very sorry I missed it, but now I'm more determined than ever to see their actual SXSW show.
Speaking of shows, by this point it was early evening and I still hadn't seen a gig.  I hoofed it to Elysium, where Peter Murphy (of Bauhaus) was playing.  Very goth, I know.  The line was a block and a half long, and that was just the wristband-less crowd – even the badge-holder's line seemed impossibly long.  I thought about bailing, but I stuck it out – and in the end, it was worth it.
I got in, and Peter Murphy was amazing.  He's hardly an up-and-coming artist, but shows like this are a real treat at SXSW; I'll never again have an opportunity to see that guy play such a small room.  His stage banter sort of made the whole show; when someone screamed out "I LOVE YOU!" he cheekily replied, "I'm not sure you mean that.. You just want to enter my body, which is not love."
Later, he led the crowd in a Q&A session: "Does anyone have any questions for the Godfather of Goth?"  He dedicated a song to the people who'd paid for their own badges, the true artists, and went into a diatribe about artists vs. businesspeople that wouldn't have been out-of-place at the … oh, I don't know … the "Doing a 360 Deal For Yourself" panel?
OH! And I took this crappy picture:
The Last Time I Saw You Was the First Time
After that, I ran into my friends Aimee Echo, Jamie Miller and Chelsea Davis, who are in a band called theSTART and another one called Normandie.  They'd played as both bands the day before, and I'd missed them because of my travels.  I suppose if we're talking about new bands, it might be pertinent to discuss Normandie – they sound a little bit like Blonde Redhead meets Placebo, with a little slice of Brian Eno.
Aimee's got a really unusual voice that I think I described in a (cheesy) review once as "equal parts sugar and sandpaper," and Jamie and Chelsea are actually two of the sickest, most talented musicians I've ever known.  Jamie explained that after being theSTART for almost a decade — and therefore writing in a certain format —  they got bored.  Jamie started writing this newer, more fuzzed-out stuff on his own, and then Aimee added lyrics and before long they'd cultivated a whole new band.
I've been friends with Aimee and Jamie for nearly ten years, and they know I'll listen to anything they do, but I really adore what I've heard from Normandie so far and told them so (nerd alert #2).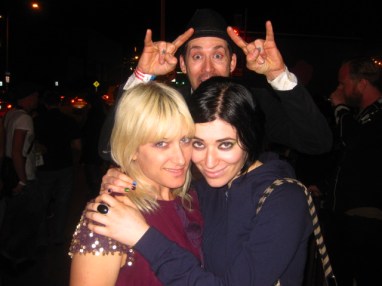 Aimee Echo, our friend Erick Sanger (ex-theSTART, Pop. Unknown, Sparta) and myself.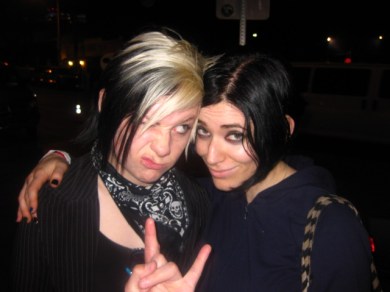 "Chelsea, you're making a Stef face!"
It suits her.  This chick is without a doubt the best female drummer I've ever seen, and definitely one of the best drummers I've ever seen, period.
Tiny Girl Singing
After that, I headed up to the Central Presbyterian Church, where Sara had saved me a seat for Hurray for the Riff Raff, a band of weirdos from New Orleans.  They looked like they'd be folky, and I have to admit I didn't know what to expect, but they busted out some very sweet, quite beautiful blues songs accompanied by Alynda Lee's gorgeous voice.  If I had to make a comparison, I'd say Cat Power – it just didn't sound like a voice that could come out of such a tiny girl.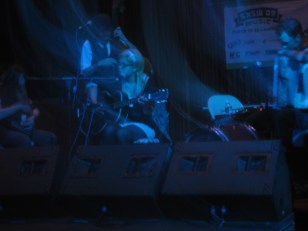 I was hugely impressed with their instrumentation, including a banjo, a stand-up bass, an auto-harp, and this dude who could play the trumpet and the accordion at the same time: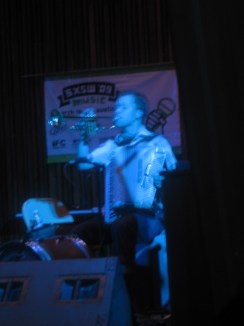 I'm told they also have a toy piano and a musical saw.  We were convinced, and bought a record.
Then it was time for the woman of the evening, my new girlfriend Amanda Palmer: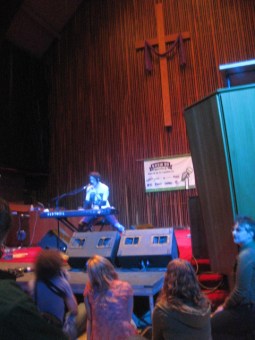 Again, I apologize for the photographs.  Amanda felt a little uncomfortable at first; assuming that the bigger, harder songs wouldn't translate well in a church (and she declined to play "Oasis," her abortion ballad, pointing out that baptisms probably happened three feet from where she was standing).  After a few songs, she loosened up and even brought out Margaret Cho, who's apparently working on a record of her own.  Margaret played guitar and sang a duet representing the story between a woman and her dog (Amanda voiced the dog):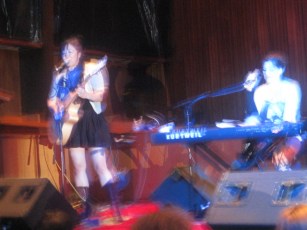 It was pretty magical all around.
Without gushing, I will say that Amanda's piano prowess is remarkable, and she's very comfortable commanding a stage all on her own.  I also liked that she introduced "I Google You" (a song about internet stalking, obvs) by asking us to imagine that she was an 80-year-old black blues musician who'd spent their lifetime doing drugs but had recently quit but still had that stigma... and it worked.
We Have Band, Outdoor Dance Party, Not Hoodie
We didn't really know what to do after that, but it was cold so we started towards the hotel to grab a hoodie but on the way we noticed We Have Band (a really fun indie dance band that we did not know were British) playing at the British Music Embassy at Latitude 30.  We LOVE them, but Sara didn't have a badge so she couldn't get in without paying.  Instead, we had a dance party right outside the window.  I'm not sure anybody was actually dancing inside, but our party was a blast.


On our way back out in search of more adventure, we heard the final strains of Little Boots' "Stuck On Repeat" echoing from yet another showcase.  Of course, the song is still stuck in my head – not that I'm complaining.
Tomorrow is a PACKED day, and most of the majorly crazy shows are all taking place at the same time – not sure how I'm going to swing it yet.  Until then, here's something to tide you over: