So last Fall I had a flash realization that surprised literally only me; turns out I'm trans. I used to go by Ali, but now I go by Austen in most aspects of my life, and, largely, A.E. on the internet. I'm using they/them pronouns these days, and I identify as transmasculine and non-binary. I've been torn about whether to do a big ole thing on Autostraddle about it and largely I've come down on the side of "I'd rather rip my own skin off than do that big of a look-at-me." On this day, however, the information is relevant. Because I'm going to give you a tiny bit of advice about crying and, specifically, crying regarding your gender. And I'm going to give it to you from my very own perspective because I feel like I am not the only one here crying about my gender, and you should know a) that you're not alone and b) sheet masks can help.
I feel like I do almost nothing except cry about my gender. Morning, noon, night, at meals, in the shower, at work, while writing on my book, while playing computer games, while legitimately having unrelated conversations with some very confused cis people: it is my brand new full-time job to cry about my gender. Luckily for me, at the very same time all this crying was happening, I got really into skincare. While it was unrelated to crying about my gender, it was deeply related to gender. I needed ways to feel good in my body right the hell now, instead of longing to feel good in my body in the future. So I developed some intense themed baths and lotions and, yes, a crazy skincare routine. I made all choices based on what felt good, smelled good, made me feel good to spend time on. Anything I didn't like to do, I simply… did not do.
I stumbled onto sheet masks because they are cheap and easy to work into a schedule when you're just getting into this stuff—  you don't even really get your hands dirty with application! All the product comes on a handy face mask that makes you look like either a cute little animal or a masked murderer, no in-between. While some naysayers and famous beauty product purveyors insist sheet masks do absolutely nothing for your skin, I am here to tell you that they still serve a purpose. Because I never really cared what they actually do for your skin; I care what they do for your soul. And the real story about sheet masks is that after your face is all red and puffy and worn out from crying for nine entire months about your gender, they feel fucking amazing to put on. Plus it's a way to say hey, hello body that I have complicated feelings about, you are worth the three dollars and twenty minutes it takes to do this even right now when things feel real bad in here.
So without further ado, I give you: my top five sheet masks specifically for after crying, ranked, beginning with:
This peach-yogurt-face-situation smells amazing and that is how I make most of my decisions. It's pretty multipurpose and not quite as hydrating as some of the other things on this list, but damn. Inhale deeply, maybe even meditate with this on your face. This one is perfect for having lightly cried.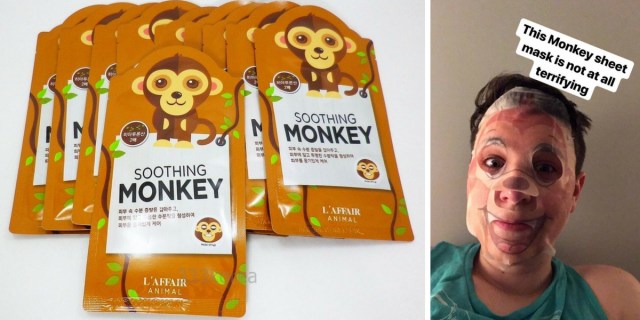 I purchased this monkey mask after reading Basic Witches, which recommends doing face masks with animals on them to imbue yourself with the characteristics of said animal. Since, at least in the realm of symbolism and story, monkeys are thought to be playful, I was like, hell yes, I will take a prayer for playfulness after crying this much about my gender. Gender should be about play, anyhow! And aside from that, this mask is labeled "soothing." Pro-tip: when shopping for post-crying masks, the best categories to hit are "soothing," "hydrating" and "relaxing."
Turns out, the actual character print on this one is HORRIFYING. And that was HILARIOUS. Highly recommend when you're reading to explore "hysterics" as a category of crying. Or when you just need a good cheer up.
This is a little bit cheating because it's not a full sheet mask; the Sephora Orchid Eye Mask comes in just two wee patches that go where the dark circles inevitably are, just under your eye-holes. It's perfect for when you've done far too many face masks because you've cried every single day this week, and you don't want to put additional stuff on your face BUT your eyes are a goddamn wreck. Ignore the text on the package that says anti-aging, because we all know that's total bullshit, there's no such thing. Why did I pick this one, then, if not for the properties? Oh ho ho, I'm glad you asked. It's because I like the smell of orchids and orchid-related products.
I purchased this mask to make myself feel better after having cried to my therapist about top surgery for fifty entire Earth minutes. I then tried to go out and have normal human social experiences; this went okay, but then I came home and cried in my wife's lap DIRECTLY before I went to sleep for, like, quite a while. I put this mask on the next morning to repair the feeling of having dehydrated my body and face and whoo boy, yes, I recommend this mask for the morning after a before-bed cry. Even though it was just chilling in my apartment, normal-room-temperature-style, it felt naturally cold when I took it out and put it on my face. It's also less a liquid and more a jelly (surprise), so in terms of hydration, this feels a little like pulling out the big guns. Or shall I say, the big super soakers, since we're talking hydration?
This is my absolute, number one, you-have-cried-for-hours sheet mask. Most of my intense skincare routine is made up of Innisfree products, so I'm in the shop a lot. I got an impromptu pro-tip from one of the folks who works there because she'd seen me in there a bunch buying a metric ton of these: if you stick sheet masks in the fridge, they restrict your pores and make them look smaller. Is that bullshit? I have no clue, I frankly can't see the difference but I also had to memorize my own eye color and I had it incorrect for years. What I do know is that, when you've cried for hours about your gender, a fridge mask feels AMAZING. On the plus side, you usually don't have to rinse off sheet masks, so if you're too sad to add steps, you can just RUB THIS SHIT IN. Bonus: smells like honey because it's honey.
In summary: crying might be inevitable right now for you. It is for me. But as much as we'd all like to uninstall our feelings, alas, we cannot because we are not computers. We are human people with bodies and faces and genders! So while you're doing all the work with your therapist and your community and your own internal self, grab a couple of sheet masks because you goddamn deserve it. And one last pro-tip! Don't forget to do the internal hydrating mask: drink water after crying this much, you will feel instantly more equipped to deal with your gender.