There's a new lesbian rom-com out there that gets my little gay heart fluttering, and no, you can't watch it in a movie theater. But you can probably catch it upwards of 16 times in a row when trying to stream something on the CW's website.
Indeed, I was introduced to the greatest lesbian rom-com of 2016 whilst trying to rewatch the season two finale of Jane The Virgin. Normally, I multitask during the 250 commercials the CW site tries to make you watch, but something happened to catch my attention and set off my Gay Detective senses this time: this BIC Soleil commercial for disposable razors. You may be familiar with Caroline and Tarah, the women of the Payless BOGO commercial series who are most definitely in a complicated relationship according to my very close, very queer reading of those shoe commercials. They're not the only gal pals hidden in plain sight during commercial breaks.
In just 30 seconds, this commercial for BIC's Shine razors tells a complex and beautiful narrative about two women falling in love and living their best damn lives. I shall break it down for you:
First, we meet Jen. I made that name up, but look at her. She looks like a Jen. Like any good rom-com protagonist, Jen is clumsy af but, like, super cute about it. She trips down stairs but still looks like she's posing for a J.Crew catalogue when doing so. "Some days, my life feels like a blooper reel, but I stay sunny,wp_postsshe muses. That's probably her Tinder bio, too.
At this point, we meet Olivia. Now, it might look like Olivia and Jen are old friends who have known each other for a while, but that's not the case at all. This is actually the first time Olivia and Jen have met. This is their meet-cute. They're both trying to catch a bus as it speeds away, laughing, because everything seems funny when you're falling in love at first sight. They miss the bus and reach for each other. There's an instant connection, an instant comfort. It's a classic meet-cute, and they both know it, because Olivia and Jen are both fans of romantic comedies and realize they are suddenly living in one. (Jen's favorite rom-com is 13 Going On 30, and Olivia's favorite is Imagine Me & You, a disagreement that will eventually be the cause of their first fight.)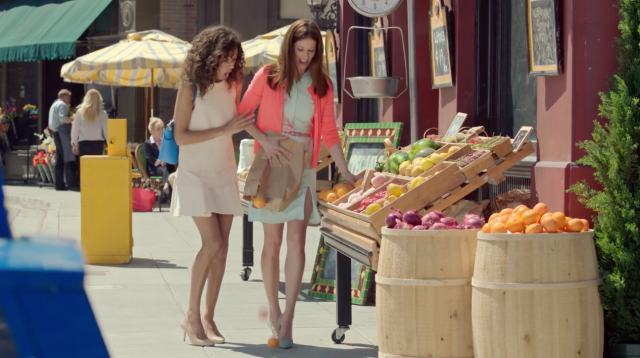 Hoping to keep the magic of their meet-cute alive, Jen invites Olivia to the farmers' market with her. When Jen's bag rips as she's filling it with oranges (oranges she will later feed, in slices, one by one, to Olivia), Olivia exclaims, her surprise effectively communicating the sentiment "holy shit, our meet-cute is still happening.wp_postsThere's more arm touching, more laughing, more rom-com vibrance.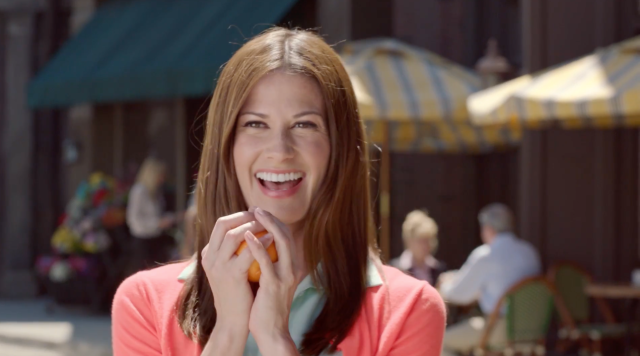 Then there's a little description of the actual product this commercial is peddling, but that's of little importance. Jen notes that she gets a "sunny feelingwp_postsfrom the feel of these razors in the morning, but I think it's safe to assume that "sunny feelingwp_postsis coming from the feel of Olivia's hand on the side of her face in the morning. The commercial ends with the BIC Soleil Shine slogan: "Make your own sun,wp_postsa phrase that will be repeated in Jen and Olivia's wedding vows. Caroline and Tarah of the Payless BOGO commercials might be going through a rough patch, but Jen and Olivia look blissfully in love. I'm gonna need BIC to drop several more commercials featuring these lovebirds.
BIC also released a French version of the commercial, which is somehow gayer:
This whole razor saga begs the age-old question: Wouldn't it be nice if rom-coms about two women falling in love were as pervasive and accessible as rom-coms about straight people? And also longer than 30-second ad spots?