This is a review for the movie Life Partners, a film in which everything that could go usually wrong in a lesbian film inexplicably doesn't! I know you probably read the logline ("Two codependent best friends — one straight girl, one lesbian — and the man who comes between them") and wanted to shoot yourself, but don't! This movie isn't about the man at all! The lesbian isn't harboring an unhealthy crush on her straight best friend! NO ONE DIES! Am I blowing your mind? It sucks that our bar for "gay" movies is so low that those things alone makes a movie worth seeing but this movie goes beyond that and is fun and enjoyable! It's a new day, maybe! Exclamation point!
Life Partners was directed by Susanna Fogel and co-written with Joni Lefkowitz (who is a homo). Its cast includes Leighton Meester (the lesbian), Gillian Jacobs (the straight), Adam Brody (the man), Gabourey Sidibe, Abby Elliot, and Kate McKinnon. What a bomb ass cast, y'all. And worth mentioning, most of the secondary characters are Sasha's (Meester) friends/girlfriends which means the movie is largely populated with queer women. The film is funny, sweet, and enjoyable with a straight forward plot which makes it a perfect hook-up film because no matter when you come back to it, you'll know what's going on. I think maybe the secret to making a good gay movie is to make it a comedy because then there's no need for excessive DRAMA because for some reason DRAMA can only come in the form of death and/or men.
The friendship between Sasha and Paige was fun to watch and didn't stress me out which is probably helped by the fact that the co-writers are real life friends and they told this story previously in a play of the same name. Tim, the doctor Paige falls for, isn't some perfect guy that descended from the heavens which helps Paige from falling into any romcom leading lady traps. In fact, the character that's closest to the usual romcom woman is Sasha. She's the fuck-up that's always dating people unworthy of her and clinging to a bottle of pink wine. Even so, I was never upset by her mistakes or mumbling under my breath about what an idiot she is. She's a woman with a job she hates and a dream she's not sure she believes in any more, not a self-sabotaging loser waiting to get saved by someone else. In other words, she's like a real person.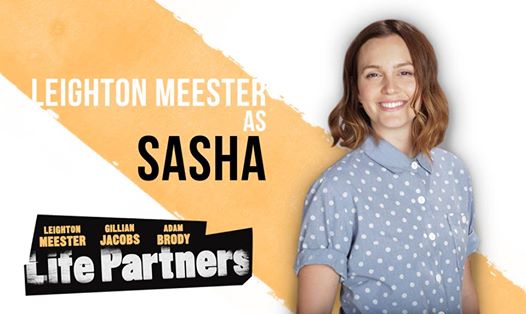 I think the film made a lot of smart observations but unfortunately none of them were about lesbian culture. As far as those jokes go, it was all sort of been there, done that (U-Haul, Subaru, etc.) and while it is fun to see that since we're rarely afforded such delights, I was hoping for the same pithy humor regarding gay stuff. Given Sasha's whole dating "immature" women storyline, the opportunity was there because those women weren't really immature, they were young. It would have been great if they were 29 and living at home or 29 and a serial single or 29 and feeling behind their straight friends, because there's a lot to explore there and it could have started with Sasha reading this advice from Riese. I think a lot of queer women do feel like they're playing catch up and I would have loved to see that be what connected all of Sasha's failed relationships rather than blaming her partners' youth.
If that were the case, I might have felt a sense of catharsis surrounding Sasha's storyline. She ends the movie jobless, single, and what seemed to me an unfulfilling reconciliation with Paige. I suppose this rings true to how things are in real life though. As queer women who often get a late start on romance, we don't have the same signifiers as our straight counterparts on when we are officially Grown Up. We have to give ourselves permission to consider ourselves as such which is what I think Sasha eventually does. I hope that this movie is the permission "gay movies" need to grow up as well.
Life Partners is currently available via on demand platforms and iTunes and will be released in select theaters on December 5, 2014.