feature image by aiony haust
We all have something — maybe several somethings! — in our closet that we don't wear. And will never wear, if we're being honest. Yet we've packed and unpacked these items through several apartments, hung them up with care, and regularly touch the sleeves contemplatively although today could be the day. Reader, it's not going to be the day! The day is not coming. Yet we can't let go of these garments. Why not! Well, these are our stories.
---
Heather Hogan, Senior Editor
This is the first shirt I bought after I came out. I bought it specifically because it looked gay, to wear to a place where I was hoping to talk to other gay people, on purpose, in real life, for the first time. It worked! I did talk to other gay people! And I felt real cute doing it! That was a thousand years ago, when I was in my 20s with a 20-year-old metabolism and a job that allowed me to exercise for hours every day and no endometriosis or birth control pills — by which I mean I was much smaller! I will never, ever fit into this shirt again for the rest of my life, but it represents something so special to me that I've carried it to every city I've ever moved to, and it still has a place in my closet (and probably always will).
---
Carrie Wade, Staff Writer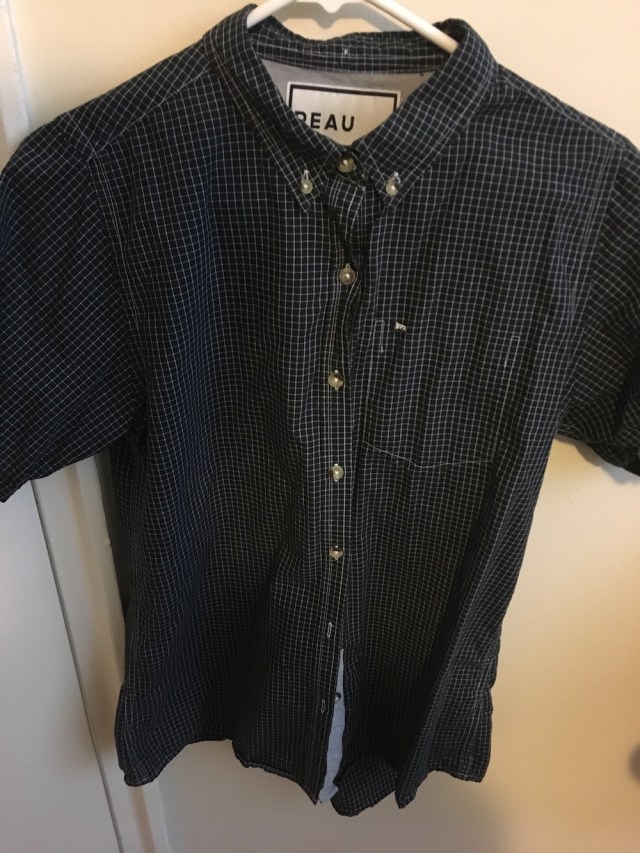 I cannot for the life of me figure out how to wear this shirt. I bought it during an early Peau de Loup binge a few years ago but, in hindsight, didn't have the right companion pieces. Now it's just sort of languishing. I'm always worried about black clothes not playing off each other correctly, and it also didn't feel right with the jeans I had for a long time, or any of my other pants or shorts, so here we are. I recently bought new/better jeans in both standard wash and black that fit delightfully well, and also (finally) have a black belt to work with, so I really should take another run at this guy. I hold on in hopes that it will claim its rightful place in my rotation. (Suggestions/advice welcome.)
---
Carolyn Yates, NSFW Consultant
I don't have anything like this! I'm ruthless about getting rid of things I don't need or won't wear or that aren't right for me any more or remind me of things of which I don't want reminders, and I'm not really buying clothes except to replace things I wear through right now, so everything seasonal is in frequent rotation. I don't have childhood earrings because they make me feel safe or something and I don't have my wedding ring from the divorce finalized a few weeks ago and I don't have that one old supersoft pair of pyjama pants from my favorite ex's grandma.
---
A.E. Osworth, Contributor
My mother is a small woman and I'm a rather not-small not-woman! But I have her old concert tee shirts, two of them—The Police and David Bowie—and they sure do not fit me anymore, nor did they ever fit really well. My mother, incidentally, is and always has been a lot cooler than me. I can't tell you how long I've had them. A long ass while. These are the ancient relics of my family's taste in music. And if I'm being perfectly honest, I harbor a hope that after I have top surgery this coming January that I'll at least be able to wear The Police one again. Cross your fingers for me!
---
Alexis Smithers, Staff Writer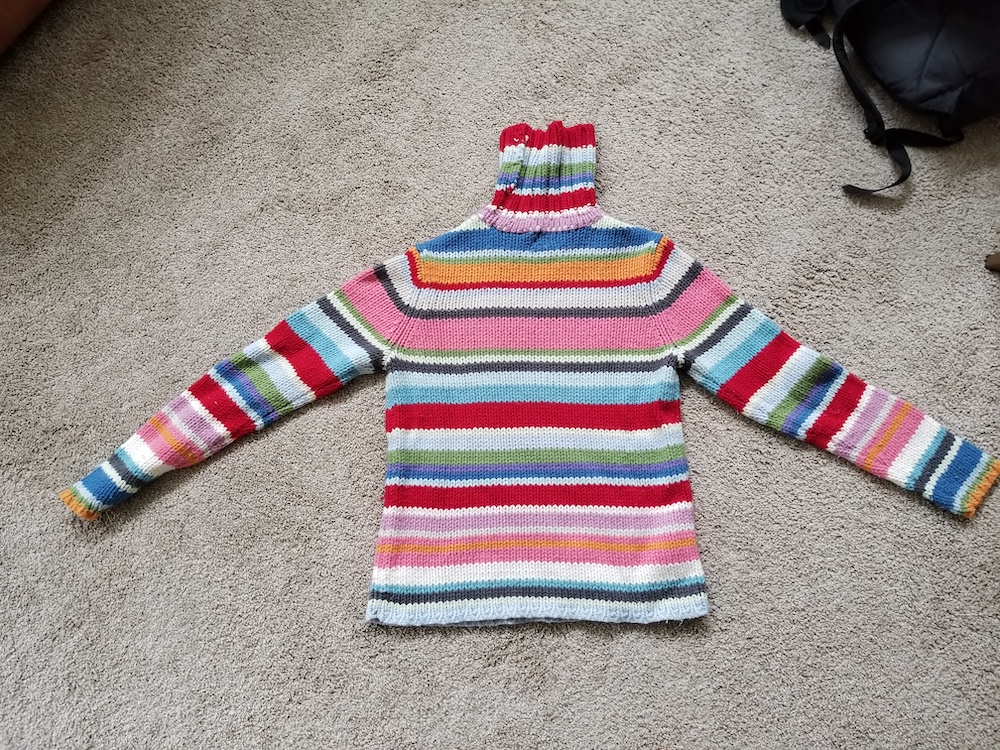 THIS REALLY UGLY STRIPED SWEATER because the best time to wear a striped sweater is all the tiiiiiiiiiiiiime and also I thought I'd be invited to an ugly sweater party and I was but I was depressed and also I get hot really easily so I didn't go and now I'm hoping that this doesn't happen because I could only wear it for the pictures and then immediately need to strip so I don't have a panic attack so there's really no way this sweater will ever make an appearance outside my closet (there's joke in there somewhere).
---
Archie Bongiovanni, Cartoonist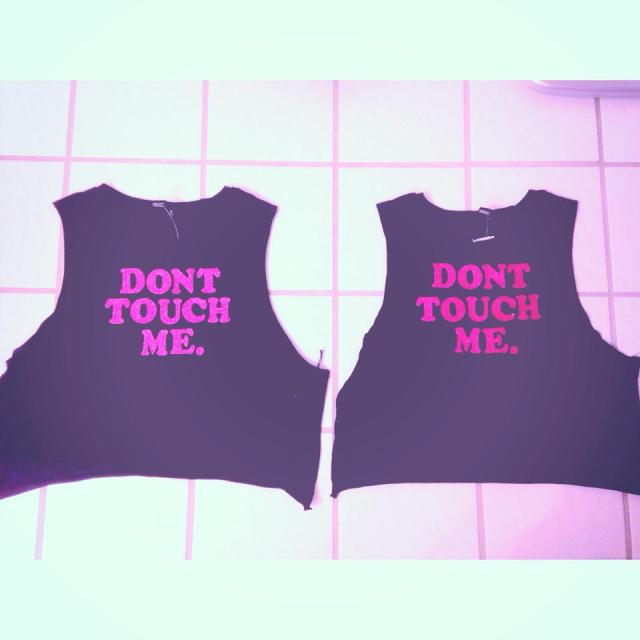 These matching homemade crop-tops that read "DON'T TOUCH ME" in pink glitter letters that were made in 2014. I'll never actually wear the shirt again, I think I wore it maybe twice in my life? But I love it so much. It was made for me by a friend during our peak "just spray paint a shirt with a stencil" phase. These shirts are extra-fancy because the lettering wasn't just a stencil or written in bleach pen. Plus it was glittery and pink! We used to go out a lot and haaaated the way folks would touch us when we were at clubs — actually this only happened at lesbian dance nights. So. My friend was especially objectified and we'd both get our asses patted by long-hair butches walking by. We also yelled a lot at these parties, specifically "I SEE YOU ASSHOLE" and "DON'T FUCKING TOUCH US." Maybe we went (or kept going) because we just wanted to yell idk. Anyways, my friend made us these matching crop tops and I love the shirt for the sentiment of it.
---
Valerie Anne, Staff Writer
When I was a sophomore in college, my mother bought me a leather jacket for Christmas. I had been half a vegetarian since I was 12, and felt uncomfortable about owning real leather, but I knew it was more money than my mother should have been spending on a jacket, and I knew it was probably peer pressure from her friends she went on shopping trips with every year with her friends who had daughters my age, and she was so proud, so I just smiled and thanked her, saying it was very New York (not a lie), which is where I was going to school.
Cut to a few weeks later, a chilly night in January, my suitemates and I were getting ready to go out. I decided this was as good a night as any to try out my new jacket, so I put it on and walked to the spot in the hall where I could see in my mirror in my room. I asked, "Can I pull off a leather jacket?" and a head popped out of the doorway. "You look butch," was the response. Then she disappeared again to finish getting ready.
It wasn't said in an inherently bad (or good) way. It was just an observation she made. But I had tried to tiptoe out of the closet the year before and got scared back in, so my desperate battle to cling to heterosexuality was in full swing and anything that sounded remotely gay to me was DANGER ZONE so I hung that jacket up and didn't pick it up for years and years. It was easily the most expensive piece of clothing I owned, and my mother would surely notice if she came to help me move from dorm to dorm and didn't see it, so it came with me, ironically hanging in closet after closet.
I think to this day I only wore it once, a few years ago, long after I came out, when I dressed as Bo from Lost Girl for Halloween. It's too small now, and I feel even weirder about owning leather now than I ever did. So maybe it's time to let it go. Maybe it's time to let go of the baggage I had around the word "butch," let go of the idea that maybe I'll "lose enough weight" to fit the things I owned in college, let go of the worry that my mother will be mad I donated something that she bought me over a decade ago. Maybe it's time to let it come out of the closet.
---
KaeLyn Rich, Staff Writer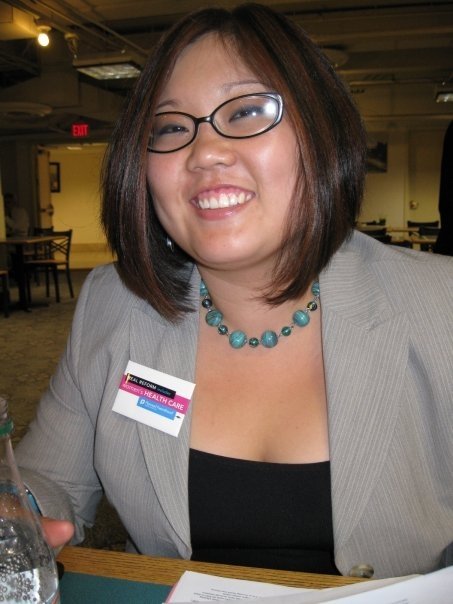 I wouldn't say that I'm a minimalist. This topic is hard to respond to because I do tend to purge my closet periodically. I will for sure hold onto favorite items until they're worn through and falling apart. But I ultimately throw them out after they're very, very dead. (R.I.P. college sweatpants turned cut-off gym shorts turned cleaning rags) I honestly am not holding onto anything right now that I know I won't wear again.
A couple years ago I got rid of pretty much all my blazers, because I find them really uncomfortable. I went through a period in my 20's where I cared a LOT about how professional I looked and honestly I still stand by my choice as a young Korean woman attempting to be treated equitably. But now I mostly just wear sweaters and wraps at work and I don't really care if people think I don't look put-together enough. Respect me or don't, but it's not going to hinge on whether I'm sporting suiting separates! I'd been holding onto this blazer collection since I switched to a more comfortable work style a few years back. When I decided to get rid of them, I donated or rehomed all of them. If I do need a blazer in the future, I guess I'll invest in a more comfortable one, ideally tailored to my short and round body. I haven't needed one, though, in years, so…
---
Sarah Sarwar, Design Director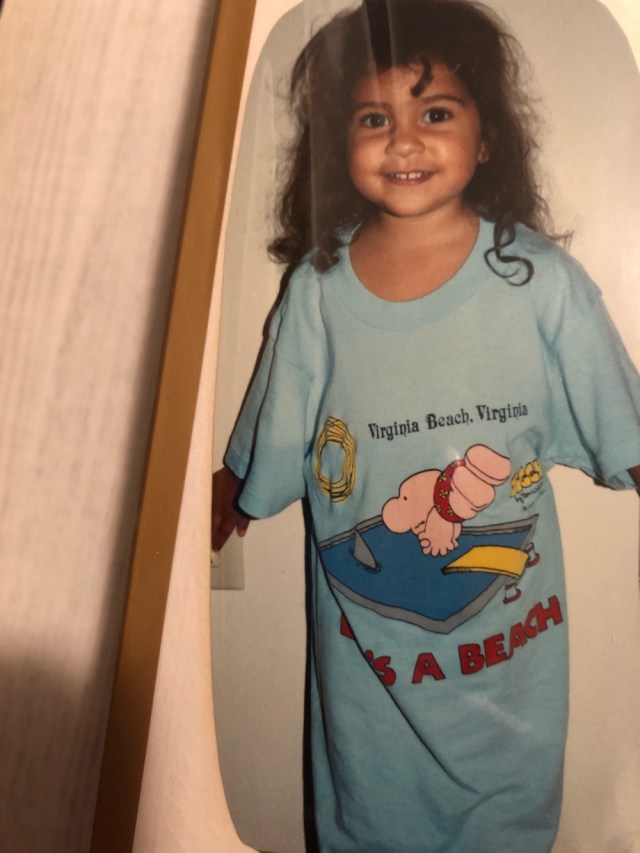 This "Life is a Beach" shirt, which is fraying and threadbare but I have carried it with me from San Jose to Miami to rural Illinois to Chicago to Ann Arbor to Portland.
---
Riese Bernard, CEO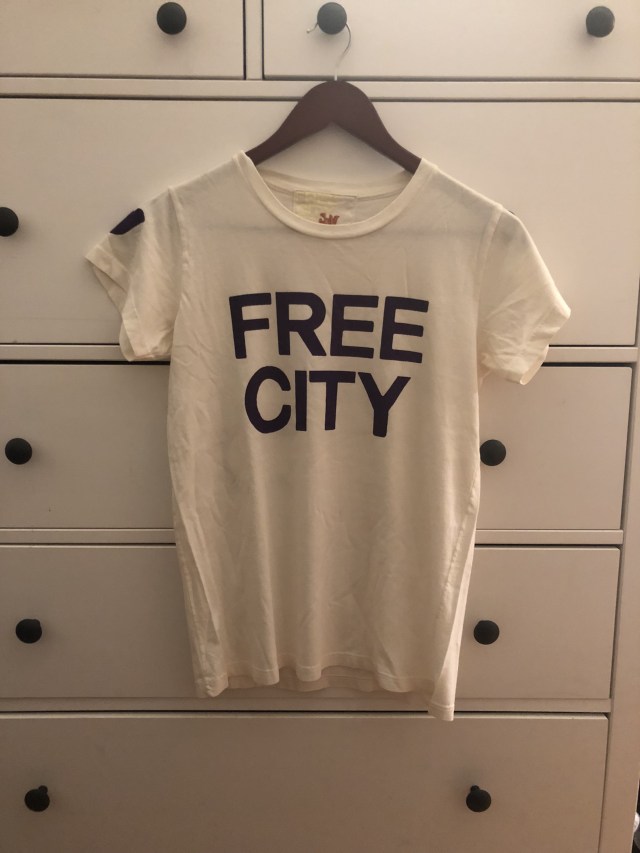 I have never worn this "Free City" t-shirt. Well, I think I wore it exactly once, on an episode of the "Alexi's Closet" vlog in 2008, which was probably the same year I got it — I had a friend who was pretending to be a rich person but was actually a huge liar, and she got it for me.
Basically this was circa the point in my life when I learned that there are lots of human beings who own "valuables" that they can sell when they are poor? Like "family heirlooms" or something? Jewelry? China? Silver? And I was like, wow I have nothing I could sell… and i remember thinking "but I do have this $150 t-shirt from Free City."
That's right. This t-shirt cost $150!
Free City is one of those leisurewear brands that celebrities love. It was on "The L Word" all the time because Leisha Hailey was dating the owner of Free City. You couldn't even buy Free City stuff online back then. It only existed in like two Ron Herman stores (but not the whole line, just some of it) and in one of Free City's three boutiques. Sometimes the aforementioned rich liar friend would give me old Free City shirts of hers to sell on eBay and I could get like $200 for them!
We bought this one at the Malibu store. I've owned other pieces of clothing that cost more than $150 — like a winter coat or a nice dress — but the fact that this T-SHIRT, this T-SHIRT! costs $150, just really blows my mind. Also, it's white and I am certain I will spill something on it. However, I refuse to get rid of it because it costs $150 and I know that the lady at Buffalo Exchange is not going to understand that so I haven't cashed it in yet.
I'm not sure if it gets more or less valuable with time. I hope more. Whatever I'm never wearing it. Even though whatever fabric it's made out of is like the softest thing I have ever touched in my life and it would feel like an angel on my body.
---
Carmen Phillips, Associate Editor
That dress. Black. Above the knee. Shimmery even, in certain light. It's soft, velvet, with intricate lace creeping up the color. It's a simple dress by most standards, not much to look at. The thing about me is that I was what you might call a "late bloomer." I was nerdy, uncomfortable in my body, awkward. As long as I can remember, I was desperate to be seen, but also terrified of looks that came in my direction. I self-sabotaged. I looked at my feet instead of someone's eyes. I stood by the wall at a party, most comfortable talking with my platonic friends who already knew me. One night when I was out with a friend at a concert the guy she'd been flirting with described her as pretty and then glanced over at me, face full of make up and cute jewerely, wanting so badly to be noticed, and called me "… ugh, smart." That's who I am. The smart friend.
This dress though, it was magic. The first time I put it on, I felt confident. I was wearing it to some banquet event thing, and for the first time in my 23 year old life, I flirted. Actually flirted! I batted my eyelashes and didn't turn my head away when someone locked eyes with me. I smiled! I bit my lip and smirked. It was as if nothing could break me. When I got home that night, I couldn't stop twirling around or playing with the soft fabric underneath my fingertips. It was the first time I can remember feeling sexy, without any doubt or nagging voice lurking behind my ears.
Now the dress is out of style, or at least not something I'd wear anymore. I try to prune my closet and donate twice a year, but I'd never let go of this dress. It holds my secrets. It reminds me that when I want it, I can be someone that other people notices More importantly, it reminds me that sometimes, it's ok to be noticed. That's a lesson it feels like it took me a lifetime to learn.